Have you ever encountered a system crash which left you feeling helpless? System crashes, errors and other problems may occur as a result of a virus infection or lack of maintenance on most computers and these culprits does not choose which operating system to attack. No matter what version of Windows is installed on your computer, it would still be vulnerable to malicious software attacks and other problems that may cause Windows to become sluggish and exhibit errors that would display some "out-of-this-world" messages and prompts and ultimately lead to hangs, crashes and unresponsive screens. When these signs and symptoms occur, you shouldn't wait until a blue screen of death "BSOD" error happens.
Are you aware that Windows 7 and Windows 8 is equipped with a tool that will help you fix the problems stated above? Yes! it is called the "Create a System Repair Disc" tool which you can burn into a CD or a DVD. When Windows starts to show some abnormal behavior, you can boot your machine from the System Repair Disc you created. This disc would would give you access to system recovery tools that will help solve the problems that causes your machine's abnormal behavior. To learn how to create your own System Repair Disc both in Windows 7 and Windows 8, simply  follow the steps shown below and since most of us already made the decision to upgrade to Windows 8, I will first show how it is accessed in this latest Windows operating system version.
Accessing the Create a System Repair Disc Wizard in Windows 7 and 8
The process of using the "Create a System Repair Disc" Wizard is basically the same in both Windows 7 and Windows 8 but the steps in accessing the tool in both operating system versions is different. To illustrate the process in creating a System Repair Disc, I will be using screenshots from Windows 8 since it looks the same as the one found on Windows 7. Now, let us start by going to the link/shortcut that will lead us to the wizard itself in Windows 7 and Windows 8.
Windows 8 seems to be phasing out the "Backup and Restore" utility found in Windows 7 which makes accessing the "Create a System Repair Disc" wizard a bit complicated in this Windows version but with the use of the search feature, you can easily find it. What is interesting to note is that the wizard is located inside a tool which is labeled "Windows 7 File Recovery". To find this tool, simply go to the Start Screen and type "file recovery" then filter the search results by settings.
Another way of accessing this section is by going to the "Control Panel" and typing to word "file recovery" on the search box located at the upper right corner of the screen. If you don't know how to access the "Control Panel" in Windows 8, simply press the "Windows + X" keys and you'll see a system menu would pop out on the bottom left corner of the screen, from this menu, find "Control Panel" then click or tap on it.
Once the "Windows 7 File Recovery" Window opens, look for a link that says "Create a system repair disc" at the left navigation panel and click or tap on it so that the wizard would start.
NOTE:
If you already upgraded to Windows 8.1, the "Windows 7 File Recovery" tool would not be available. Microsoft already phased out this tool in Windows 8.1 and replaced it with other repair and recovery tools which are far better than the old ones however, users will again need to adjust and take time to become familiar with these new features. Details of how to use these brand new tools will be covered on future tutorials.
If you are using Windows 7, you can easily locate the wizard by opening the Start Menu, clicking on the "All Programs" tab just above the search box then clicking on the "Maintenance" folder from the list of programs that would appear. Once the folder's contents appear, click on "Create a System Repair Disc" shortcut link.
Using the Create a System Repair Disk Tool
The process and steps in using the Create a System Repair tool in both Windows 7 and Windows 8 are basically the same. Before going to the very first step, you first need to secure a blank CD or DVD. You can get one at your local computer supplies shop and the good thing is it is very cheap compared to other storage media. Once you have one, simply insert it into your computer's optical media drive. If you are using a small computer like a netbook, you need to have a portable DVD-ROM to insert the disk in.
Next, You will then need to start the wizard by following the steps I have shown above and once the wizard opens, you need to select the the drive where you inserted the blank CD/DVD and click or tap on the "Create disc" button found at the bottom. The disc you inserted should have at lease 223MB of storage space for Windows 8 or lower if you are creating a Repair Disc for Windows 7.
IMPORTANT:
If the wizard tells you to insert the installation disc of your Windows operating system, you need to do it so that the files needed in creating the Repair Disc would be copied. If you only have one optical drive, you need to insert the Windows installation disc first and insert the blank disc later. The process will just go through after this step is completed.
The next Window will then show a progress bar indicating the overall progress of the disc creation. It takes quite some time and would even appear stagnant but just leave it untouched since interrupting the process can damage the CD/DVD.
Once the process completes, a prompt will appear on the screen which tells you what the disc is used for. From here, you just need to click "Close".
Then on the "Create a system repair disc" Window, simply click "OK" to close the wizard.
Now, the repair disc is ready for testing, you will now need to reboot your machine and try booting from the disc to see if it works well. You don't need to use any of the tools and recovery options that it contains though since your computer is in good condition. You just booted from it to check if it works perfectly and confirm that you can use it by the time that your machine suffers some serious problem.
NOTE:
To boot from the System Repair Disc you just created, you need to change the boot order on your computer's BIOS setup.
What's in the System Repair Disc?
If you used Windows 8 in creating a System Repair Disc, you would notice that it is bigger in size compared to the one created with Windows 7. This is because Windows 8's Repair Disc contains more tools. In Windows 8, you can use the Reset and Refresh tools which is available only in this operating system while Command Prompt, System Restore, System Image Recovery and other Auto, automatic repair features are available on both Repair Discs created using Windows 7 and Windows 8.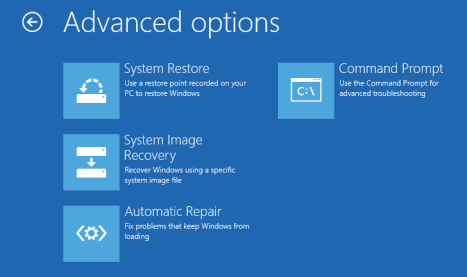 Learning how to create a System Repair Disc is not secret knowledge that should only be known to a select few. It is an essential knowledge that every Windows user should know. The System Repair Disc is a very useful tool in times of system trouble so if you don't want to spend too much on repair costs, be sure to create your own System Repair Disc and use it instead of hiring someone to do such an easy task.