Your download is starting now.
Within minutes
PC Health Advisor

will scan, detect, and fix a range of common PC problems and get your PC running in tip-top condition again.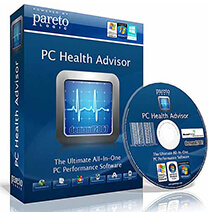 Download
Here's how to get started:
When your download finishes simply click the icon to begin your scan.
Once scanning is complete click "Fix All."
After

PC Health Advisor

has repaired your computer you will be prompted to restart your machine.
Restart your machine to complete the repairs.
Sluggish computer?
PC Health Advisor speeds up your computer by addressing the root causes of slowness.
PC Health Advisor defragments disks and frees-up memory, repairs your Window's registry, and boosts startup speeds by removing unnecessary startup items preventing your PC from performing optimally.
PC Health Advisor cleans and removes duplicate and temporary files that fill your application cache and cause programs to run slowly.
PC Health Advisor is a one-stop solution to clean and optimize your PC. Just click the icon when your download finishes and you'll be on your way to improved performance and a smooth running system.