Since the big announcement from Microsoft about the upcoming Windows 10 operating system last January, millions of users around the world have already been intrigued by the brand new features that this Windows version would have.
Everyone still remembers how Microsoft made some abrupt changes to the Windows operating system in Windows 8 and Windows 8.1 and the result was not that good at all no matter from what angle anyone would view them. It seemed like Windows made a great leap from Windows 7 to Windows 8 and Windows 8.1 with all the great changes that were made in the latter Windows OS versions and users were not impressed at all by these changes.
Thankfully, the creators of Windows has learned their lesson since and are now on their way in developing a better build of the operating system that took the whole world by storm in terms of its popularity and it's going to be called Windows 10!
But Where's Windows 9?
One of the very common question that most users and critics throw on the upcoming Windows 10 is Microsoft's decision to skip number 9 in naming the Windows version. After all, 9 follows number 8 so why would the tech giant skip this number and jump directly to Windows 10?
Is it to avoid bad luck? Well, the simple answer from the company's executives is that they only want to establish a real distance between the ill-fated and criticism-battered Windows 8/Windows 8.1 and the new Windows 10 operating system versions.
Most of the changes that were included in Windows 8 and Windows 8.1 were really confusing especially to those who have been using old Windows versions for a very long time and because of these rather unnecessary tweaks to how the Windows operating system works, millions of users got disappointed and most even switched back to Windows 7 after finding out that Windows 8 or even its supposed improved version dubbed as Windows 8.1 isn't really for them.
What's New in Windows 10?
So what can we expect from Windows 10? Is it really far better than Windows 8 and Windows 8.1 combined as Microsoft claims it is and if so, what features in it would guarantee that such claim is really factual? These are crucial questions that demand some sensible answers.
Well, being among those who were able to get their hands on this new Windows 10 operating system through the Windows Insider Program, we would say that the tech giant's claim are backed up by actual facts.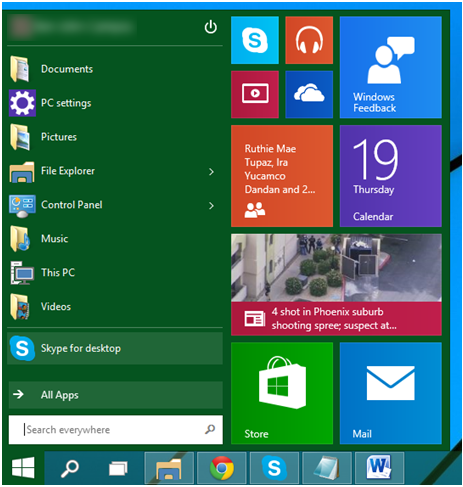 For instance, one of the features back in Windows 8 and Windows 8.1 that annoyed most users called the Start Screen has now been taken to the backstage and was replaced by the default Start Menu which now boasts some brand new features and other additional stuff that makes Windows 10 become a perfect home for the traditional desktop programs and the new modern-style apps.
New Additions to the Taskbar
Aside from the Start Menu making its come back in the new Windows 10 OS. There are also two other additions to the taskbar which would surely make you more productive than ever. Yes! this old feature that has been around since Windows XP and even the older Windows editions now has new mainstays on it which are the Search and the Task View features.

These two new icons on the taskbar are not capable of being removed or unpinned which is why we called them "mainstays" and while these features are still subject to change when Microsoft finally releases the final release of the Windows 10 operating system, we can already say that both are very useful features in terms of improving productivity in this upcoming Windows operating system release.
How To Use Search and Task View
The taskbar, being one of the most important features in the Windows operating system platform has always been around for decades now and through the years, this humble tool that stays at the bottom of the Desktop screen by default has seen so little change and innovations aside from the changing appearance of the Start Button and its sudden disappearance in Windows 8.
However, in Windows 10's Technical Preview version, this section has received some changes which are all geared towards making this upcoming Windows OS release a lot better than its predecessors. For instance, when you first open Windows 10 in its current build, you will find two new icons which are pinned on the taskbar.
These two alone are both set to change most aspects of the Windows operating system. Try clicking on the first one that sits just beside the Start Button and a modern screen will open which contains an input box at the bottom where you can enter your search query and quickly find items from the search results that would appear on its top portion.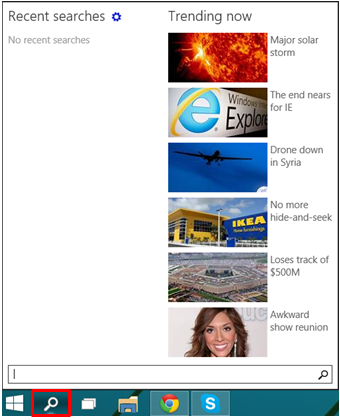 If you haven't entered any search query into the input box yet, the screen will show some news items and headlines on its right hand portion which you can click to open and if you did some searches earlier, it will appear on the left hand portion under "Recent searches".
The New Task View Feature
Now, sitting just beside (right) of the Search icon is another new addition to the taskbar which is called "Task View". If you click on this icon, you will be able to see all available tasks, programs and Windows that are currently active on your computer as you can see on the  screenshot below.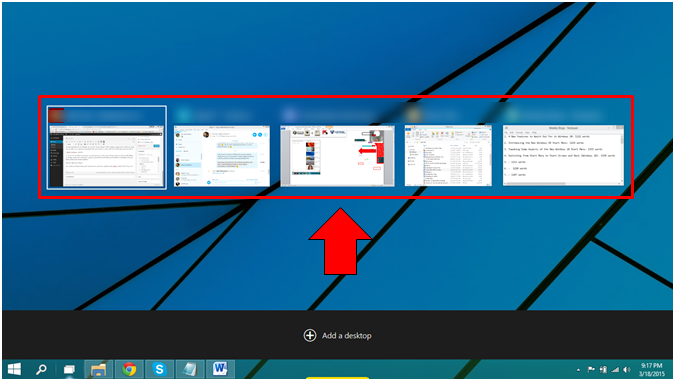 At the bottom portion of this screen is a black bar that has an option in it which says "Add a desktop". This is another addition to the new and improved taskbar which will allow you to gain access to the new "Virtual Desktop" feature that has been included in Windows 10. Just click on this option and a new desktop will open and the previous desktop which contains all of the tasks that you have opened earlier will be added to the black bar together with the newly added one.

If you want to add even more virtual desktops, simply click on the black tile that contains a (+) icon in it located at the right of all the existing desktops as highlighted below. Once your desired programs are already opened in different desktops, you can simply jump between them by clicking on the "Task View" icon located on the taskbar then click on the desktop that you want to open from the black bar that is located at the bottom.
Cortana is Coming to a Computer Near You
Now, while these new features are already in the Technical Preview build of Windows 10, there is still one more feature that Microsoft is hoping to add to this upcoming Windows release and it is the virtual assistant called "Cortana". This move is Microsoft's way of really closing the gap between existing virtual assistants in other mobile OS platforms like Siri on iOS and Google Now on Android devices and with the company's move to include it even on their flagship desktop OS, Cortana will surely be a big hit to millions of users who will be making the move to Windows 10 as soon as it gets publicly released later this year!