Previously, we've shown the steps involved in connecting to a hidden wireless network on your Windows 8.1 computer but that only works if you know the network administrator of the hidden network from whom you can ask the network security details from.
Hidden networks never appear in the list of available networks. Only the ones that broadcast their SSIDs or also known as Network name show on the available networks list that appears when the Network Status indicator icon on the system tray is clicked but this doesn't mean that these hidden networks are not detected.
They are still actually detected however, since their SSIDs are hidden, they don't display at all on the list but thankfully, there's a way to view all available networks near your area. Though your Windows 8.1 operating system can't do this by itself, there are a few available tools that can help you view even the hidden networks nearby.
Few Free Tools Available
While it is impossible to view wireless networks with hidden SSIDs using the "Network" screen alone in your Windows 8.1 computer, it can easily become possible with the help of free tools available over the Internet. There are plenty of tools that IT and networking experts use which are available for free but the problem is they only work for Linux operating systems.
If you are using a computer that runs on a Windows operating system, chances are you would only find a few tools that allow this special capability and most of them are for sale but we did some research for a free one which we can share in this tutorial and luckily, we found the best one which is called InSSIDer!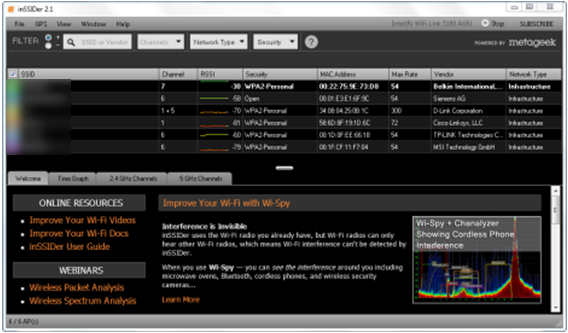 How to Download InSSIDer
Since InSSIDer is a free software, installing it is very simple, you don't need to go into a payment page just to get it downloaded. All you need to do is visit the download page for the software and once you're in it, simply download and install it on your computer. Once it gets installed, it will not open right away, you will need to request a Free Trial Key from the developer website by clicking on the "Request a Trial Key" button.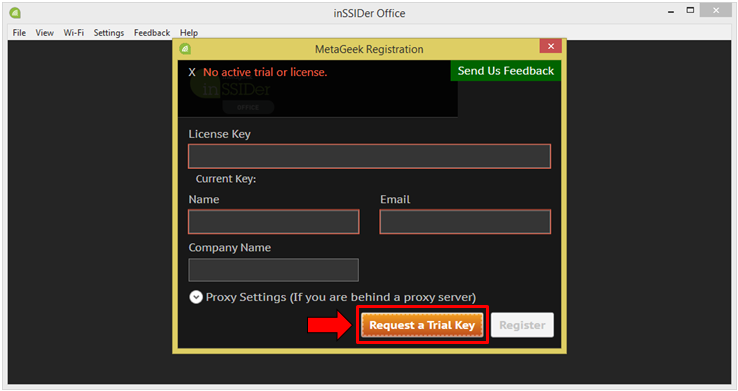 After clicking the button, the developer's website will open in your favorite browser and from here, you will need to fill out a form that asks for your "First Name", "Family Name", "Email Address" and "Phone Number". After these areas are filled out with the right information, just click on the "Request a Key" button. After doing so, a new Window will open telling you that the trial key has already been sent to your email so the next step is to open your email, copy the trial key that was sent to you and paste it into the right box on the InSSIDer software Window.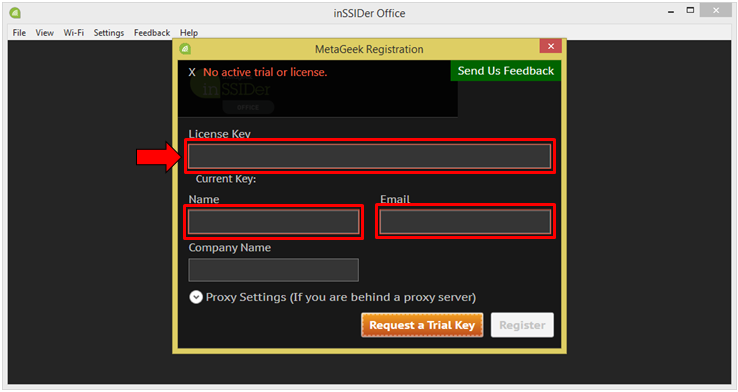 You will also need to fill in your "Name" and "Email" into the boxes provided and hit the "Register" key so your can start using InSSIDer.
What Else Can InSSIDer Do?
So what exactly does InSSIDer do aside from showing you even the hidden wireless networks that are broadcasting near your area? Well there's a lot more that this software can do aside from that and though most of these capabilities are intended for advanced users, you can also make a use of them for improving your wireless network reception and Internet speed.
InSSIDer's main goal is to provide you with information about all available wireless networks that are picked up by your computer including the ones which are hidden but if you try to explore through the software's interface, you'll find out that it actually provides even more relevant feature about each network. These features are as follows.
Identifying Which Network has the Best Reception
One very common problem that you might have with a certain network is poor or weak signal. A WiFi router needs to be placed on a higher location which ensures minimal to no obstructions at all. Using InSSIDer, you will be able to view a graph that shows which network available in your area has the best signal reception since each network is represented by overlapping lines on a graph. The one that reaches the highest point on the graph is the network which gives the best signal reception as you can see on the screenshot below.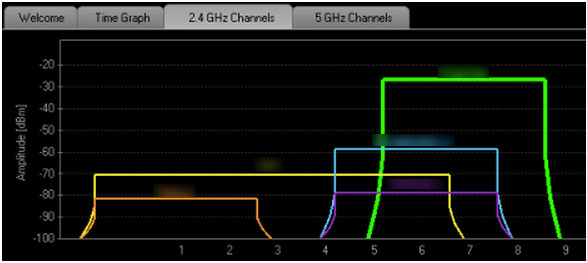 Pointing Out Networks with Overlapping Frequencies
Now that's not the only awesome feature that InSSIDer has. This software can also help users point out some similarities in each of the network that their computer is detecting which is causing problems in terms of Internet speeds and router device efficiency.
For instance, if most of the networks that are detected by your Windows 8.1 computer including the ones that you machine is connected to all run on the same frequency like 2.4 GHz, it can make lessen your router's efficiency or even cause interference that can affect Internet speed and many other aspects of your network. To solve this, you can just choose another frequency to which your router device would broadcast through which is not used by other networks to make smoother Internet connections and lessen the strain on your router device.
View Networks Easily Using Filters
Aside from the features that we've already mentioned above, InSSIDer can also help users find and view details of networks without going through a long list. Yes! You can view networks according to filters such as frequency, security type and many others making it a lot easier to find the network that you want to view in almost an instant. InSSIDer is also capable of helping you analyze the networks and identify some causes of the problems that make it less efficient and by using the filter feature, comparing networks and finding the ones that have some type of problems is made faster.
This is the reason why most IT and networking experts prefer to use InSSIDer in doing certain network troubleshooting and other comparison/monitoring tasks. Just imagine having this kind of tool that does all of these great features for free. InSSIDer is available as a free trial for 7 days an in case you want to have it for good, you can purchase it easily from the developer's website.
Intuitive Interface and Light on System Resource
The feature that is probably preferred by all users, both the basic and advanced ones is InSSIDer's easy-to-use interface. Because of the simple user interface of this awesome software, most users really love it. It doesn't take one to be an expert just to use InSSIDer, you just need to open the software, start exploring and before you know it, you're already getting along with the software really well.
Another good thing is that it is very light on your computer's system resource or RAM. It can even run on the background without affecting your computer's performance or causing hangs and freezes due to inadequate system resource. InSSIDer does not interfere with the other programs that are running on your computer making it one of the best network diagnostics tool available in the market at present.