The Windows 8 installer is available as a disk delivered to your doorstep or as a download which you can save on to your computer and be burned to a disk or a USB flashdrive. If you think these two steps are time-consuming then you can try using the web-installer and install Windows 8 as an update. Another way of installing Windows 8 is by using the Web installer and that's what we will be learning  in this tutorial so be sure to select the version of Windows 8 that you'd like to install on your computer (whether it be new or an old one running in Windows 7) and prepare the amount needed in purchasing the installer from the Microsoft's website.
The Steps
Just like any other operating system, Windows 8 needs to be installed manually using an installer saved on a storage device but if you don't have time to spare in downloading the installer file and burning it to a disk or a USB flashdrive then you can choose to download and pay for the web installer and install Windows the web installer way. To learn how this is done, simply follow the steps below.
1. Download the Web-Installer
Before you can install Windows 8 to your computer using the web-based installer, you must first visit the Microsoft website, sign in using your Microsoft account details and buy the version if Windows that you want to install to your computer. If you don't have an account with Microsoft yet, simply click on a link that says "Sign up now" and input the information required on the page that follows.
2. Write Down the Product Key
After choosing your Windows 8 edition and paying for it using the method you prefer, you'll then be provided with a product key which you'll need to write down for future reference and use but since we will be using the web-based installer, there would be no need for you to jot it down since it is built-in with the setup process.
3. Choose What Kind of Installer Download You Need
Along with the process is a page that will ask you what type of download would you like. You can choose to run the Windows installer from the web or download it in ISO format and save it on your machine then burn it to a DVD disc or a USB flashdrive in a a later time. Since we will be using the web-based installer, we'll need to select the first option.
4. Follow the Steps Shown by the Upgrade Assistant
The next step will now require you to download a tiny application (about 5 MB in size) which will now initiate the Windows 8 Setup. There are two choices of running this software, either directly from your favorite browser or saving it on your computer first and then run it once you already have time.
The first stage of the setup process opens a setup that is based on a wizard which is called an "Upgrade Assistant". This application checks all your software and hardware to find out if everything is compatible with Windows 8. Once the compatibility check completes, the wizard will show a result which will show the items that needs to be reviewed. If you are lucky enough, this list would be short just like the image below.
If you want to see all the compatibility issues detected by the wizard, simply click on the link that says "See compatibility details" located at the bottom of the report that the wizard has generated. The report can also be printed or saved but you can always deal with it immediately.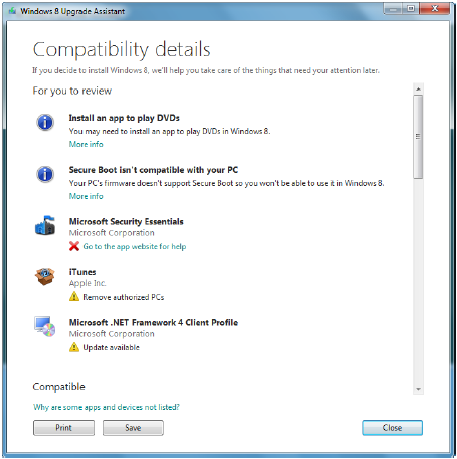 The screenshot above is what the Upgrade Assistant has generated when we tried to upgrade a Windows 7 machine to Windows 8.
5. Move on to the Next Step
The next step will now involve closing the Upgrade Assistant and clicking on the "Next" button. After doing so, Windows will then tell you that a product key has been applied or "pre-keyed" to the setup. This basically means that you will not be required to enter the 25-digit alphanumeric product key on one part of the installation just like what happened back in Windows 7 or what would normally happen if you do a clean or manual install process.
You'll then need to click on the "Next" button and the wizard will resume the downloading process of the full setup file. This step takes just a few minutes if you have a fast Internet connection and could take a bit longer if you're connected to a relatively slow network. You can continue using your current Windows version while the download process is ongoing.
6. Windows Automatically Checks Integrity of the Setup File
Once the full setup file gets downloaded, Windows will then check all aspects of the downloaded file for any corrupt sections. Ensuring the setup's integrity is essential because large parts of the setup process happens when your machine is offline so once it begins, there is no way for you to go back and replace any corrupt part if ever there's one that would be encountered.
7. File Decompression and Installation Options
Once the integrity check is completed, the setup will now tell you that it is getting some files ready. This means that it is currently decompressing all the compressed portions of the setup and this process would normally take minutes to complete. One it is done, you will see some installation options as shown on the screenshot below.
The "Install now" option is what we will be selecting in this tutorial but if you want to create an installation disc or save the setup on a USB flashdrive, you can select the second option. After selecting "Install now", simply click on the "Next" button.
NOTE:
You might also encounter a fourth option which says "Install on another partition". This option appears especially of your computer has more than one hard drive in it or if the setup detects that there are two or more partitions present on your machine's hard drive.
8. Choose What You Want to Keep
The next step needs some wise choosing since the setup wizard will now ask you what stuff would you like to retain in your machine's hard drive after Windows 8 gets applied to it. The options that are available is shown on the screenshot below.
If you choose "Nothing", the setup will do a clean install process which means that all you data apps and programs from the old Windows installation will be removed so be sure to choose the right option then click on the "Next" button at the bottom. The setup will then do further checks if there are more steps to be done before finally applying Windows 8 on your PC and if it detects a program that needs to be removed, you will encounter a screen that looks like the screenshot below.
From here, simply click the "Uninstall" button and wait until the process completes. The setup wizard will just continue and once everything is completed, your computer might restart and setup will start automatically but it will ask you whether you want to start where you left off or start over from the beginning, be sure to select the former at this stage then click "Next".
9. One Last Check and Click Install
Next, the setup will then perform a last check and show the option of files that will be retained according to what you have selected earlier. This would also be your last chance of changing your selection. If you are already sure of it, simply click on the "Install" button and that's it! Windows 8 will now start to be applied on to your computer.
Easier and Better Than Before
As you can see, installing Windows 8 using the web-based setup is a lot easier than how everything was done back in the days of the older Windows versions. Microsoft has designed everything to improve user experience and make everything a lot simpler even for novice users. If you encountered a problem in any stage of the steps shown above, please feel free to tell us about it by describing the problem using the comments section below.