Screen savers are found almost everywhere. You find it in your smartphone, tablet and even on those cheap DVD disk players that you connect into the AV ports of your TV (at least before Smart TVs went into existence). This feature is also found in Windows and has been around for quite a long time. Yes! screen savers are still around even up to now that we are already in the Windows 10 era, the operating system that boasts usability across different devices featuring a combined Desktop and Mobile environments which is not found in any other operating systems that are in existence.
Now, whether it's a smartphone, tablet or a PC/laptop, the operating system that is installed on it would have a built-in or bundled screen saver which you can choose to set as your machine's screen saver. Windows 10 for instance doesn't have a default screen saver so if you check, you'll be able to see that "(None)" is the option selected as you can see on the screenshot below.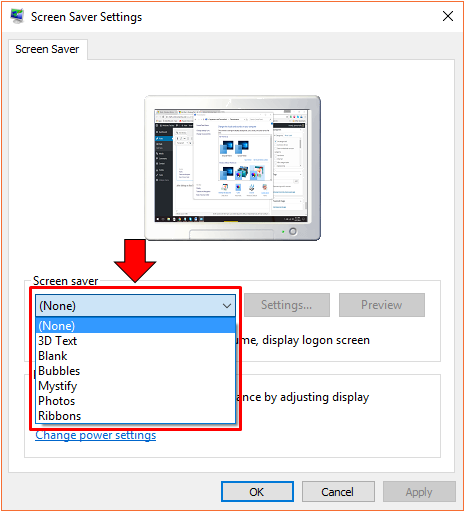 There are 6 available screen savers that you can choose and tweak before finally using it as the screensaver for your Windows 10 machine. If you still don't know how to access the Control Panel section where you can change screen saver settings and options, just follow the steps that are found in this tutorial.
Third Party Screen Savers Look Better
While Windows 10's built-in screen savers look good, it cannot be denied that there are third party ones which looks better. If you've already tried all of the available screen savers that are bundled with Windows 10 and still want some more, you can try third party screen savers and in this article, we'll give you a list of the top 10 ones that we've found from the all over the Internet for you to use and enjoy on your Windows 10 machine.
Beware of Bloatwares!
Most of the FREE screen savers that you can get from the Internet has some bloatware included with their set up files so be sure to uncheck them during installation. Bloatwares are additional software programs that are bundled with the set up files of other programs. Most of them install as add-ons on your machine's browser while others pretend to be driver scanner and other sorts of software which are not really needed. Watch out for any tickbox whenever you install any of these themes, read the description on what they are intended for and uncheck them once you find out that they are for installing bloatware on your computer. Examples of these tickboxes are shown below.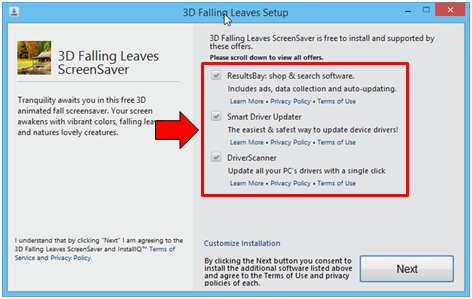 One of the very important aspects that almost all users really look after in their Windows machines is its "security" and the least that we can do is installing either a FREE or a premium antivirus software that will help protect our computer's from malicious programs that lurking around in every corner of the virtual realm. Everything has changed when Microsoft released their own brand of antivirus/antimalware program called Microsoft Security Essentials.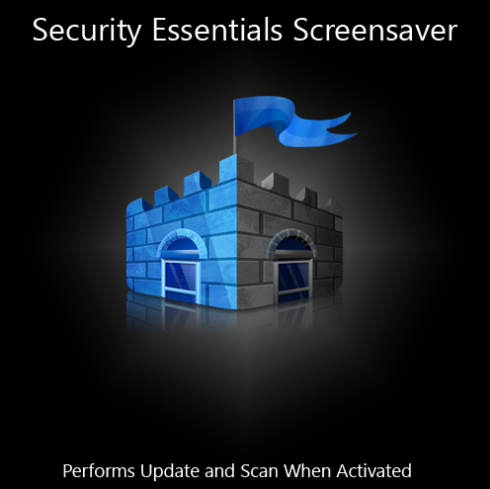 If you are still using Windows 7 then you can download and install this free software from Microsoft and as a complementary feature that will help you maintain your computer, you can download a masterpiece by Drudger found in the Deviant Art website called the "Security Essentials Screensaver". This screensaver works as a trigger for the Microsoft Security Essentials tool to do a scan on your computer and as well as check for virus definition updates which are needed to make sure that you are protected from all of the latest viruses that come out every now and then.
For nature lovers and the ones who love to have an aquarium at home full of water-dwelling pets, the Aquarium Screensaver is a very good choice. This screensaver features a high definition view of an aquarium with fishes that feed, peck on objects inside the tank, hang out in schools or even chasing each other as you can see on the screenshot below.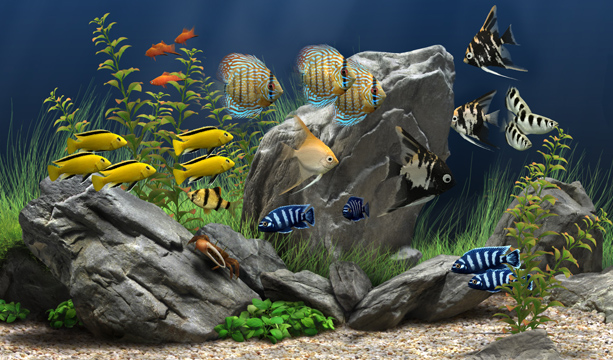 As you can see, the creatures and even the plants and rocks in this screensaver really looks realistic and viewing them while your Windows 10 machine is on standby would really make you feel more relaxed just like looking into a real fish tank at home. You can also take advantage of this relaxing view by using a bigger screen or a second screen like a projector or LED tv.
Did you happen to use a Mac computer and saw a good screensaver in it that looks exactly like the one being shown below? If you want this same screensaver on your Windows machine then you can actually do so by downloading and installing the "Flurry Screen Saver". This screensaver is originally from Mac but a DeviantART user managed to discover the workaround to make it work on Windows.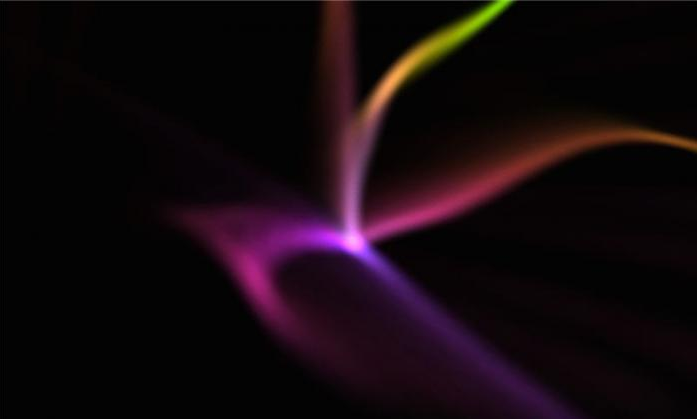 Now, don't go right away and start looking for it in DeviantART because it is now in Softonic. Yes! It has been very popular that this software vending site decided to adopt it and as we have warned everyone at the start of this tutorial, you will need to watch out for another bloatware from Softonic which is a toolbar that adds itself to your browser. Be sure to uncheck this during the installation process so you won't get any annoying stuff loaded to your machine while installing Flurry.
Another awesome screensaver that gives you a view of the planet Uranus right on your Desktop screen is the "Solar System- Uranus Free 3D Screensaver". This one is perfect for those who want a simple yet elegant screensaver that depicts the planet as it floats through space with the stars of the Milky Way galaxy as well as a nearly start at the background as you can see on the screenshot below.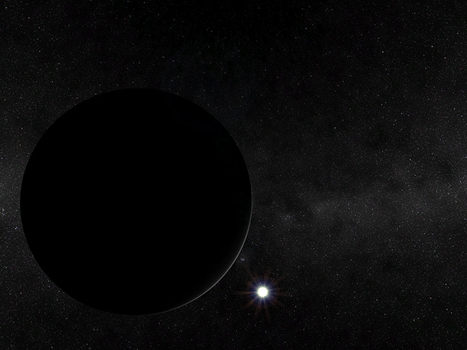 If you are are passionate about space and what's out there then this screensaver is a perfect option that you can choose. There are of course some other screensavers that depicts other planets and you can find them easily by using Google Search.
Are you fond of science fiction stuff? If you do love stuff that surpasses the level of the science that we currently have then this screensaver is for you. Just imagine being able to get the feeling of traveling through space tunnels all in 3D high definition quality right on your computer screen whenever it switches to standby mode. Yes! The "Space Tunnels Screensaver" has this effect and it shows it on your desktop screen automatically when standby time is reached.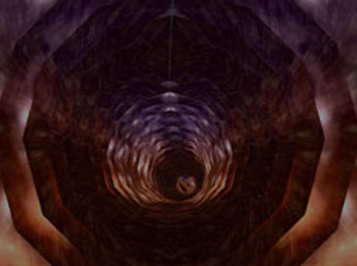 Finally, you will be able to get the feeling of traveling at the speed of light whenever you view this screensaver and the journey would not end unless you press any key or move the mouse cursor which will alert the screen to be active again.
Do you love sports? Do you want to add a touch of sports on your Windows machine. If you are the active type of person then this screensaver is a good option for you. It features a soccer ball and sneakers lying on green, lush ground with the blue sky at the background as shown on the screenshot below. The image is in high definition that it can even make you think its a real photograph!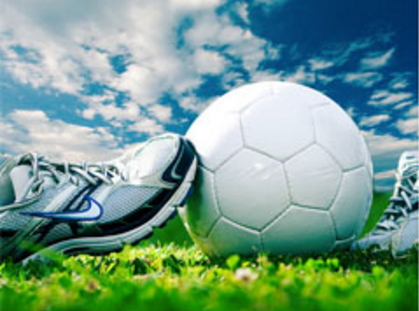 The screensaver is FREE to download and install on your Windows machine and it is compatible with Windows 7, Windows 8.1 and Windows 10 so you don't really need to worry much about any problem that might arise due to incompatibility.
Keeping an eye on your computer's memory and system resource usage as well as many other details is a must especially if you already know that it is running out of these important components. If you want to monitor these stuff even when your computer is on standby then the "UsefulSaver Screen Saver" is the one that you should pick. This screensaver does not only add good looks to your machine but it also provides valuable information about your computer's overall status such as CPU usage, available RAM, Date and Time and it even lets you add custom text on the screen as you can see on the screenshot below.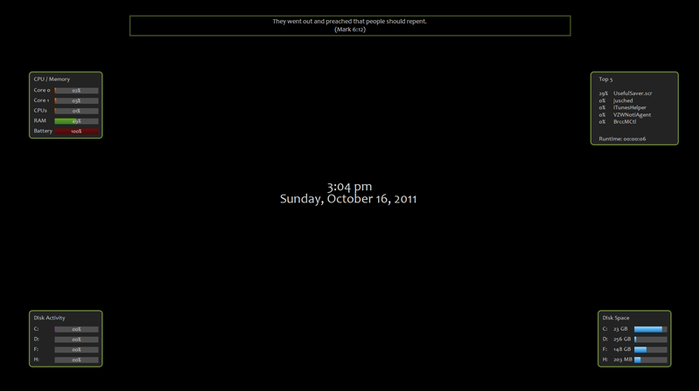 If you want to display these important system information as your machine's screensaver then be sure to enable the "ScreenWash" option which can be found under its Settings section.
Time governs everything that are existing in our universe and if you are the kind of person who always wants to keep track of time, you will definitely like "3D Time Screen Saver". It features a simple interface telling you the time in black characters with the background being pure white giving it the minimalist-utilitarian look as you can see below.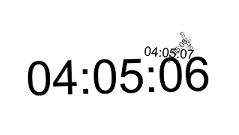 Another advantage of using this screensaver is that it doesn't eat up too much system resource which means that it will run very smoothly even if your computer has several active programs running at the same time. If you are constantly busy using your machine for several tasks and you run plenty of programs and apps in it then this screensaver is definitely worth a try!
Want a screensaver that does not only show cool graphics but also plays soothing and relaxing sound? If you do then you must try "Sun Village- NVIDIA Edition". Judging from its graphics alone which is 3D combined with sound, this screensaver is by far one of the most advanced that we've tried and probably the most advanced in this list that we're giving in this article.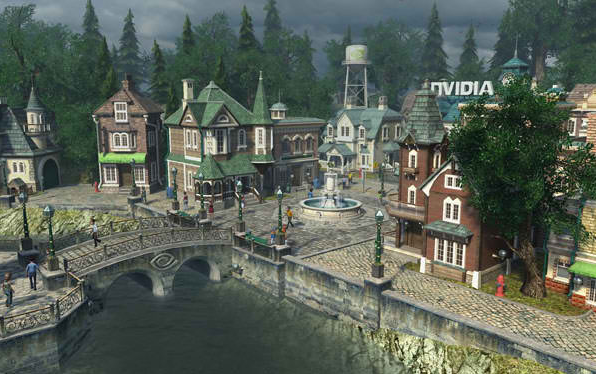 Because of its advanced graphics and sound, it would take a chunk from your system resource whenever it is being displayed on your screen so if you don't have that much RAM space then you'd better free up space for it before you set it as your computer's screensaver. You must also be careful about a bloatware that comes with it during the installation process so be sure to uncheck the "Install 3Planesoft Screensaver Manager" option when you install the screensaver on your Windows machine.
Lastly on this list but definitely not the least is the "3D Falling Leaves Screen Saver" which is shown on the screenshot below. If you want a beautiful view of the early autumn then you need to take a look at this screensaver. It is one of the best screensavers that we've found which features the fall season but be careful though because just like the other screensavers that we gave above, this too has some bloatware that are included in its install file. We recommend that you first read the fine print on every page of the install wizard and uncheck any options that isn't associated with the screensaver itself.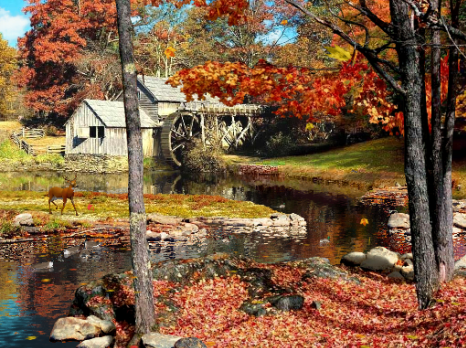 As you can see on the screenshot above, this screensaver really looks beautiful and impressive especially if you love being out whenever the fall season starts.
Want More? Find Even More Screen Saver Options Online!
As you can see, there really is a great variety of screensavers that are available for download from many different sites but you must always be careful not to get them from unverified ones. Remember that viruses, adware, malware, bloatware and many other forms of malicious software can come with these screensavers so always read the texts and options in every page of the install wizard so you can be spared from the harmful often irreversible effects that malicious software programs can bring whenever they get unintentionally installed to your Windows machine.