Any operating system needs a feature that is capable of warning or notifying users about the things that's happening with its certain features. Because of the complexity of most of the operating systems (both mobile and desktop) that are available today, the need for a feature that can simplify the way users deal with problems and other matters that need to be taken cared of every now and then to ensure a smooth running device.
In the world of the Windows operating system, the feature that does the notifying and informing about system problems and other concerns is called the "Action Center". This very important component of our favorite all-time favorite Windows operating system has been existing in versions as old as XP and was carried over to Windows 8 and Windows 8.1.
However, in the new Windows 10 operating system, this feature has suddenly disappeared and was taken out permanently from the system tray. So how will users know of any problems now? That's where the good news comes in! Windows 10 has replaced the "Action Center" with a new and improved feature that works smoothly on both the mobile and desktop modes of the this upcoming operating system.
In this article, we will be showing some features of this new warning and notification icon in the best Windows ever that's coming out this summer and as well as demonstrate some of the steps that will help you take advantage of the capabilities that it has to offer.
Identifying the Notifications Icon on the System Tray
If you look into the new system tray which is located on the extreme-right end of the taskbar of the new Windows 10, you will surely notice that the "Flag" icon representing the "Action Center" feature is now missing. You can't find it even in the hidden icons section.
However, there is a new icon that exists in this very familiar location which looks like a conversation bubble containing horizontal lines in it as highlighted on the screenshot below.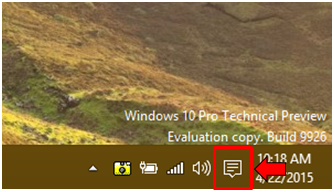 While this looks very much different from the flag icon that we all used to see in Vista and Windows 7 and even in Windows 8 and Windows 8.1, the new Notifications icon actually carries more in it than its predecessors and that's what we will be finding more about in this tutorial.
What's in the Notifications Icon?
The Action Center that is found in the previous Windows versions only showed limited warning messages pertaining to some components of the Windows operating system such as the status of your antivirus software, Windows Updates and other system and security concerns ranked according to relevance. For instance, if you have set your computer to download and install Windows Updates manually, you will get a pop-up notification from the Action Center which appears inside a conversation bubble just above the system tray.
Clicking on it the notification will open the Windows Update section where you can finally download the updates that are to be installed and archive those that you don't want to install.
However, everything has been made even bigger in the new Notifications icon that is found in Windows 10. Instead of just showing you warning messages as the Action Center did in older Windows editions, this brand new feature includes a wider scope of the whole Windows 10 system. The image below shows the image that appears after the Notifications icon is clicked.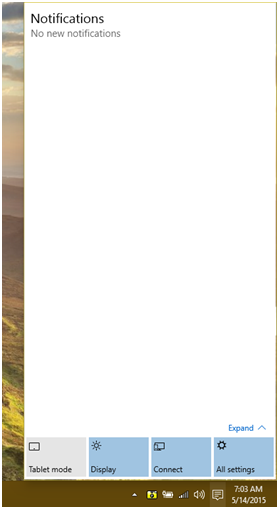 Now, we will be going through each of the items found in the Notifications screen and find out how it is used so you can take advantage of what it has to offer when the need arises.
What Does the Notifications Screen Contain?
This is a very exciting question to answer. Instead of retaining the old Action Center feature which offered limited capabilities that mostly focused on system related problems, the new Notifications feature in Windows 10 carries more and there are some brand new additions to the Windows 10 operating system which can be accessed from it.
Let's start with the "Continuum" feature that allows users to switch from desktop to tablet modes easily with just a single click. If you own a hybrid device such as "Microsoft Surface" then you can easily switch from desktop/keyboard mode to tablet/touch mode by clicking on the Notifications icon from the system tray and at the bottom portion of the Notifications screen that would appear, just click on the "Tablet mode" button found at the bottom as highlighted below.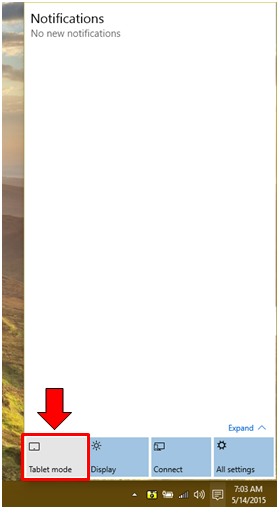 Adjust Display Brightness Quickly!
Aside from allowing users to switch modes when using a hybrid Microsoft device, the Notifications screen also contains even more quick access buttons that improves productivity many times over compared to other Windows versions. For instance, if you feel like you need a boost in the brightness of your computer's display, you won't need to open Control Panel anymore or do some other things, just click on "Display" located just beside the "Tablet mode" button and you'll be taken to the modern "Settings" Window where the display settings are found.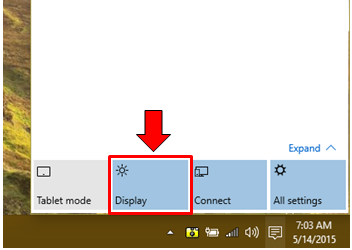 Connect to Devices Faster!
Windows 10 has really made some awesome improvements when it comes to the accessibility of its features and again, the Notifications icon is a good evidence to this. For instance, in Windows 8 and Windows 8.1, connecting to other devices via Bluetooth required that you access the PC settings screen first but in Windows 10, you can quickly open this section with a single click. To do this, you simply need to open the Notifications screen and once it appears, just click the "Connect" button at the bottom as shown below.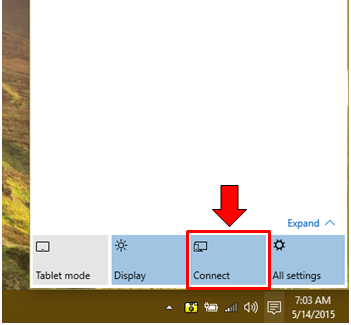 Open the Settings Screen in an Instant!
Aside from the three buttons that we have already described above, there's still one more that would surely help you tweak Windows 10 a lot faster. This button is the fourth one which is located on the right-bottom most portion and is labeled "All settings".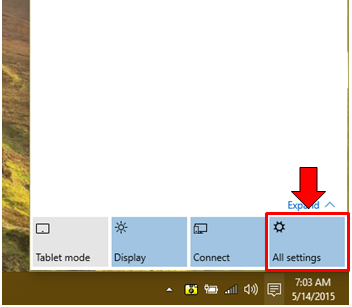 If you're already using a Windows 10 Technical Preview operating system the you can go ahead and click this button and you will see that the modern "Settings" screen will appear where all areas of the Windows 10 system which you can tweak and customize are listed.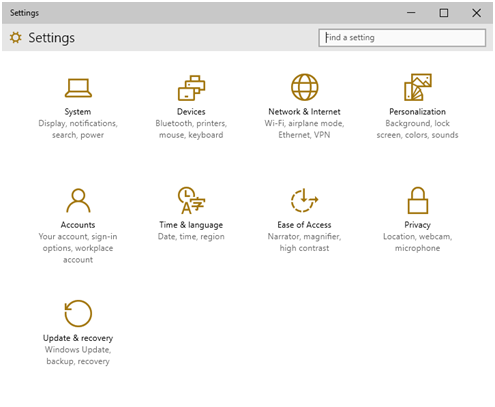 While the modern Setting screen is available, this feature is more adaptive in tablets and smartphones but you can still use it even on your PC or laptop that runs Windows 10. The old Control Panel is also available in this brand new Windows operating system and if you feel like it is more comfortable to use than the modern Settings screen then you can easily access it anytime you want or if you are having a hard time finding it, you can also use the Search feature, type in "control panel" and wait until the Control Panel shortcut appears on the search results.
More Notifications Screen Shortcut Buttons in Our Next Tutorial
The Notifications section in Windows 10 really has a lot in it but what we have shown in this tutorial is just the tip of the iceberg. In our next article for this series, we will be showing you even more shortcuts and buttons in the Notifications icon that can help you do some tweaks to your Windows 10 machine in a quick and easy way so be sure to watch out for it by staying tuned in with us only here at WindowsTechies.com.