While most of the features which are found in the new Windows 10 operating system version are not available in most of its predecessors (XP, Vista and Windows 7), there are also others which remained unchanged and were carried over from Windows 8 and Windows 8.1 to this upcoming Windows OS release.
Windows 10, for the most part has been developed to bring back users to Windows while preserving the modern apps and metro style environment in it after Microsoft's failed attempt in merging the Desktop and Mobile environments in Windows 8 and its later version dubbed as Windows 8.1.
The tech giant has been far from giving up all these time and has even made their efforts double in developing Windows 10 by making sure that they are listening to as much user feedback as possible through the Windows Insider Program.
Through this feedback and suggestion program which is open to all testers, developers and even ordinary users wanting to make their voices heard and help shape the new Windows OS, Microsoft has provided Windows 10 Technical Preview and with this, all of those who signed up for the insider program will get to download Windows 10's test release and install them as a secondary OS in their computers.
Microsoft has also announced that Windows that the free offer for the OS will not stop after its development stage but instead, it will continue to be given out as a free update/upgrade for all users who are on Windows 7, Windows 8, Windows 8.1 and even Windows Phone 8.1 for one whole year after its formal public release!
Set to be released summer of this year, Windows 10 has really been taking much of the headlines on different news and technology websites all over the Internet and has stirred more than enough excitement on everyone but before this brand new Windows operating system version formally released, let's take a look on some of the newly added features in it as well as the old ones which received some modifications.
1. Meet the New Start Menu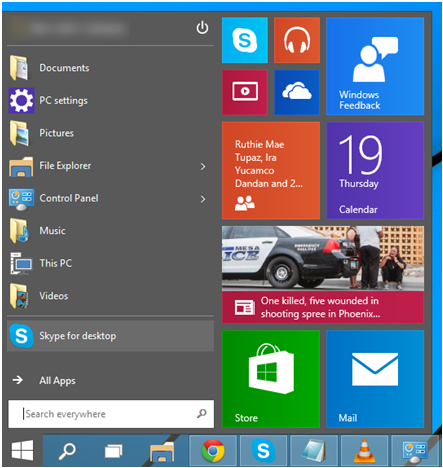 Disappointed users really flooded the Internet with a lot of negative comments after the release of Windows 8 and Windows 8.1 because of all the big changes that was made in it. One of these changes had much to do with the feature that was developed to replace the Start Menu which is called the Start Screen.
Why would such a very useful feature be replaced by something that favored only one aspect of the operating system (the mobile environment)? This question really makes sense especially if the usefulness of the Start Menu is placed into consideration but unfortunately, the complaints from users remained unresolved even up to the supposedly improved release called Windows 8.1.
However, all of these negative comments that surround both Windows 8 and Windows 8.1 are going to end when Windows 10 finally gets released! If you're asking how then the answer lies on the old Start Menu feature that has now been taken back to this upcoming Windows OS version.
If you look at the screenshot above closely, you will see that the new Start Menu is divided into two parts. The one on the left is called the Start List and contains most of the familiar shortcuts that used to be mainstays in the old Start Menu and the other part on the right provides a comfortable home for the modern apps that you can download from the Windows Store.
Now this truly is a big change but not that new at all especially to the users who have been using Windows for a very long time.
2. The Taskbar Stayed Mostly the Same

Now, another feature that has been in Windows since most of its earliest versions has received minimal modifications. For instance, all of the tasks that are open on the desktop still minimize towards it and this includes even the modern apps. However, there are two new icons which are now found on it setting to the right of the Start Button as highlighted on the screenshot above.
These icons are called "Search" and "Task View" and are both geared towards boosting productivity for users who want to do some multitasking in their Windows 10 computer or mobile device. To learn more about these features in Windows 10, you can read our previous article that explains how it is used.
3. Modern Apps Remain But Now Open in Real Windows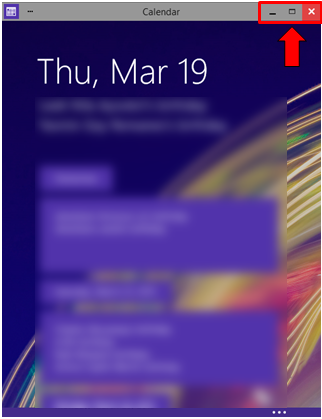 Since Microsoft isn't backing up from the "PC and Tablet world in one operating system" idea, they still have included the modern app tiles in the new Windows 10 operating system version but this time, instead of putting them on the Start Screen by default, they are now part of the redesigned Start Menu.
If you click on any of the tiles that can be found  on the Start Screen, it now opens in a real Window which you can minimize, maximize and close quickly using the three buttons that lie on the top-right portion of the Window itself. The Window that contains the modern app can also be dragged towards the right or the left portion of the screen so it will take half of it and appear side-by-side with other Windows that are open.
4. The Charms Can Still Be Accessed
Most of the new features that were included in Windows 8 and Windows 8.1 were carried over to Windows 10 and this includes the Charms. Though they don't appear when you accidentally touch on the top-right corner of the screen, they can still be accessed when you press the Windows + C keyboard shortcut combination.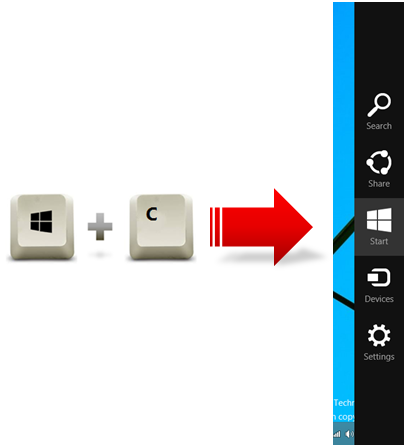 There are still five charms that appears on the Charms bar and if you click on each one of them, you will still be able to access the same sections that these icons opened back in Windows 8 and Windows 8.1. However, if you have chosen to use the Start Menu instead of the Start Screen, the charms bar will only be accessible if you use the Windows + C keys but if you opted to use the Start Screen, the charms bar will appear every time you point the mouse to the top-right corner of the screen.
5. The Power Button has Moved
If you're using Windows 10 Technical Preview and didn't change much of its settings, you should be able to open the redesigned Smart Menu whenever you click on the Start Button or press on the Windows Key. Now, if you are looking for a way to turn off, restart, sleep or hibernate your computer and you're somewhat lost because of the new appearance of the Start Menu then simply put your attention to the top-left portion it and beside your user account name, you should be able to find the Power Button and when you click on it, all the other available power off options will appear which you will simply need to click to execute.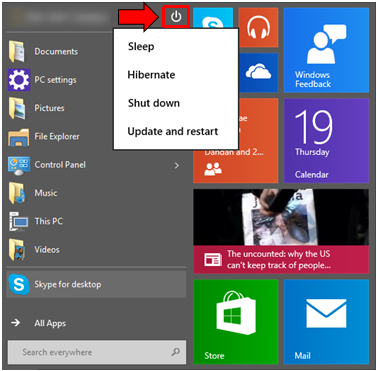 NOTE:
Most of the features shown here are still subject to change when Windows 10 finally gets released this summer but for sure, most will remain and will only receive a little bit of improving. If you are using a Windows 7, Windows 8 or Windows 8.1 computer right now then you need to prepare to install Windows 10 into it for free and enjoy all the brand new features which are going to be offered by this brand new Windows release.