Microsoft has done a great job with the latest update for Windows 10. It's really faster and works smoother than the previous ones but of course, there are still some newbies that are finding it hard trying to get around this new breed of Windows operating system that has revolutionized how the all-time favorite Windows OS works and how it is used and navigated by everyone. For instance, some of the mainstays in the Start Menu has already been replaced with modern apps but of course, you can still add them at will by following the tutorial that we will be publishing after this one. There really has been a lot of changes in Microsoft's latest operating system edition and by this, we refer not just to the usual buttons, links, tabs and other aspects but also the looks! One of the probably most-changed section are the ones that involved connecting to a network or disconnecting from one so in this tutorial, we will shed light to this aspect of Windows 10 and teach every novice user how to manage available networks or makes tweaks with them so if you've been having a hard time doing these things in your computer then you found the best tutorial that will guide you through the steps in mastering the network and sharing section of Microsoft's latest operating system version!
Not Much Has Changed in the System Tray
The network status icon that is found in the System Tray (extreme-right end portion of the taskbar) has not really undergone much change when you look at it on a first glance except for the improved icons that are now more identical to those found in mobile devices as you can see on the screenshot below.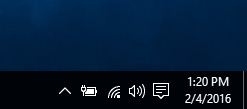 However, what appears when you click on the network status icon has already changed if you compare it to Windows 7. This is because Windows 10 has already applied mobile designs and aspects in some of its major sections. It's truly a hybrid desktop and mobile operating system that can run both on desktop and mobile modes. A comparison of the screens that appear on the screen when the network status icon in Windows 7 and Windows 10 is clicked are shown below.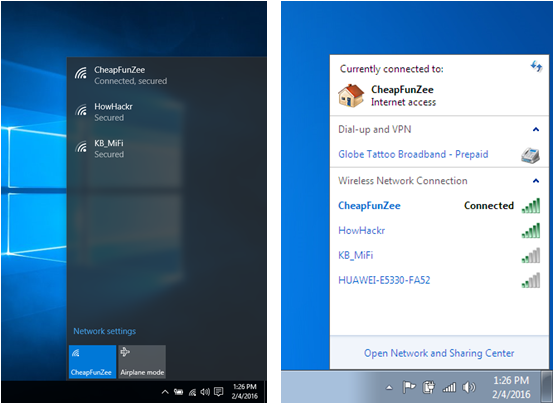 This along with the screen that appears when you click on the Power as well as the Volume icon and even the date and time display has really changed a lot in Windows 10. It's not anymore that familiar especially if you've been using older Windows editions for a long time but of course, all of these changes are aimed for the better! Almost the same icons on the system tray (if you compare it with Windows 7) but clicking them pulls up different sets of screen and right now, we will be focusing on the one that appears when the "Network Status" icon is clicked.
Right-click Options Not Available
Now, if you're thinking that you can still access the right-click options set whenever you right-click on a wireless network from the list of networks appearing after the network status icon is clicked as shown on the screenshot below then you might be disappointed.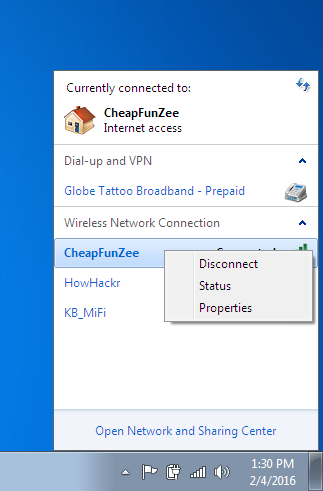 This is because right-clicking on an available wireless network in Microsoft's latest operating system version we all know as Windows 10 won't do anything. You can try it on your Windows 10 machine and you'll surely get nothing. It's not applicable anymore so you can't easily "Connect/Disconnect" to or from a certain wireless network on the list or you can't even check its "Status" as well as its "Properties" by doing such. What's only applicable is the left-click gesture and when you do it, you will see a small check box that says "Connect automatically" if you clicked on an available wireless network which you are not connected to as well as a button that says "Connect". Aside from these two, nothing else appears as shown below.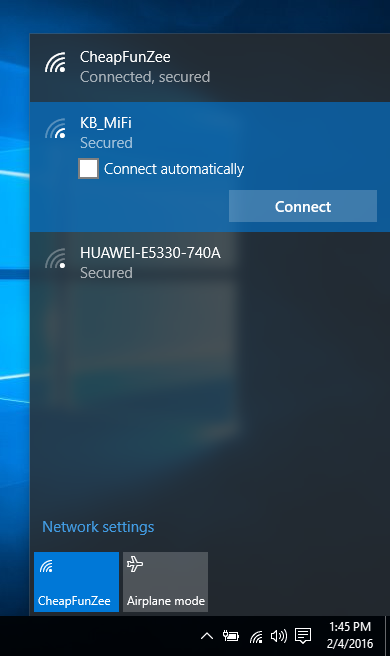 And for the network that you are currently connected to, you will see only one button which is labeled "Disconnect" and aside from this single button, nothing else appears as shown on the screenshot below. It's really confusing especially if you're only new to Windows 10 but again, all of these changes were done to make Windows 10 work smoother and faster than its predecessors so it's really worth it and you don't have to get disappointed because we will guide you through the steps in managing your wireless networks as we move on in this tutorial.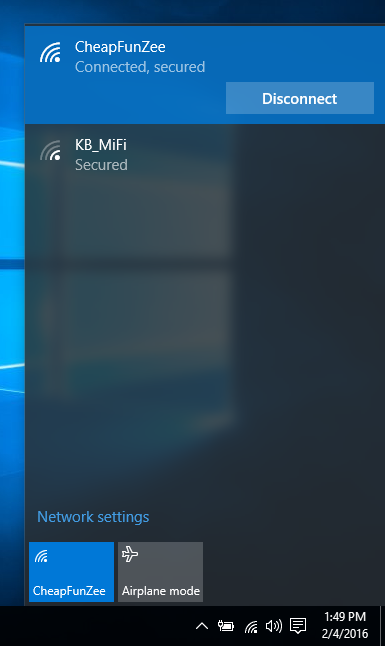 So how exactly can you manage wireless networks in your Windows 10 machine? If you don't want to be wasting precious time just exploring and finding out the exact process then you can just follow the next steps that we will be showing next!
How to Access the Modern Network Settings Section in Windows 10
So you now know the difference between the available wireless networks screen in older Windows editions like Windows 7 and the latest one called Windows 10. There really are some great changes but you don't need to get disappointed because managing your wireless networks in Windows 10 is just as easy as doing the same task in Windows 7. Here's how.
Click on the "Network Settings" Link
First of all, you will need to click on the link that says "Network settings" located at the bottom of the available wireless networks screen in Windows 10 as highlighted on the screenshot below.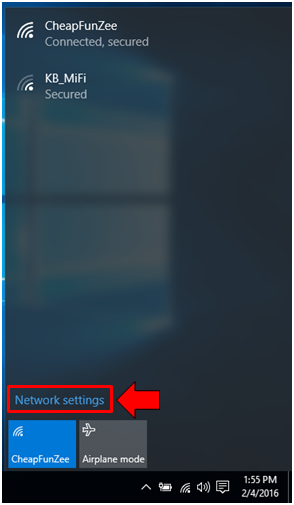 After clicking on this link, you will be taken to the "Network & Internet" section of the modern "Settings" Window as you can see on the screenshot below. From here, you will be able to access different options that are related to network and sharing. The weird thing though is that when you click on one of the links under the "Related settings" portion, what would open is the traditional Control Panel Window so in essence, this modern "Network & Internet" screen shows what it is like when you access the network management section in mobile devices but since it is on the Windows 10 desktop OS, Microsoft has provided some links in it that would take users to the Control Panel Window for further tweaks.
If you want to view important information about your WiFi adapter as well as other details of the wireless network that you are connected to, all you need to do is click on the "Advanced options" link that appears just below the list of available wireless networks as highlighted below.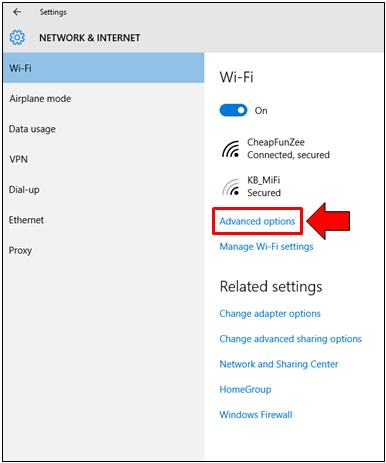 Now, if you want to forget a certain wireless network or manage the list of networks which you previously connected to then you can click on the "Manage Wi-Fi settings" that is located just below the "Advanced options" link as you can see below.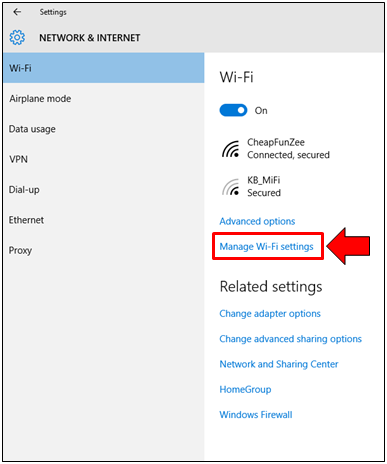 After clicking on the link, you will now be taken to the section where you can tweak options that are native to Windows 10 mobile devices. If you're not sure what each of the options are used for then we would recommend that you just leave them as they currently are.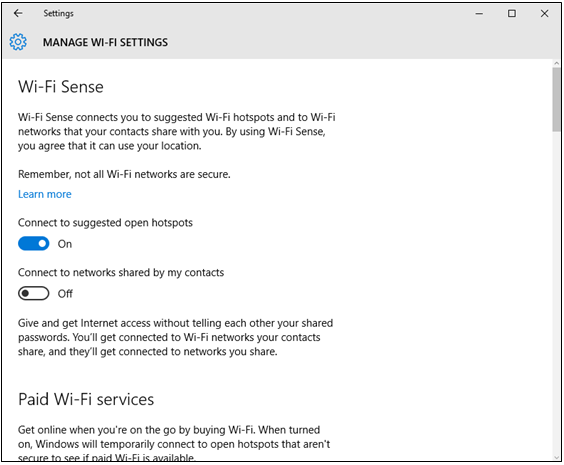 Now, since our aim is to view and "Forget" some previous wireless networks that your machine has been connected to, just scroll down in this same modern Settings section and you will be able to view all of them. To "Forget" or remove certain wireless networks, just click on them and hit the "Forget" button then voila! It should be removed from the list instantly.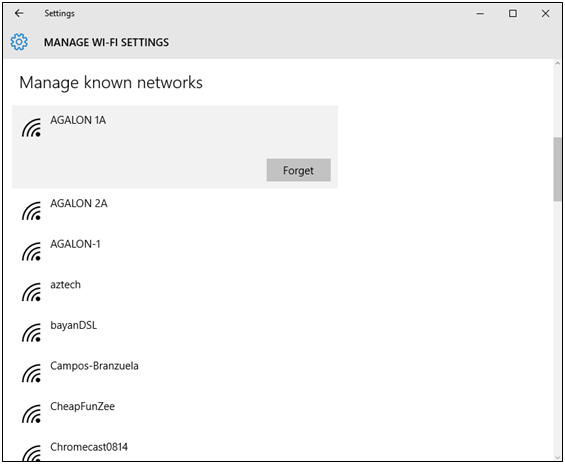 Managing Wireless Networks Doesn't Have to be Hard!
As you can see, Microsoft has really made big changes when it comes to managing networks in Windows 10 but of course, it's not really that hard as you have seen above. It just takes a little bit of exploring and willingness to learn as well as unlearn the traditional methods. Just do the steps that we've shown above every time you need to and you'll surely become adept to it in no time! But as we have said earlier, Windows 10 is a hybrid OS so it means that there's a desktop-like method in managing wireless networks in this latest operating system edition so be sure to catch our next tutorial that will discuss it. You can also opt to join our email list and get all the latest news, tips, tricks and tutorials from us straight to your inbox!