It's been a year since Windows 10 was first released as a free upgrade to all Windows 7, Windows 8 and Windows 8.1 users and since its release, millions have already moved or migrated to it but still, there are those conservative ones who would like to stay with the Windows edition that they've grown up with. Each one has their own reasons but Microsoft isn't giving up in convincing everyone that Windows 10 is really the best.
To mark Windows 10's first birthday, Microsoft has released the "Anniversary Update" but you shouldn't think of it as a new Windows edition that's been released. It is just a new iteration of the Windows 10 OS with new system improvements and features designed to make your life easier while using your Windows 10 PC or mobile device. In short, it is a new service pack of Windows 10 with added benefits.
We have tested this update in one of our computers in the office to see what it really has and what improvements were done to it and here are the 10 awesome things that we found in this update.
1. Cortana is on the Lock Screen
Our computer had Cortana activated in it because we use it for demonstrations and illustrations in our tutorials and to our surprise after the Anniversary Update was applied, Cortana has suddenly found another home right on the Lock Screen. Cortana just used to be stationed in the Taskbar but with this new improvement, we're pretty sure that busy users would love Windows 10 even more!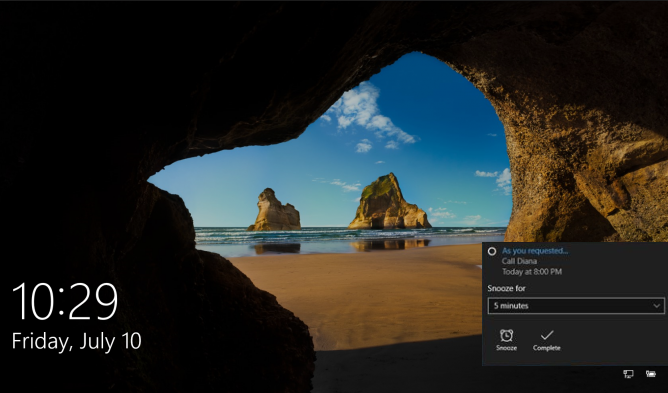 2. You Can Add Reminders form Sticky Notes to Cortana
You might have been using Windows for a long time now but do you know of an accessory that is hidden in it which is called the "Sticky Notes"? This tool might be unknown to some but in Windows 10's anniversary update, Microsoft gives it a good place to shine and be known at last because any reminder that you place on a sticky note can now be added to Cortana for easier organizing and setting alarms for as you can see on the screenshot below.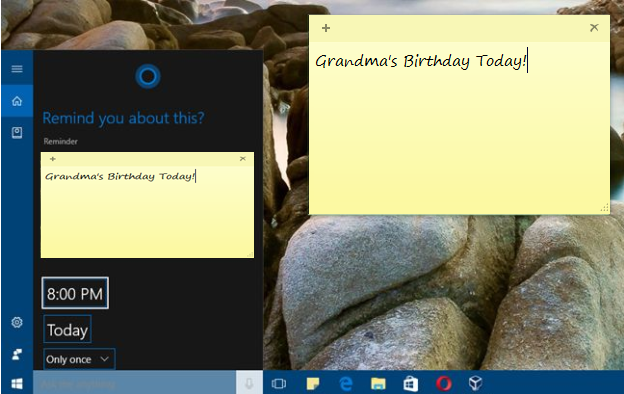 3. Cortana Can Handle Reminders About Anything
One of the coolest features that Cortana possesses is its ability to save reminders and you can even ask her to set it for certain events that you need to do in the future. This is already possible in Windows 10 since it was first released last year as a free upgrade but right now, if you get the Anniversary Upgrade, Cortana can do much more! Just imagine making Cortana remember any random stuff that transpires during your day at work or even at home. Crucial things like where you placed your car's key in what location you parked it are all handled by Cortana smoothly.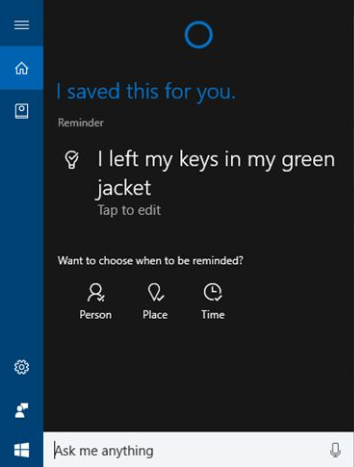 4. Dark Mode
Different people have different preferences in what appearance they'd like their Desktop theme would be. Some like it light while others prefer things to be in a shade of dark and Windows 10's Anniversary Update allows users to change from light to dark environments quickly depending on the user's preference. If you choose the Dark Mode, the background of the apps that are Windows 10's default become black and the Light Mode on the other hand turns its background to while. The choice is all up to you now.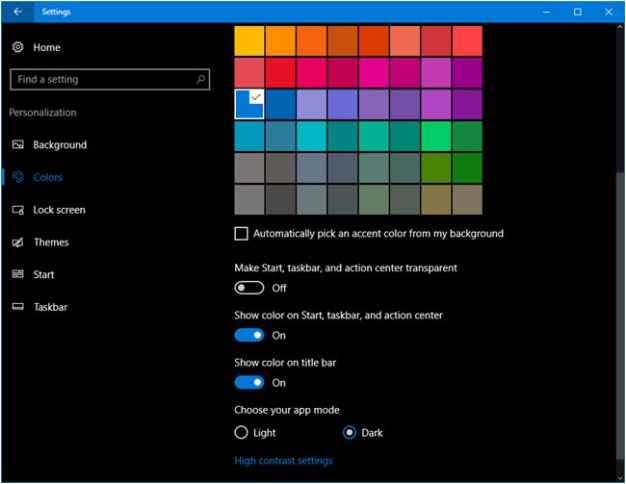 5. Pinning Tabs to Microsoft Edge Now Made Possible
Microsoft Edge is said to be the fastest Internet browser when it was released and it is also one of the lightest in terms of system resource usage but not all Windows 10 users are a big fan of it. It is still very young compared to its competitors but Microsoft is constantly making improvements to it and one of them is the ability to add and pin new tabs to its homepage screen. This is an awesome feature and a very welcome one especially to people who want to get quick access to their favorite websites right on the homepage.
6. Extensions are Now Supported by Microsoft Edge
Most users prefer Google Chrome because of the wide variety of extensions, add-ons and plugins that it supports but in Windows 10's Anniversary Update, Microsoft Edge gets this same capability and you can start adding plugins in an instant! It took 1 year for Microsoft to fulfill their promise to make Microsoft Edge live up to its tight competitors and finally, support for plugins is now available.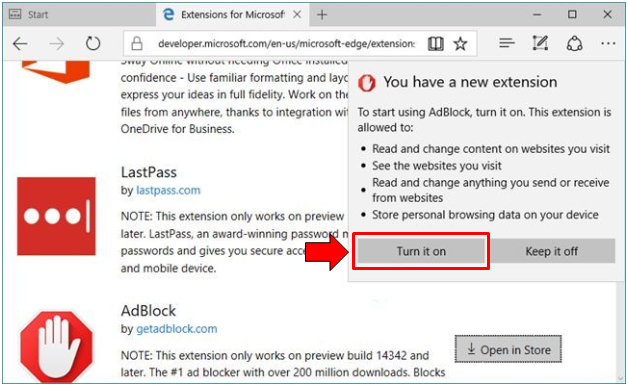 7. A Better-Performing Windows Defender
Microsoft knows that security is one of the top concerns to almost all customers using Windows and they have invested lots of efforts and resources to make sure that Windows 10's built-in antivirus tool works at its best at all times. Windows Defender now has an additional feature that allow users to perform a scan occasionally and this is possible even if you already have another antivirus software installed on your PC. Windows Defender can also perform quietly without causing conflict with other security products that are installed on your computer. Another new feature of this built-in antivirus tool in Windows 10 is that it is now capable of showing more enhanced notifications every now and then showing you the things that it did to your Windows 10 machine.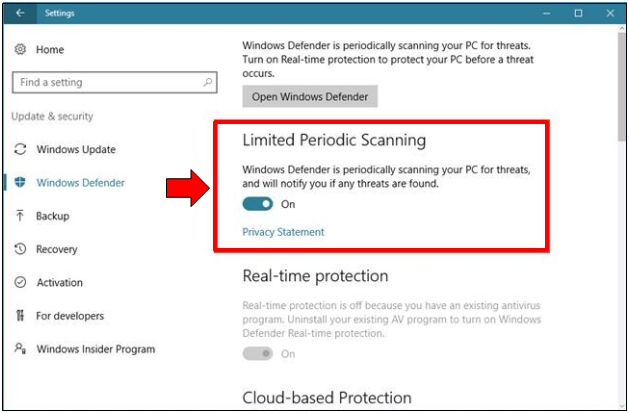 8. The Improved Task View Feature Allows Pinning of Windows and Apps to Multiple Open Virtual Desktops
Windows 10 is known for taking productivity to the next level and one of the best known features that represents this is called the Task View. In Windows 10's Anniversary update, Task View now allows pinning of a single app or even an opened program Window into multiple virtual desktops. You can try it once you get Windows 10's Anniversary Update and we're very sure that you are going to enjoy using it!
9. Clicking on the Clock Display on the System Tray will Show Your Scheduled Task for the Day
The clock display which is found on the System Tray (the section that is found at the extreme-right end of the Taskbar) has been around since the early days of the Windows operating system and when it is clicked, it used to only display the calendar as well as the current date and time which opens in a box but in the latest anniversary update of Windows 10, it now shows all of the things that are scheduled on a certain day. This is a very welcome improvement especially to people who don't have time to be clicking and scrolling through other sections of Windows 10 just to check their schedule everyday.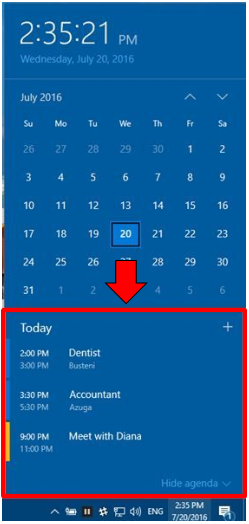 10. Blue Screen of Death Errors Will Now Include QR Codes to Help Solve Problems Faster
Blue Screen of Death or BSOD errors has always been dreaded by users and when it happens, Microsoft only shows a code which is a combination of alphanumeric characters with symbols about the error. This code does not really help most of the time so in the order to help users to find solutions and help whenever a BSOD error occurs, Microsoft has now included a QR code whenever this problem happens as you can see on the screenshot below.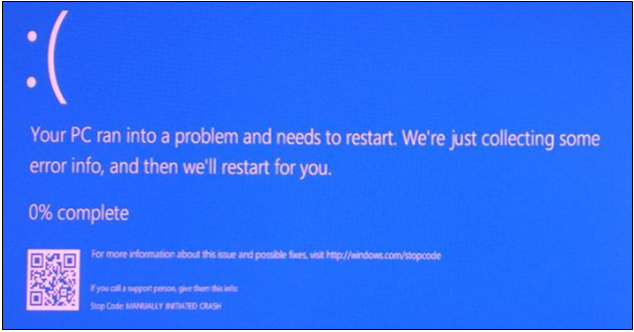 There are still some other brand new features in the anniversary update of Windows 10 but we decided to show only the ones that would be useful and beneficial to most readers and users. Have you tried installed this latest update in your Windows machine? If you haven't done yet then these top 10 awesome improvements should be more than enough of a reason  to do so. If you already did then please let us know what you think about it. Would these changes convince those who are still using older Windows editions to make the jump to Windows 10? The results are still to be seen but Microsoft really hopes that conservatives would finally accept and embrace Windows 10 to be their new partner in their computing needs.