A few weeks before the formal public release of the new Windows 10 operating system which is scheduled this summer, it has already been stirring a lot of discussion online as to what it will really be like and how far did it really go from its predecessors dubbed as Windows 8 and Windows 8.1.
Majority of the Windows Insiders and testers who signed up to get the Windows 10 technical release for free while it is still on its developmental stage in order to provide suggestions and feedback to Microsoft about the upcoming OS release have high hopes that the operating system will gain more popularity than the two previous ones that preceded it.
However, skeptics are also around writing uninformed blogs and comments to paint some negative picture about the best Windows operating system build ever to be created by Microsoft. So what exactly is Windows 10 and how does it differ from Windows 8 and Windows 8.1? Is it really better as what Microsoft and Windows Insiders really claim?
In this article, we will be going through 10 different features and aspects of Windows 10 that has really been improved to make it a lot comfortable to every user. In case you've read some negative reviews about this upcoming Windows OS then you might as well want to read this article and see the detailed description of the new features in it so you can finally make a better conclusion on what Windows 10 really is and if it would be a good choice or not.
1. Multitasking? The Virtual Desktop Is a Perfect Companion!
Previous Windows editions only allowed you to open different programs in one single Window and as you open more and more software and apps, they become really crowded and cluttered. In other cases, they would also cause your computer to hang or freeze which can cause delays on the task that you want to finish quickly.
Multitasking was possible back in the days of older Windows versions and if you wanted to take it to the next level, you would need to download a third party software that will allow you to create virtual desktop screens so you can avoid having some clutter while doing plenty of tasks at the same time.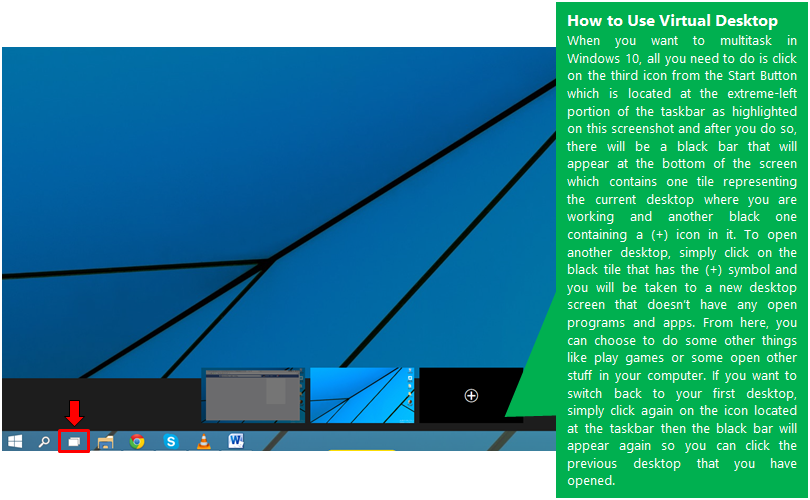 Windows has been lagging behind its rival computer operating system platforms in this aspect. For instance, Linux and Mac OS both have virtual desktop features but Windows entrusted this very useful feature to third-party software developers even up to Windows 8 and Windows 8.1.
However, everything is going to change in Windows 10 because for the first time in the history of Windows operating system editions, Microsoft developers have finally made up their mind and decided to incorporate a virtual desktop feature in this upcoming Windows release!
2. Snap Feature Just Got Even Better!
If you plan to accomplish even more things in your computer then there's another tool that can help you multitask which is called the Snap feature. While this has been present in Windows versions as early as Windows 7, it has seen some bigger improvements in the new Windows 10. For instance, when you snap a single program or app Window so it will take the left part of your computer screen, you will see all the other opened programs and Windows at the right represented by files which you can easily click to open instead of maximizing a Window and dragging it to the right.

No more dragging and dropping this time but instead, you will only snap one Window to either side of the screen then simply click the tile of the other program that you want to open on the other side.
3. Windows 10 Boots and Performs Faster
Aside from the visual aspects and features that has been improved in Windows 10, another very noticeable improvement in it even on the Technical Preview release is its ability to boot faster than Windows 8 or Windows 8.1. Aside from this, we have also noticed that everything works smoother in terms of performance even if you install in on an old computer.
We have installed Windows 10 Technical Preview in a computer that used to run Windows 7 Home Basic then was upgraded to Windows 8 and Windows 8.1 but in terms of performance, it performs a lot better than Windows 8.1 which we configured as the primary operating system in a dual boot configuration.
Microsoft has really done a great job in developing Windows 10 and while we don't know much about all the inner workings of it, the changes that can be seen outright really proves that it is far better than its predecessors!
More of the New Windows 10 Features in Part 2
As you can see, Windows 10 really has been improved for the better and while it is still on its final days of being polished for final release this summer, it would be good if you start getting familiar with it by reading our tutorials that will give you a glimpse on how it works and what other features were added to it. We've only discussed 3 things in this article but we'll be discovering even more on the second part of this tutorial so be sure to follow through on "Part 2" to find out more about this emerging Windows operating system edition which Microsoft labels as "the best ever"!