Security and privacy is one of the hot topics among Windows and other operating system platform users which really deserve some serious attention. Through the years, operating systems have evolved from more secured ones in terms of security and privacy and now, became less secure especially with the profit-driven customer and sales acquisition codes being written into browsers and other applications that are all designed to extract certain types of information. The collected information are then sent back to big companies or are being sold by independent companies to product giants in order to make sales skyrocket overnight! Just imagine being able to target the right customers simply by collecting their browser histories and cookies. That is basically what happens when you visit different websites or use different apps on your Windows computer, smartphone or tablet.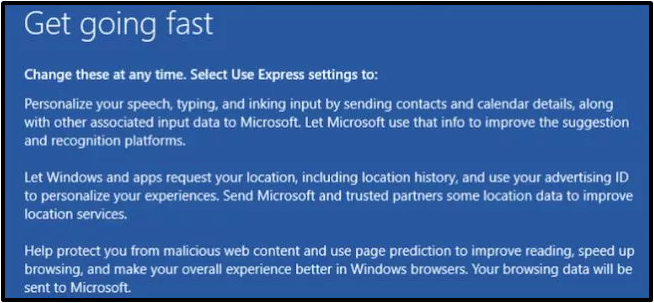 If you've been using any of these devices for quite some time then you should have noticed that the ads appearing in every website that you visit are exactly the ones that you have viewed days before or are somewhat related to the items that you viewed on ebay, amazon and any other online store that you purchase from. Now this is made possible by cookies and all of the other bots and codes that advertisers and marketers use to extract data and if you are not aware of it then you should be now! In this article, we will be looking into some default settings on your Windows 10 computer that are possibly designed to extract personal/customer data and have them phoned home to Microsoft which the company claims are being used to improve quality of service and development of software for the benefit of users.
NOTE:
Almost everything on the Internet are now sending back data towards unknown locations. For instance as we have mentioned earlier, marketers and advertisers all have cookies and codes that are designed to collect data on the websites that you visit and the products that you view in order to display targeted ads whenever you are active online. Even Facebook and Amazon does this to better understand customers so whether you are using Android or iOS, you are still being watched. We're not writing this article to condemn Microsoft for this practice because even other OS platforms do the same. What we would like to do is present a list of features in Windows 10 that send back information to Microsoft and let you decide what you think about this practice especially in today's rising security and privacy risks all around the Internet.
Options and Settings Under Location, Personalized Ads, Feedback,Getting to Know You and Privacy
The very first set of options that are of great concern to many security and privacy conservative users can actually be avoided right after Windows 10's installation where the system asks you to choose between "Use express settings" or "Customize Setting". By choosing the "Use express settings" option which is the recommended one, all of the settings that can send back data to Microsoft are activated which so if you don't want this to happen, be sure to choose the longer method of doing things by clicking "Customize settings" and turn off the settings which are otherwise turned on in the "Express settings" option. In case you have already selected the "Use express settings" option, you can turn these settings manually by following the steps below.
Open the Modern Settings Window
First, you will need to get into the modern Settings Window by pressing the Windows + I keys and once it opens, just click on the Settings category that is labeled "Privacy" as highlighted on the screenshot below.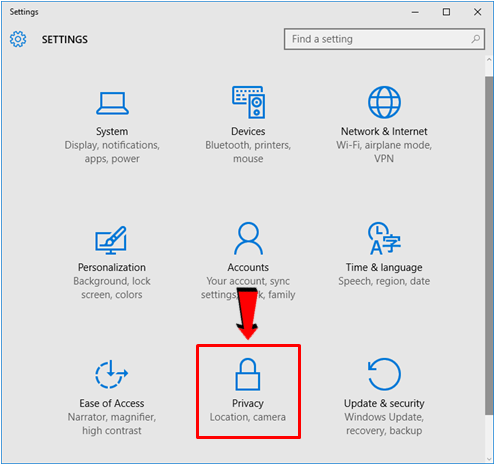 Now, once the Privacy section opens, you will be taken to the first group of settings under the "General" link and each of them are further described below.
1. Let apps use my advertising ID for experiences across apps (turning this off will reset your ID)
If this option is enabled, Microsoft gives you a unique advertising ID that they use to track you when you are using different modern/universal apps that are built-in with Windows 10 and as well as those that you download and install from the Windows Store. By doing this, Microsoft is able to track your app usage and direct targeted ads appearing in each one of them whenever you are using the said apps.
2. Turn on the SmartScreen Filter to check web contents (URLs) that Windows Store apps use
Once activated, this option will allow modern/universal apps to use the SmartScreen filter. As you will see later, this feature is also enabled for Microsoft developed browsers like Microsoft Edge or Internet Explorer and as well as with its built-in file management system known as File Explorer.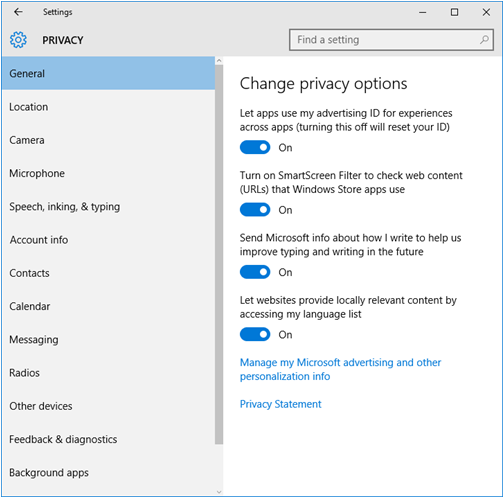 3. Send Microsoft info about how I write to help is improve typing and writing in the future
This setting is somewhat related to "Speech, inking, & typing" that will be described below and with this enabled, information on how you type and write are sent to Microsoft servers for future development projects in these areas.
4. Let websites provide locally relevant content by accessing my language list
With this option enabled, the websites that you visit will get access to the languages that are installed on your computer and provide content based on your preferred language.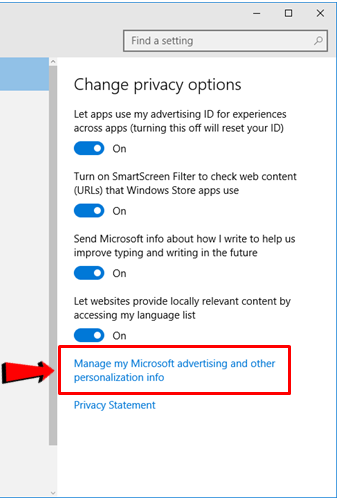 Moving towards the bottom of this same "General" section of the Privacy settings category, you will find a link that says "Manage my Microsoft advertising and other personalization info" and when you click on it, a new tab will open on your default browser which will show the options that are shown on the screenshot below.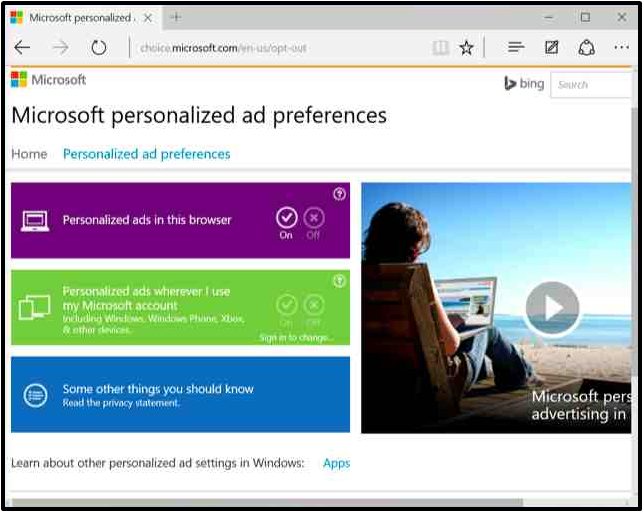 The first option appearing on the webpage that opened after clicking on the link from the bottom portion of the "General" section of Privacy settings says "Personalized ads in this browser" and this basically controls whether or not Microsoft can show targeted ads on the browser that you are using. The second one that says "Personalized ads wherever I use my Microsoft account" is now tied to your Microsoft account instead of being browser specific. This means that when you are browsing and you are logged-in to your Microsoft account on Microsoft Edge or Internet Explorer for instance and this option is enabled, Microsoft can still display personalized ads. This can also happen on your Windows Phone, Tablet, Xbox and other devices that you use your Microsoft account on.
Options Found Under the Location Section
Now that all of the options under the "General" section has already been discussed, we'll now proceed to the next one which is located just below it on the navigation pane at the left which says "Location" as highlighted on the screenshot below.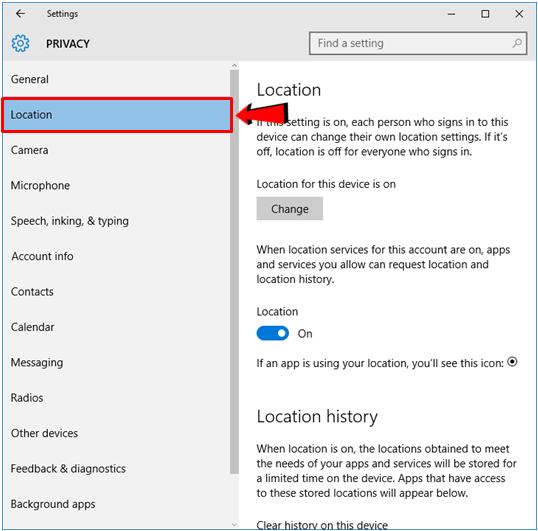 When the "Location" link located on the navigation pane at the left hand portion of the Privacy settings Window is clicked, its contents will display on the right where you will see a button labeled "Change" which will allow you to toggle the location settings for your computer from the default "On" setting to "Off" and many other location related settings if you scroll down. The uses of the options under the "Location" section are further described below.
5. Location Related Options
In today's modern devices, it is almost common to find a GPS feature that allows the tracking of location for different apps and websites. Your location is shared with modern/universal apps that you choose to share it with and if you scroll down the Location settings section, you will find the list of apps that you can actually enable location sharing with.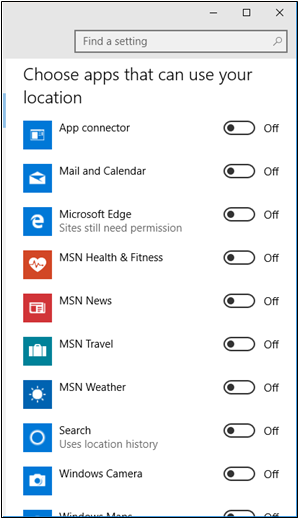 Your location is available to these apps and are stored on your local device such as your PC, laptop or smartphone for instance and are deleted after 24 hours. However, some data related to your location are still being shared with Microsoft as well as other trusted partners if the Location services is enabled for your device.
Camera and Microphone
These sections found next to the "Location" link on the navigation pane are not that much of an issue in terms of security and privacy since Microsoft has nothing to do with regards to sending back recorded voice calls or taking your videos and snapshots. There's just no use of doing so as far as improving services is concerned so we'll skip both of these items and go directly to the "Speech", "inking" & "typing" link.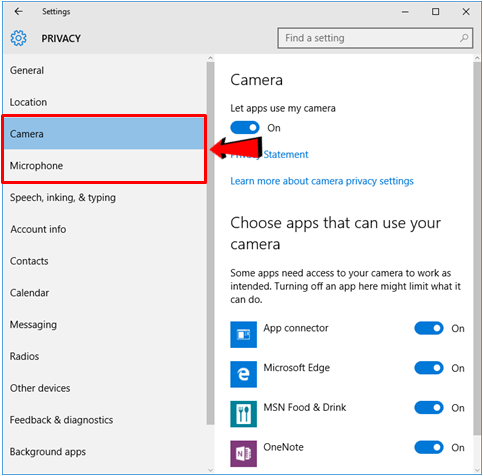 However, if you really want to have the feeling of full security against anything that can take advantage of the Privacy settings on your Windows 10 computer then you can simply turn off Camera and Microphone for all the modern/universal apps that can use them as listed in each of these sections. You can do so simply by clicking on the switch that is currently on the "On" position and you will notice that it will flick to the "Off" position instantly.
Speech, Inking, & Typing
Next to the Camera and Microphone links on the left navigation pane of the modern Privacy settings Window is the "Speech, inking, & typing" section. Now, from its label alone, there could be many items in it that should be a great concern to you since most of them are related to input processes. Once you click on it, you will be able to open its contents on the right portion as shown on the screenshot below.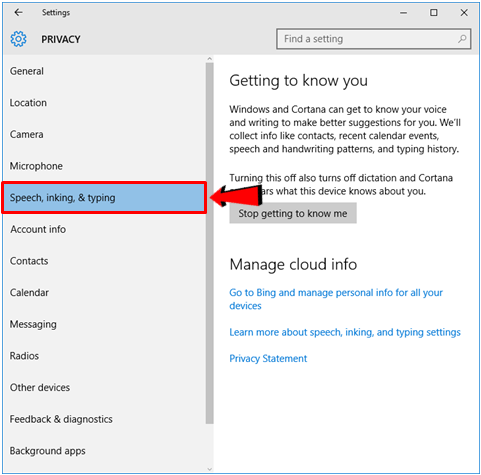 6. Speech, inking, & typing
This section of the Privacy settings Window covers a big amount of stuff that can undermine security and privacy. Just imagine allowing Cortana and even Windows 10 itself to log your voice, contacts, speech, writing, calendar events, handwriting pattern and even your typing history. Now that's like voyeurism straight on our faces and if you don't want this to happen (which most of us surely don't want to be happening in the first place), you can tell Windows to "Stop getting to know me" by clicking on the button that is labeled with the same phrase!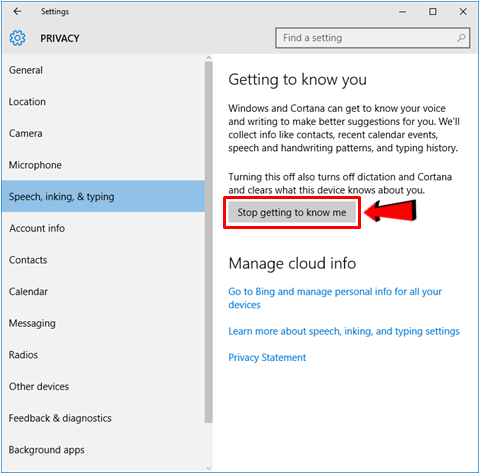 Moving towards the bottom of this same section, you will find a link that says "Go to Bing and manage personal info for all your devices". If you click on it, you will be able to open a new tab on your machine's default browser where the option for cleaning personalization data stored by Microsoft servers are found. From here, just click on the "Clear" button that is found under the "Cortana Data and Personalized Speech, Inking and Typing" option in order to delete all information that has been stored and accumulated over time while you were using your computer with these Privacy options turned on.
Account Info
Next item on the navigation pane at the left hand portion of the modern Privacy settings Window is the one that is labeled "Account info" and when you click on it, you will see only a single switch which will allow you to turn on/off some apps from accessing your account name, picture and other information as shown below.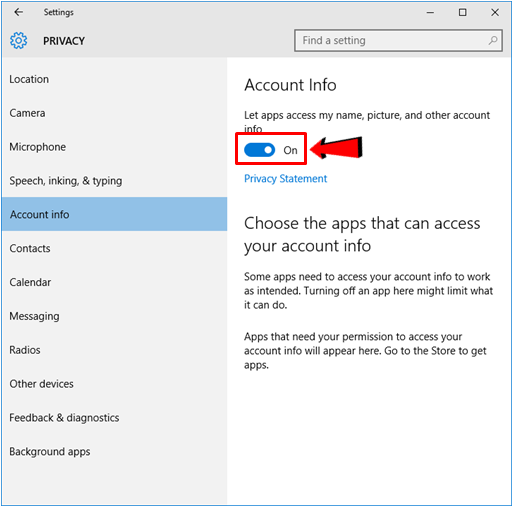 Again, if you really want to get protected against anything that can undermine security and privacy then you can just turn this feature off just to make sure that nothing is being sent back to Microsoft.
Contacts
Next item is labeled Contacts and again, because of the presence of modern/universal apps in Windows 10, there are some of these apps that can actually access your contacts and if you click on this Contacts link from the navigation pane, you will see the list of all the apps that are allowed to access your contacts list as you can see below.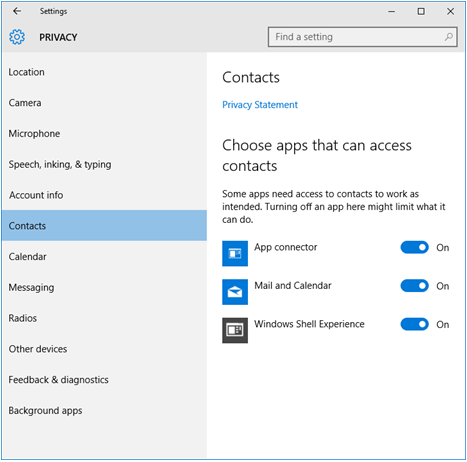 Again, turning off contacts list access for each of the modern/universal apps that are listed in this section may help prevent any problem that is related to compromised privacy and security but you need to do so on your own discretion.
Calendar
Moving on, the next item that you will find on the navigation pane at the left of the Privacy settings Window is the one that is labeled "Calendar". This section still has to do with the modern/universal apps that need to access your calendar for them to function properly. If you wish to disallow any app from using your calendar then you can simply click on the switch that is found under the "Let apps access my calendar" option in order to turn it off.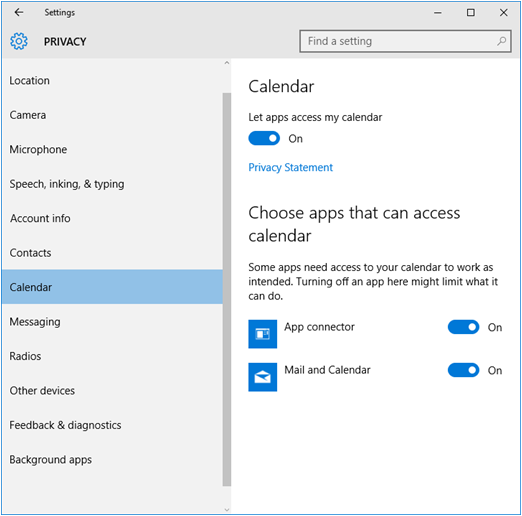 Again, at the bottom portion of the "Calendar" section is a list of apps that can access your calendar. If you don't want to totally turn off access to your calendar for all apps and just want to turn it off for a specific app then simply click on the corresponding switch from this list as you can see on the screenshot above.
Messaging
Next, you will find the "Messaging" link which again relates to the modern/universal apps that can read and send messages through text or MMS. In this section, you will find a switch for generally enabling or disabling this feature for all available apps. Microsoft has removed the built-in messaging app from Windows 10 so this might be intended for third-party applications that you can download from the Windows Store.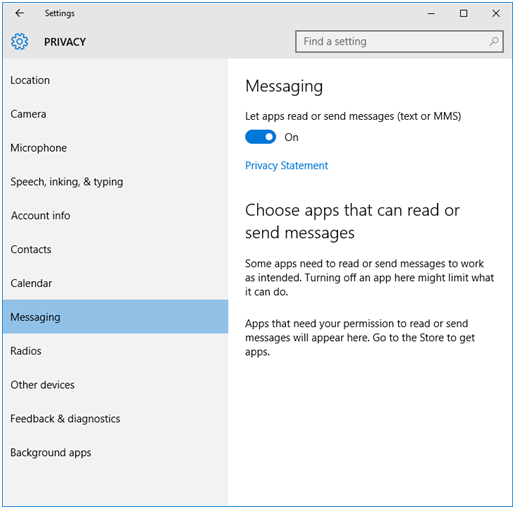 If there are messaging apps installed on your computer, you need to be careful of turning the main switch for this feature off since it may affect the performance of the apps themselves and can cause further trouble in the long run so just keep this option turned on to avoid any problems.
Radios
There are apps that use radios such as your computer's Bluetooth radio in sending and receiving data and other information in the form of sound or video. If there apps that are installed on your computer that takes advantage of this then we would recommend that you just leave this option turned on. Don't touch anything in it so as not to prevent these apps from doing their magic!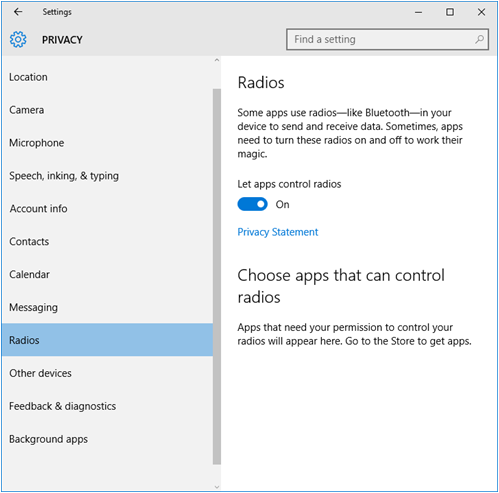 There is a switch found in the Quick Actions section for Bluetooth and Wi-Fi though which you can quickly click if you want to turn off these radios manually. There's also the handy "Airplane mode" which instantly turns off all radios on your computer in a single click!
Other Devices
The "Other Devices" section basically displays all of the available devices that are connected to your computer through Bluetooth or even your network. This section also contains switches for quickly turning on syncing with wireless devices that don't allow explicit pairing with your PC, tablet or smartphone running on Windows.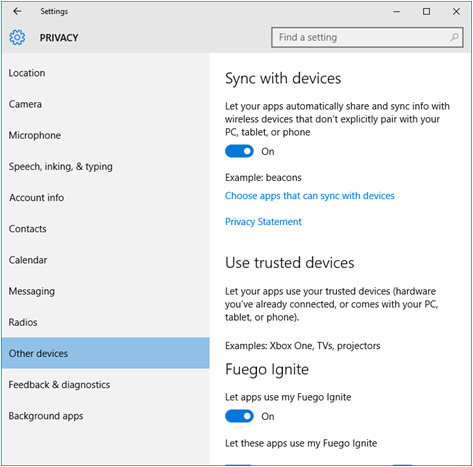 You can also choose which apps can communicate and use your other devices from this section or you may even turn off connection to these devices simply by clicking on their corresponding switches. All of these items on the navigation pane- from Account info down to Other devices don't contain that much issues in terms of data and information being sent back to Microsoft but the next one that is labeled "Feedback & diagnostics" contains a significant amount of stuff that is a topic of great concern once again.
Feedback & Diagnostics
Microsoft really wants to make Windows 10 perform a lot better than its predecessors and the way their way of doing this is by collecting real time diagnostics and feedback data from customers. However, this too seems a little bit risky especially if privacy and security is taken into account. Here's a deeper explanation on how this feature works.
7. Feedback & Diagnostics Data Collection
Windows 10 is set to ask for your feedback in an "Automatic" basis which means that Microsoft will flash prompts through the Action Center section every now and then asking you for a feedback on certain aspects of the Windows 10 operating system. While this can be useful on the point of view of Microsoft, it can be annoying to users especially those who don't want to be bothered by anything that suddenly appears on the screen. Another concern is that Windows 10 is also set to send "Full" diagnostics and as well as usage data back to Microsoft and to many security and privacy advocates, this appears to be the new telemetry system developed by the company which they codenamed "Asimov". The other options are "Basic" and "Enhanced" and sadly, there's no option for turning it off except on Enterprise editions of Windows 10 but even in this Windows edition, you will still need to edit the "Allow Telemetry" option found on the Group Policy Editor.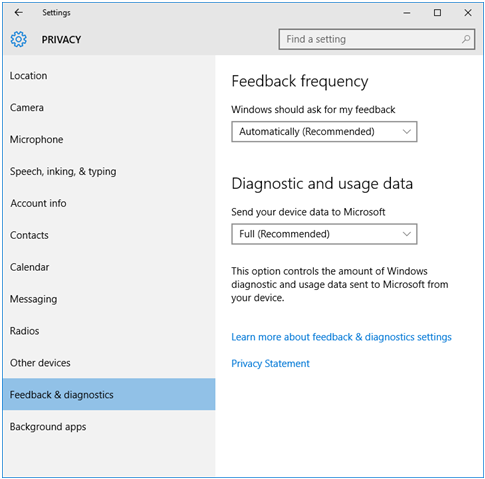 In Windows 10 Professional, changing this option within the group policy editor doesn't even work at all. For instance, after we have changed the value to "0" for "Allow Telemetry", it still wasn't disabled but instead it only changed to the "Basic" option. After careful evaluation, we found out that the Group Policy Editor in Windows 10 Professional only states that "Allow Telemetry" changes in value or setting will only be ignored except on the Enterprise editions of Windows 10.
Background Apps
Lastly, there is one more item found at the bottom-most portion of the Privacy settings Window which is labeled Background apps and this section contains a list of all the apps that can run on the background. If you noticed that your Windows 10 computer has been quite slow these past days then you can go to this section and switch off all unnecessary apps that are running in the background simply by clicking on their corresponding switches as you can see on the screenshot below.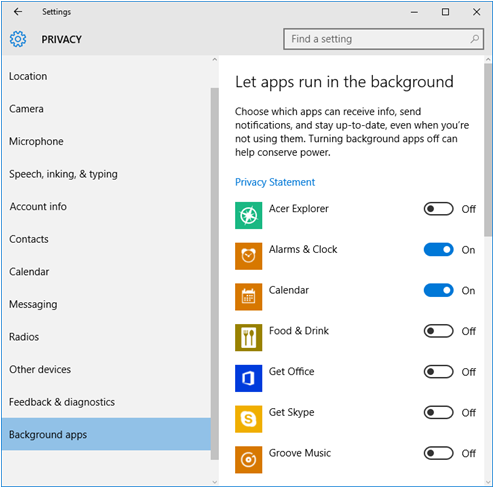 By turning off irrelevant apps that are running in the background, you are actually freeing up some space on your machine's system resource for running more important apps and programs that you are using everyday.
Other Windows 10 Options, Apps and Programs That Can Undermine Privacy and Security
Moving on, we will not get into some other features that have just been introduced in Windows 10 such as Cortana and Bing search integration which both takes advantage of a number of user data and information to function properly and again, these items are included in the list of high risk stuff in Windows 10 that you need to be watchful about so as not to expose any of your precious information to Microsoft. You really don't know when the next hack into this company's databases would happen which can leave the information they collected and stored (including yours) vulnerable. So let's go over to each of these stuff and see how they work so we can understand how your data can be at risk.
8. Bing Search in Windows 10's Start Menu
Bing Search integration used to be separate from the Start Menu in Windows 8 and Windows 8.1 but in Windows 10, Microsoft suddenly had it included with the resurrected Start Menu. Even if you have disabled Cortana (Windows 10's virtual assistant), the searches that you do from the Start menu will still communicate with Bing servers and as well as the Windows Store and return suggestions which are often just nuisance making the list of search results longer.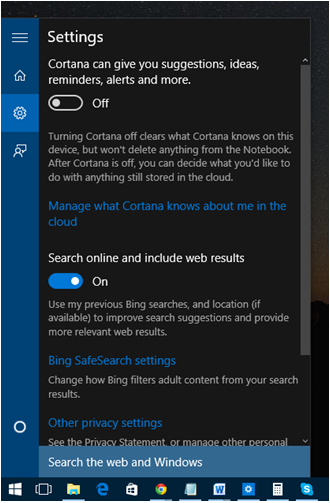 This means that the Start Menu is actually sending data to Bing and other Microsoft servers so you will need as well to deactivate Bing search to make sure everything is safe from all angles.
9. Cortana
We don't see that much use for Cortana but this virtual assistant needs much information and data about you in order for it to work perfectly. For instance, Cortana collects and uses your location and even accesses your location history and as well as your voice input, contacts, calendar, search history, content and tracks communication between apps and many others.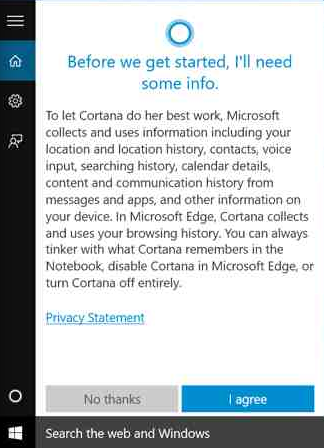 This virtual assistant is also set to capture and collect your browsing history on Microsoft Edge. In short, this virtual assistant really thrives on your information and shares it with Microsoft the same as how Siri and Google Now do with iOS/Apple and Android/Google.
Windows Defender
One awesome feature in Windows 10 which has started back in Windows 8 and was carried over to Windows 8.1 is its built-in antivirus program known as Windows Defender or Microsoft Security Essentials back in previous Windows editions such as Windows 7. The settings for Windows Defender are found in the modern Settings Window under "Update & security > Windows Defender" location. This antivirus program is automatically enabled and its real-time protection is set as active as well. Even if you turn it off, its just temporary and it will turn on by itself later on without you knowing.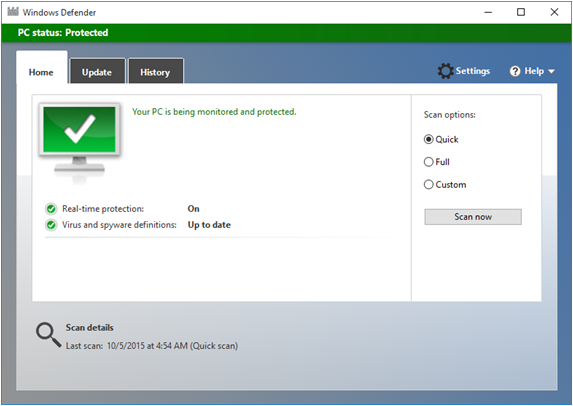 The only real method that works in turning it off is by installing a third-party antivirus protection software since it is not allowed that two antivirus run in the same computer as it can only create conflict between both software wreaking havoc with all the other system files. Here are some areas of concern with regards to security and privacy in the Windows Defender antivirus program that is built-in with your Windows 10 computer.
10. Sample Submission
This function helps Windows Defender to send back malware samples to Microsoft in order to better improve its level of protection but it can also cause problems especially if you unknowingly run a software containing codes that Windows Defender considers as a malware. This feature can also be found even in third-party antivirus programs and can also be disabled anytime.
11. Cloud-Based Protection
This feature in Windows Defender allows Microsoft to get all data and information that the program collects regarding potential security and privacy breaches in Windows 10.
Microsoft Edge
Everyone has eagerly waited for the latest breed of browser in Windows 10 called Microsoft Edge but this too has some issues related to security and privacy which conservative users are growing more and more concerned about. Here are the possible issues that you might be interested to know about as well.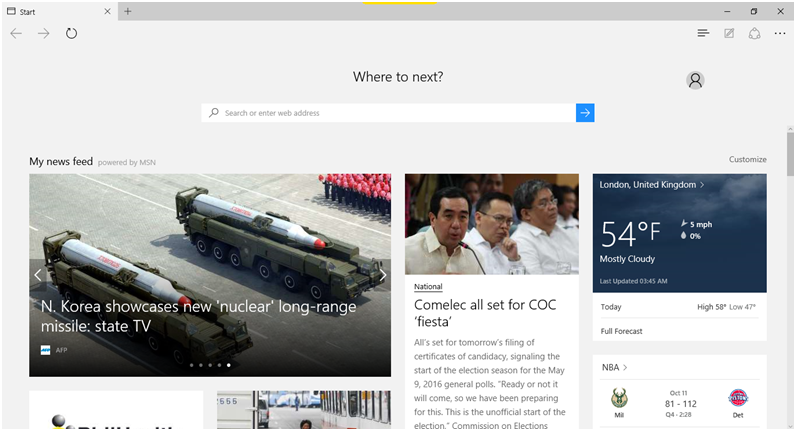 12. Have Cortana Assist me in Microsoft Edge
Cortana already has some issues regarding privacy and security and if you have it set to work hand in hand with Microsoft Edge then you have just set yourself for bigger risks. When Cortana is allowed to work in Microsoft Edge, the virtual assistant will collect your browsing history and save them to improve suggestions on later browsing sessions.
13. Show Search Suggestions as I Type
This works the same with Google where suggestions appear just below the search query box as you type in your query. This means that your search engine (which is Bing by default) already has a record of some words that you have typed into the search box in the past and is essentially sending you back these information as suggestions. It also implies that Bing is actually watching the things that you are typing even if it is just a website URL. It is not only Microsoft Edge that works this way but also Google Chrome and others except Firefox which has a separate search box and web address bar.
14. Help Protect Me from Malicious Sites and Downloads with the SmartScreen filter
This actually isn't anything to be concerned about since it only seeks to protect you against the dangers of all the malicious sites out there are the malicious downloads that they offer. Safe Browsing isn't just a thing in Microsoft Edge but also in Google Chrome and Firefox where the browser takes advantage of a filter in order to identify and block dangerous downloads and websites.
15. BitLocker Recovery Key and Device Encryption
If you are using a relatively new device that run on Windows 8.1 or Windows 10 when you purchased it then you have a big chance of getting a hardware that is capable of supporting an encryption just like BitLocker which Microsoft calls "device encryption". But the big problem with this is that it only works if you log in to your device with your Microsoft account and not just that, after you do log in using your account, your encryption recovery key is automatically uploaded into Microsoft servers.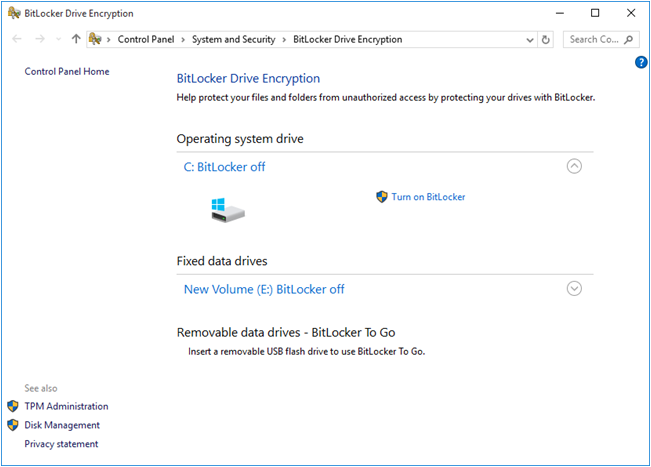 Well, this could be a comfortable step for users since they can easily get their recovery key in case they lose it but the down side is just too enormous to be ignored. For instance, what would happen if someone would like to get the key from Microsoft (such as a certain government entity) then decrypt all your encrypted files. Of course, some would argue that this is still better than having no encryption at all which exposes everything to anyone but to security and privacy conservatives, this is an area of great concern. If you want to avoid this then you can simply log out from your Microsoft account and just log in to your device using a local account but then again, everything that is stored on your computer is unencrypted which means they are all exposed to possible threats. You can also choose to upgrade to Windows 10 Professional and use BitLocker. This built-in software in Windows 10 allows you to choose if you want to store your recovery key with Microsoft for future use and reference but again, you will need to spend $99 for the upgrade from Windows 10 Home to Windows 10 Professional.
New and Improved SmartScreen
Windows 10 has a feature that helps protect your computer against malicious software and many other stuff that can cause problems in the long run. This feature is called SmartScreen and it works by allowing only the applications which Microsoft deems as safe. If it's not that safe then SmarScreen warns you of the danger of running it while if it is known to be a bad application then this feature automatically blocks it from ever running in your computer.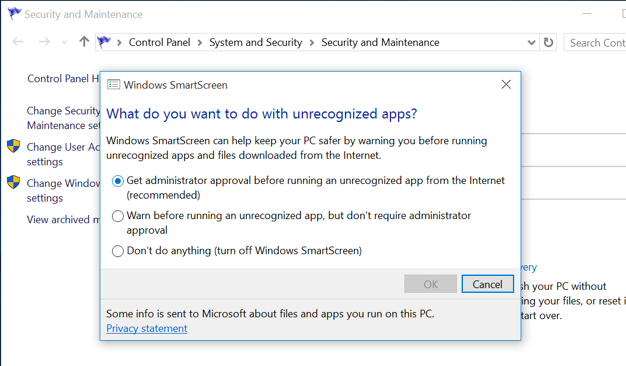 16. SmartScreen in File Explorer
The SmartScreen feature is also found in Windows 10's file management system called File Explorer and its settings can be accessed from the Control Panel. To get into it, just press the Windows + S keys and once the Search feature appears, type in "smartscreen". Now on the Search results, simply click on the "Change SmartScreen settings" shortcut and after doing so, you will be taken to the "System & Security > Security & Maintenance" Window of the Control Panel. From here, you will need to click the link that says "Change Windows SmartScreen settings" and you will have the option to turn off SmartScreen on File Explorer if you wish to.
Internet Explorer
You might have already heard about the phasing-out of Internet Explorer, and having it replaced by Microsoft Edge but that doesn't mean that this old browser has already been removed completely from Windows 10. It is still present but it is not set as the default browser.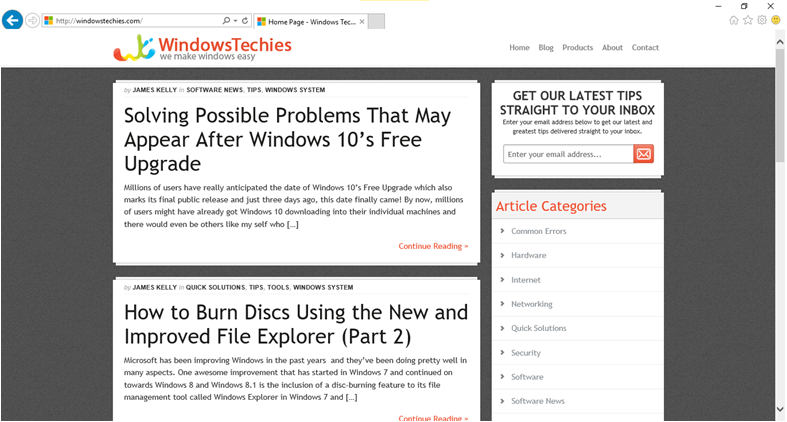 17. SmartScreen
Again, SmartScreen is also integrated with Internet Explorer and if you want to tweak it, all you need to do is click on the "Gear" icon that is found on the top-right portion of the screen then point to "Safety" and select "Turn off SmartScreen filter". After doing so, SmartScreen will instantly be turned off from Internet Explorer.
18. Suggestions from Bing
Just like what happens in Microsoft Edge and even in other browser brands, Internet Explorer also has the feature that allows suggestions from Bing whenever you type in a search query or the website URL into the designated input box. This means that your past searches and search queries were sent to Microsoft servers and if you don't want it to be happening then you will need to turn it off.
19. Enable Suggested Sites
This feature isn't a new one in the Internet Explorer version that is installed on your Windows 10 machine but instead, it has only been carried over from older IE version down to the latest one. The "Enable suggested sites" feature uploads your browsing history to Microsoft's servers so that it can provide functionality for this feature.
Microsoft Account Synchronization
Windows 10 recommends that you log in to your device using your Microsoft account for the purpose of having your settings synced with all your other Windows devices where you also log on using your Microsoft account on. However, this also means that your settings are stored in Microsoft servers which is a big concern for security and privacy conservatives. Below are the instances on how this happens.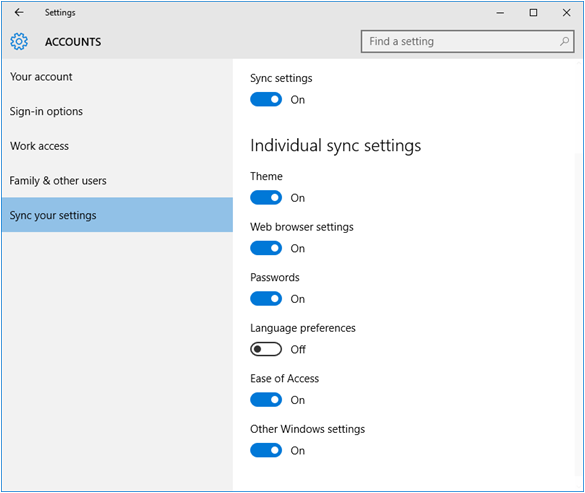 20. Sync Settings
There are varied Settings in Windows 10 such your passwords, browser data and even your Desktop background are synced to Microsoft servers by default so they can be applied in all your other Windows devices where you log using your Microsoft account with. These options are found under the "Settings > Account > Sync your settings" section just in case you want to see what they are.
21. Devices You've Logged in From
Aside from syncing settings, Microsoft also keeps track of the devices that you have logged in with using your Microsoft account. This is a good tracker for you to know whether someone else is using your Microsoft account on other devices to do malicious activities. You can view this usage list at "https://account.microsoft.com/devices" anytime!
Windows 10 Made Less Secure to Perform Better Across Different Devices
As you can see, there really are plenty of reasons for you to be careful when using Windows 10 and we've only pointed out the most obvious ones in this tutorial. In short, we only made a conservative list but there are still some other areas in this newest Windows version that can become a loophole for malicious stuff which will then cause security and privacy to be compromised. Our advise is to always stay vigilant and read about a certain privacy or security feature before you activate it so you won't fall prey to threats that are lurking in the dark corners of the Internet.