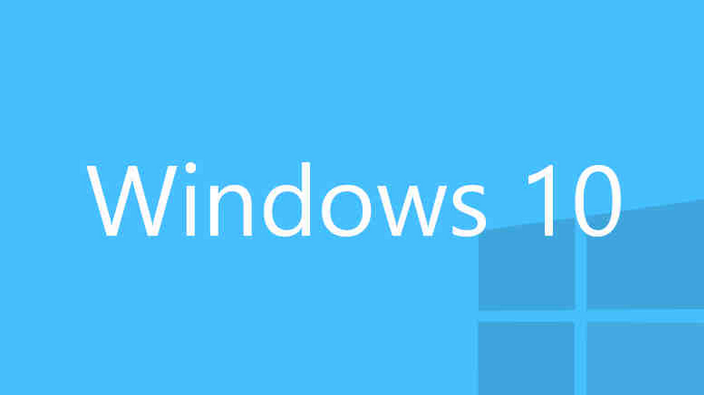 Microsoft seemed to have failed to a certain degree when they released Windows 8 and Windows 8.1. These operating systems both contained brand new and thrilling features that were meant to really merge the tablet and PC worlds into one but what most users really complained about is that all of these improvements came with the expense of the old yet very useful features which most have really become accustomed to.
While these rather undeniable flaws continued from Windows 8 towards Windows 8.1 and had some users quite disappointed, Microsoft still had everything in control and worked towards a bigger and better Windows which is now set to be released before the end of this year.
However, we at WindowsTechies.com would always want to be the first to try out anything that is related to Windows and so we took the initiative to give our readers a first look into this brand new operating system. If you think waiting until Windows 10 gets publicly released is too long a wait and you're really eager to get a glimpse of what it offers then you'll get all of those in this article.
A Good News from Microsoft
During Microsoft's big event which announced this new operating system that's going to be released this year, they also gave hints as to what it would contain and even sounded-off their genuine desire to really make Windows as the operating system that would dominate both the desktop and mobile devices.
Along with all the Windows 10 related announcements was the unveiling of Microsoft's latest gadget which represents their take to the wearable-tech industry called Microsoft HoloLens but before the event ended, a big announcement which really rocked even the stock market and sounded sweet for every Windows user was given by the tech giant!
For the first time, Microsoft which got most of their revenue from selling newer operating system versions is going to give out Windows 10 as a free upgrade to all users who are still using Windows 7, Windows 8, Windows 8.1 and Windows Phone 8.1.
Microsoft's main goal is to really get Windows into all devices possible and with all the great features which Windows 10 has, reaching this goal surely won't be hard at all. Windows 10 is now available in "Technical Preview" release and is open for all developers, testers and experts who would like to really shape this new breed of Windows into an all around operating system that will surely be loved by everyone.
Microsoft experts are also hosting the "Windows Insider Program" which serves as the place where Windows Insiders/Testers can give feedback and suggestions on how Windows 10 can be improved.
With the thousands of Insiders now collaborating alongside Microsoft developers, Windows 10 is surely on its way to becoming the greatest Windows operating system ever released by Microsoft but before we get so excited with the final product, let us now take a look at the current features that are already available in the Technical Preview release of this operating system.
What's New in Windows 10?
If you were confused of all the abrupt changes which were included in Windows 8 and Windows 8.1 then you will surely be happy with the idea that most of them will be taken back and become a part of Windows 10 once again together with even more useful features which are all geared towards improving productivity as you jump from your PC to your mobile devices. Below is a list of some of the brand new features which are currently found in Windows 10 Technical Preview release.
1. The Real Start Menu is Back With More!
Users were really outraged upon finding out that the Start Menu has been taken away from Windows 8 and its supposed improved version Windows 8.1 failed to take it back but now, in Windows 10, Microsoft is taking this very popular and extremely loved feature back and it's got even more stuff included with it.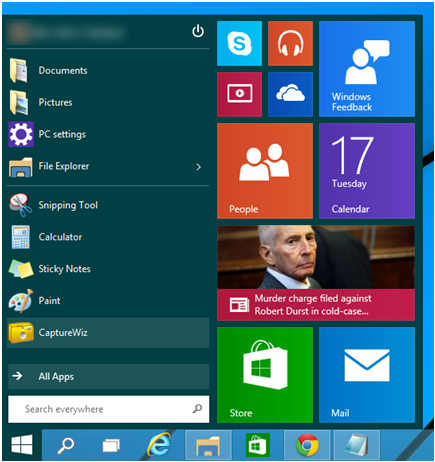 As you can see, the important items and shortcuts that used to be found on the Start Menu are now back. Sitting to the right of these items are the modern apps which now found a new home instead of being confined in the Start Screen. We will be discussing more about the new Start Menu in our next tutorial so for now, it is enough that you have seen how it really looks like in Windows 10.
2. New Virtual Desktop Feature Added
Virtual Desktop isn't new at all in other operating system platforms like Linux or Mac OS and finally after years of giving this feature to third party software, Microsoft has now included a Virtual Desktop feature which will surely boost your productivity while working on your Windows 10 computer.

To access this feature, all you need to do is click on the rectangular icon that is found on the taskbar as highlighted on the screenshot above. More details on how this feature is used will be covered in our next tutorials so stay tuned in with us to catch the tutorial first after we publish it.
3. Modern Apps Now Open in a Real Window
The modern apps back in Windows 8 open in full screen which made it a big problem for users who want to do more. In Windows 8.1, they started to have an exit and minimize buttons but it didn't really resemble the ones found on a real Window. Now in the new Windows 10, modern apps are already enclosed in a real Window and you can minimize, maximize, exit and drag them so they can take half of the screen much like what you do with regular programs and Windows.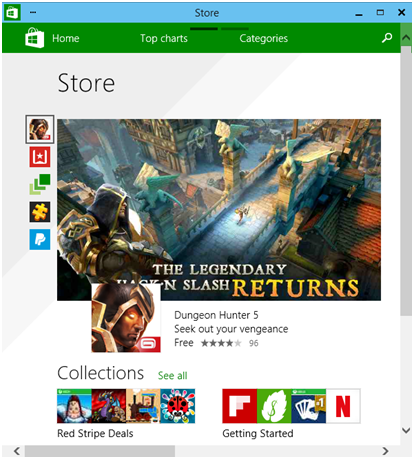 With this newly added feature, you can now jump from the Desktop screen to a modern app easily without having to click on a "Desktop" tile or close a modern app screen. It is such a useful tool that's going to boost productivity many times over!
4. Search Button Permanently Pinned on the Taskbar
Now, everything doesn't stop on the new Start Menu and some other improved features, there's still another one that's really hard to ignore because it sits on the taskbar just beside the Start Button. Unlike other taskbar icons, this icon sits permanently and can never be removed. It is called the "Search" button which would surely get you the programs that you want to open quickly!

Aside from this search button that is found on the taskbar, you can also find a search box on the Start Menu and almost anywhere on the Windows 10 system to make sure that you get access to different programs, apps and other features quickly when the need arises.
More Exciting Features to Come!
As you can see, Microsoft really did a good job listening to feedbacks from customers on how to improve the next Windows version. We have just shown you some of the brand new stuff that can easily be seen on the Desktop screen but those are not everything yet! There are still more of them hidden somewhere and we're going to point them out in our next tutorials.
Microsoft is also packing even more features as they improve the upcoming Windows 10 OS with the help of Windows Insiders so there really are a lot of things to watch out for that would surely make you amazed. Everything is going to be even better from this point onward!