You might have been ignoring ISOs in the past years because you really don't have anything to do with them. You're just using your Windows computer for basic research, entertainment and recreation and so there's really no need to dabble with anything that has to do with ISOs.
However, now that Microsoft has opened Windows 10's Preview version for those who would like to take part in its development and if you want to get this Windows 10 Preview version as a secondary operating system set up in a dual-boot configuration in your computer, you will need to deal with its ISO installer which is freely available to those who have signed up for the Windows Insider Program– a feedback program designed to help Microsoft developers in collecting ideas from experts and ordinary users from around the world.
Microsoft is really taking the development of Windows 10 seriously through the Windows Insider Program and the Preview Versions that have been release (with Build 10130 being the latest) has shown some very good improvements and innovations in features brought about by the collaboration and cooperation of Insiders.
What to Do With ISOs?
So what exactly are you going to do with the Windows 10 ISO installer file that you already have now? Will it work if you would just copy it into a USB flashdrive and boot your computer through it? The sad reality is NO and in order to make use of it, you will need to first download a tool that will turn your USB flashdrive into a bootable drive. In this tutorial, we will look into four (4) tools that you can use in making a bootable ISO drive using a USB flashdrive but before that, let's first get to know what ISO means.
What is ISO?
Most software installers that have large file size would normally be in ISO format. An ISO is an exact copy of a disk's contents also known as a disk image. When a disk image of a software installer is created, it would normally have an "*.ISO" file extension. ISO is simply short for ISO9660 which is a file system set as the standard for CD-ROM. This file system is made to be read in a Windows PC, Mac or any other computer OS platform.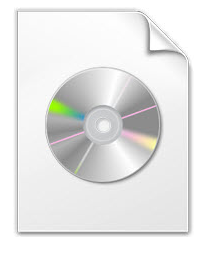 This standard has been issued in 1988 by an industry group named High Sierra and is designed to be read in almost any computer that has a CD-ROM drive built-in or attached with it. Depending on the burner software or application that you will use, an ISO file might have a "*.bin", "*.ccd", "*.cif", "*.img", "*.nrg" (excluding the quotation marks) and many others.
ISO Burning Software that You Can Try
Most software at present comes in a DVD installer. This is true even with some Microsoft products like Microsoft Office and even the Windows operating systems that we have enjoyed using in our computers ever since. However, not all computers especially the portable ones like laptops and other hybrid devices have a CD or DVD-ROM where disks can be inserted.
While portable DVD-ROMs are available, they cost too much for an ordinary user who only wants a software to be installed into their computers. This is the reason why ISOs exist and if you already have an ISO copy of the software that you want to install into your computer like the Windows 10 Preview version for instance, you can choose from the software below which will help you to load the ISO image into a USB flashdrive and make it bootable.
1. Windows USB/DVD Download Tool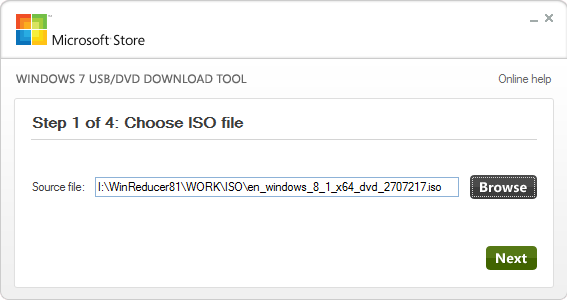 Windows USB/DVD Download Tool is Microsoft's official software for creating a bootable USB flashdrive by loading ISO disk image into it. This software is very simple and is designed for even the novice users who's wanting to create an installer out of a simple USB flashdrive or pendrive. You can download this software for FREE from its official download page.
2. UNetbootin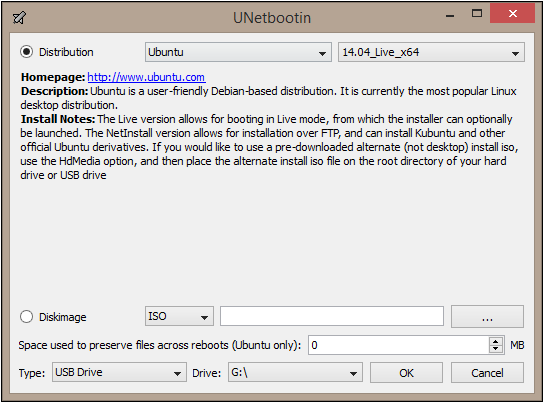 Aside from tools made by Microsoft and other third-party software developers (most of them universal or can be used on different operating system platforms), you can also use UNetbootin especially if you are using a computer that runs a Linux operating system. The tool has a unique feature that allows you to download your preferred Linux Distro so you can be spared of the time-consuming job of hunting for download links all over the Internet. You can also choose a version of it for Windows and Mac simply by clicking on the corresponding buttons found on its official download page.
3. RMPrepUSB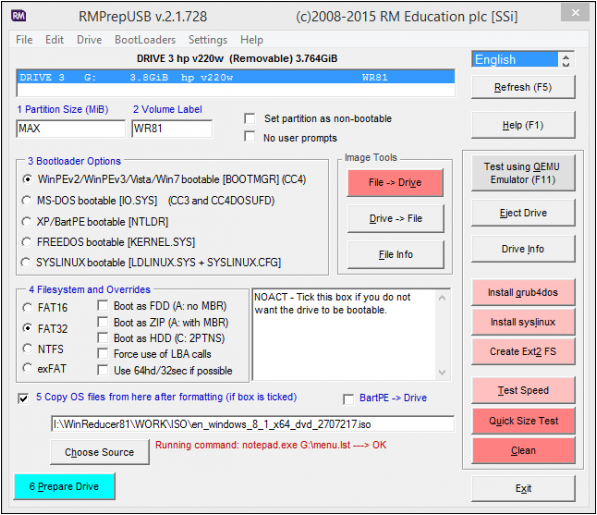 Now, if you are an advanced user looking for a tool that will match your knowledge, skills and know-how then RMPrepUSB is the one for you. The software allows you to choose a file system, bootloader and even create partitions on your USB flashdrive. It also works for Windows and Linux. Again, we only recommend this for advanced users since one mistake in the options can cause your USB flashdrive not to work upon booting up. To download this software, you can simply visit the developers website, click its download link and install it into your computer so you can start enjoying its advanced bootable USB creation options.
4. Rufus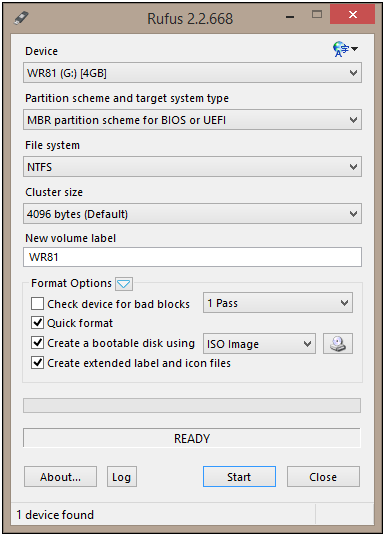 Compared to the first software that we have shown above which is developed by Microsoft, Rufus is quite newer and it offers even more options for tweaking the USB flashdrive's preset settings before burning the ISO file into it. It actually claims that it can burn any ISO file into your USB flashdrive faster than the rest but proved to be the slowest one among these 4 tools that we have described in this tutorial. If you want to try out Rufus in creating your bootable USB drive then you can simply visit its developer's official website, download the tool for FREE!
NOTE:
USB flashdrives are a common source of viruses and malware. If you have just borrowed a USB storage device from a friend then be sure to scan it first using a strong antivirus software and disable the "Autoplay" feature in your computer to prevent any hidden trojan and other forms of viruses from being automatically installed into your computer.
A Simple Do-It-Yourself Process
As you can see, there are actually a lot of tools out there that can help you load ISO files into a USB flashdrive so you can start using it as an installer. Instead of carrying those DVDs and CDs with you, you can simply create an ISO copy of all your disk installers, save them in separate USB flashdrives with enough storage space and start enjoying the benefit that ISOs can bring and the quick installation that it provides even if your computer doesn't have a CD or DVD-ROM drive.
If you're planning to install Windows 10 into your computer then choosing any software from the ones that we have described above is crucial so you can start burning the Windows 10 Technical Preview ISO file into your USB flashdrive.