Viruses and other forms of malware has been around for a long time. They come in different forms from different sources and bring varied effects to any Windows operating system version. With the onset of these culprits came some software that are made to protect and counteract the effects made by these devils and they are called antivirus or antimalware programs. If you've been using Windows for quite a long time then you should be familiar with antivirus brands like AVG, Avira, Avast and others which you might have used in your computer. However in Windows 8.1, you might have read some articles which tells you that you don't need to install any antivirus software to it because there's already one that is built-in with the system and works as effective as the third party software that you used to have in your old Windows machine.
This built-in antivirus software is called Windows Defender. It is a free antivirus and antimalware program that is offered by Microsoft and is now included in every Windows 8.1 operating system. Back in the days of Windows 7, users had to download this software from the Microsoft website and its other name is Microsoft Security Essentials. In this tutorial, we will be looking at the advantages of this software over the other third party ones and learn the steps in using it so you can make the most out of this free security and protection tool that is readily available in your Windows 8.1 computer.
What's Good About Windows Defender?
Third party antivirus software usually takes too long to install and in a Windows machine having a smaller memory capacity, it is quiet heavy and hard to handle. In most cases, it would even cause your computer to hang or freeze. These software are no doubt good in terms of detecting viruses and other culprits but are too heavy to be handled by computers having a low memory capacity. If you are the type of user who's easily distracted then third party antivirus software isn't also a good choice because of the many prompts and alerts that it flashes on the screen.
On the other hand, Windows Defender is very light and a lot simpler than all the other third party software that you are using. It does not cause any problem like hangs and freezes which used to be a big problem in third party antivirus software and above all, it works perfectly with your Windows 8.1 operating system without showing some nonsense prompts or messages. Windows Defender effectively functions silently in the background in protecting you against all the culprits that cause problems in your Windows 8.1 machine.
How to Access Windows Defender
Almost all of the Windows features, tools and system settings are accessed in more than one way. You will know this if you already experienced using some previous Windows versions such as Windows 7. In Windows 8.1, the absence of the Start Menu might cause a little bit of confusion when it comes to accessing certain tools, locations and other stuff but as you will see here, the steps in getting to these features and settings such as Windows Defender for instance are actually easier and in this tutorial, I will show you all available ways in getting to the Windows Defender shortcut so you can quickly open it. Just choose which one is most comfortable to you after you get through all of the available options.
1. Accessing Windows Defender from the Control Panel
The very first way in accessing Windows Defender in your Windows 8.1 machine is done from the Control Panel. Since the Start Menu is not available in this latest operating system by Microsoft, you will need to press Windows+X and after doing so, you will be able to access a hidden menu where you will see a link that is labeled "Control Panel". This menu will appear at the bottom-left portion of the screen and when you see it, simply click the Control Panel link that lies in it as shown on the screenshot below.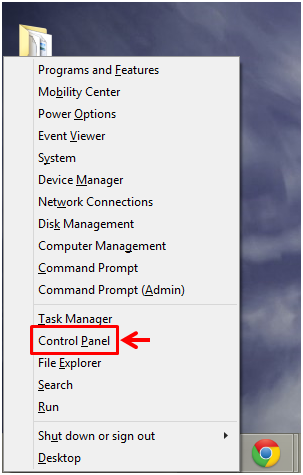 After the link is clicked, the Control Panel Window should open and from here, you should type the words "Windows Defender" into the search input box that is located on the top-right portion of the Window. After doing so, you should be able to see the Windows Defender shortcut on the contents pane and all you need to do is click on it to finally open Windows Defender.
2. Getting to Windows Defender from the Apps View Screen
Another way of accessing the Windows Defender program is through the Apps View screen. To do this, simply click on the Start Button or press the Windows Key to access the Start Screen. When this screen opens, just move the mouse over it and when you see a circular button which contains an arrow down icon in it at the bottom-left portion of the screen, you will need to click or tap on it to get to the Apps view screen. From here, just scroll to the right and you should be able to find the "Windows Defender" shortcut under the "Windows System" category.
3. Accessing Windows Defender Using the Search Feature
Finally, another way in accessing the Windows Defender program is by using the built-in search feature which you can access by pressing the Windows+S keys. After the keys are pressed, you should be able to access the Search screen which will appear from the right edge. From here, all you need to do is enter  the words "Windows Defender" into the search input box and after doing so, the Windows Defender shortcut should appear on the search results which are found just below the input box.
4. Using Windows Defender
Now that you've learned how to access the Windows Defender program in your Windows 8.1 machine, you will need to learn how you can use it. Though it works automatically in the background, you can still do some optional tweaks to it like changing the settings, updating the virus and spyware definitions or even doing a manual scan process whenever you think its needed. To do this, just open the Windows Defender program and on its main screen, you will see four tabs which are labeled "Home", "Update", "History" and "Settings". If you want to do a manual scan, all you need to do is click on the "Home" tab then when its contents displays on the screen, simply click on the "Scan now" button to start the process.
Next, if you want to update the virus and spyware definitions, simply click on the "Update" tab on top and when its contents appears on the main screen, simply click the "Update" button and the updating process will start automatically. Windows Defender updates automatically by itself but you can also do a manual updating process with it whenever you like.
Lastly, you can also view the history and find out what items are quarantined, allowed and a well as those that have been detected by the program. Next to the "History" tab is another one that is labeled "Settings" and under it, you should be able to find options for changing some aspects of Windows Defender but if you are not sure of what you want to change, just leave everything as it is because the program's default settings are already good.