Each day that passes is one day taken away from the wait that we all need to go through before Windows 10's final release. While Microsoft hasn't given a final date yet, Windows Insiders and those who have opted to install its Preview Build are really impressed with all the changes that were employed in this new Windows OS that's coming up really soon.
The whole reason of skipping Windows 9 is now evident even with the Windows 10 Preview versions that have been released so far but everything will move even farther as newer builds are released which will finally end with the real and final one that the company has announced to be given out this summer!
The best thing about Windows 10 is not just its brand new features and revolutionary innovations but the fact that Microsoft is now giving it out for free! Imagine getting the latest Windows loaded into your computer without paying a penny? Isn't that great?
But Windows 10 is just the pioneer because Microsoft is also planning to give out newer Windows editions for free in the coming years. It is a very big change which the company has finally implemented to be able to close the gap between its flagship operating system and its tight competitors.
So what else makes Windows 1o worth waiting? Well, just imagine a smoother and cleaner operating system that combines the PC world with the all-popular mobile environment! While these efforts seemed to have plenty of flaws in Windows 8 and Windows 8.1, everything has been improved and made close to perfection in Windows 10 and it's not going to take that long for all of us to see these changes.
A PC That Talks?
Well, the innovations that we have mentioned above are just a small fraction of the more modern features that Microsoft has finally included in their most popular software product. While most of the new features are readily seen, there are also others that would take some exploring in order to be discovered.
One very useful tool in Windows 10 is called "Cortana". This name can sound a bit weird and old-school but what it can allow users to do with their computers and other Windows  devices is really a futuristic one. Just imagine being able to talk to your computer while giving commands to it using your voice. That would surely be great and in Windows 10, your imagination will become a reality! Thanks to the brand new Cortana Virtual Assistant software.
Accessing Cortana
So what needs to be done in order to use Cortana in Windows 10? Well, there's no need for a download and install process to take place just for you to start enjoying the Windows 10 Cortana experience. It is a built-in software in every Windows 10 computer so all you need to do is click inside the Search box that is located on the left-hand portion of the Taskbar as highlighted below.

After doing so, the Cortana Home screen will open and from here, you will need to click on the three horizontal lines button that is located on its top-left portion as shown on the screenshot below.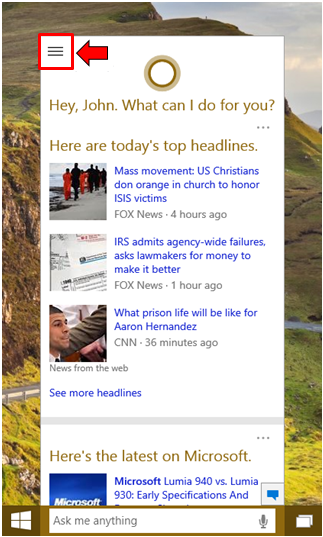 Now, the other features of Cortana will appear inside a small options box and from here, you will simply need to choose which one would you like to open.
Adding Notes to Cortana
Now, after clicking on the three horizontal lines button on the top-left portion of the Cortana Home screen, you will see options for "Notebook, "Reminders" and "Places" which are highlighted on the screenshot below. If you click on the "Cortana Home" option, the screen will simply load the Cortana's home section which contains news from Microsoft and other news website as well as Bing.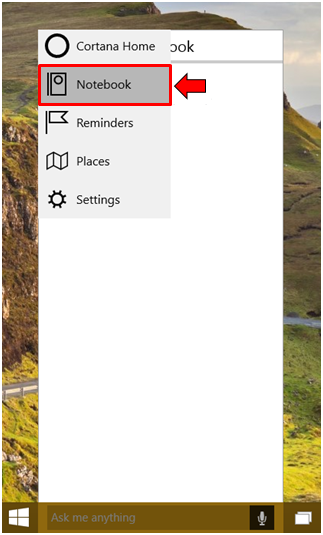 If you want to add "Notes" into the Cortana Virtual assistant, you will simply need to click on the "Notebook" option and after doing so, it will open and you will see different sections like "Daily Routine", "Music", "News" and others. To add a new Notebook entry, simply click on the "Add" button located on its bottom-right potion as shown below.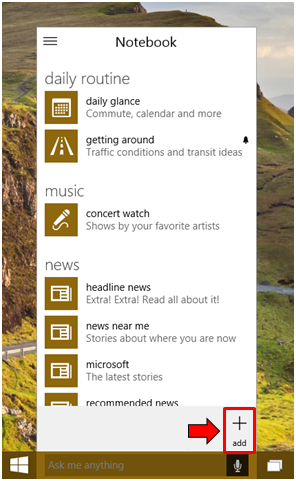 Now, after the "Add" button gets clicked, you will be taken to a screen that shows the categories where your entry would belong, from here, simply click on the right category and follow all the steps that will come up next until you're able to successfully add the new entry to Cortana's Notebook.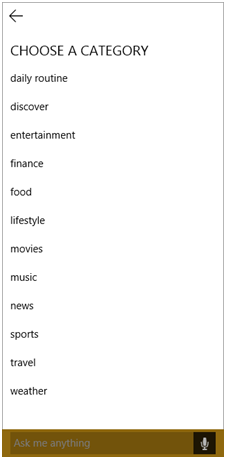 Adding Reminders to Cortana
One of the most common function that we really use our mobile devices and even our computers for is to be able to remind us of things that we still need to do to make sure that we aren't leaving anything undone. This is the main reason why there are hundreds of apps and other software that is capable of saving reminders and notifying users once the recorded stuff and its appointed date and time already comes.
To add a reminder to Windows 10's Cortana virtual assistant software, you will again need to click on the three horizontal lines button at the top-left portion of the Cortana screen and once the options appears, simply click on "Reminders".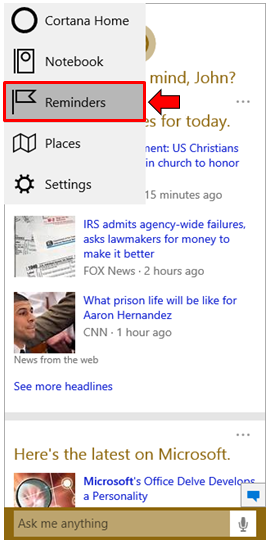 Now, once the Cortana Reminders screen opens, you will see another "Add" button which is located at the bottom-right portion of the screen itself. From here, you will simply need to click on the category (All, Time, Place)where you want to store the reminder into and after you do so, just click the "Add" button the follow all the steps that comes up next until you finally add the reminder successfully.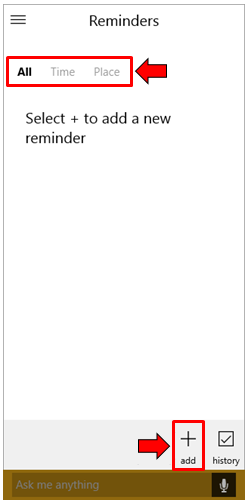 Adding Places to Cortana
The amazing features that Microsoft has included in Cortana doesn't just end with the "Notebook" and "Reminders" but there's also one last feature called "Places". Everytime you go to different places, Cortana is capable of giving you information like weather, traffic and many other stuff and if you go to a certain place often, you can save it under the "Places" feature so you can get updates about the traffic situation going to the location itself.
To access the "Places" screen, you will simply need to click again on the three horizontal line button that is located at the top-left portion of the Cortana screen then click "Places" from the options that will appear.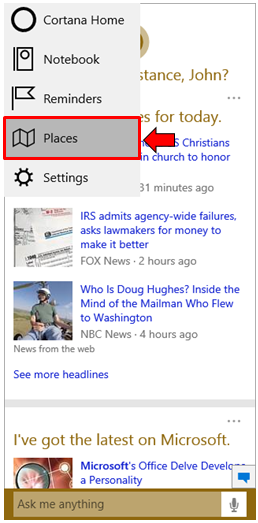 Now, on the Places Cortana screen, all you need to do is click on the button that is found at the bottom-right portion that says "Add" and just follow all the other steps that will come up next until you successfully add the new place into the brand new Cortana virtual assistant feature in Windows 10.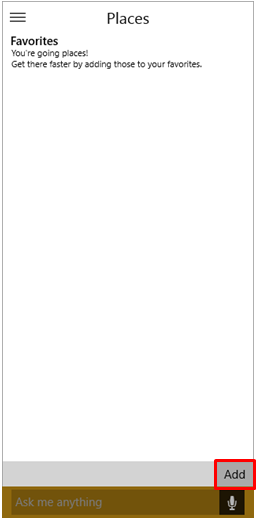 Windows 10: The Best Windows OS Ever!
Cortana is just one of the brand new features that Microsoft has added to Windows 10 but there are still more that we will be learning about only here on WindowsTechies.com so be sure to stay tuned with us to get the latest and the hottest Windows OS updates, tips and tricks that will surely change the way how you interact with your Windows PC or mobile device.