Millions of users have already chosen to make the upgrade to Windows 10 and if you already did so as well, you will need to pay attention to what version of Windows 10 did you get. Most have surely got the Windows 10 Home edition and this would be the case if you upgraded from Windows 7 Home Basic or Windows 8's basic edition.
These versions of previous Windows editions only contain the basic features that ordinary users need but for more advanced geeks, the professional version would be more preferable. If you came from Windows 7 or Windows 8/8.1 Professional then you would not need to worry about getting Windows 10 Pro because you will get it as your FREE Upgrade version but if you're currently using the Home version of Windows 10 and you want to get higher to Windows 10 Pro then you would need to spend and pay Microsoft $99 dollars so that the Pro version features will be unlocked.
But what difference would Windows 10 Pro have over the Home version and why should you choose to get it on your computer? In this tutorial, we will be showing the features that are found in this Windows 10 operating system version so you can be well informed before you finally choose to get the upgrade from Home to Pro on the machine that you are currently using.
How the Upgrade from Home to Pro Works
Again, if you are lucky enough to have chosen a Professional version of Windows 7, Windows 8 or Windows 8.1 in the past then you won't need to undergo the additional upgrade anymore since you will automatically get Windows 10 Pro as you FREE Upgrade version but if you're came from Windows 7 Home Basic,  or the least version Window 8 or Windows 8.1 , you will need to shell out some money to get Windows 10 Pro since the current Windows 10 version that you are using is also the basic one called Windows 10 Home.
You won't need to worry about your files getting lost during the Windows 10 Home to Windows 10 Professional upgrade though because your payment will only unlock the Professional features. Yes! You will not be getting a whole new Windows OS that you would need to install.
Back in Windows 8.1, the upgrade to Professional version was sold as a physical card with a code so you might as well get it from your nearest computer store too in the case of your Windows 10 machine. Most of the features found in Windows 10 Pro are intended for power users and businesses so if you fit these categories and you really want to get extra features on your Windows 10 machine that currently runs with the Windows 10 Home version then you really need to get Windows 10 Pro by doing the upgrade.
Differences in Names
Back in Windows 7, the basic version that is intended for ordinary users was called Windows 7 Home Basic and the version for power users and small businesses was called Windows 7 Professional. When Windows 8 and Windows 8.1 came out, its basic version was called just Windows 8 or Windows 8.1, no other descriptions and the advanced version was called Windows 8/ Windows 8.1 Professional.
Now in Windows 10, Microsoft is going back to calling its basic version as Windows 10 Home and the advanced feature is still the same with the previous editions of Windows and is called Windows 10 Professional which is clearer than just calling the basic version as Windows 10 which is what happened in both Windows 8 and Windows 8.1.
NOTE:
Windows Media Center is no longer offered by Microsoft in Windows 10. You won't get it as a paid upgrade either because it is already phased out/discontinued. If you loved this application then you can choose to simply stick with your old Windows OS version or install some Windows Media Center alternative which we have listed in this tutorial.
Advanced Features Found in Windows 10 Professional
So let's go now to the features that are offered in the Windows 10 Professional version and know what each one of them could be used for. Some of the features that we're going to show below might already be familiar to you but there are others that are new and were only included into the Windows OS starting Windows 8.1. Now, let's start with the feature that would improve security.
Microsoft BitLocker and Encrypting File System (EFS)
There are several threats lurking around the Internet and even in our physical world that can undermine security for all of your files and other important stuff  which is why you really need to impose an extra level of security to your drive especially if it contains some crucial stuff in it. This important security step can be done using encryption and Professional versions of Windows operating systems have just the right tool to do it.
In Windows 10 Pro, the BitLocker feature is still available. BitLocker allows you to encrypt hard disk drives, USB drives and other forms of storage media that may contain important stuff. The good thing about it is you can also create encrypted container files where you can store data that you want to be protected.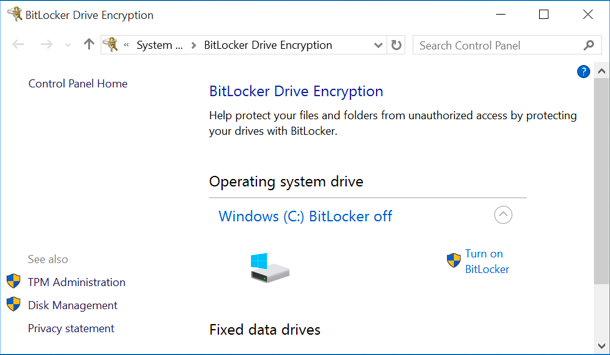 Windows 10 Home edition, just like all of the other Home or Basic editions of previous Windows versions do not offer advanced device encryption but there's a lower level of "Device Encryption" that is enabled by default in newer Windows 10 PCs. This feature however doesn't provide many options as BitLocker does and the "Device Encryption" feature in this basic Windows 10 version only works if you sign in to the device with your Microsoft account coupled with the compatible hardware. However, privacy concerns could still be a problem since your encryption recovery key are still kept in the servers of Microsoft.
The Relatively New Assigned Access 8.1
You might have not been able to use it back in Windows 8.1 but the "Assigned Access 8.1" feature which helps specify a program or app that can run on a certain computer and kiosk-type PCs is still available in Windows 10 Pro. It is called "Assigned Access 8.1" because it has just been recently included in Windows 8.1 Professional version and is nowhere to be found in previous Windows editions older than 8.1 itself.
By using assigned access, you can restrict a certain computer existing on your network to run one universal app or a single browser and that alone. Users of the assigned PC will not be able to do anything else. With this feature, it is now easier to dedicate PCs and other devices to only one task and this is very useful especially to those businesses which makes use of computers to demonstrate steps or place orders and if you want to know more about "Assigned Access 8.1", we will be talking more about it in one of our future tutorials.
Private Windows Store Section and Catalog
With Windows 10's Professional, businesses and other companies/organizations will be able to set aside a private section of the Windows Store that only offers the apps that are approved by the company/organization itself. Users within the network provided by the organization will then be able to browse through this private catalog and download any of the allowed apps from it. Businesses are also allowed to buy Windows Store applications in bulk and have them installed into their own devices.
If you own a small business with PCs individually owned by employees then you can simply encourage them to upgrade to Windows 10 Professional so you can have this implemented over your network and thereby control what your workers do on designated hours.
The Ability to Deter Updates
In Windows 10 Home version, it is impossible to get rid of automatic updates which eats up a big chunk from your Internet Service Provider's bandwidth allocation but in the Professional version, it is already possible to stop automatic updates and just choose to go on with the current state of your Windows 10 device without paying too much attention on whether its features are up-to-date or not.
To do this in Windows 10 Pro, just open the the modern Settings Window by clicking on the Start Button or pressing the Windows key and once it launches, simply click on the "Update & security" category that is located at the bottom as highlighted on the screenshot below.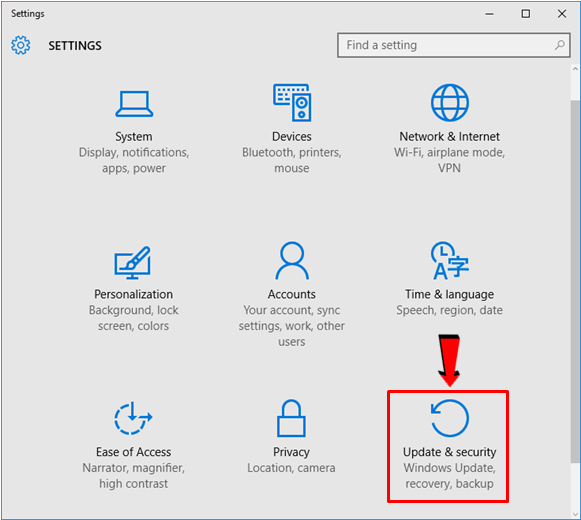 Once the Update and Security Window opens, all you need to do is click on the "Advanced options" link that is located at the bottom portion as shown below in order to access the next Window where the "Defer updates" option is now located.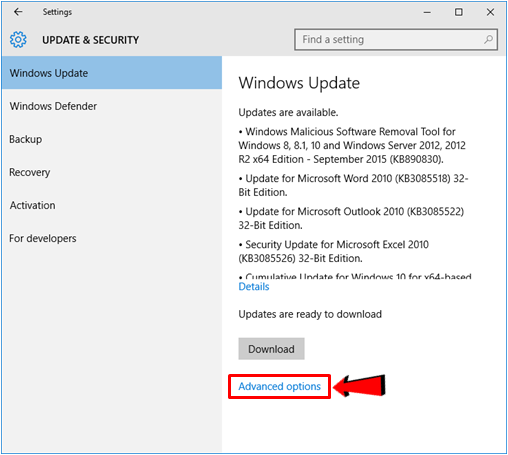 Now, on the Window that follows, just look for a small check box that is located at the left of an option that says "Defer updates". Clicking inside this small box will then enable this tweak and finally help you stop all the automatic updates for Windows and other Microsoft products that are installed on your computer.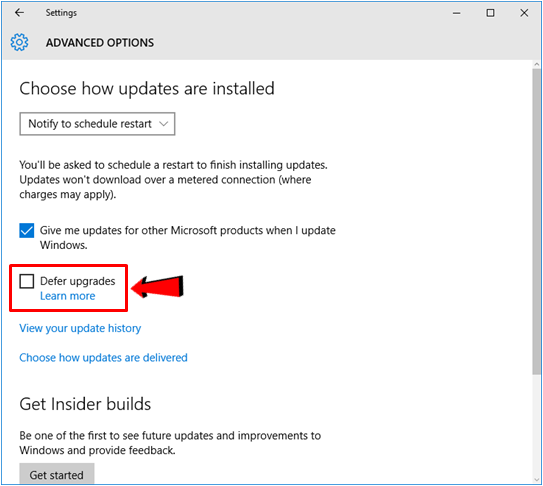 Again, if you're using Windows 10 Home then there's no way for you to find this setting anywhere on your computer because it is only included in Windows 10 Professional edition so if you really want to take control of all those automatic updates then choosing to upgrade to Windows 10 Pro and enabling the "Defer updates" option is the best solution.
Domain Join and Manage Under Group Policy Available
Another feature that is unique to the Professional edition of Windows 10 is the ability to join and manage a PC through a group policy. This has also been available even in the Professional editions of past Windows versions and though there are a few uses of this feature for individual users, you might still be interested to find out what it really does especially if you own a business and you have set a business network where most of the computers that you employees use are connected to it.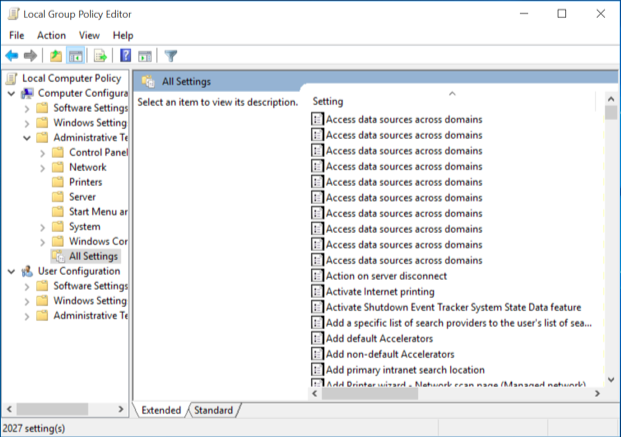 These capabilities are not available in Windows 10 Home edition and tweaking your group policy settings is also off-limits so your best option is to really do the upgrade to Windows 10 Professional.
For organizations and companies that makes use of the Microsoft Azure AD service, all of the Windows 10 devices that are connected to their network and the employees handling them can actually sign in using the Azure active directory instead of using a Microsoft account or a Windows domain with local server as how it was traditionally done. This option requires that the one handling the PC should choose the "This device belongs to my organization" option that would appear during the setup process and of course, sign in using his/her credentials for Azure AD.
Availability of Internet Explorer's Enterprise Edition
You might have been saddened by the news that Internet Explorer is no longer a part of Windows. While it is true that this long time feature has already been phased out from Windows 10 and was replaced by the new Microsoft Edge browser, you can actually still have it back but this time, it would work only in Enterprise mode. Yes! You can get it if you are using Windows 10 Professional edition and it basically allows you to force Internet Explorer 11 to work like Internet Explorer 8.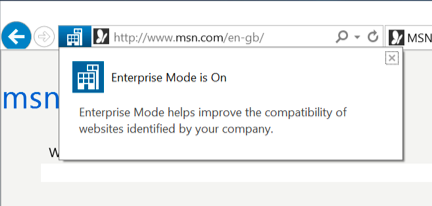 Thankfully, a new update has brought back Internet Explorer into all Windows 10 editions in order to address compatibility issues for older websites which is almost always the case for those that are used by businesses in their internal affairs. Since these websites don't work properly in modern browser versions, using Internet Explorer Enterprise edition would surely make it a lot easier to view ancient websites without getting any problem.
Remote Desktop
Just like previous Windows versions, Windows 10 Home still has the client that allows connecting to Remote Desktop servers but it doesn't support the creation of the server itself. If you want to host a Remote Desktop Server using the built-in Remote Desktop feature in Windows 10 then you will need to get the Professional edition of the operating system. However, if you don't have the means to upgrade to Windows 10 Pro from Windows 10 Home then you can simply choose a third party software that will allow you to do the same trick for FREE without all of those complicated steps that are involved if you choose to use the built-in Windows 10 Remote Desktop feature.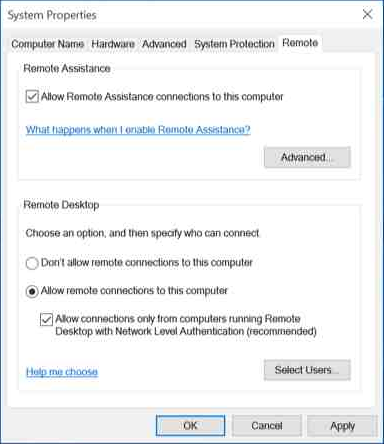 A New Feature Called Hyper-V
This might be your first time to hear about the Hyper-V feature and it may even sound like a third-party software to you but the truth is this feature is a built-in tool in Windows 10 Pro. It is a virtual machine solution that used to be a Windows Server feature which now made the jump to the Desktop versions of Windows starting Windows 8.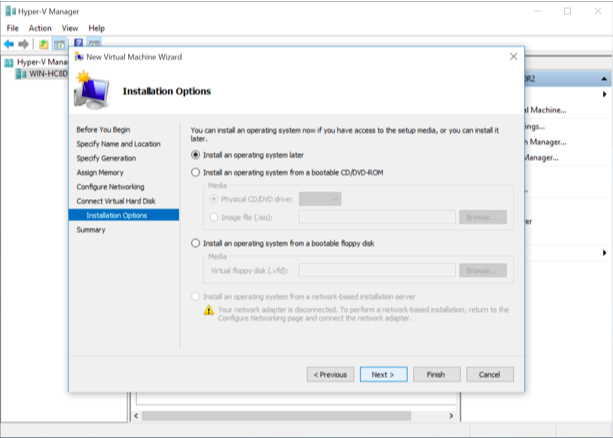 Like any other virtual desktop features such as VMware and VirtualBox, Hyper-V allows users to create and run a virtual machine which would basically run entire operating systems on your desktop. The Hyper-V feature is only found in the Professional version of Windows 8, Windows 8.1 and Windows 10.
New Enterprise Data Protection
If you're looking for a feature that has really just started with Windows 10's Professional edition then it would be the one that is called "Enterprise Data Protection" or EDP. If a certain computer or device contains both data from the organization and as well as personal data from employees. EDP will help mark the universal apps that have the important data in them and protect everything. The data itself can be encrypted wiped anytime without affecting the user's personal stuff. EDP also has the capability to track and as well as audit how these data are used.
For instance, a To-Do-List app could contain crucial information and if this employee quits the job, Enterprise Data Protection can actually delete the contents of the "To-Do-List" app without affecting all the other aspects of Windows 10.
Upgrade Now and See the Results for Yourself!
As we have demonstrated in this tutorial, Windows 10 Professional is really loaded with some wonderful features that are nowhere to be found in Windows 10 Home and if you own a business then this Windows operating system edition is the best choice for you. However, we're just starting to dig deeper into the more advanced features of Windows 10 so be sure to watch out for all of our future articles that will tackle even more tips and tricks for the newest Windows OS edition well-known as "the best one yet" from Microsoft!