One of the biggest problem that a Windows user could suffer when using their computer is losing data. This happens in a computer itself but it is more commonly seen in storage devices and hardware such as flashdrives and thumbdrives. While data loss is common ever since computers came into our modern world, the steps in preventing it is actually an easy task. Yes! data loss  in removable devices can actually be prevented and in order to avoid it, one must first identify the cause. As the famous saying goes, "An ounce of prevention is always better than a pound of cure".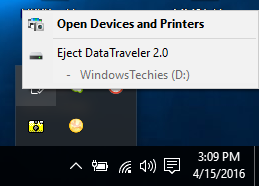 In this tutorial, we will be demonstrating how you can get away from data loss problems when using your portable storage devices and as well as give you solution in how you can skip safely removing a hardware whenever you connect one to your computer so just read on and follow all of the steps that we're going to show below.
What Causes the Problem
Now, before getting into the details in how this is done, let us first identify the real cause of the problem. Whenever you connect a storage hardware to one of your computer's USB ports, the system sends commands to the hardware components to read its contents. This is an ongoing process as long as the storage hardware is attached to your machine's port. Now, when you write or save some stuff to and suddenly the process is stopped because the hardware is removed, this causes errors within the storage hardware and therefore, the data that should have been copied gets lost. This can also be possible even for storage devices that are just sitting idle while connected to your computer without any data being copied to it. If you're fond of just unplugging a removable storage device from your computer without taking the necessary steps in safely removing it then you would most likely suffer data loss. The question is "in what manner"? Well, the answer is simple, you might have already encountered that after you plug in your storage device into one of your computer's USB ports, you've encountered a prompt that says "Scan and fix" as shown on the screenshot below and after doing this, you noticed that some files were lost.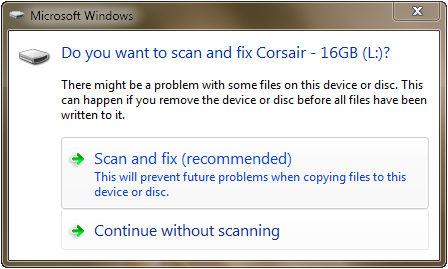 This is how losing data in removable storage devices happens so in order to avoid such problems, you will need to follow the simple steps that we're going to show below.
Step 1: Prepare Your Storage Hardware
In order to follow the steps in this tutorial completely, you will need a storage device that can be connected to one of the USB ports in your Windows 10 computer. If you don't have one then be sure to borrow from a friend and if you are using a laptop that has all of its USB ports occupied, be sure to free up one of the ports to make space for the removable storage device. Once you already have a removable drive with you, just connect it to your computer and you should be able to get a notification on your screen that a removable storage has already been connected. Now let's learn how you can safely remove it. Aside from showing how it is done in Windows 10, we will also demonstrate how safely removing a hardware is done in Windows 7 and Windows 8.1.
Step 2: Safely Remove the Hardware
Now, after you've done whatever you wish with the removable drive (maybe you saved something into it or you deleted some files), you'll need to safely remove it in order to avoid losing date the next time you connect your portable storage device again into one of your computer's USB ports. Here are the ways in doing it.
Safely Removing a Hardware from the System Tray
The System Tray is where the time and other system as well as program icons are found. It is located at the extreme-right portion of the Taskbar. In order to view the icon that represents the removable hardware you've just attached to one of your computer's USB ports, just click on the hidden items icon as highlighted below.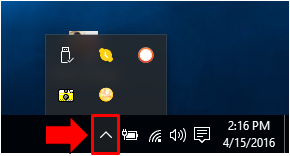 Once the hidden icons are displayed, just click on the one that looks like an upright flashdrive as highlighted below. After clicking on it, a prompt will appear and from here, you will simply need to click on the "Eject (Name of Drive)" link.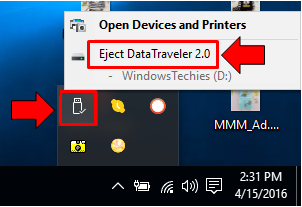 You can also right-click on the icon and the same prompt will appear where you will simply need to click on the "Eject (Name of Drive)" link in order to safely remove that hardware. After you do so, the drive will then be removed and you will see a notification that will slide-in from the bottom-right portion of the screen that looks like the one shown on the screenshot below.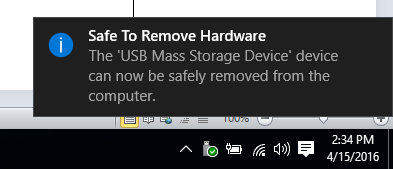 Safely Removing a Hardware from File Explorer
Now, if you're looking for another method in removing a removable storage device from your computer, you will be able to do so from the File Explorer Window in your Windows 10 computer. To do this, you will need to launch the File Explorer Window first by clicking on its icon that is pinned on the Taskbar or clicking on the "File Explorer" link found in the Start Menu. Once the File Explorer Window is open, just hit the "This PC" link that is located on the navigation  pane at the left as highlighted below.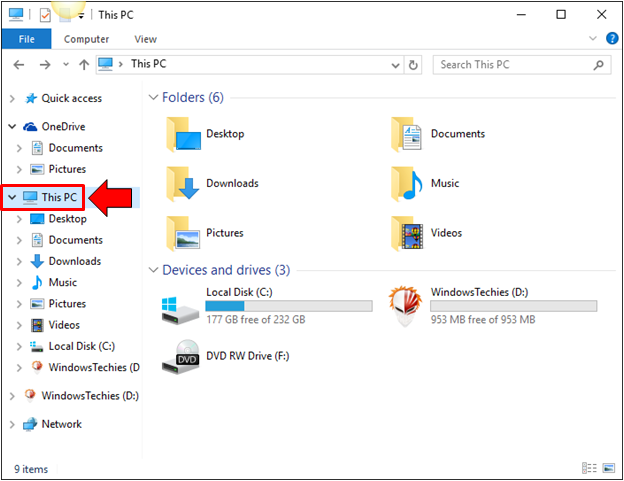 Once you are on the "This PC" section of the File Explorer Window, simply look for the icon that represents the removable storage drive which you have attached to your computer and once you find it, just right-click on it and on the right-click menu that would appear. Simply click on the option that says "Eject".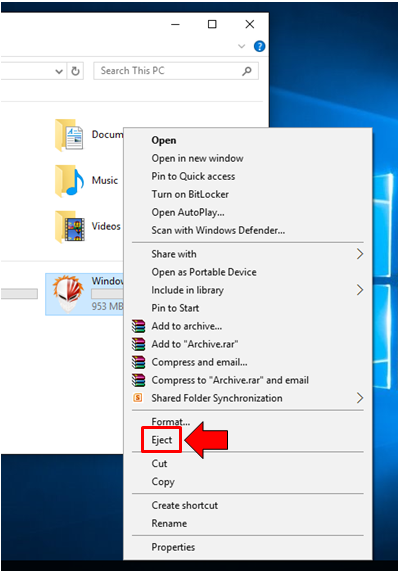 NOTE:
Before safely removing any removable storage hardware from your computer. Be sure to close any program first that uses it. For instance, if you opened a file that is saved in it, you will first need to close the file because it will cause the device to fail from being removed. Just remember this rule: close any files that are using the removable drive first before safely removing it. This applies not just to Windows 10 in other Windows OS editions as well.
How to Safely Remove a Drive from Windows 7
The steps involved in removing a removable storage device on a Windows 7 machine is the same as how it is done in Windows 10. You can do it both from the System Tray and from the Windows Explorer (the old name of File Explorer). Just look for the removable storage icon from the hidden icons section of the System Tray, click or right click on it and hit the prompt that will appear which says "Eject (Name of Drive)" as shown below.
After the drive is removed, a balloon notification will then pop-up from the system tray coming from the removable storage device icon as you can see on the screenshot below which contains a message saying "Safe To Remove Hardware". Once you see this notification, you can simply remove or unplug the drive from your computer's USB port and voila! It's now removed safely without any data loss!

For safely removing a storage device from Windows Explorer, everything basically works the same with Windows 10. The only difference is that the File Management system in Windows 7 is called Windows Explorer while in Windows 10 it is called File Explorer. Another difference is that instead of clicking "This PC" you will need to click on "Computer" or "My Computer" from the navigation pane at the left in order to display all available drives, both portable and built-in ones.
Safely Removing a Storage Device from Windows 8.1
Te process in removing a storage device from a computer that runs in Windows 8.1 is basically the same as how it is done in Windows 10. All that you need to do is follow the steps that we have outlined for Windows 10 and you should be able to learn how to safely remove a drive from your computer in no time! You can also do the same trick that works in the File Explorer Window when removing a portable storage hardware from a Windows 8.1 computer. Now, if you want to upgrade to Windows 10 then you can also find a tutorial from our article archives that discusses the steps in doing such. There really isn't much difference with these two and if you're able to get your grip with Windows 10, you'll surely love how it's made even better than its predecessor and Microsoft is still moving forward to making it an even better operating system for every type of user!
Other Reasons Why You Need to Start Safely Removing Hardware
Aside from causing loss of data that are saved in your removable drive. Safely removing it also helps prolong the life of the storage device itself. Remember that electricity flows into the storage device whenever you connect it to your computer and removing it abruptly may damage certain components within.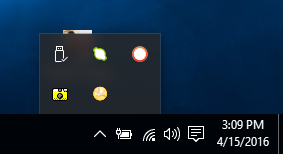 Safely removing a drive also prevents related problems from ever occurring on your computer itself. So developing a habit of doing this every time you want to remove a storage device from one of your computer's USB ports actually helps in protecting your storage device and your computer at once. So aside from preserving your important files that you're always carrying in your USB flashdrive, safely removing it every time it gets connected to your computer also has some other benefits which are really hard to ignore! Again, stopping this problem is just simple, just make it a habit to "Safely Remove" your storage hardware device and you will be spared from the painful consequences that can come as a result of failing to do such important data loss prevention step.
A Simple Solution to a Killer Problem
As you can see, the way in avoiding data loss in Windows 7, 8.1 and 10 are actually easy and they work basically the same in many ways with just a few minor  differences which can mostly be ignored. Have you ever suffered losing data that is saved in your USB flashdrive? We would like to hear from you the story in how you prevented it from happening the next time. Please feel free to use our comments section below and tell your story to us and the thousands of our readers who are all eager to make Windows a better and easier to use operating system software for everyone! In our next tutorial, we will be demonstrating how you can avoid the step in waiting for a removable storage device to be safely removed. Yes! There's actually a trick that will allow you to just unplug your storage device from your Windows machine without going through the process of safely removing it so watch out for our next article that will discuss this in greater detail.