Windows 10 is the most revolutionized version of Microsoft's flagship software product and by this we refer to all of the changes that were done to it as part of the company's effort to really make users get adept with the modern version of  the operating system that has both the features for PCs and mobile devices.
Most of the things that we know about Windows has seen changes in this latest OS version and there are even features that has been removed or hidden in it because of the existence of a new one. Such is the case for Internet Explorer which has been phased out (and hidden instead of being totally removed) in Windows and is now replaced by the new Microsoft Edge browser.
But no matter how new it is, it still uses some identical settings to that of Internet Explorer such as using Bing as its default search engine which is unfortunately not the configuration that most of us want so in this tutorial, we will be learning how to change Microsoft Edge's default search engine but before that, let's first discover the different ways that are available in launching Windows 10's new browser.
Launching Microsoft Edge in Windows 10
Most Windows 10 features have more than one available way in launching them. This is true even for older Windows operating system versions that have existed in the past. If you can still remember, Internet Explorer being the default browser of older Windows editions was always pinned on the Taskbar especially if it is your first time to use your Windows machine out of the box and the same is true for Microsoft Edge. Yes! The easiest way to launch Windows 10's default browser is done by clicking its quick launch icon that is pinned on the Taskbar by default as you can see on the screenshot below.

However, if the icon can be pinned on the Taskbar, it means that it can also be unpinned and in case you are using a computer that doesn't have the Microsoft Edge logo pinned on its Taskbar area then you will need to learn a different way in launching it. Thankfully, you can easily get the job done from the Start Menu. Just launch the Start Menu by pressing the Windows Key or clicking on the Start Button and after you do so, the Menu should open at the left portion of your screen where you can simply click on the "Microsoft Edge" application tile that is found on the right hand side of the new and improved Start Menu as you cans see being highlighted below.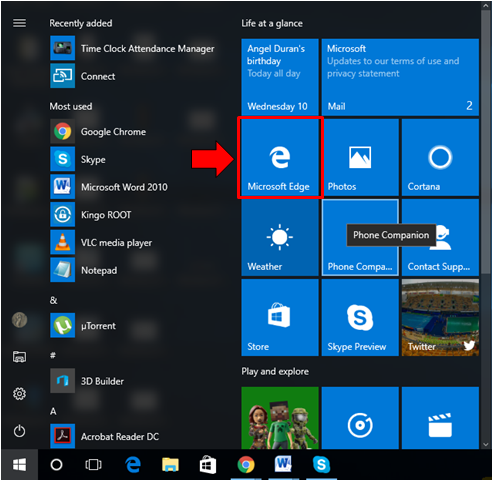 Now, in case the Microsoft Edge Taskbar quick launch icon and as well as its tile that is pinned on the Start Menu are both unavailable for you to click but you badly need to launch the icon then don't worry, there still are 2 more methods in launching it that you can use. First way is by finding it on the All apps list which is still found on the Start Menu. This list is alphabetically arranged so if you want to find Microsoft Edge then you will need to scroll down to the "M" apps group as you can see Microsoft Edge's shortcut being highlighted on the App apps list shown on the screenshot below.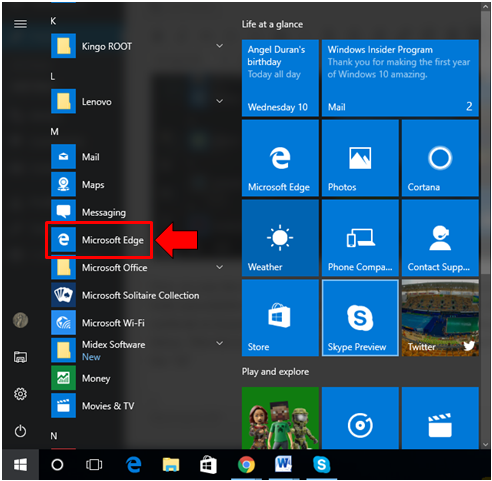 Lastly, if you don't want to be scrolling down through the All apps list just to find the Microsoft Edge shortcut then you can find it easily using the Search feature that has been made even better in Windows 10. To launch this tool, just press the Windows + S keys and once it appears, simply type in "microsoft edge" into its search input box that is found on the bottom portion then hit the "Microsoft Edge" shortcut which should appear as the top search result just above the input box as you can see on the screenshot below.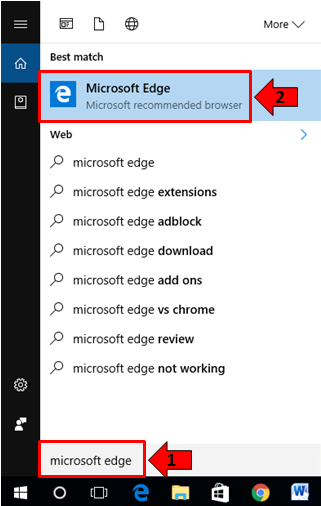 Now that you already know all of the available ways in launching Microsoft Edge, there shouldn't be any other reason for you not to be able to access this tool in your Windows 10 computer. So now, let's get into the tweak that we want to discuss in this tutorial which is changing Microsoft Edge's default search engine.
How to Change Edge's Search Engine
As we have pointed out at the start of this tutorial, Microsoft Edge's default search engine is Bing and in this world full of Google, going for Google Search instead of Bing as the default browser is almost always the possibility that could arise and so, let us learn how to do this tweak and change how Microsoft Edge works from its default settings to our chosen settings.
We will be replacing Bing with Google Search as the browser's default search provider so if you are now ready and Microsoft Edge is already launched in your computer then let's get started! The process is very quick and straightforward so you should be able to figure it out on your own even without any technical know-how.
First, we need to add Google Search to our Favorites and doing this is as simple as clicking on the star icon that is found on the right portion of the address bar after "google.com" is opened in Microsoft Edge as highlighted on the screenshot below.

If you're wondering why this needs to be done, it's just how things are done in Microsoft Edge so just go on and open "google.com" in Microsoft Edge. If you are using the updated Windows 10 version to the latest version released in Microsoft's Anniversary Update, Microsoft Edge will show a notification on the right after you open "google.com" asking you to make Google Search as your default search engine and it looks like the one shown below.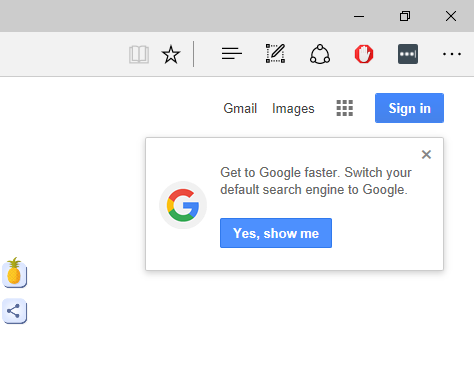 If you click on "Yes, show me" button that is found on the notification, a new tab will open which shows the instructions for making Google Search your search engine but instead of just viewing those instructions, we are going to do it in our Windows 10 computer. So click on the "More" button found at the top-right portion of the Microsoft Edge Window represented by three dots or "…". After clicking on this button, a menu will appear where you will need to click on the link option that says "Settings" as you can see on the screenshot below.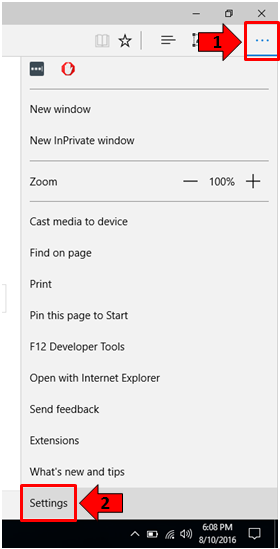 After hitting the "Settings" option from the menu that appeared as shown on the screenshot above, you will be able to open the Settings section for Microsoft Edge and from here, simply scroll towards the bottom until you reach the last portion which is labeled "Advanced settings". From here, just click on the button that is labeled "View advanced settings" as highlighted on the screenshot below.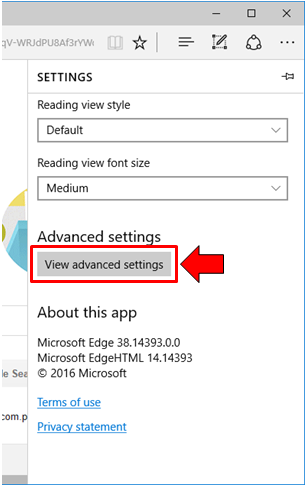 After hitting on the "View advanced settings" button, another section will open which now shows all advanced settings for the Microsoft Edge browser, from here, just scroll down towards the bottom where you will find the "Change search engine" button which is found just below the "Have Cortana assist me in Microsoft Edge" switch. When you find this setting, just click on it in order to access the available search engines that you can choose from.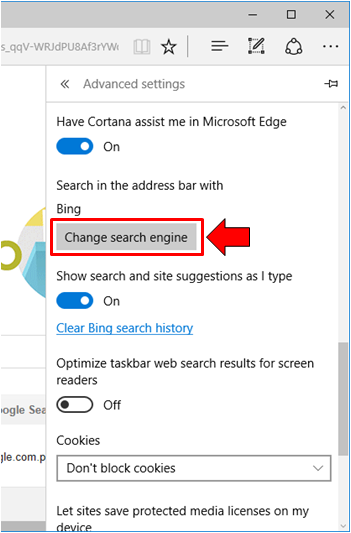 After clicking on the "Change search engine" button, you will now be able to access the list of available search engines for Microsoft Edge. From here, just click on "Google Search (discovered)" as highlighted below in order to select Google Search as the new search engine of choice and after doing so, the buttons that are labeled "Set as default" and "Remove" which are located at the bottom will become clickable. In order to apply the changes and make Google Search as Microsoft Edge's new default browser, simply click on the button that says "Set as default" and voila! Your browser now has a new default search engine which is now Google Search instead of Bing.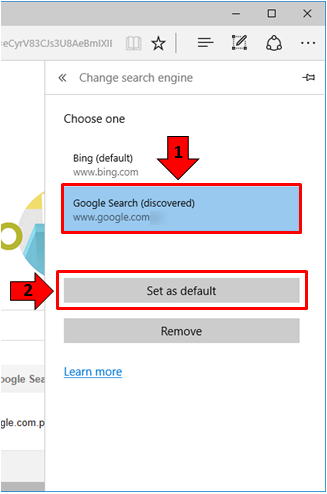 It's actually as simple as that. After doing the tweak, you can now relaunch Microsoft Edge and it should now use Google Search as its search engine whenever you search something in it. The homepage will remain as Bing though since you didn't change the Homepage to Google but this tweak is also possible in Microsoft Edge and we will be discussing the steps in doing it along with other Microsoft Edge tweaks in our next tutorial.
How Good is Microsoft Edge?
When Microsoft finally released Windows 10 more than a year ago, they have included Microsoft Edge as the operating system's new default browser and they hid Internet Explorer somewhere in the background. They also claimed that this browser is as fast or even faster than the latest version of Google Chrome and Mozilla Firefox that time and it really did good in terms of speed when we tested it that time.
It is also light on your system resource and won't eat up too much battery juice when you are using it while browsing but still, the best of it is yet to come as Microsoft is still developing more and more features for it and are partnering with third-party developers for more browser extension support and other features. Have you ever used Microsoft Edge in your Windows 10 machine? How would you rate its performance and usability? We'd like to get some input from you and please feel free to share your opinions with us using the comments section below.