In our previous tutorial, we've talked about the geeky way in changing icons for certain drives in Windows 10 including your removable drives so that you will not be confused whenever you need to open multiple drives all at the same time. This trick might sound useless for ordinary users but if you are the type of person who multitasks each day then having an easy to identify icon and name for certain drives spells a very big difference.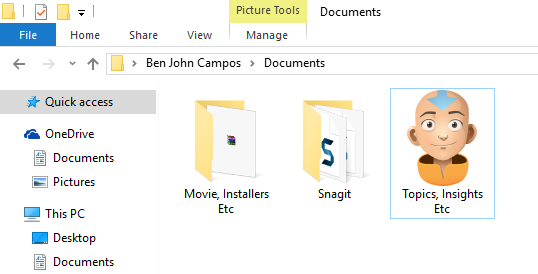 However, tweaking icons and names does not only end with removable and portable drives that you attach to your Windows machine. Well, we assume that you already know about changing or renaming folders and many other stuff but did you know that you can also change its icon so that you will find them a lot faster than usual? This is exactly what we're going to discuss in this tutorial so be sure to get your Windows 10 machine set up and follow each of the steps that we're going to show below.
Things Need to Be Clear: Windows Explorer is now File Explorer
First of all, there's an important chunk of information that you need to know especially if you have just made the transition from an old Windows OS version like Windows 7 to Windows 10. This information is about the File Management system which used to be called Windows Explorer. You will no longer find "Windows Explorer" in Windows 10 because it is now called File Explorer. This information is important for this tutorial because we will do most of the tweaks that we're going to show here on the File Explorer Window. In case you're still confused with how this feature is accessed, we'll show you how in the next section of this tutorial so just read on.
Accessing File Explorer in Windows 10
Since Windows 10 does not really look as close to Windows 7 especially in the Start Menu section, you will need to get familiar with it first if you want to access File Explorer in a quicker manner. Thankfully, if you are using a relatively new Windows 10 computer which hasn't been tweaked that much, you will easily be able to open File Explorer simply by clicking on its icon that is found pinned on the Taskbar as shown below.

In case somebody has already removed the File Explorer icon from the Taskbar in an effort to free up more space for more important items, you can simply access it from the Admin Menu also known as the WinX menu. To open this new feature in Windows 10, just press the Windows + X keys and it will instantly pop-up from the bottom-left portion of the screen.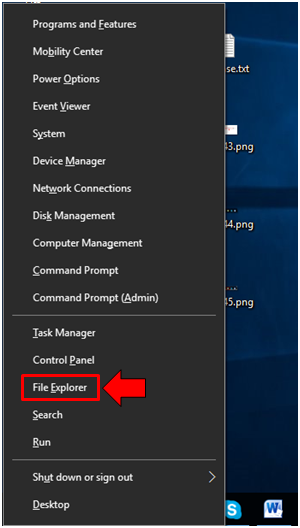 Another method in summoning the File Explorer Window is to simply click on the Start Button that is found at the extreme-left end of the Taskbar and once the Start Menu opens, simply hit the "File Explorer" link that is found towards the bottom of its left portion as highlighted on the screenshot below.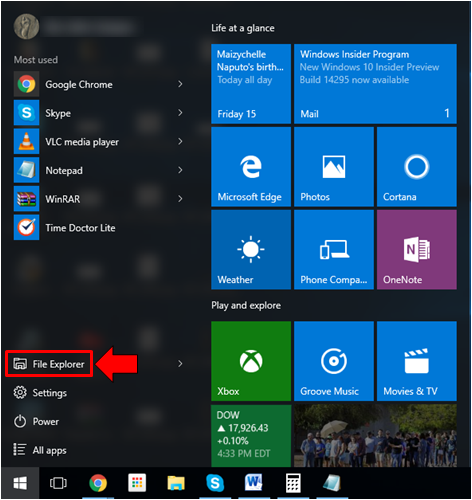 Now that you already know three methods in accessing File Explorer which is the new name for Windows Explorer as we've mentioned earlier, it is time to get into the tweaks that is the real meat of this tutorial, how to change icons for certain items such as folders, drives and many others in your new Windows 10 computer.
Where to Get Some Cool Icons
We've shown some icon resource websites in our previous tutorial but if you want some easy to download ones which are free to use, you can check http://www.iconspedia.com/ and you'll find hundreds if not thousands of icon collections that will surely amaze you many times over! There are icons for anime, business, animals and may other categories.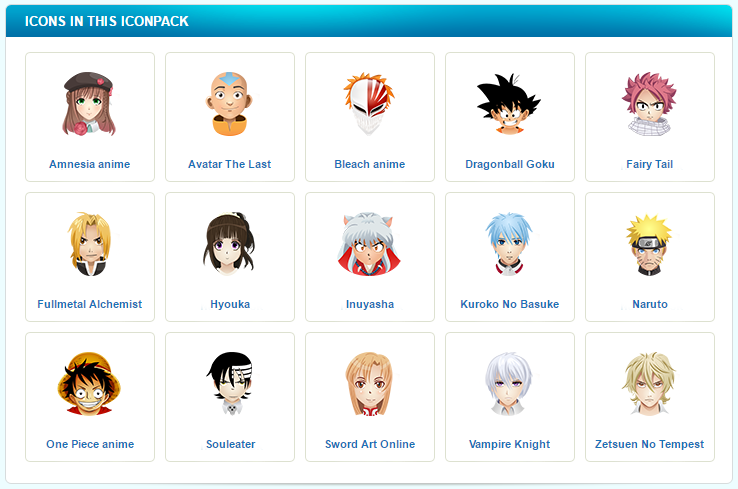 Once you find your desired icon, just download it and save it in a location where you can easily find it later on. In our case, we saved everything on the Desktop screen for quicker access! The screenshot above shows some anime-inspired icons that can be downloaded from the website itself.
Changing Icons for Folders
Most users are getting confused while working with folders especially if there are already a lot of them sitting on the screen so it would be a very big help if you have customized icons for the ones that you often need access to. Thankfully, it is not really hard to do this trick in your Windows computer. Just open File Explorer first and after you do so, simply go to the location of the Folder that you want to tweak the icon for. For illustration purposes, I will be tweaking the icon of a sample folder.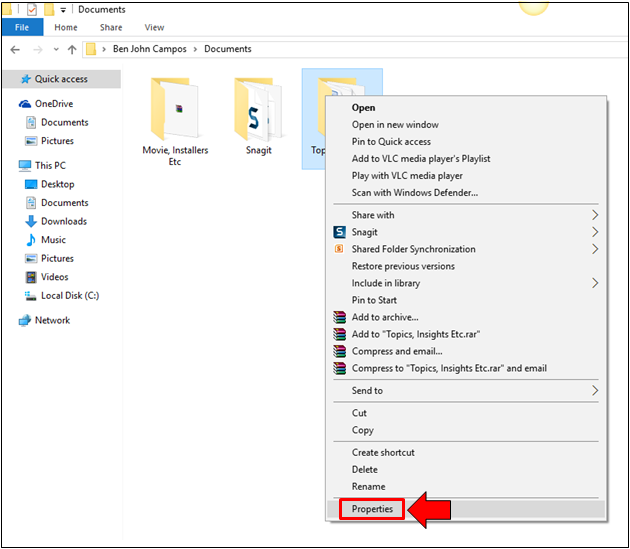 After finding the folder, you will simply need to right-click on it then from the contextual menu or right-click menu that will appear, you will need to click on the option that says "Properties" and a small Window that shows the Properties and settings for the folder will appear as you can see below.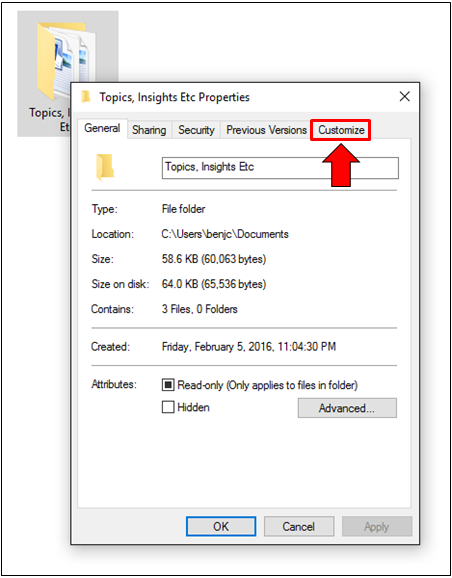 From this small Properties Window, you will need to put your attention to the tabs that are found on top and from here, just click on the one that is labeled "Customize" as you can see highlighted on the screenshot above. After clicking it, you will be taken to the "Customize" section and from here, just click on the "Change Icon…" button found towards the bottom as shown on the screenshot below.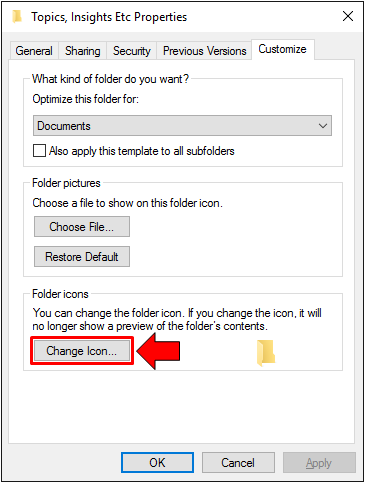 After the button is clicked, another small Window will appear and this will now contain all available icons for you to choose from. If you don't want to use any of the built-in icons in your Windows 10 computer, you can simply hit the "Browse…" button as highlighted on the screenshot below and navigate towards the location of the icon which you have downloaded earlier (in case you downloaded a custom icon from the website we've given above). If you only want to pick from the icons that are built in with Windows 10, just select it from the box then hit the "OK" button at the bottom of the Window then hit again the "Apply" then "OK" buttons on the previous "Properties" Window in order to save the changes.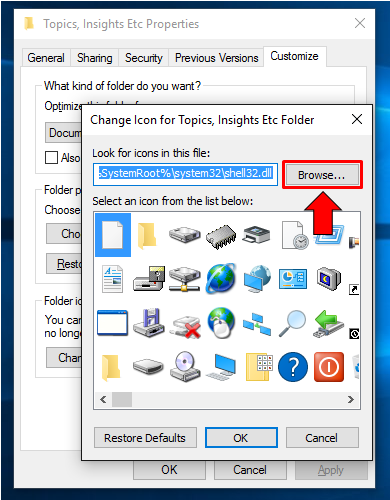 In other cases, if you really want to use a unique icon, here's what you will do. To illustrate the process, we will be using a custom icon from the anime icon collection that we've downloaded from iconspedia.com earlier. After hitting "Browse" as shown above, there will be another Window that will open which will now allow you to navigate towards to location of the icon which you've downloaded in order to be used for the folder. Once you find it, just click on it then hit the "Open" button that is found at the bottom as highlighted on the screenshot below.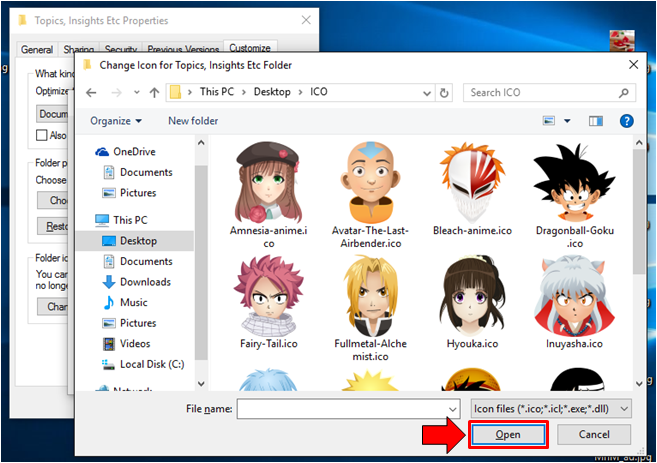 Next, you will need to hit "OK" on the small Window that has been opened earlier from which you clicked "Browse" in order to approve the changing of the icon as you can see below.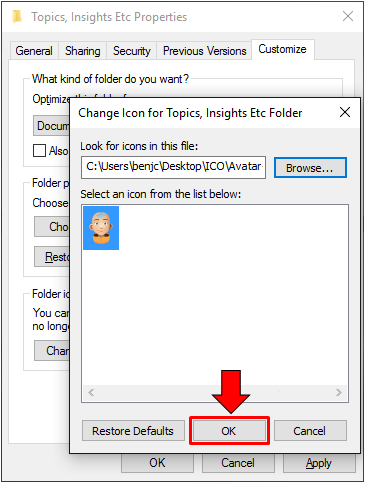 Finally, in order to save all the changes that has been made, simply click on the "Apply" then "OK" buttons that are found at the bottom of the last small Window that will remain open which if you remember is actually the "Properties" Window of the folder that we previously identified as the one needing to get its icon tweaked.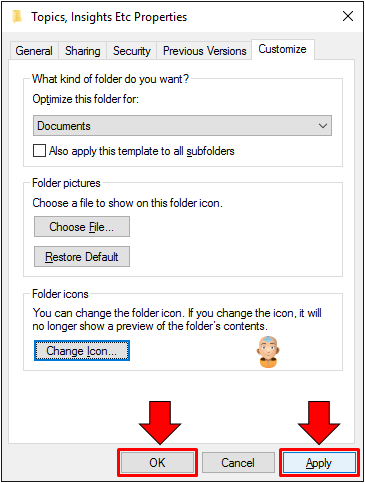 After all of the processes are done, you can check on the folder again by navigating to it using the File Explorer Window and you will see that it now has a unique icon that is very easy to identify even if it seats among hundreds of folders saved within a certain library in your computer's hard drive as you can see on the screenshot below.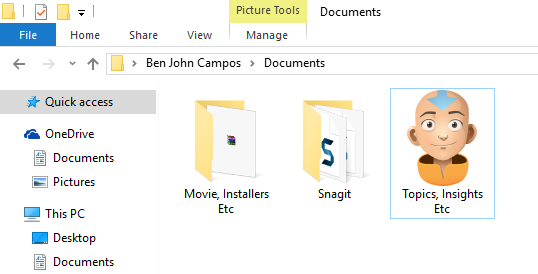 How to Change Icon for Removable Drives in Windows 10
Aside from folders, another item that most of us often deal with in our Windows computers are the drives. This could include portable hard drives, the built-in hard drive or even removable drives. Dealing with these drives especially if your machine has numerous partitions or you have attached several flashdrives to it is quite confusing because of the similar icons that the system would normally assign to each one of them. In order to avoid getting confused, you can do the same trick that we did above but this time, it involves some geeky steps. To learn how this trick is done in Windows 10, you can read our tutorial on how to change icons for drives. Just be sure that you already have downloaded the icon file that you want to use for your drives so that you can quickly change the default one in some few simple steps.
Changing Icon Improves Productivity!
As you can see, changing icons in Windows 10 isn't really hard and above all, it doesn't require some special computer skills just to get it done. Doing this will really improve your way of accessing important files since you will no longer need to skim through those numerous drives and folders just to find what you're looking for. Do you know some other tricks that makes sorting folders a lot easier? We'd like to hear it from you, please feel free to post your ideas on the comments section below to get yourself heard by your fellow readers and start getting yourself involved to even more tricks and tweaks in making Windows work better for different purposes!