There is no single computer in the whole wide world that is perfect and by this, we mean a machine that doesn't get into any problems and other troubles especially when it's been used for a very long time. Whether it's running Windows, Mac or any other operating system, it would surely get into trouble at some point so all we can do as users is to be prepared and to get ourselves familiar with the steps that can be done to solve it! That's the reason why we at WindowsTechies.com publish tutorials that would ease up the process involved in solving any problem that may occur in a Windows computer at any given time. We want to give everyone hope in an otherwise hopeless situation. But what exactly can you do in case your Windows 10 machine gets into trouble like failing to boot properly or when it gets infected by a certain kind of virus that puts all your important stuff in jeopardy? You might have experienced this same problem back in Windows XP, Vista or Windows 7 but what about Windows 10? How can you get your computer back to its working condition in case you were not able to save a restore point? How can you make it run like new again?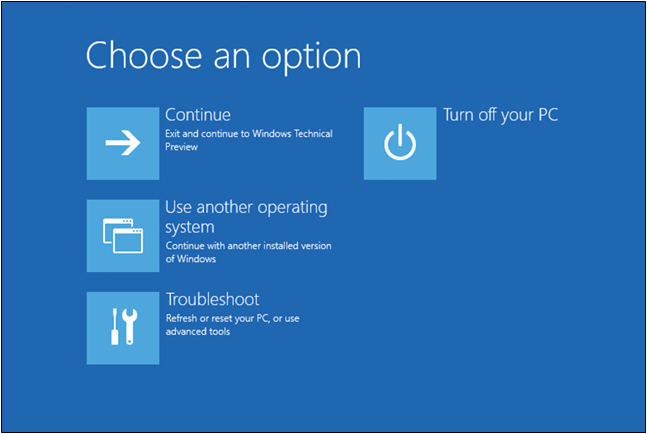 Well, the secret lies in the section called Advanced Startup Options and in this tutorial, we will give you an idea on how to access it and make you familiar with what each of the options in it actually means so sit back and brace yourself for another article that would surely become your life-saver at one point in your life so keep reading towards the end and follow the steps that we will be demonstrating below.
What It's Been Back in Older Windows Editions
The Advanced Startup Options is one of the newest features that has been introduced starting in Windows 8 and Windows 8.1 but found perfection in Windows 10. Back in older Windows editions such as XP, Vista or Windows 7, the only option that a user had when something went wrong that made the OS become dysfunctional is the System Image or System Restore feature but the problem with this two is that when a user didn't save a system image or a restore point. The only option that's left when a trouble happens is reformat or reinstalling Windows which is also known as a "clean install". When the operating system is reinstalled, all of your precious files will be lost and saving it to a backup device would take time. The problem even worsens if the operating system already isn't working that well and backing up files just isn't possible anymore. Thankfully, Windows 10 has been designed in a different way. For the first time, users can already reset their machine without deleting all existing files that are saved in the hard drive. It's just like restoring everything to factory defaults but all the files that were previously saved would remain except for the apps and programs that didn't come pre-installed in Window 10. If you're using Windows 10 now then you should be able to know more about this feature so you will be able to avoid reinstalling Windows into your computer in case something wrong happens and therefore, you will be able to keep all your files safe every time! How is the "Advanced Startup Options" accessed and how can you use it? That's exactly what we're going to talk about next so be sure to get your Windows 10 machine ready and follow the steps below.
Accessing the Advanced Startup Options
Just like any other features in Windows, the "Advanced Startup Options" can also be accessed in different ways. If it is your first time to use Windows 10 then you need to be aware that the settings of the operating system itself doesn't only lie within the "Control Panel" section just like in Windows XP, Vista or Windows 7. Yes! There's a new feature that has been introduced starting in Windows 8 and Windows 8.1 which is called the "Settings" section as highlighted below.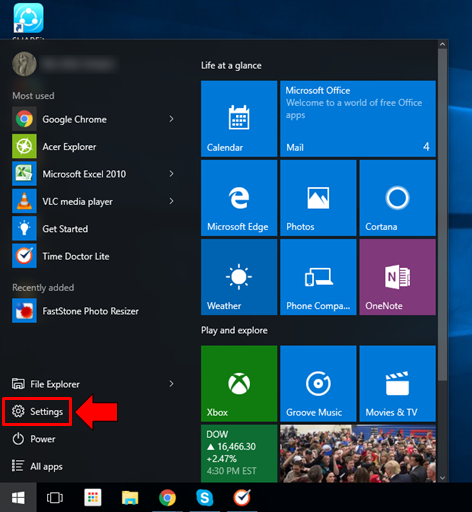 To open the modern "Settings" Window, all you need to do is click on the button that is shown above and after doing so, you will see that a new Window will open which looks exactly like the one that you see on the screenshot below.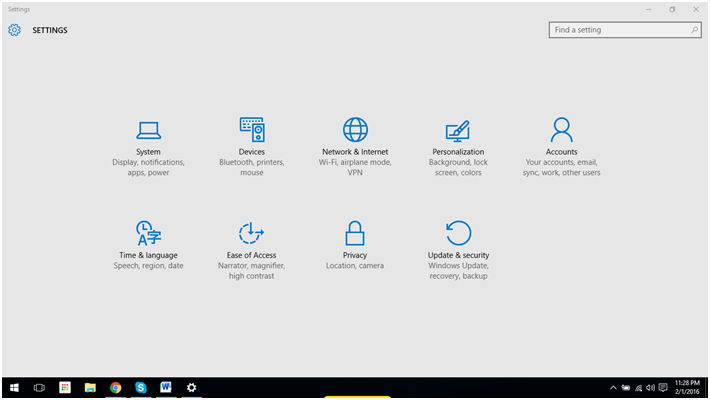 As you can see, the categories that you see in this new feature on Windows 10 are quite different from the ones that you can find in the traditional Control Panel Window. Most of the options that you'll find here are actually related to the modern/newly-introduced features in the latest Windows editions such as Windows 10. But where can you find the "Advanced Startup Options" here. Well, this is where the different methods in getting into this awesome feature comes in. So let's learn the first method!
1. Use the Search Box Feature
The good thing about Windows 10 is that you can find the search box in almost every section of the operating system. This means that you can easily find items and open them almost instantly simply by typing in the name into the Search box feature that is located at the top-right portion of the screen as shown on the screenshot below!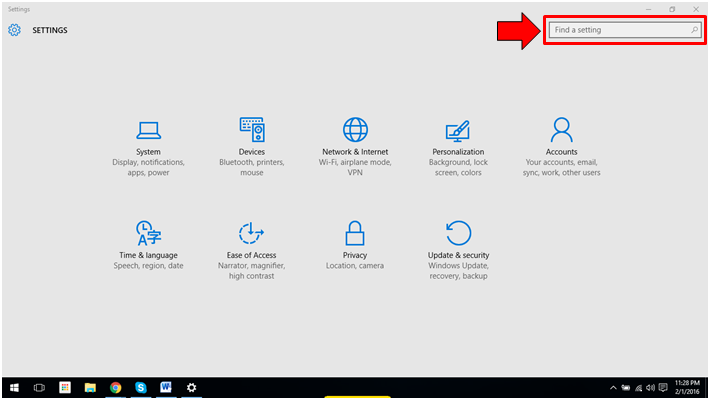 Once you are in this modern "Settings" section of Windows 10 and you've already located the Search box as highlighted on the screenshot above, all you need to do is enter the words "advanced startup options" into it and after you do so, the search results will display "Change advanced startup options" which you can simply click in order to access the section where the links leading to different startup methods are found as show on the screenshot below.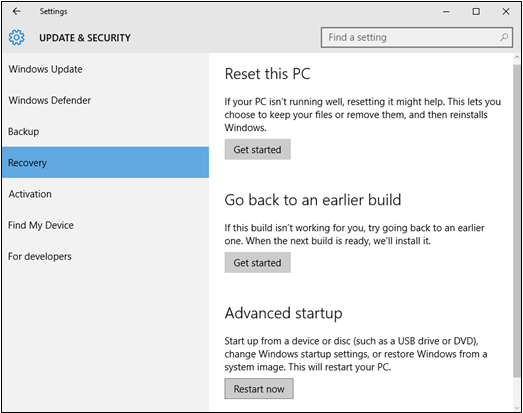 2. A More Detailed Method
If you want to access the "Advanced Startup Options" in a more thorough manner which will take you through the detailed steps then you will simply need to click on the "Update & security" option that is found at the bottom-right portion of the main modern Settings screen as shown below.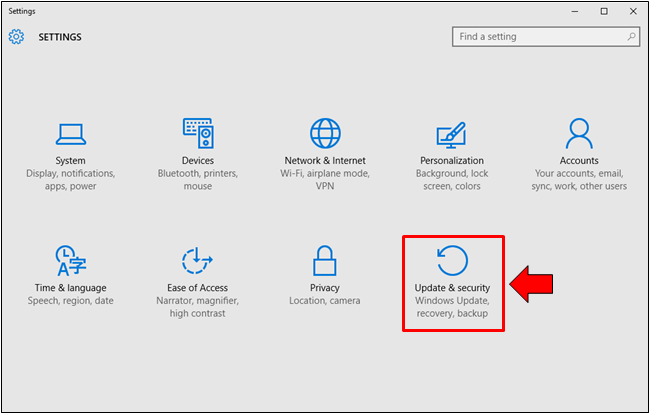 After clicking on it, you will be taken to the "Update and Security" section where you will find different links on the left navigation pane leading to varied modern settings in Windows 10. From here, all you need to do is click on the option that says "Recovery".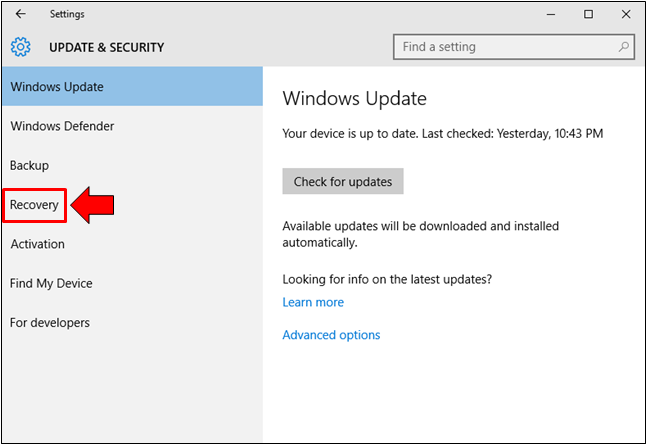 After doing so, you will be taken to the same section where the "Advanced Startup Options" are found and from here, all you need to do is simply click the one that you need to use in order to solve the problem that you're having with your computer. As you can see, the options that used to be available only when a Windows Installer disk is available are now available to any user with Windows 10's "Advanced Startup Options". The good thing about it is that you don't need to be an expert just to be able to get your computer working like brand new again. Windows 10 does things automatically so all you need to do is select the right options that you need and let Windows do the rest! In our next tutorial, we will continue this series and show what each "Advanced Startup Option" is used for so be sure to read it. You can also get all of our latest news, tips and tutorials about your favorite Windows operating system edition straight to your inbox by subscribing to our email list! See you on the next article!