How long have you been using Windows? To most of us who have been having Windows with us for many years now, the issue of getting new versions of it almost every year isn't really new but when Windows 10 was released, Microsoft suddenly gave a statement that Windows is going to be up to Windows 10 only and no other names would follow. This may have sounded less thrilling to some but ever since it has been released, Windows 10 has already grown better and better and now with the latest update that has just been released, it seemed to become even the best so far!
The operating system has been the focus of everyone's attention at least for those who wanted something that is better than Windows 8.1 and it has once again stolen the spotlight with what Microsoft calls the "Anniversary Update". This new iteration may look like a new edition of Windows but since Microsoft already promised that Windows 10 is going to be the last, it still is called Windows 10 no matter how new it looks to everyone's eyes.
So what exactly are the changes that were made to this latest update that was released by Microsoft for Windows 10 and what can you expect if you choose to upgrade your machine to it? We have prepared a list of these things and we hope that you would really choose to get the update after finding out about these awesome improvements done to the Windows 10 operating system!
1. Smoother Lock Screen!
One of the things that we've immediately noticed right after the upgrade is the smoother movement of the Lock Screen. Unlike before where the screen slides up, the new Windows 10 now maintains the Lock Screen and just makes your account name, profile picture and the password input box to fade-in with a slight magnify effect. Cortana is also available for displaying notifications on the Lock Screen which is really better than the previous Windows 10 which only showed a few stuff when your computer is locked.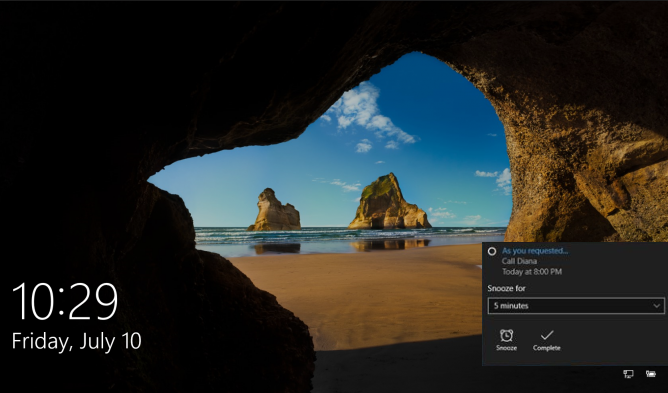 2. All Apps List Now Readily Appears on the Start Menu
In the old Windows 10 version, you will need to click on the "All apps" link which is located at the bottom-left portion of the Start Menu if you want to access the list of all the installed and built-in programs and apps in Windows 10. This has changed in the Anniversary Update because the apps and programs or what is called the "All apps" list now readily appears on the left side of the Start Menu when you launch it as you can see on the screenshot below.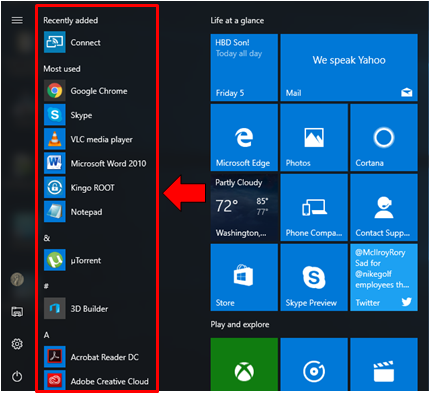 3. File Explorer, Settings and Power Now Has Special Place on the Start Menu
Another welcome change that really makes it a lot easier for users to access the File Explorer Window or launch Settings is their special place that is found on the left-most portion of the Start Menu. These items including your profile picture used to be combined with some shortcuts in the old Windows 10 version but this time, they are separated making it look cool and easy to find. The power button is also located on this section so it's just a perfect place to access whenever you need to!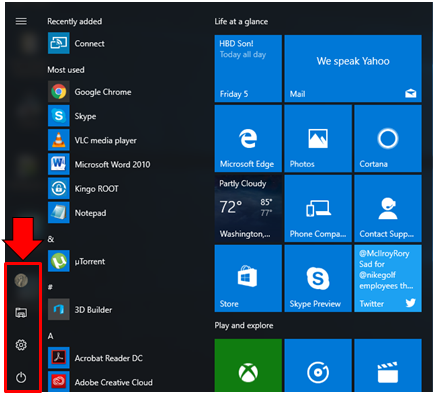 4. Action Center Now Shows the Number of Notifications Available
In the old Windows 10 version before the update, the Action Center icon which is found on the System Tray used to be white when notifications were available and transparent when there was none. It can also be moved anywhere within the System Tray simply by clicking-and-hold then dragging it to the desired location but in the latest update, this System Tray icon now shows a number overlay indicating the number of notifications that are available and it is also permanently pinned on the side-most portion of the System Tray which means that it cannot be moved by dragging to other locations within the tray as you can see on the screenshot below.

5. Microsoft Edge Now Supports Extensions
Microsoft claims to have created the fastest browser ever but when it was released, it lacked some other features that its competitors possessed. One of these features is the ability to support browser add-ons or extensions and this has been the case for a year after Windows 10 was released however, users trusted Microsoft's promise to provide extensions for Microsoft Edge and that promise finally found its fulfillment in the new Windows 10 Anniversary Update. Yes! Microsoft Edge finally supports extensions and we have even discussed how these tiny software that adds to the browser is installed or removed. You can read the details of our tutorial and follow the steps in working with browser extensions for the new and improved Microsoft Edge.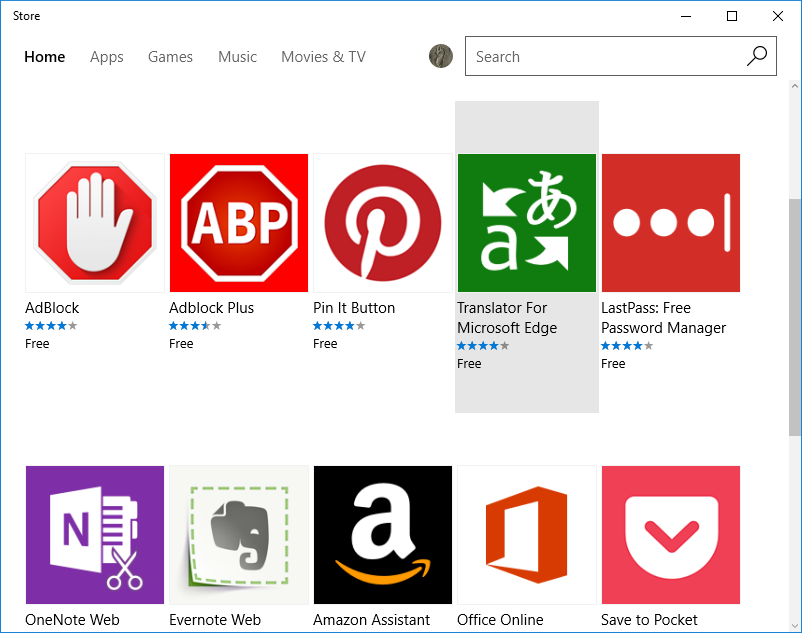 6. Agenda is Now Available for Easier and Faster Event Scheduling!
There's been a time in the past when you only used the time and date display on the system tray just for checking the time and date and that's all. Nothing more, nothing less. This has continued even up to the previous Windows 10 version but in the Anniversary Update, clicking on the time and date display that is found on the System Tray now brings up a new addition to the time and calendar screen which is called "Agenda". This feature basically shows you your scheduled tasks or events for the current day and is a very welcome innovation especially to those users who are always having hectic schedules each day so if you need to remember an event or task next time, make sure that you are not going to forget about it by adding an agenda to the time and date display that is found on the System Tray.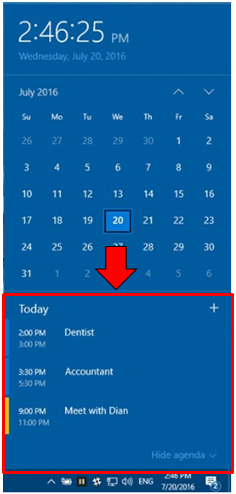 7. Better and More Organized Settings
The modern Settings Window used to just have texts on them as categories. While this looked clean because of its minimalist approach, there would still be time that you would get lost because of the lack of familiar symbols or icons that are already attached to certain terms such as Wi-Fi or Bluetooth and many others. Thankfully in the latest Anniversary Update for Windows 10, this has been fixed by Microsoft by including a symbol for each settings item that they have included in the modern Settings Window as you can see on the screenshot below. This is very good especially to those who don't want to be reading everything just to find the exact setting that needs to be tweaked.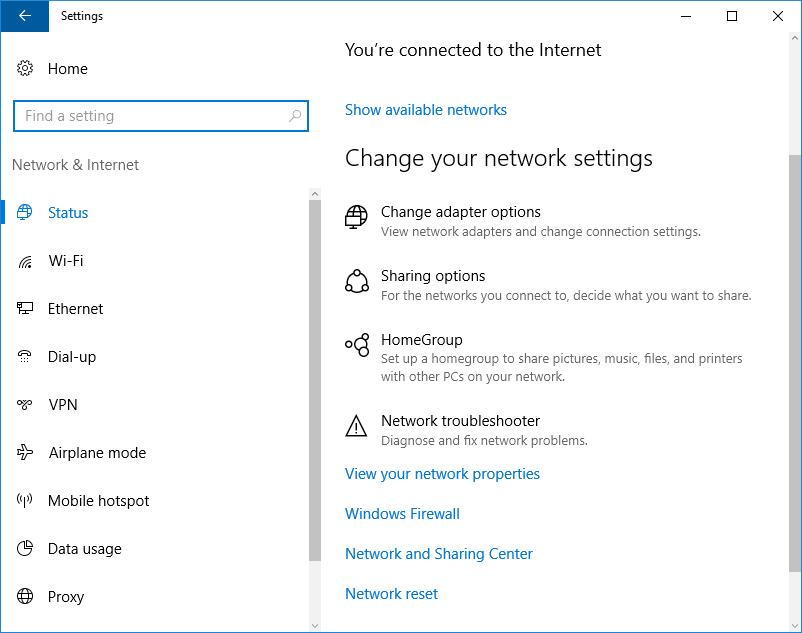 8. Better Looking Microsoft Edge
Windows 10's built-in and default web browser called Microsoft Edge just used to have a blue and off-white theme color in the old Windows 10 version but after installing Windows 10's anniversary update, you would surely be surprised on its changed look especially the theme background as you can see on the screenshot below. This makes the browser a lot desirable to use than before not to mention its new extension support and performance upgrades that are still to be tested by us but so far in terms of appearance, this browser has really changed a lot!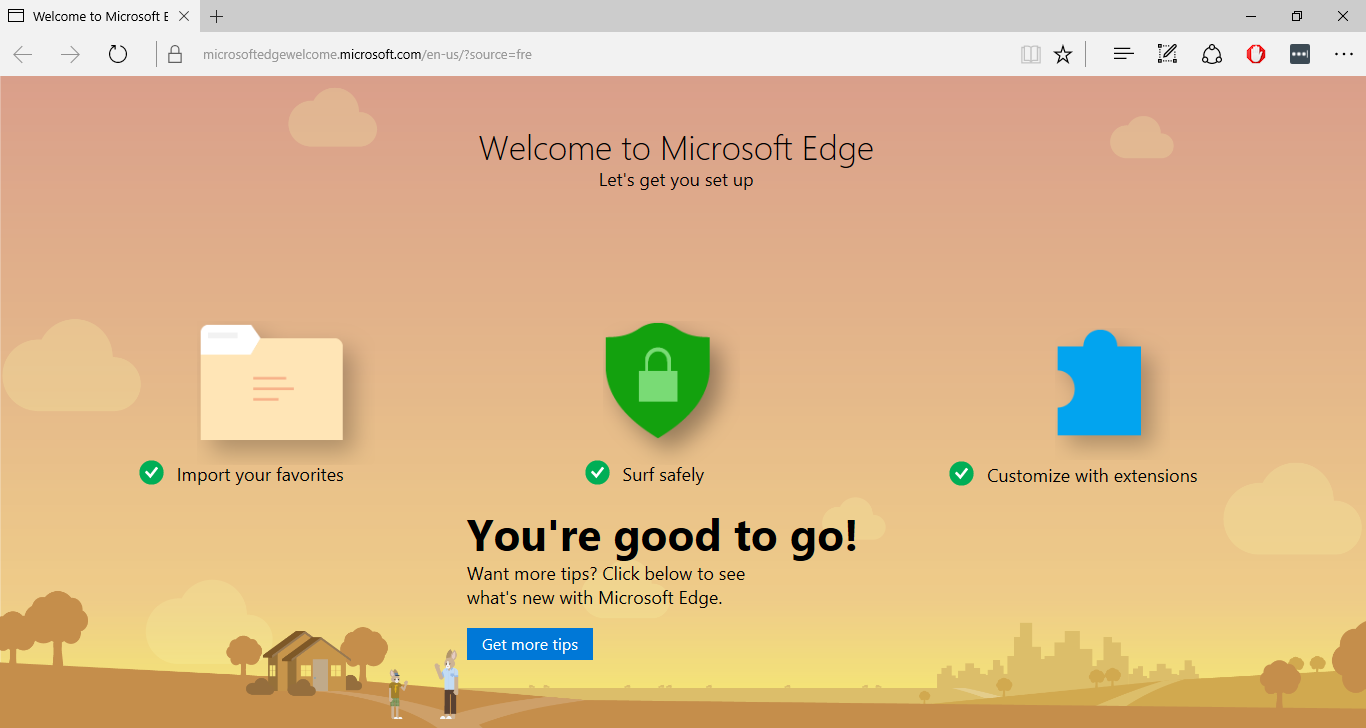 9. Skype Preview App Now Available!
The Skype app has suddenly disappeared when Windows 10 was first released but Microsoft is reviving it in the Anniversary Update of their flagship operating system product. It has almost the same stuff in it as its Desktop counterpart but it is no doubt lighter in terms of system resource usage so if you want your Windows 10 machine to work at its best then using this version of Skype would help you achieve best performance in some way.
10. Better Windows Defender!
Windows Defender has also received many improvements in the newest Windows 10 update and one of these is being able to offer users the option to do on-demand scans readily instead of requiring them to browse through their set of built-in tools just to find Windows Defender. Microsoft also labels the update as a more secure version of the built-in antivirus software in Windows 10 because it can now work side-by-side with third-party security software and other related products without causing any conflict or harm on your system files. Now this is truly a welcome and a big change as well from the Windows Defender that seemed like always in a hiding and only appeared through notifications once serious threats are detected. Now in the Anniversary Update of Windows 10, Windows Defender always has an active icon on the System Tray as highlighted on the screenshot below.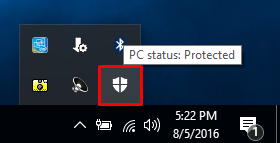 The Best of Windows 10 is Yet to Come!
Microsoft has again did a great job in releasing an update that really surprised many of us beta testers. It really looks like a new edition of Windows no matter from what angle it is viewed from. But still, the reactions from users remains to be seen but with this move, Microsoft's dedication to making their latest operating system even better in many ways is really evident and what does it mean for us? It means that we can only expect the best from Microsoft as we count months and years of the operating system's existence.