Microsoft has long been silent player if we talk about browsers. Through the years, users have seen several Windows editions come and go but the built-in browser in it which is called "Internet Explorer" hasn't changed a lot. There's been updates to it which addresses certain aspects such as making it quicker and giving it more features for security and privacy but just recently, we've seen how the company replaced their long-time built-in browser with a more modern one which we all know as Microsoft Edge!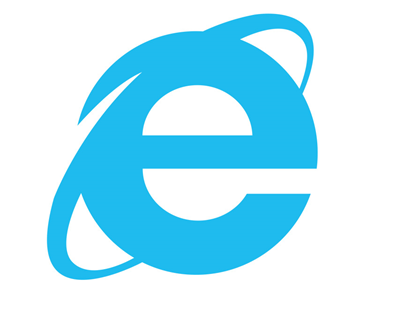 Internet Explorer has been present in Windows XP, Vista, Windows 7, Windows 8 and even in Windows 8.1 but starting with the first public release of Windows 10, Microsoft has already included Microsoft Edge as the operating system's default browser while Internet Explorer just sits hidden for advanced users to pull up in case they need some functionalities in it that are nowhere to be found in other browsers. In this tutorial, we will be learning about the basics of Windows 10's built-in browser Microsoft Edge and see how it can be accessed and used for browsing the Internet and doing some other tasks which most of us commonly do when browsing the Internet so if you are curious on what this new browser can actually do then be sure to read this tutorial from top towards the very last word at the bottom and discover an whole new browsing experience provided to us by this brand new browser from Microsoft!
How to Access Microsoft Edge
Most of us use Google Chrome but if you're already bored of using the same browser while doing your regular web surfing routines then you can try Microsoft Edge. Microsoft has published several tests in terms of speed for their latest browser and seems to be faster than Chrome or Firefox but of course, you can always do your own speed comparison test on your computer. Accessing Microsoft Edge can also be done in different ways just like how you access some other Windows 10 features. If you have a relatively new computer then you should be able to find Microsoft Edge pinned on the Taskbar as shown on the screenshot below.

However, if you've already removed some unused icons from the Taskbar recently and Microsoft Edge was removed as well during the process then you will need to access it using a different method but don't worry, it's still easy. To do it, simply open the Start Menu by clicking on the Start Button or pressing the Windows Key and after you do so, the Start Menu should pop up on the left-hand side of the screen. From here, just look for the "Microsoft Edge" tile on its right portion then click on it in order to open the browser.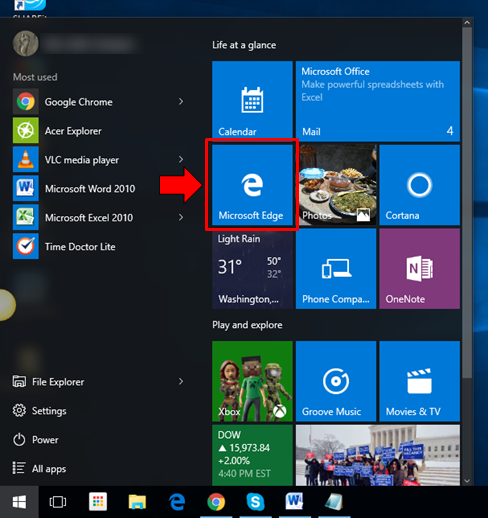 In case Microsoft Edge has been unpinned from both the Taskbar and the Start Menu then what you can do next is to look for it in a different location which is called the "All apps" list. To access this list, you will again need to launch the Start Menu by clicking on the Start Button or pressing the Windows Key and once it opens, simply click on the "All apps" link that is found on its bottom-left portion as highlighted on the screenshot below.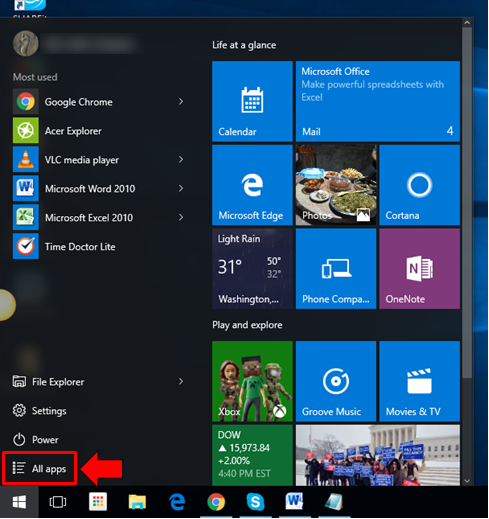 After clicking on the "All apps" link, you will then be able to view all of the applications and programs that are installed as well as built-in on your Windows 10 machine (both Desktop and Mobile/Modern apps) and they should be arranged alphabetically with letter labels on top of each group so you need to head towards the apps and programs that starts with letter "M" in order to find "Microsoft Edge" as you can see below.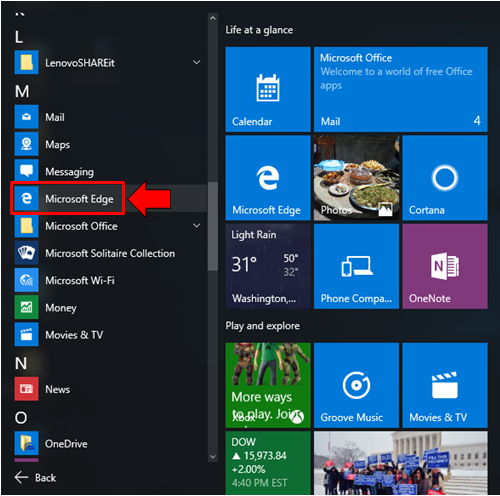 These are so far the three methods in accessing Microsoft Edge on Windows 10 and if you followed any of these three steps properly then the browser should now be open on your computer screen. Now, it is time to do the exploring on this latest browser from Microsoft!
How to Enter Website URLs in Microsoft Edge
Microsoft Edge's home screen looks quite confusing the first time you use it. This is because there isn't an input box at the top where you can enter the URL of the website that you want to open. However, this doesn't have to be a complicated process because all you need to do is enter the URL for the website that you want to visit into the only input box that is available which is located near the center of the browser Window just below the words "Where to next?" as highlighted on the screenshot below.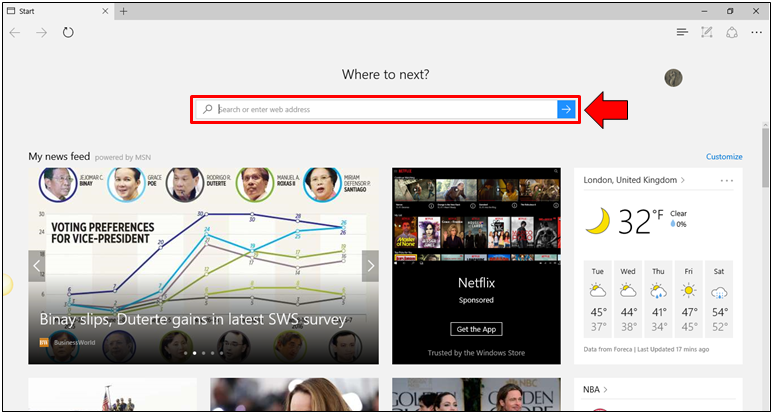 After entering the website URL that you want to visit into the input box, just press the "Enter" key on your computer's keyboard or simply click on the right-pointing arrow located at the right portion of the input box as shown below in order to open the website.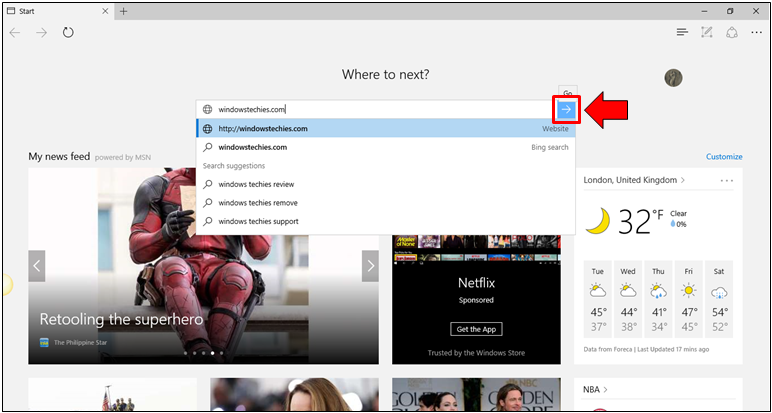 Now that the website which you want to open is already loaded in Microsoft Edge, it is now time to explore the other buttons that sits on the left as well as on the right portion of the web address box. Let's start with the familiar ones that are found on the left. You will see a Left and a Right-pointing arrow and as well as a "Refresh" button.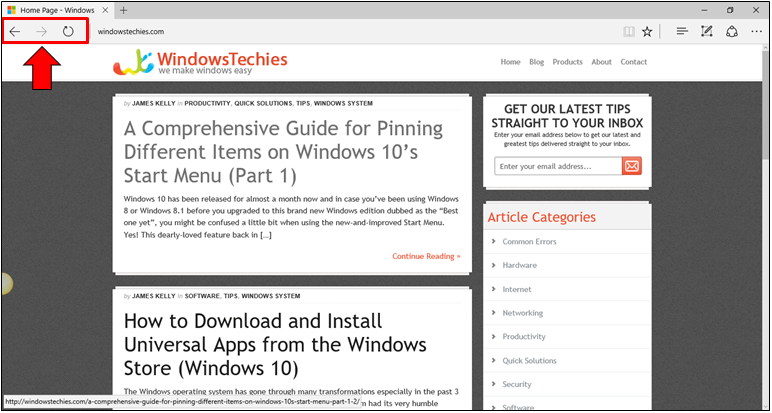 The left-pointing arrow is used to go back to a previous webpage that you opened on the same tab while the right-pointing arrow is used to go forward to a webpage that you came from. If any of these two are grayed-out then it means that there are no previous or forward pages that are available to navigate into. In case a certain webpage that you are trying to open fails to load, you can simply click on the "Refresh" button in order to reload it and finally view its contents.
Unique Features in Microsoft Edge
Now that we've already learned about the basic buttons found at the left portion of the web address box, it is time to move to the right and if you've noticed, most of these buttons are unique-looking. First, let's start with the one that looks like an open book and is labeled as "Reading view". This button will be grayed-out if you are on a home screen of a website and there is nothing in it to read so be sure to open an article or something to see how it works. If you click on this button while you are trying to read something on a website then the screen will look like the one shown below.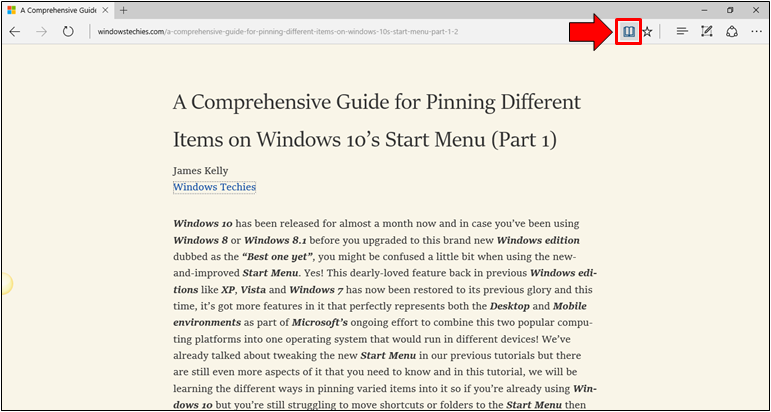 The "Reading view" helps reading contents on the web a lot easier by removing all other elements and keeping only the texts and this will be very helpful if you want to focus on something and avoid any other unnecessary distractions. Next to the "Reading view" button is another one which is represented by a star icon and just like in other web browsers, this is the button that you would need to click if you want to bookmark or add something to "Favorites".

Next, moving further to the right, you will see a three horizontal like button and if you put the mouse pointer on it, you will see that it is actually a new feature called the "Hub" where you can see the list of your "Favorites", "Reading list", "History" and "Downloads". Clicking on this button will open a drop-down box as you can see on the screenshot below.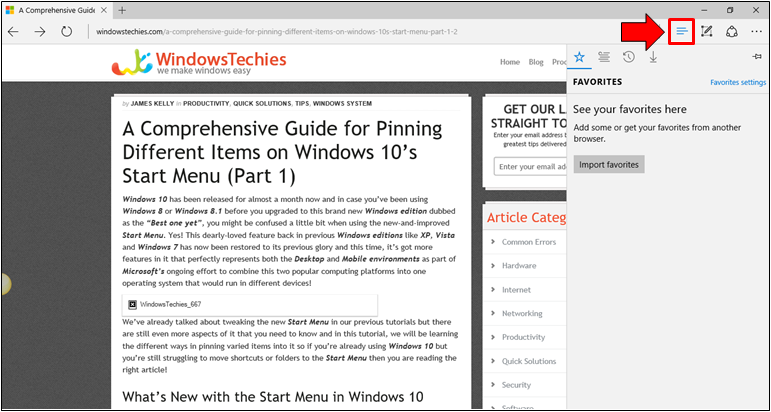 This is an awesome feature since it gathers everything into one place so you won't have to be moving from one place to another just to find your browsing history or access your favorites, just click on the "Hub" button and voila! Everything that you need will be in one box! Moving further to the right, you will see another button that says "Make a Web Note" and this again is another unique feature that you would not find in any other browsers. If you click on it, a horizontal line containing tools for adding notes or highlighting certain parts of a web content will appear as you can see on the screenshot below.
Web Note is a wonderful feature but we don't have much space in this tutorial to discuss it in greater detail so we will reserve it for a separate tutorial which you would certainly need to watch out for. Lastly just beside the "Make a Web Note" button is a the last one which says "Share Web Note".

If you click on it, you will be able to open the "Share" screen which will slide in from the right edge of your computer's monitor and from here, you can simply select which media you want your created Web Note to be shared through. Again, this feature needs a more detailed demonstration so be sure to watch out for our next tutorial that will talk about the "Web Note" feature in Microsoft Edge with a greater detail.
Microsoft Edge: A New Breed of Browser from Microsoft!
As you can see, Microsoft Edge really is a unique browser that doesn't lack some peculiar features that's worthy of your attention. We've only covered the features that can readily seen from the surface so be sure to stay tuned-in with us if you want to learn everything about this browser and be able to use it to its fullest. Have you ever tried using Microsoft Edge before? What do you think about it? Is it better than the rest? We'd like to hear from you! Please feel free to let your opinion be heard by using our comments section below!