Previously, we've shown some of the basic things that you need to learn about the OneDrive cloud storage in Windows 8.1 and as well as gave a brief history of the changes that it went through since the year that it was first introduced to Windows users.
Cloud storage has really become the in-thing in the 21st century especially in the rise of different mobile devices that are way more comfortable to use than laptops and PCs which is why Microsoft has really taken some good effort to create a cloud storage service of their own and brought everything to the next level by incorporating it to their flagship operating system called Windows!
Just imagine the freedom of being able to access your important files on all your devices and being able to download or view them anytime. That surely is a great thing especially to some users who have a very active lifestyle but before you can experience all of the great features that OneDrive has, you first need to discover some of the deeper things that it is capable of.
In this tutorial, we'll find out how to access your OneDrive account, adjust settings for the OneDrive folder in your Windows 8.1 machine and view its available storage space but before that, let's first learn what advantages does a cloud storage give to users compared to the traditional mobile/portable storage methods that has been around for decades before online cloud storage came into the scene.
What Makes Cloud Storage Safer than Portable Storage Devices
Bringing files with you wherever you go is a very convenient way of increasing productivity. It allows users to really maximize the use of their devices in many ways. Both the traditional portable devices like flashdrives, external hard drives, SD cards and others as well as the modern cloud storage allow users to bring files and other stuff with them anywhere they go but these two differ in many ways.
For instance, when you store a file into your flashdrive, you can bring it with you anywhere you go but the possibility of the device being misplaced, lost or stolen is very high. On the other hand, if you save files to your cloud storage, all you need to do is remember your cloud storage account logins and you will then be able to access all your files from any device without having to attach anything.
Cloud storage is also a safe place to store your files in especially if you are living in a place where natural disaster is common. Compared to physical storage devices that can be damaged by flood, storm or any other natural calamity which means that all your files can possibly be lost in the process, files in the cloud storage stay in a safe online realm away from any disaster and calamities making it protected and easily accessible regardless of where you would move to after a disaster. All you need is an Internet connection, a computer (laptop or desktop), smartphone or tablet and your cloud storage account logins of course then you're all set to getting access to your most crucial files once again!
There are still plenty of other benefits that a cloud storage can offer but we'll just stop on the ones that we've mentioned above to give way to even more important items that needs to be explained in this tutorial.
Open OneDrive in File Explorer with One Click
OneDrive can easily be opened from the File Explorer Window but accessing it takes a few clicks and in other cases, it might even load a little bit especially if you are using a relatively old computer which has just been upgraded to Windows 8.1.
To bypass this process and make it a lot faster for you to open the OneDrive folder in your Windows 8.1 machine, you will simply need to right-click on the OneDrive icon that is located on the System Tray and on the menu that will appear, simply click "Open OneDrive in File Explorer".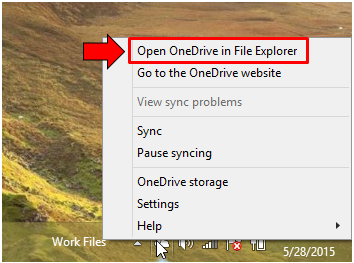 After you do so, the File Explorer Window will open and display all the contents that are saved in the OneDrive folder on your Windows 8.1 computer.
Access Your Online Cloud Storage Account Quickly
Now, the shortcuts for working with OneDrive does not end there yet, there are still even more options that appear within the menu which will surely make the tasks that you do with OneDrive a lot easier. For instance, you can open OneDrive on your favorite browser without the lengthy process involved in accessing a website. To do this, you will simply need to right-click the OneDrive System Tray icon again and from the menu that would appear, just click on the option that says "Go to the OneDrive website" as highlighted on the screenshot below.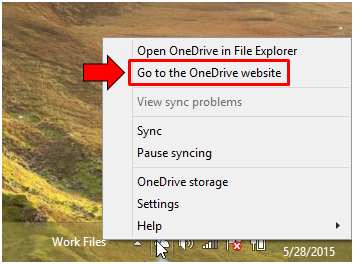 After the option is clicked, the OneDrive website will open on your default web browser and from here, you will need to click on the "Sign in" button located at the top-right portion of the Window as shown below.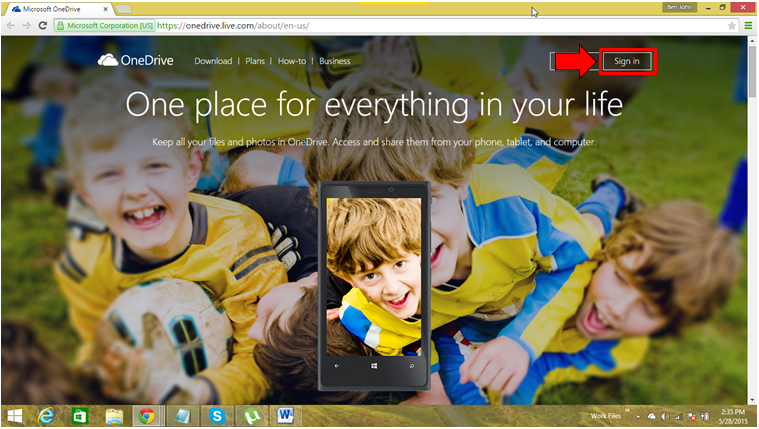 The page that will ask for your Microsoft account credentials will then appear and here, you will simply need to enter your Microsoft email first then hit the "Next" button to proceed to the step that follows.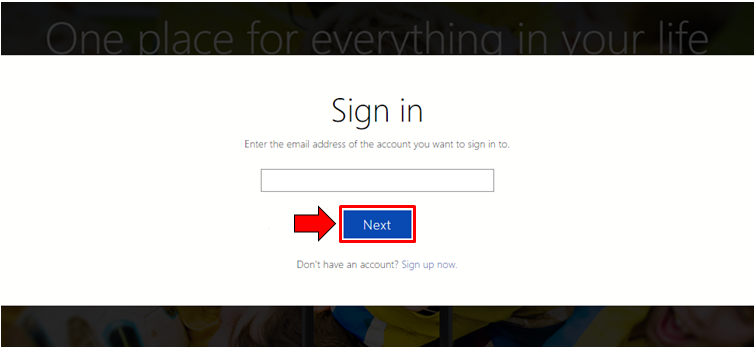 The webpage that comes next will then ask for your password so all you need to do is enter it into the box provided then hit the "Sign in" button afterwards.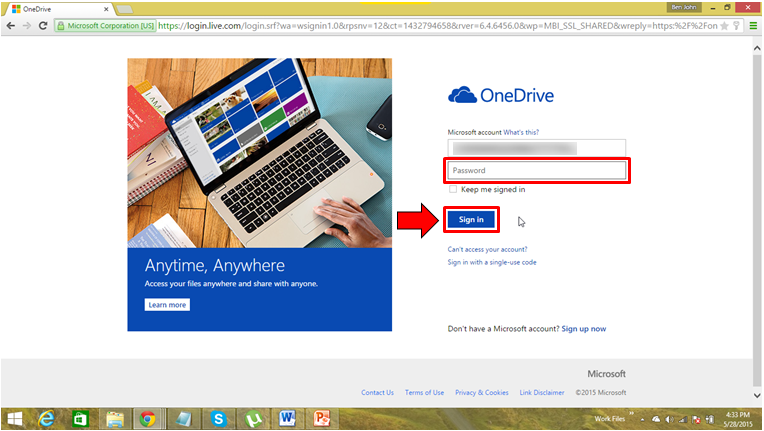 If you entered the right credentials, you'll be able to access your online storage account where you can access all the files that you have saved in it. You can also choose to save files to it directly by dragging it from its original location within your computer towards the browser Window where your online cloud storage account is currently open.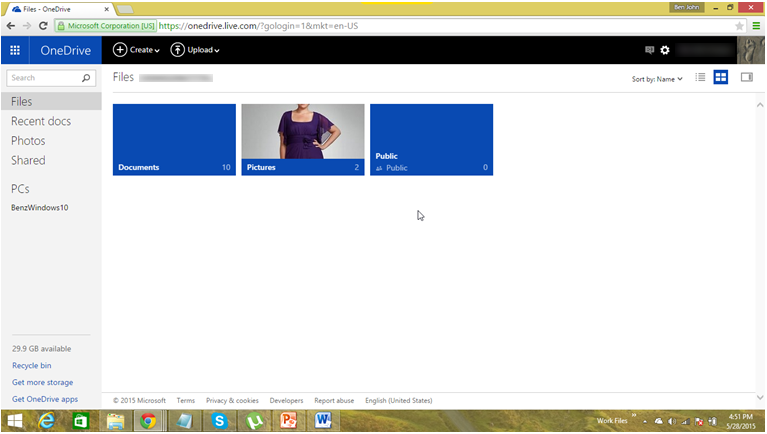 Viewing the Online Storage Space and other Information
Viewing the available space in your OneDrive account is also made simple. You will simply need to right-click on the OneDrive icon that is found on the System Tray and after doing so, just click on the "OneDrive storage" option in order to open the modern Settings screen with the OneDrive section open.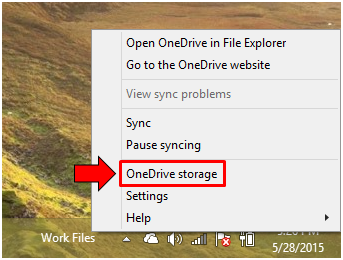 On this OneDrive Settings section, you will now be able to see how much space do you still have and on its left portion, there are links that will take you to some other tweaks and sections that are related to OneDrive such as the "Camera roll" which is the source of the pictures that automatically gets saved into OneDrive and the "Sync settings" section which will give you access to OneDrive's syncing preferences and many others.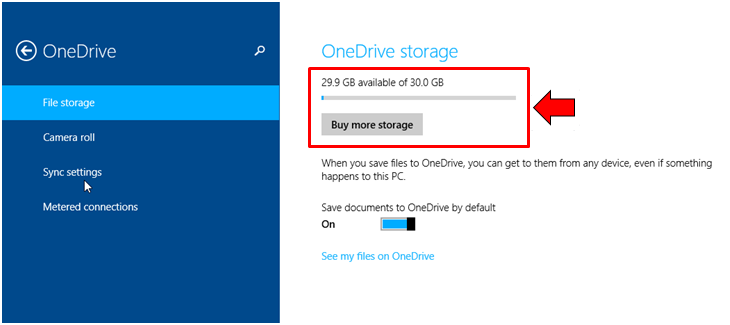 OneDrive gives 30GB of free storage to all Windows users who would like to take advantage of it and there's also an option to "Buy more storage" as shown on the screenshot above. Again, OneDrive is free and you don't need to pay anything just to get that free 30GB storage space so why don't you give it a try. All you need to do is create a Microsoft account that will serve as your log in and you're all set towards enjoying a free and safe storage space for all your crucial files.