Windows has been helping billions of users ever since its very first successful version was released to the public. This operating system has really evolved through the years to the point of dominating not just individual users but even the big businesses that are operating on international grounds. The secret of its success is something that other rivals really can't get up to. Its simplicity and user-friendly interface has captured the hearts of users both young and old but this operating system that we all love still has even more to show off than what meets the eye.
Windows is not just about making office tasks easier or helping users get through life easily by providing tools and features that can entertain, increase productivity and produce other good results but is also an operating system that seeks to keep your files safe even through those harsh problems that can occur anytime.
Yes! Windows actually has features that can keep you going even after a serious problem that can come to the surface after you installed a buggy software or even after you get infected by a virus. These are all made possible by a tool called "System Restore" which we have discussed partly in our previous tutorial but this time, we will be going deeper into the details in how you can set up a Restore Point in your Windows 8.1 machine and teach you how to use this very important feature that can save all your computer's contents even in some worst case scenarios.
Creating a System Restore Point
Knowing that you have some restore points saved in your computer always gives you an assurance that when something wrong happens, you can always bring back your computer to a previously working state and continue as if nothing really happened. But before you can start taking advantage of this feature, you will need to first learn how to access its settings and configure it in such a way that it will automatically save "Restore Points" whenever it sees some major changes in your computer.
The details in turning on System Restore for the drive partition where Windows is installed was discussed in our previous tutorial so here, we will go directly to the details in how you can start creating restore points manually. If you are not that sure about the status of the System Restore feature in your computer (whether it is on or off), simply access its settings section by first pressing the Windows + S keys the type "system restore" into the input box that is located at the top portion of the Search charm as you can see below.
After entering "system restore" into the input box, the search results will appear just below it where you will need to click on the one that says "Create a restore point" and after doing so, the System Properties Window will open where you can now see if System Restore is turned on for the hard drive partition where Windows is installed. If you see that it is currently turned off, simply follow the steps that we have shown in greater detail in our previous tutorial.
After turning on System Restore for the hard drive partition where Windows is installed, you are now ready to create restore points manually but before we show you the steps, let's first learn some crucial instances where creating a System Restore Point manually is recommended.
When Should You Create a Restore Point
Windows can suffer problems in a number of instances that can be user-initiated or not but you can't just create restore points everyday because the space allocated for these files is limited so here's a list of some of the most common instances where manually creating a system restore point is recommended.
Before installing a program from a storage device that you have just borrowed- In most cases, you don't really get any idea of what's hiding inside your friend's flashdrive or portable hard drive. Installing a program that comes from it can pose a great danger on your computer so it is best to create a restore point before installing anything just in case something goes wrong in the long run.
Before installing a software from unverified sites- Viruses can also hide in websites offering free downloads so it will also be a good idea to create a restore point before installing anything that you have downloaded from this kind of websites to keep you safe from harm.
Before making changes with the registry- In our previous tutorials, we've shown some tweaks in Windows 8.1 that will help users avoid some annoying features in it which involves changing some entries in the registry. Doing these kinds of tweaks can cause serious problems so it will also be good to create a restore point before you proceed on with this process.
There are still some other instances that requires you to create system restore point but the ones that we have shown above are the most common ones for ordinary Windows users so let's proceed now to the steps in how you can create a restore point manually.
Creating a Restore Point
After the "System Properties" Window opens as we have shown above, it will take you right away to the "System Protection" tab and from here, you will be able to get access on some of the tweaks and setting for the System Restore feature. Once you already turned this feature on in your computer, the next step is to create a restore point. To do this, all you need to do is select the drive partition where Windows is installed then click on the "Create…" button that is located near the bottom-right portion of the Window as highlighted on the screenshot below.
After clicking the "Create…" button, a small Window labeled "System Protection" will appear which contains an input box where you can enter the name that you want to assign to the restore point which will be created. From here, simply enter your desired name then hit the "Create" button at the bottom.
After the "Create" button is clicked, System Restore will now create the restore point and label it using the name that you have typed into the input box. Just wait for a few minutes until this process is done and if you are doing something else on your computer, you can just get back to it and check on the system restore Window later.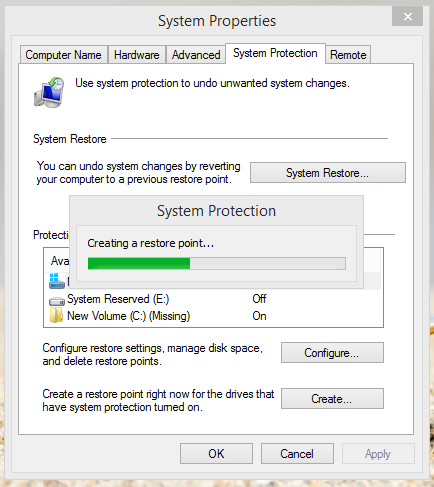 Once the creation of the Restore Point is complete, you will see a prompt that looks like the one shown on the screenshot below which tells you that the restore point creation process was successful. From here, you can simply click the "Close" button at the bottom of the prompt.
How to Use the Restore Point That You Have Created
Now, in the event that something happens with your computer, you can just stay calm and use any of the Restore Point which you have created earlier. To do this, simply access the "System Protection" tab which is in the "System Properties" Window as shown in the above steps and once it opens, you will simply need to click on the button that says "System Restore…".
Windows System Restore will then initialize and show you a Window where you will need to hit the "Next" button which is located at the bottom. After doing so, you will be taken to the list of restore points which you manually created and as well as those that were automatically created by Windows.
From here, just select the restore point that you want to revert your computer into then hit "Next" and follow all the steps that will be shown next until your computer gets restored and that's it! Everything will now work normally as if nothing serious really happened!