Previously, we've learned the different methods on how to tweak File History first from the Control Panel Window and secondly from the modern Settings app but we haven't really discussed about the deeper tricks and advanced tweaks in greater detail so that's what we're going to do now.
What if your File History Drive runs out of space? What should you do in order to solve the problem? Is it wise to delete unnecessary files manually until you have enough space for new stuff to be saved? Or should you get a new drive where you can save back up files using better settings that will help you get rid of the "out of storage space" problem?
While both of these solutions are good, the former would surely take much time that could have been spent for other useful tasks while the latter is much easier and a lot more efficient in terms of time used and effort exerted. What exactly should you do in case your File History Backup Drive suddenly runs out of space? That's what we are going to find out in this tutorial so be sure to get your Windows 10 machine ready and follow the steps below as we unfold them.
The Easiest Way!
Microsoft has designed the File History tool in such a way that you will no longer need to manually delete old versions of files that are stored in your libraries and folders. Yes! You can actually choose to delete them according to the time when they were saved and doing this is pretty simple, you won't even need deeper technical knowledge to accomplish it.
To start, you will need to open File History first from the Control Panel and in case you don't know yet how to access Control Panel in your Windows 10 machine, just press the Windows + X keys in order to summon the WinX menu then hit the Control Panel link on it once it opens as you can see below.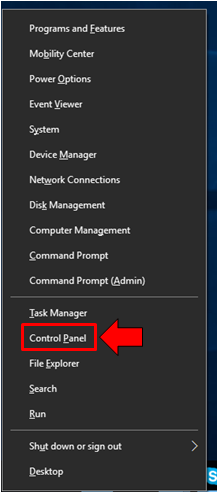 After hitting the Control Panel link, the Control Panel Window should launch instantly where you will then need to click on the link that says "Save backup copies of your files with File History" which is found under the "System and Security" item as highlighted on the screenshot below.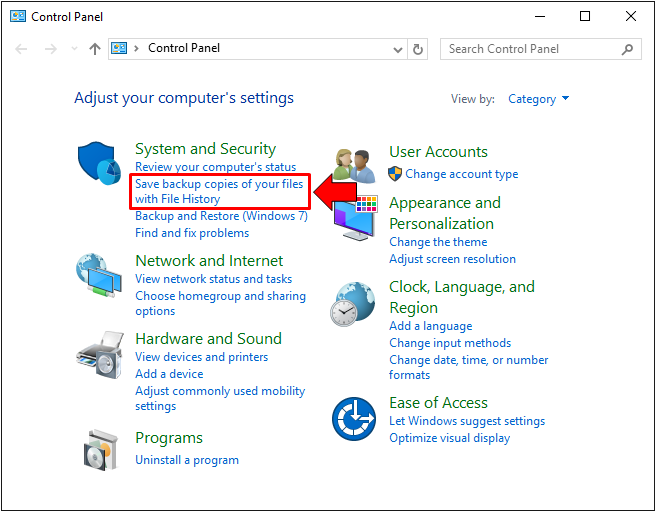 Right after clicking on the link from the main Control Panel Window, the File History tool will open in a separate Window and from here, you will need to pay attention to the links that are found on the left side where you will again need to click on the one that says "Advanced settings" as shown below.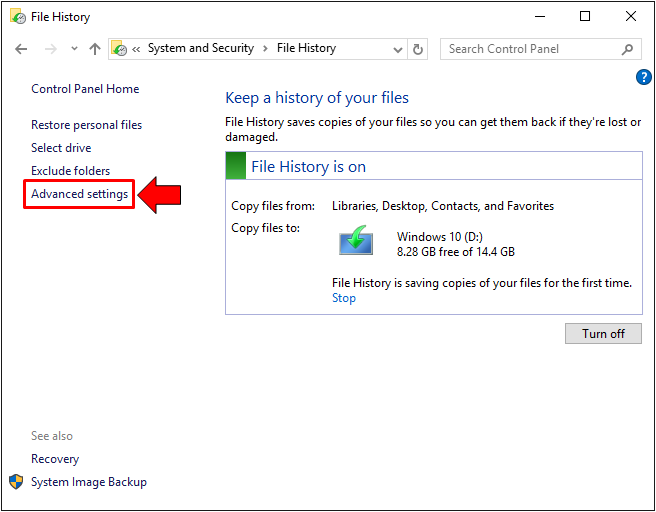 On the Window that would follow which will now show the advanced settings for the File History tool, you will simply need to click on the link that says "Clean up versions" as highlighted below.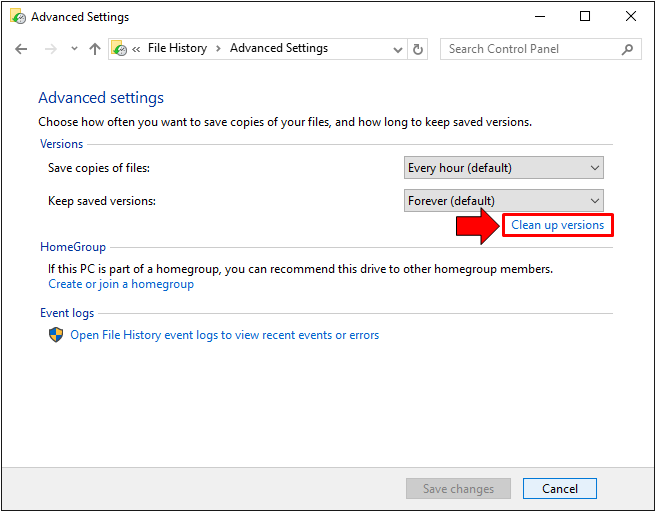 Next, the File History Cleanup Window will then appear and from here, you will be able to see a dropdown box which contains options on how old the file versions are that you want to cleanup. This way, you can easily delete backed up files without having to view each folder and library one by one. You just select your desired backup age then afterwards, just click on the button that is found at the bottom which says "Clean up".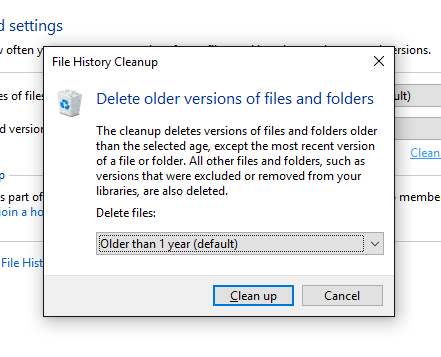 Take note that choosing the "Older than 1 year" option which is the default setting would clean up only a few files which will result in a little storage space cleared up so the principle is to choose the shortest like "Older than 1 month" or if you are certain that you don't need any old version of your backed up files then you can hit the "All but the latest one" option then finally hit the "Clean up" button located at the bottom of the File History Cleanup Window.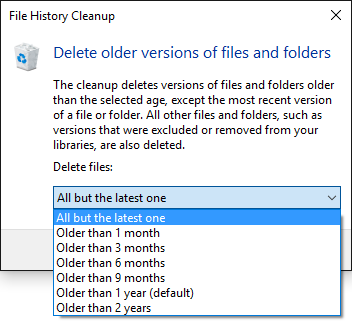 After selecting the criteria for files that need to be deleted and hitting the "Clean up" button, the deletion process would start and a small Window showing a progress bar of the overall process will open. The length of time needed to clear certain backup files depends on the quantity and the size that needs to be cleaned up.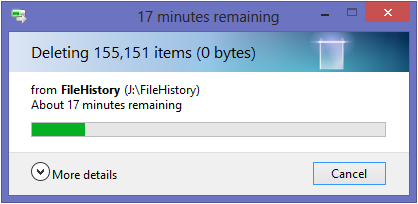 Once the deletion process is completed, File History Cleanup will show a notification on your computer screen telling you that the cleanup process has completed successfully. From this Window, you can simply click on the "OK" button and the notification should close in an instant.

Tweak File History to Avoid Running Out of Backup Disk Space
The default settings of the File History tool is designed to really protect you from ever losing backup copies of your important files and because of this, it takes up much storage space of your File History backup drive. To tweak the File History tool so it only saves the most recent versions of your files and therefore save in storage space, you will simply need to hit the "Advanced settings" link once again which is found on the left as highlighted on the screenshot below.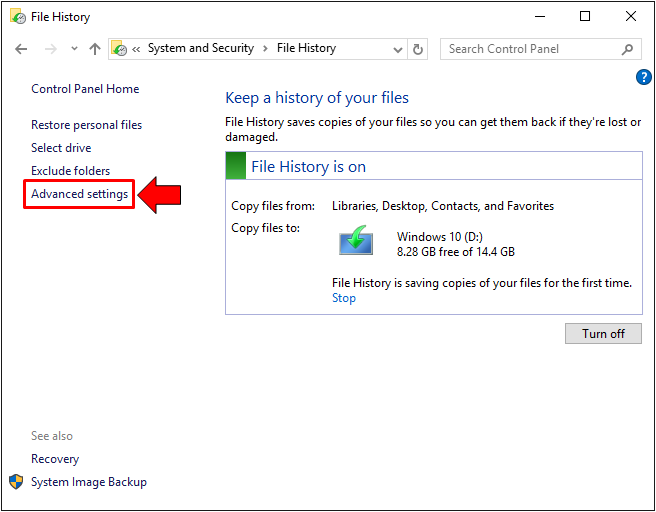 On the Advanced Settings Window that would open, just select a lower time for File History to keep saved versions instead of just leaving it to the "Forever" option which is set as default. Ideally, the lowest time interval would be the best but it all depends on your preference and the need for old versions of your files to stay saved before they get removed from the Backup drive to give space for newer versions.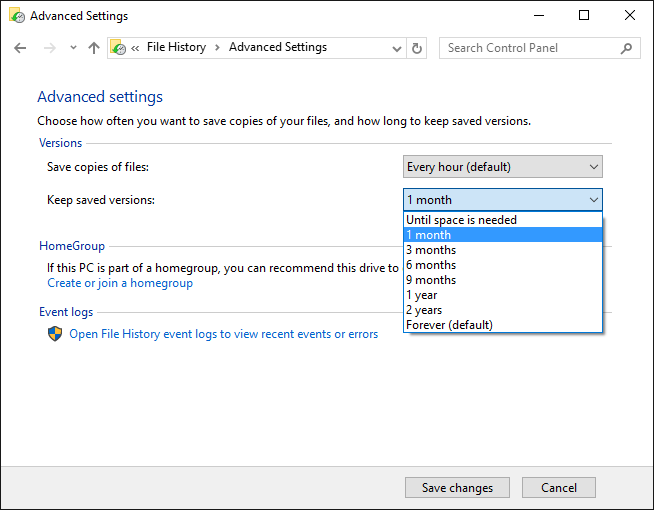 After choosing the option that best fits your needs, just hit the "Save changes" button that is found at the bottom of the Window and File History will now work according to the settings you selected. Doing this is crucial especially if you have limited space in your backup drive.
What Else Can You Do to Save on Space?
In case you still lack space even after you have changed the "Keep saved versions" option as we have tackled above, you can try another trick that will surely be an effective solution to the problem. To do this, you can simply go to the main Window of the File History tool then hit the "Exclude folders" link which is found at the left as shown below.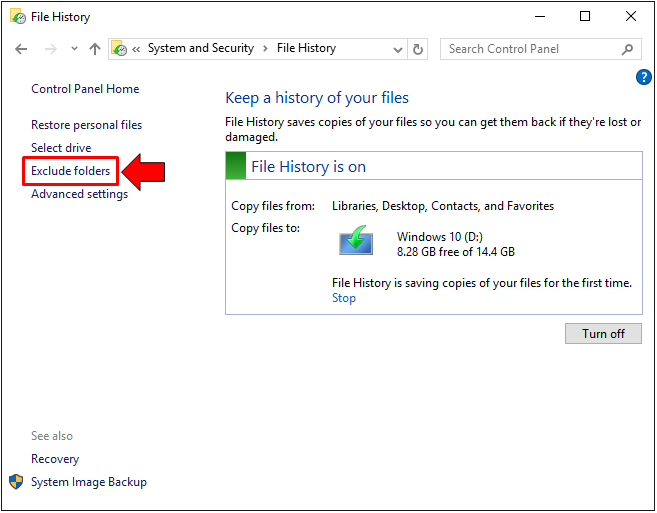 On the Window that follows, you can simply click on the "Add" button that is located at the bottom-left portion of the excluded items box and a new Window will launch which will now allow you to browse towards the location of the Folder that you want to be excluded from being backed up by File History. After finding the folder that you want to exclude from being backed up, simply select it then hit the "Select folder" button as you can see below.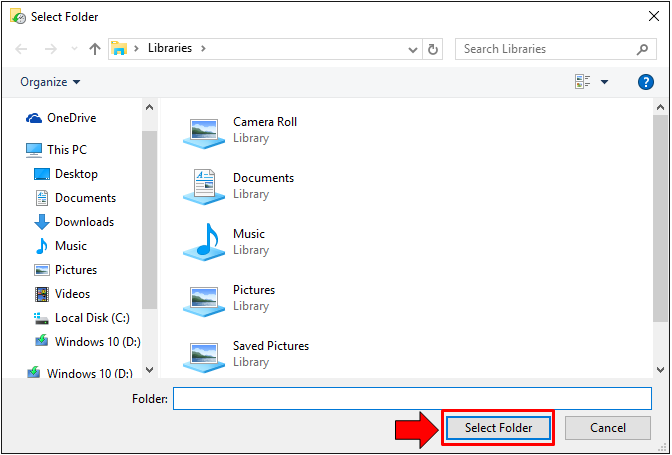 Just repeat this same process for all the other folders that you want to exclude from being backed up and once you are done, simply hit the "Save changes" button found on the "Exclude Folders" Window and that's it! You now tweaked File History to save only the important stuff in your backup drive.
More Storage for Your Important Stuff
File History is no doubt a very important tool to people who really need backup copies of previous file versions somewhere else other than their computer hard disk and tweaking how it works solves the problem that can come from having a limited storage space in portable storage media. Take time to experiment with this feature even more and you'll surely find it very useful in storing your very precious stuff.