Just like its predecessors, Windows 8.1 has a good set of built-in programs that are all geared towards helping every user get some things done such as WordPad and Notepad but there are still even more of these tools that you need to discover and meet so you can get even more from your computer. Most of these tools are actually hidden but they are not impossible to locate. In this tutorial, we will be looking deeper into the other desktop apps that are bundled with every Windows 8.1 operating system and learn what each one of them are used for.
Accessing the Location of the Apps
If you are thinking that accessing some apps in Windows 8.1 is done in the same way as you did it in some previous Windows versions such as Windows 7 then you're wrong. The sad reality is that the Start Menu which somewhat made some stuff easier to access in previous Windows versions has now been replaced by a better one which is called the Apps view screen and you can even pin some shortcuts in a more accommodating Start Screen. In order to access the App's view screen, you will first need to open the Start Screen simply by clicking on the Start Button or by pressing the Windows key on your machine's keyboard. The Start Button is still found on the bottom-left corner of the screen or the extreme-left end of the taskbar which is the same location where it used to be found in Windows 7 and some older version.
After clicking on the Start Button or pressing the Windows key, the Start Screen should open and from here, all you need to do is move the mouse pointer and a round button will appear at the bottom-left portion containing an arrow-down icon within it. Just click on this button and you will be able to open the Apps view screen.
When the Apps view screen appears, all you need to do is scroll towards the right by using the scroll arrow located at the bottom-right corner of the screen or press the arrow right key on your computer's keyboard then check on the items under the "Microsoft Office" and "Windows Accessories" categories. The items under these categories are shortcuts to all available programs that are installed on your computer. Those that are under "Microsoft Office" are everything that has been added to your machine when you installed the office suite into your computer while the others which are in the "Windows Accessories" category are the built-in programs that are all included with your Windows 8.1 operating system installation.
Now, let us focus more on the "Windows Accessories" category and learn what each of the tools under it are capable of doing. Below is a list of them and their uses so you can be guided of where to look and what to look for when you need something to use in doing certain tasks on your Windows 8.1 machine.
Tools Under Windows Accessories
In previous Windows versions, you would also find the "Windows Accessories" folder in the Start Menu when you browse over to the "All Programs" section but in Windows 8.1 as we have shown above, it is already in the Apps view screen and instead of being in a folder, all of the accessories are listed alphabetically under the category label. The most useful tools that are available are listed and described below.
1. Calculator
Have some figures to do some calculations with? If this is the case then you can use the Windows 8.1's built-in desktop-based calculator which can help you do some quick calculations anytime. Just use the number keys on your machine's keyboard to input the figures that needs to be calculated and after everything gets entered, hit the "=" symbol on the calculator Window itself to get the result.
2. Character Map
While typing in a research or a math problem on Microsoft Word or even on a comments box in Facebook, there would be times that you will need to get access to some special characters which are nowhere to be found on the keyboard. If this is the case then you can use the "Character Map" tool which is an arsenal of special characters that you can quickly copy and paste into the document that you are working on or the comment box that you're putting some words into.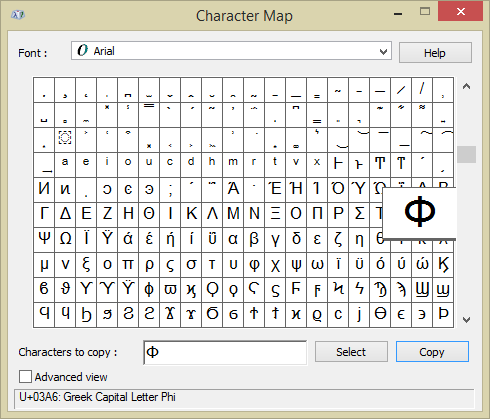 3. Math Input Panel
Another awesome tool that you can let your child or teen use is the "Math Input Panel". It works like a paper where your child can input numbers and other math related stuff and symbols or graph some points for doing even more advanced operations. Arcs and vectors are among the other stuff that you can also input in it so the next time your son needs help on his math, be sure to give the "Math Input Panel" a try.
4. Sound Recorder
Windows 8.1 also has a tool that lets you record audio and this is called "Sound Recorder". This tool comes in handy especially on occasions when you need to record something like a lecture that's going on or a music that's currently playing on the radio. Just open the tool by clicking on its shortcut from the Apps view screen and when it opens, click on the "Start Recording" button to start the recording process.
5. Steps Recorder
If you're looking to record some steps and show it to others, you can take advantage of the "Steps Recorder" tool which allows you to take a video of your screen while you're doing some steps in it. This is a very useful tool especially if you want to describe and show some steps or errors that you are experiencing on your computer. You can even add comments to it so that the person that you will be sending it to will learn what really goes on when you do something and have a better understanding of why an error occurs.
6. Windows Media Player
Another tool that will let you enjoy the media files which are saved in your computer's hard drive is "Windows Media Player". This awesome app can play music, movies and even photos that you want to view on your computer. To learn even more about the Windows Media Player app, you can read our series of tutorials dedicated for this Windows 8.1 accessory and discover a lot of other stuff about it like ripping music, burning disks and some other stuff.
As you can see, accessing some Windows Accessories in your Windows 8.1 machine is not that hard or confusing as others claim it to be. Microsoft's latest operating system includes some tools that you might probably don't know about but they are all existing within the operating system just waiting to be discovered and used. Take some time to take a look at the other ones which are not mentioned in this tutorial and who knows you might need any one of them in a future time.