Social networks has swept the Internet space by storm ever since its inception and it has made its way to different types of devices as well as conquered millions of users belonging to different age groups. These wonderful sites are designed to connect people wherever they and this makes the world a lot smaller than it used to be. Nowadays, getting connected with a long lost friend is very simple, all you need to do is perform a friend search in Facebook and other social networking sites that you are joined to and you'll receive results right away.
You might have already tried accessing Facebook, Twitter or LinkedIn using your favorite browser or through your Android device but you're missing more than half of the awesome stuff that social networks are capable of giving off especially when they are partnered with Windows 8. If you are already using a Windows 8 computer right now then you should know that this latest operating system version developed by Microsoft is capable of bringing social networks to a whole new level. Just read on to learn how Windows 8 does this.
Install the Right Apps
The very first thing that you need to do is to download the apps that will help you connect to social networks. Windows 8 does not only contain the traditional desktop environment but also has a brand new environment where mobile apps thrive. This new world is called the "Start Screen". To access this place, simply press the "Windows Key". On your first time of using your brand new Windows 8 computer, you'll notice that there are built-in apps like "Mail", "People" and "Messaging" which will help you stay connected with your friends and all the other people saved in your email contacts.
To add other apps such as Facebook or Twitter, simply access the Start Screen and open the "Windows Store" then press the "Windows + Q" keys to access the search screen and type the name of the social app that you're looking for into the input box. After doing so, apps will appear on the screen and all you need to do is download and install the one that you want.
Once all the social apps that you want gets installed on to your Windows 8 machine, it is time to learn how to make use of the built-in features and make tweaks on them so you can take social networks to a new level.
Learn How to Manage Notifications
Notifications are small pop-up messages that appear on the screen whenever there's an important stuff that is received like an email, an instant message or any other important information that you need to get informed about. All of the modern-style apps that are installed on your Windows 8 machine use notifications and doing some tweaks to it is pretty simple.
Start Searching for People
Windows 8 has an integrated Search feature which makes searching for people a lot easier. To do this, simply open the "People" app then right on the app screen, you can start typing the name of the person that you are thinking of and hit "Enter" button. After finding the person that you're trying to look for, you can click on their name and you will be taken right away to that person's contact page. From here, you can either send an instant message, send an email, send a message on Facebook or connect to them through Skype but of course you'll need to make sure that their account is set up to do so and they are on your friend's list. From this section, you can also find out about their latest social posts and status.
Make Changes on Your Sharing Settings
Another great feature in Windows 8 is the "Share" charm which can be used within any app. You can either decide to show the apps that you frequently use on top or select the ones that will be enabled for sharing. This is very useful if you have two or more apps that can send an email or tweet from and perhaps you only want to have one on your list. Most apps have sharing enabled by default so if you want to have a certain level of control on this aspect, simply flip the switch on or off beside each app that appears on the list.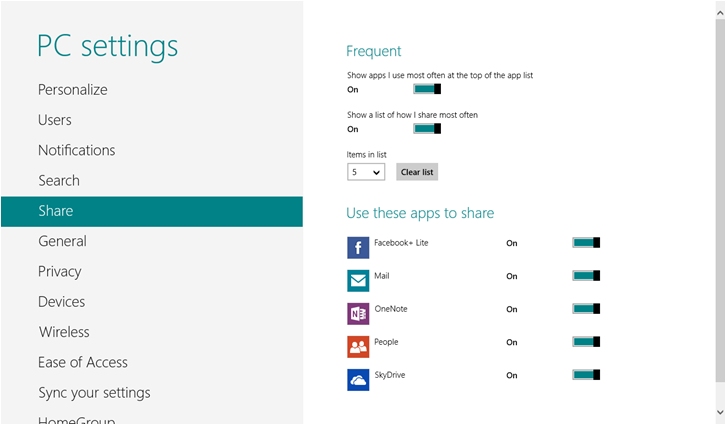 Manage Your Accounts Effectively
Accounts are an important part in Windows 8's social side. They enable you to connect to your contacts or add more to the list of existing ones. Your accounts also allow you to send emails or share your posts, status and photos on to your profile. Your Windows 8 machine  supports many types of accounts that you have in different social networks or even the apps that are built-in with your computer such as "Mail", "Calendar" and syncs contacts from your Google or Microsoft accounts and even the contacts that you have on Facebook, Twitter, Skype and LinkedIn. Windows 8 pulls out data from all the accounts that you have and uses them whenever needed and this influences all the contacts that you see in the "People" app and as well as the emails and social updates that you see in other apps such as Facebook. To make some tweaks on the accounts that are enabled to connect with the "People" app, simply open the app then access the "Settings" charm and click or tap on the "Accounts" menu found on the "Settings" screen that appears on the right-hand side.
As you can see, Windows 8 contains a lot of options and tools that will help you get the most out of the social networks that you have personal accounts with. Everything in it is also perfectly integrated and coordinated to make things a lot simpler even to novice users. There's still more that Windows 8 can offer but our space for this tutorial is limited so watch out for our next tutorials. If you have any questions or problems with your Windows 8 machine then please feel free to let us know about it. We're here to help you, simply post your concern using the comments section on each article found in our site and we'll get it answered for you.