Being able to access your important files and other crucial stuff on any device- whether it is on your computer, smartphone, tablet or a hybrid device is the "in thing" in our day and age. Before mobile devices came into the market, users had to save files and other important electronic stuff in storage devices such as floppy disks, CDs and DVDs and as well as in flashdrives and portable hard drives but these methods all proved to be a bit time-consuming compared to the instant file access provided by a modern storage method commonly known as a "cloud".
So what exactly does a "Cloud storage" do and is it possible to have it in your Windows 8.1 machine? These are questions that you surely have in mind as you read this tutorial. Microsoft users have long been depending on portable storage devices as a means to store files and bring them everywhere but in recent years, Windows has finally been made a lot more comfortable to use in storing files and getting them available in different devices without the use of portable storage devices.
This was made possible by a feature which was once called "SkyDrive" and was later renamed "OneDrive". In this tutorial, we will be showing you the basics in using OneDrive in your Windows 8.1 machine so be sure to follow the steps that we'll be showing on your own Windows 8.1 computer.
OneDrive Through the Years
SkyDrive has only been available in the later years of Windows 7. This means that in all of the years prior to it, users either stored files in portable storage devices or just left it saved in their PCs and laptops. When SkyDrive was finally released, it was made available as a free download offering storage space of around 7GB which was increased later as competitors like Google Drive, Dropbox and other third-party online cloud storage came into the scene.
Microsoft then started making SkyDrive as a part of the Windows operating system in Windows 8 and Windows 8.1. This meant that users would not anymore need to download and install SkyDrive into their new Windows 8 or Windows 8.1 computers because it already comes as a part of the operating system and appears as one of the folders in the left navigation pane whenever File Explorer is opened.
SkyDrive has officially became the cloud storage of Microsoft and the Windows operating system but it was later named as OneDrive in Windows 8.1 and all of the glitches in its integration into the system were all fixed. At present, OneDrive is still included in all Technical Preview releases of Windows 10 and we can only expect even more features to be incorporated with it as Microsoft do their very best in developing their next operating system dubbed as the "best Windows ever"!
How to Open the OneDrive Folder in Windows 8.1?
Now that you already have a little bit of background about Microsoft's own cloud storage service, it's time to get into the details on how it is used. First, let's see how you can access the OneDrive folder in Windows 8.1. To start, you will need to open File Explorer by clicking on its icon that is pinned on the Taskbar.

In case you can't find the "File Explorer" icon on your computer's Taskbar, all you need to do is press the "Windows + S" keys and on the Search screen that will slide in from the right-edge, simply type "File Explorer" into the search box and wait for the search results to appear where you will need to click on the shortcut that is labeled "File Explorer" as highlighted on the screenshot below.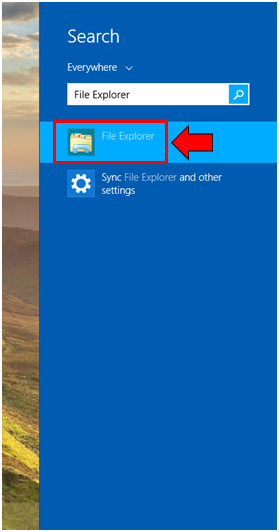 When the File Explorer Window opens, you will need to put your attention to the navigation pane that is found at the left hand portion and look for the item that is labeled "OneDrive" as shown on the image below. Once you find this item, simply double click on it in order to display its contents into the contents pane of the File Explorer Window.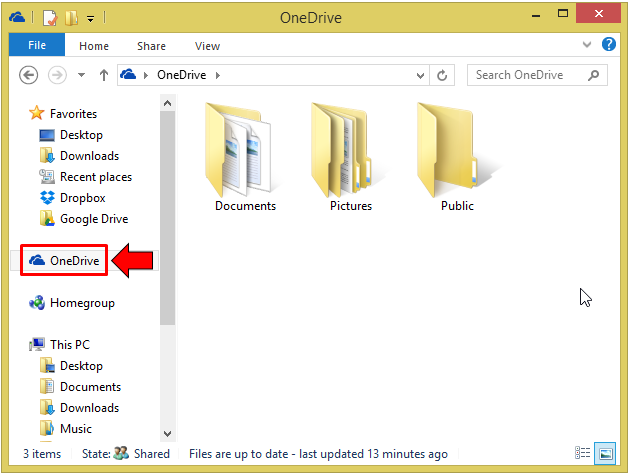 As you can see, there are three default folders in OneDrive which are labeled as "Documents", "Pictures" and "Public". The pictures that you take with your computer's camera are automatically saved in the "Camera roll" folder which is found within the "Pictures" folder. You can also save documents into the OneDrive folder using the popular drag-and-drop action. Just be sure to store your files into the "Documents" folder and organize them further into subfolders to avoid the time-consuming task of looking for certain files especially when they accumulate and pile up in time.
How to Know if OneDrive is Syncing Some Files Into Your Online Storage
All of the stuff that you save in OneDrive automatically sync to your online cloud storage account. This means that you don't need to open your OneDrive account (using your Microsoft account logins) on your favorite browser just do copy-and-paste or drag-and drop files into it.
You can actually save files into your OneDrive folder even when you're offline. Just drag them towards the OneDrive folder that is found on the left navigation pane of the File Explorer Window and they will be saved in there as well as automatically be synced to your online storage account once you connect your computer to the Internet.
To find out if OneDrive is syncing some files, you will simply need to look for its system tray icon located at the extreme-right portion of the Taskbar. Now, if you don't see the OneDrive icon on the system tray, it might be hidden in the "Hidden icons" section so just click on the arrow-up icon as highlighted below, click-and-hold on the OneDrive icon from the small box that will appear and drag it towards the System Tray so it will always be displayed.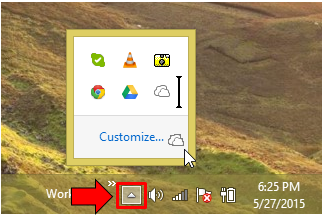 If you are connected to the Internet and you save a file into the OneDrive folder, you will notice that the icon located on the system tray will look like the one shown below. When you see that the icon looks like this, it means  that it is currently syncing the file that you have saved into your online cloud storage account.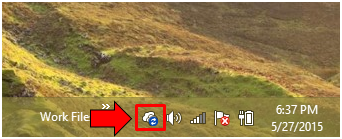 Now, try to right-click on the OneDrive icon and you will see some options inside a box. From these options, you can choose to temporarily stop the syncing process simply by clicking on the "Pause syncing" option as highlighted below. In case automatic syncing is disabled, you can also start syncing automatically simply by clicking the "Sync" option. If the syncing is paused, the icon will look like the one shown below.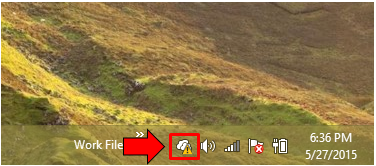 More About OneDrive in our Next Tutorial
Microsoft has truly made a big leap in including OneDrive on both Windows 8 and Windows 8.1 and even in the upcoming Windows 10 operating system but all of the stuff that we have shown in this tutorial are just the tip of the iceberg. There are still more to discover about the OneDrive feature in your Windows 8.1 machine so be sure to catch our next tutorial that will discuss some other things that you can actually do with your free online storage that is included in the world's most-loved operating system.