In our previous tutorial, we have explained the requirements that your computer needs to meet in order for it to be eligible for the Free Windows 10 Upgrade and illustrated the steps involved in having this free update reserved for your Windows machine however, there is are some other things that you need to learn about the "Get Windows 10" app especially if you want to really be sure that your machine has already been reserved for a Free Windows 10 Upgrade which will officially be released to the public on July 29 and that's what we will be talking about in this tutorial but before that, let's first know some reasons why you need to take the Windows 10 Upgrade seriously.
Why Move to Windows 10 if Your Version of Windows Works Perfectly?
The question that we get from most of our readers right after they discovered about the "Get Windows 10" app on their computer's system tray is "why should I/we upgrade to Windows 10 anyway?". Now that's a crucial question that can easily be answered by saying "because it's the latest" but here are more sensible answers that will hopefully convince you to take advantage of this time-limited offer.
1. Windows 10 is FREE Only for a Certain Period of Time
As we have mentioned earlier, Microsoft's FREE Windows 10 Upgrade offer will only last for a certain period of time and as the company has made it clear during their first official announcement of this upcoming Windows version, it's only going to be offered free for one year! This means that you can download Windows 10 as a FREE Upgrade from July 29 of this year 2015 to July 29 of next year 2016.
After this period, Microsoft has not yet made any announcement as to how much would the OS cost. The company is really serious of getting Windows 10 to all Windows 7, Windows 8, Windows 8.1 or Windows Phone 8.1 devices that they gave a deadline (one year) for its FREE Upgrade so if you're one of those who has the "Get Windows 10" app showing on your computer's System Tray then you might want to reserve your FREE Upgrade now before it's gone!
2. Windows 10 Has Got the Start Menu Back
One of the most-loved features in the Windows operating system that has been taken away in the Windows 8 and Windows 8.1 OS versions is the Start Menu. The taking away of this feature and having it replaced by an unfamiliar Start Screen has really caused many users to get disappointed with Microsoft and many even switched back to Windows 7 but it Windows 10, this very important feature is going to make a come back and Microsoft has made it even better!
If you're using Windows 8 or Windows 8.1 and you're finding it really hard to navigate in these operating systems because of the absence of the Start Menu then you really need to take advantage of Microsoft's Windows 10 FREE Upgrade offer and have it reserved for your computer so you can use your Windows machine more effectively once again just like in the old days when it still had Windows 7.
3. Windows 10 Has Even Greater Features Than Those Found in Your Current OS Version
All of the previous Windows editions are the basis of the current one and this same principle applies to the upcoming Windows 10 operating system. In fact, in developing Windows 10, Microsoft has sought the help of experts as well as ordinary users from around the world  by offering Windows 10 Technical Preview versions of the operating system to anyone who wants to give feedback and contribute ideas in how certain features should work and whether additional features need to added.
Because of these measures that Microsoft has carefully taken to ensure that Windows 10 is really going to be the best Windows ever, we can conclude that it's going to have greater features and more awesome ways of integrating different Microsoft services such as Skype, Outlook, Xbox and many others. New features such as "Virtual Desktop", "a unified Notifications Screen", "Continuum", "Cortana" and many more will surely play some big roles in making Windows 10 the greatest among all the other Windows operating system editions that have been released in the past.
Making Sure That Your Free Windows 10 Upgrade is Reserved
In case you've already opted for the FREE Windows 10 Upgrade offer but you're not really sure that it has been reserved probably because you clicked on the "Close" or Exit button shortly after doing the reservation and you didn't see the notification that the reservation process is done then you can confirm if you have really been able to reserve your download. To check your reservation status, just follow the steps that are shown below.
First, you need to open the "Get Windows 10" app and on its top-left portion, you will need to click the "Menu" button as highlighted on the screenshot below.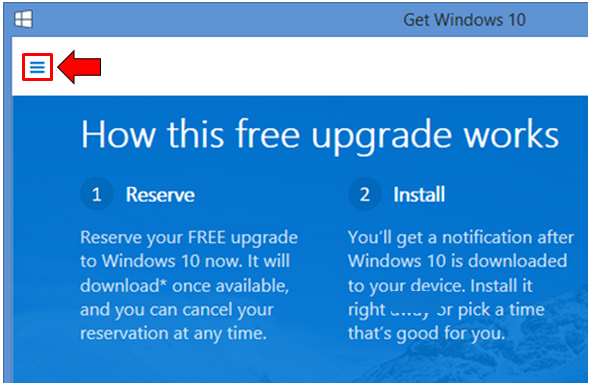 After doing so, the "Get Windows 10" app menu will appear showing you all the links that will lead to different sections of the app itself. From these links, you will simply need to click on the one that says "View confirmation" as shown below.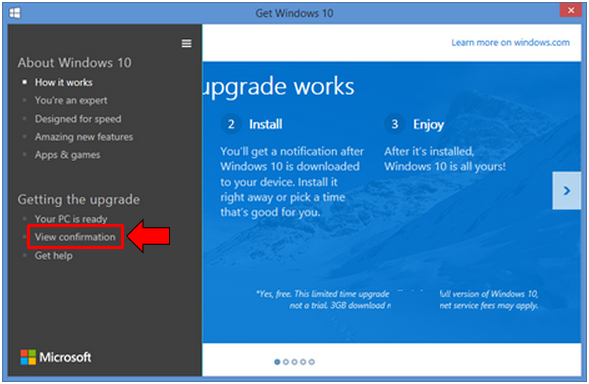 After the link is clicked, you will be able to see a screen telling you that your upgrade is already reserved. This screen or even the "View confirmation" link itself will not appear yet if you have not reserved the FREE upgrade yet.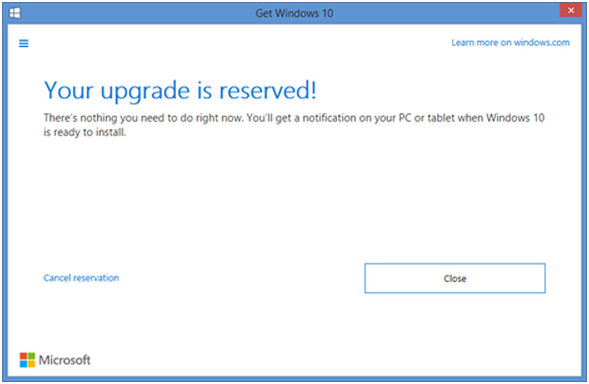 Another way in viewing the confirmation of your FREE Windows 10 Upgrade is by getting into the Windows Update section on the desktop section. If the reservation is confirmed, the Windows Update section will show a message that is similar to the one shown on the screenshot below.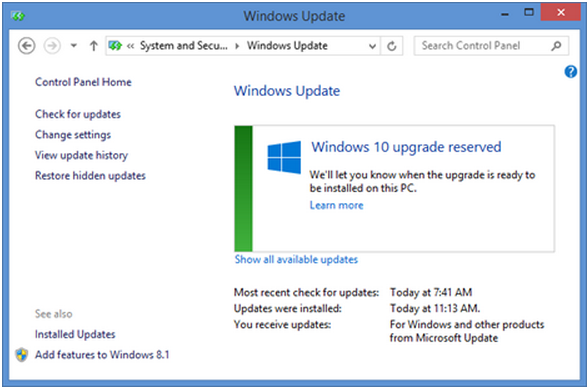 How to Cancel Your Reservation
Now, in case you want to cancel the Free Windows 10 Upgrade that you have reserved for your computer then you can simply click again on the "Menu" button as we have shown earlier and again, you will need to click the "View confirmation" link.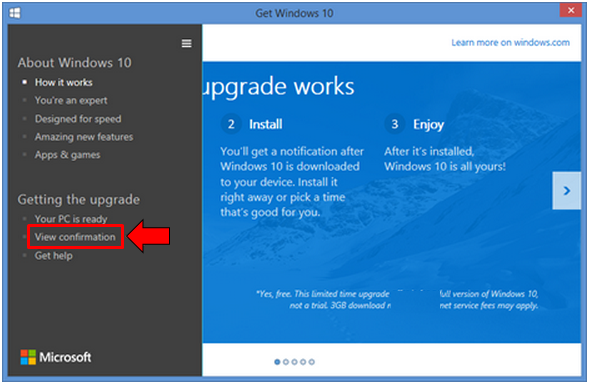 After doing so, you will again be taken to the screen that shows a message telling you that your upgrade is already reserved and from here, you will need to put your attention to the lower-left portion where you simply need to click on the "Cancel reservation" link in order to cancel the reservation.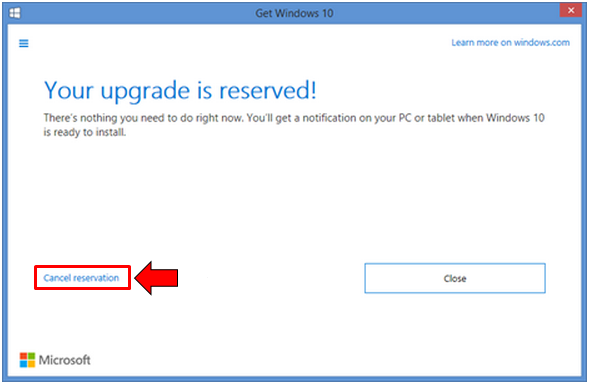 Another screen will then appear asking you if you really want to cancel the FREE Windows 10 Upgrade that you have already reserved. From here, simply click the "Cancel reservation" button in order to have it cancelled completely as shown on the screenshot below.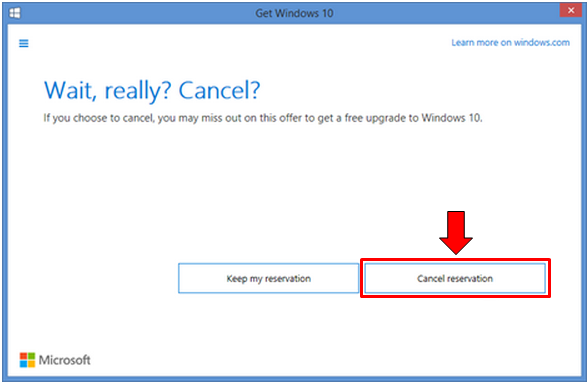 Finding Out if Your Computer is Windows 10-Ready
Now, it is also important to find out if your Windows machine is really compatible with Windows 10 and that there will be no problems that you will experience after the upgrade. To find out this important information, you will again need to click on the "Menu" button located at the top-left portion of the "Get Windows 10" app screen and on the Menu that will appear, simply click on the link that says "Your PC is ready" as shown below.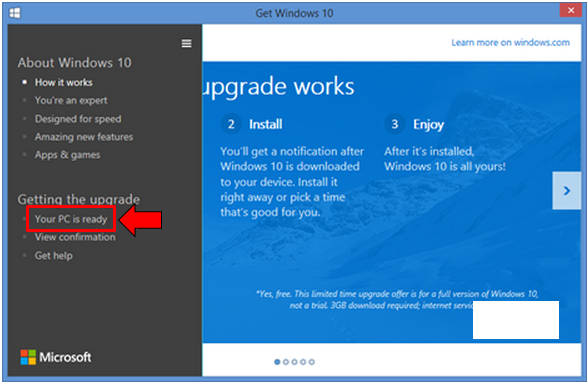 After doing so, the app will now generate a report and if everything is OK, you will see a message that says "You're good to go!" as you can see on the screenshot below.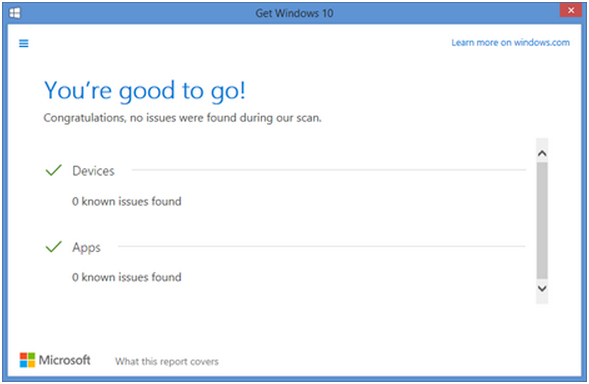 In case there are some issues, you will see it from the list that appears right under the "You're good to go!" message and you can simply address them once Windows 10 is already installed on your computer.
Windows 10 is really just around the corners and it's not really that long before we finally get a touch and taste of this brand new Windows operating system. To learn more about Windows 10, be sure to stay tuned in with us here on WindowsTechies.com as we give you all the needed tutorials showing some secret tips and tricks that will help you use Windows 10 like a boss!