When you first open your Windows 10 computer, you'll go through the boot up process as well as the splash screen then a sound will play in case it is enabled on your machine. After these, what would come up next is the section that shows the Lock Screen and once you reach this stage, you will need to get your Microsoft account password ready and input it to the Password box in order to enter the system and start using Windows 10 and all the features that is included with it.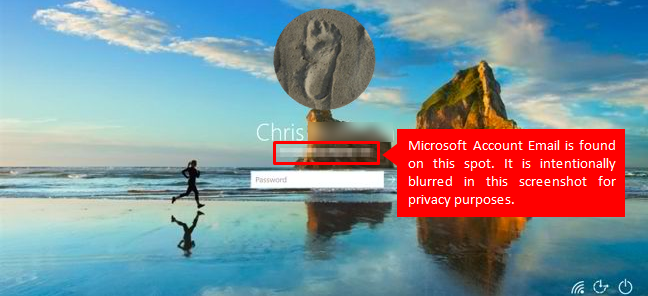 However, there is one more information that shows up in the Lock Screen which we're sure you're not happy about and it is your Microsoft Account email address. While it is possible to hide the password by clicking the show characters icon that is found at the extreme-right end of the password input box, there is no way that you can hide your email password that is always displayed on the Lock Screen. There's not even a button that will help you do this but thankfully, a tweak is available in Windows 10 that will get this crucial information hidden from the wrong people!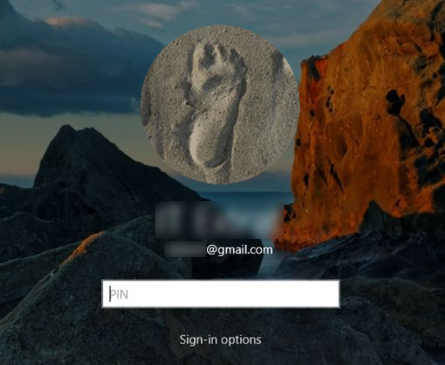 So how exactly is this tweak done? What are the steps involved in doing it? In this tutorial, we will be answering all of these questions and as well as show additional processes and steps that will surely help you get your Windows 10 machine more secure and personalized so if you haven't done it yet, be sure to turn on your Windows 10 computer and follow the steps that we're going to show below.
Potential Security Threats to Account Owners
As we have mentioned at the start of this tutorial, the Microsoft Email address being displayed on the Lock Screen section of Windows 10 may pose a lot of security threats to the account owner himself and as well as the computer where it is currently being used as a log in.
For instance, a suspicious user or even just an onlooker can use it for many purposes he/she sees advantageous on his/her part such as using it as a recovery email or even some other malicious intents and purposes on the online world. This is the reason why we at WindowTechies.com would really recommend that you mask your email or even hide it from the Lock Screen. To do this crucial tweak on your Windows 10 machine, here are the steps that you need to follow.
NOTE:
The tweaks and as well as the screenshots that are shown in this tutorial are taken from a Windows 10 computer that has already been updated to the latest build available called "Build 1607" also known as the "Anniversary Update". You might find a little bit of difference with the appearance of each section that we are going to visit but the processes involved are basically the same so you should be able to follow everything until the end.
Accessing the Settings Section in Windows 10
Since the release of Windows 10's Anniversary Update, there have been some changes in the way certain features are access but the keyboard shortcuts for each one of them remains unchanged. In order to hide your email address from the Lock Screen, the very first thing that you need to do is access the modern Settings Window and in order to do this, you will simply need to launch the Start Menu and once it opens, just click on the "Settings" icon that is found on the narrow vertical bar on the left as shown below.
As you can see, there has been a change on the location of the Settings icon but it basically works the same. Another method in launching the Settings Window on your computer is done with the use of a keyboard shortcut. Just press the Windows + I keys on your machine's keyboard and the Settings Window should launch almost instantly without the need of doing any clicking or scrolling.

Once the Settings Window launches, you should be able to see 9 main settings category being displayed in it and from here, just click on the fifth (5th) one that says "Accounts". Doing this will again take you to another section which will now show the contents of the "Accounts" settings category and this is were we are going to do the magic of making the email disappear from the Lock Screen of your Windows 10 computer!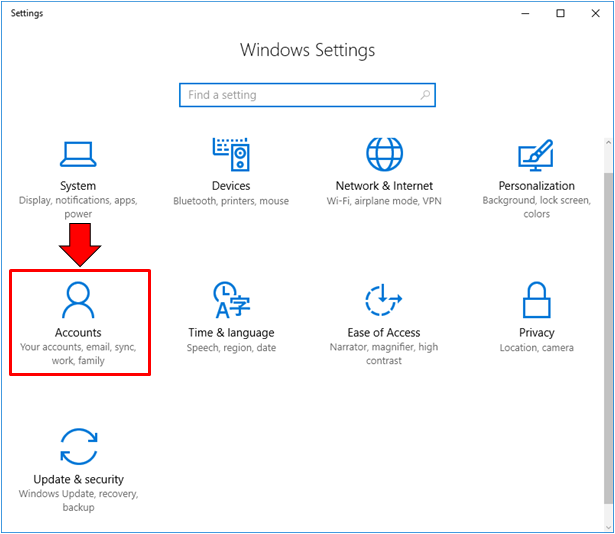 The section that would follow right after you click on the "Accounts" settings category would should look exactly like the one that is being shown on the screenshot below and from here, you will need to click on the link that is found at the navigation pane on the left portion which says "Sign-in options" as you can see being highlighted on the screenshot below.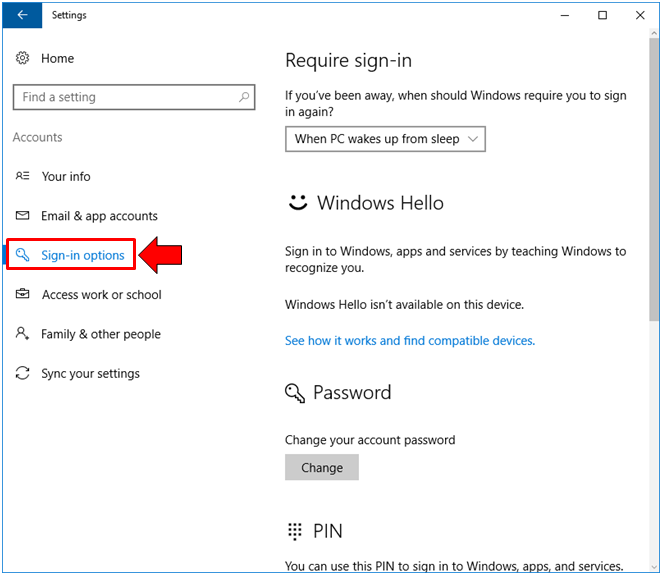 After you click on the link that we've highlighted above, you should now be able to view all of its contents which are going to be displayed on the right portion of the Settings Window. From here, all you need to do is scroll down until you reach the end then you should be able to see a switch that is found under the "Privacy" settings. This is the settings that allows you show or hide account details on the sign-in screen or Lock Screen as we call it.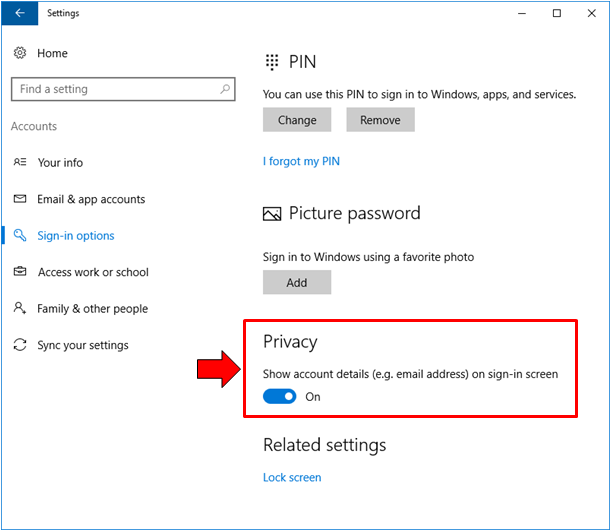 In order to hide the email address that is displayed on the Lock Screen or sign-in screen of your computer, all you need to do is click on the switch itself in order to flip it to the Off position and voila! The email address should instantly be hidden on your lock screen as shown below.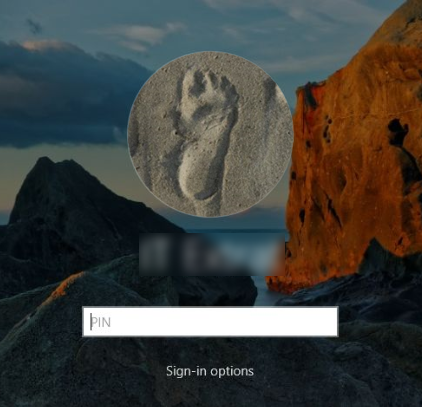 Now, of you want a quick look on your computer's Lock Screen section, you can simply press the Windows + L keys and you should be able to view the changes that has just been done to your computer's sign-in screen as you can see on the screenshot above. From this time on, you will no longer feel exposed to anyone since your email address ins already hidden from those people who wants to use your computer. You will also just need to enter your password every time you want to log in to your Windows 10 computer.
We really don't know Microsoft's exact purpose for putting this option of showing or hiding the account email on the Lock Screen but we can speculate that it might have been made possible to avoid confusion on the part of those users who has more than one account registered on their Windows 10 machine. Have you tried doing this tweak on your computer? You might have noticed that it is actually turned off by default so there's really no need of making tweaks on it but just in case your computer exposes your account email on the Lock Screen then feel free to hide it again and you can do so by following the steps that we have shown in this tutorial.