There's already been numerous tutorials that has come out ever since the "Get Windows 10" app has started showing up on the system tray section of the taskbar in Windows 7, Windows 8 and Windows 8.1 computers and while most of you have already been able to read these tutorials and reserved your FREE Windows 10 Upgrade that's coming out on the 29th of July, there might still be others who are not even seeing the "Get Windows 10" app on their taskbars or even in the hidden icons section of the system tray.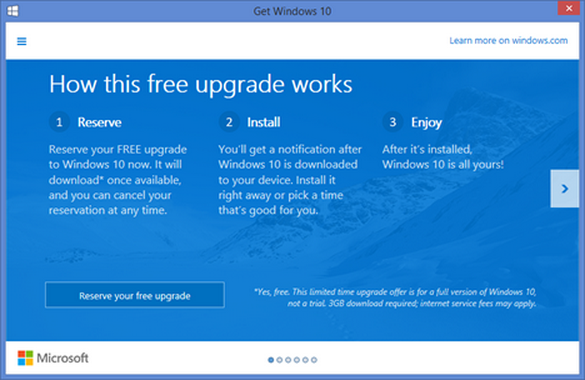 We have been receiving plenty of questions from users who are experiencing this problem and most of them complain of the missing "Get Windows 10" icon even after they have installed all the of the latest Windows Updates that were available. So what really is happening? How will everyone be able to upgrade to Windows 10 if the "Get Windows 10" app isn't even showing up in other computers?
Has Microsoft only selected a few to receive the FREE Upgrade? If so then what happened to the big announcement that Windows 10 is going to be given out as a FREE Upgrade for all which includes even those who are using non-genuine versions? Is this a glitch or something? If you have these questions running inside your mind right now then you found the right tutorial to get instructions from!
In this article, we will help you find a fix for the missing "Get Windows 10" icon on the taskbar so you can finally reserve your own FREE Windows 10 Upgrade before the 29th of July so just keep reading until you reach the conclusion of this article and be sure to prepare your computer of course so you can follow the steps that we will be showing below.
How Does the Get Windows 10 Icon Look Like?
Before we go into the details of the available solutions in making the "Get Windows 10" icon appear on the system tray section of the taskbar, let's first identify the object that we are trying to look for and point out its supposed location in your computer. First, let's identify where the "System Tray" is located.
Put your attention onto the bottom portion of your computer screen and you will see a bar extending from left to right which contains the Start Button (if you're using Windows 7 and Windows 8.1), the icons of all active Window in your computer including some quick launch icons pinned to the taskbar and at the extreme-right portion, you will see the "Volume, Network status, Action Center, Battery level indicator etc" icons and as well as the "Time and Date" display.

This section is called the "System Tray" and this is where you should find the "Get Windows 10" app icon which will help you reserve your FREE Windows 10 Upgrade that will automatically be downloaded to your computer on the 29th of July. So how does the "Get Windows 10" icon look like? Very simple and it surely is quick to spot! It looks exactly like the Start Button in Windows 8.1 but is smaller of course as you can see on the screenshot below.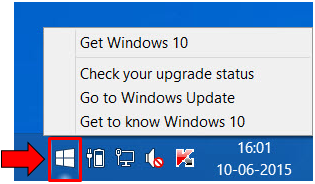 So now that we already know what we are looking for and have already identified the section where it should appear, it is time to solve the problem that's causing for the "Get Windows 10" icon to be hidden or not display at all but before we start, be sure to connect your Windows machine to the Internet since some steps will involve downloading some Windows Updates.
How to Solve the Missing Get Windows 10 Icon Problem
Now, let's start solving the problem so you can reserve your very own FREE Windows 10 Upgrade just like some of your friends and colleagues at work. To start, you will need to make sure that your Windows 8.1 or Windows 7  computer has all the latest Windows Update installed to it. Open the Windows Update Window in your computer and look for the KB3035583 update which should appear under the "Important updates" section. This particular update should already be installed to your computer.
Microsoft describes KB3035583 as an update that will enable additional capabilities for Windows Update notifications when newer ones are available both for Windows 8.1 and Windows 7 Service Pack 1 (SP1). If you don't see the KB3035583 update on the list, you can download it manually and be sure to install it onto your computer. After the update is installed, be sure to restart your computer and see if the "Get Windows 10" icon appears on the taskbar once it turns back on. In case it still isn't appearing, here some troubleshooting steps that you can try.
Troubleshooting the Problem
In order to solve the missing "Get Windows 10" icon problem in your Windows 7 SP1 or Windows 8.1 computer after applying the fix that we have shown above, simply do any of these troubleshooting steps.
1. Be sure that your version of Windows is a genuine one and it should be Windows 8.1 or Windows 7 SP1. Windows 7 and Windows 8.1 Enterprise as well as Windows RT 8.1 does not support the Get Windows 10 icon update. Also, you need to make sure that you have the KB2919355 update installed in your Windows 8.1 computer or Service Pack 1 version of Windows 7.
2. Other Windows computers that really can't have the "Get Windows 10" icon onto the taskbar, Microsoft will only show it shortly after the 29th of July. This will help you easily check any compatibility issues just in case you really want to move to Windows 10.
3. The KB2976978 update in Windows 8.1 computers need to be on its latest version and KB2952664 on Windows 7 SP1 needs to be on its latest version as well.
4. The Windows 8.1 Update with the code KB2919355 also needs to be on it latest version and should be installed onto your computer. If it not yet installed, be sure to download and install it then restart your computer afterwards.
5. If you still don't see the icon even after doing all of the troubleshooting steps above, you can uninstall the KB3035583 update by going to the Windows Update section of your computer and after doing so, install it again. Sometimes, reinstalling the update can solve the problem. To verify that the update ins installed again, you can run the command below on Command Prompt (Admin).
dism /online /get-packages | findstr 3035583

You will know if the update has been installed back if you see its "Package Identity" information as you can see on the screenshot above. Once the KB3035583 update has been installed again, simply reboot your computer and once it boots up again, you should be able to see the "Get Windows 10" icon on the system tray as we have shown earlier. In case you still don't see it, you will just have to wait until after the update gets rolled out to qualified users on the 29th of July and you should be notified by Microsoft by then about the FREE Windows 10 Upgrade and how you can get it installed into your Windows computer.
Do you know of a solution to the missing "Get Windows 10" taskbar icon? We would like to hear from you! Please feel free to share the solution on the comments section below or direct us to the website where you found the fix by including its link on your comment.