Have you ever watched a video from a website that you badly want to save into your computer but you simply can't do it? The Internet is really full of interesting videos and other audio visual files that are worth keeping but the problem is it's quite hard to find the right tool that will really help you download these videos that you love for free without leaving any other secret stuff written on your hard drive like adware and other forms of malware that will tend to show advertisements and do other annoying stuff while you are using your machine.
One of the biggest online source of videos with varied topics is Youtube, the video sharing website owned by Google. Every now and then, thousands of interesting stuff coming from this website are being shared in different websites or even on social media and thousands also add to its contents each day. Youtube has millions of users around the world contributing to its rich resource of videos but there are also other sources that exists like Vimeo, Vevo, Dailymotion and Facebook to name a few.
Watching a video that you want to share with friends without posting it on social media or something that you really want to carry on your device even without an Internet connection would require you to download it and if you've been looking for a software that can do this plus a little bit of other tricks to the video that you have downloaded but failed to find one, here's a free video downloading tool that you need to try!
Freemake Video Downloader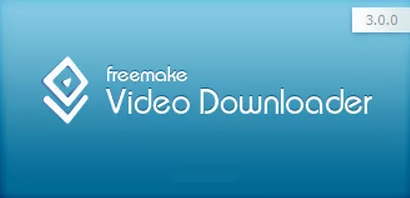 There are lots of video downloaders out in the Internet at present and while most of them can do the job of downloading videos, only a few contain additional features like allowing users to convert them into different formats so they can be played in specific devices such as smartphones, tablets, iPads, Mp3 or Mp4 players. Most also install extra stuff into your computer which tracks the sites that you visit and some other personal stuff.
It is therefore important that you carefully select the right software from the host of free choices that are available. We at WindowsTechies.com only want the best for our users so we made this tutorial to recommend an awesome video downloading software that is also capable of converting your downloaded stuff into many different formats. This software is called Freemake  Video Downloader and below are the steps in how you can use it in grabbing videos from different sources all over the Internet.
How to Download Freemake
The very first thing that you need to do is to download the software from its official website. To do this, simply open your favorite browser and navigate to "www.freemake.com/free_video_downloader/" (excluding the quotation marks) and the software's official download page will open. From here, all that you need to do is click on the "Download" button as highlighted on the screenshot below and the software download will automatically start.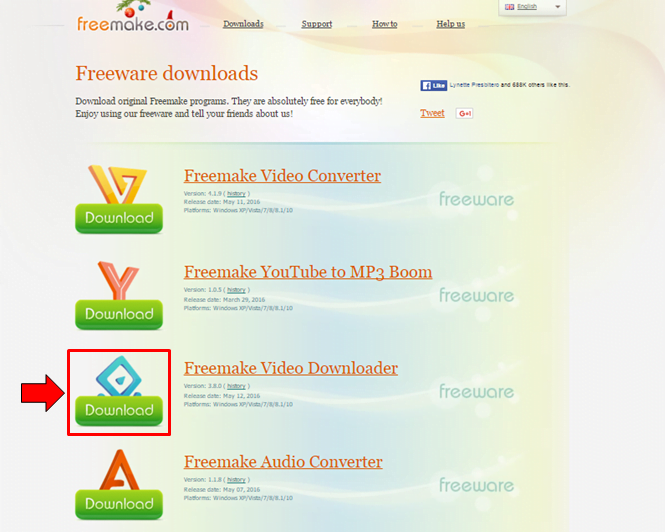 After clicking the button, the installation file will then start to be downloaded and once it is done, simply open and install it to your computer. Installing the software should not take too long so just wait for a few minutes and you should be able to have the software loaded into your computer.
How to Use Freemake
Now, once you get the software installed on your computer, downloading videos should now be a lot easier for you. To start, we will first get you familiar with Freemake's main screen. Freemake is so simple, you won't really find it hard using it on your computer. First, check on the top portion of the software's main Window and you will see some tabs labeled "File", "Downloads", "Help", "Donate". Now, click on the "File" tab and there will be other options that will appear which are "Options…" and "Exit". From here, click on options and you will see a small Window that will appear containing different tabs as shown below.
From this small options Window, there really is nothing much that you will need to tweak except for the "General" tab and the "Accounts" tab. The "General" tab contains the "Common Options" as well as those that will help you hide adult videos (in case you download some but hopefully not). There's also a lock that you can set for disallowing other users from ever downloading videos from adult sites.
Now, the accounts section is where your logins for your Youtube account and other video sharing websites are saved. If you want to add an account, just get into this tab and add the account by entering the details that it will ask. Freemake can download videos from over 10,000 local websites so having it on your computer is like getting the Swiss knife of video downloading installed on your computer.
How to Download Videos
Freemake's simplicity doesn't just end on its main interface but extends even to the way of how you download videos with it and we will be showing here how it is done. First of all, you will need to locate the video that you want to download using your favorite browser. In this tutorial, we will be using Google Chrome as an example but you can use other browsers on your computer depending on your choice as you follow the steps here. Once the video is already open on the browser, you simply need to copy its URL from the browser's web address box.
After doing so, just go to the main Window of the Freemake Video Downloader tool and hit the "Paste URL" button which is located at the upper-left portion of the screen. The video will then load and appear on the main screen of the software. The length of time that the video initializes for the download process depends on how fast your Internet connection is.
After the video is done initializing, you should be able to see a small Window that contains a list of all available quality of the video for you to select from and as well as the additional action that you want to do. Just select your desired video quality then after doing so, select "Only download" if you only want to get the video saved into your computer or choose the format the you want the video to be converted to by clicking on the drop-down box as you can see on the screenshot below.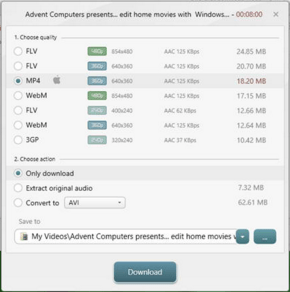 You can also specify the folder where you want to save the file simply by clicking on the "…" button. Once you are done choosing the quality of the video and selecting the format to which you want it to be converted to, simply hit the "Download & Convert" button located at the bottom of the small Window and the video will now start to be downloaded and will automatically be converted to the format the you have chosen after it is downloaded.