In our present modern world which is governed by computers and mobile devices in almost every aspect of life- from businesses, academics and even in the field of health as well as in the workplaces that we get indulged with each day, the need of a tool that can browse through millions of websites currently registered is a must! Computers and other devices that can access the web has evolved from being a tool in the military to a worldwide phenomenon and now, we even entertain ourselves with all the games, social media and many other information and leisure stuff that it can offer. That's the reason why each device, no matter what type of it that you own really needs a web browser. If you bought a laptop before then also acquired a mobile device like a tablet or smartphone, you've surely seen a built-in browser in it but the problem is most of them can't really match the usability and speed of the popular one called Google Chrome! In this tutorial, we will be showing you the steps in how you can install Google Chrome to Windows 10 and how you can do it in other computers even without Internet connection so if you really want a browser that can do a lot of things without sacrificing speed and system resource then you need to get Chrome installed to your computer now!
Installing Google Chrome for the First Time
If you are reading this tutorial right now then we assume that your computer is currently connected to the Internet and you don't have Google Chrome installed on it yet so in order to install Google Chrome for the first time, you will need to make sure that your machine has access to the Internet. Once it is connected, you will need to head to your favorite browser, open Google search by typing in "google.com" into your browser's URL input box on top and once the Google search page opens, simply type in "Google Chrome download".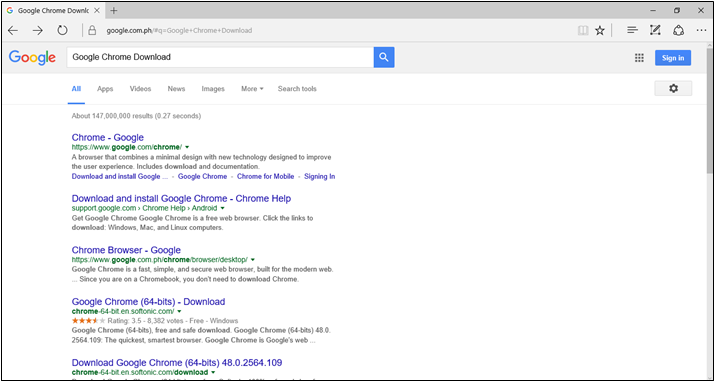 Once the search results appears, simply click on the first one that is displayed on the list and you will automatically be taken to the Google Chrome download webpage which looks exactly like the one shown below.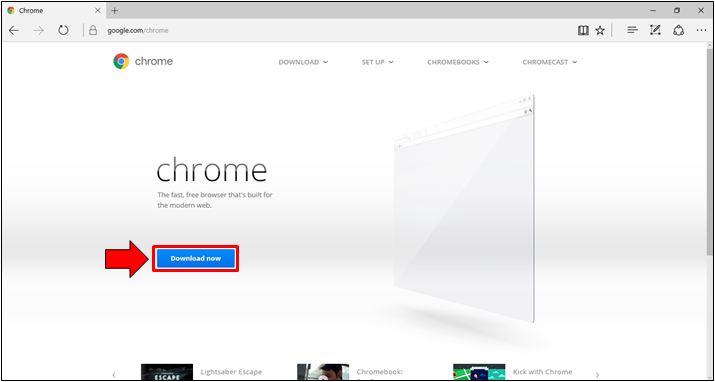 From the Google Chrome download page, you will simply need to click on the button that says "Download now" and a another Window will open which contains the "Google Chrome Terms of Service" statement. From here, you will also see 2 checkboxes at the bottom. The first one asks you to make Google Chrome your default browser while the second one asks if you want to help make Google Chrome better by sending usage statistics and crash reports. You can check both of these options or just leave them unchecked then hit the "Accept and Install" button found at the bottom as highlighted on the screenshot below.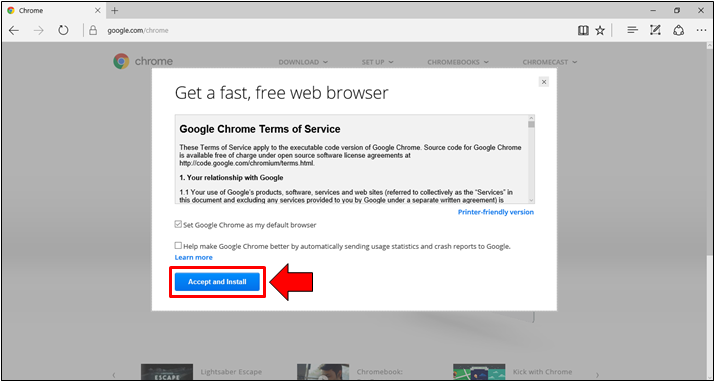 After doing so, the Google Chrome Online Setup file will be downloaded and once the download completes, you will simply need to head towards your computer's "Downloads" library and look for the downloaded file that says "ChromeSetup" in there. The file should look like the one shown below.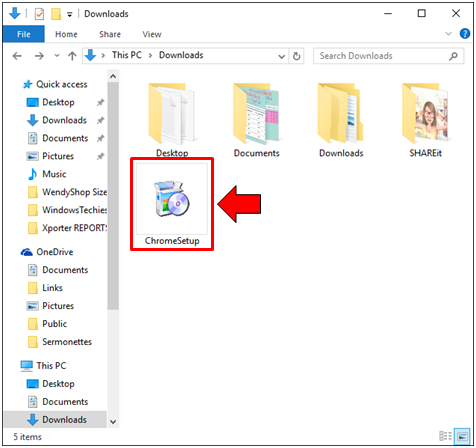 Just double-click on this file and follow the instructions in order to run it. If you used Microsoft Edge (Windows 10's brand new built-in browser) in downloading the Google Chrome setup file then you can simply click on the "Run" button that would appear at the bottom after the file is downloaded in order to automatically run the installer or click on the "Open folder" button if you want to open the Downloads library and click the setup file from there.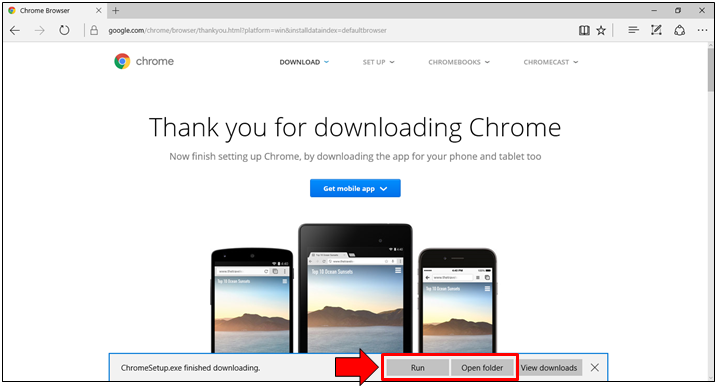 After the setup file is run, a "User Account Control" Window will appear and from here, all you need to do is click on the "Yes" button. After hitting "Yes", Google Chrome online setup will then be downloaded and all you need to do is wait for the browser to be completely downloaded and installed. Nothing else is left for you to do after running the setup file because the installer will handle everything for you.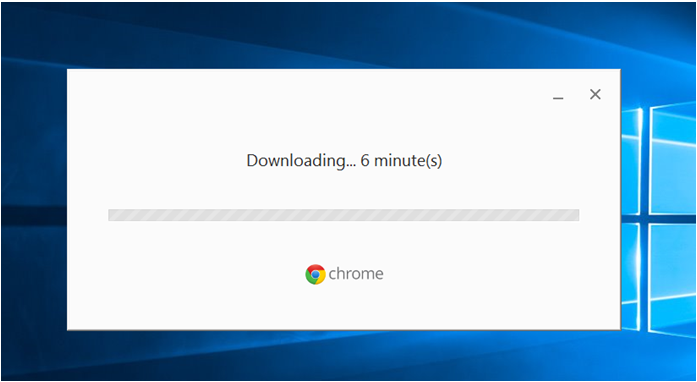 Once Google Chrome gets installed, you will be asked to login to it using your Google account. If you don't have one yet then you can simply sign up for a new account and use it to login to Google Chrome. Logging in will help sync your browsing history, bookmarks and many other stuff to all your device where you've logged in using your Google Account such as your android tablet or smartphone.
How to Download Google Chrome Offline Setup
Now, you've seen how Google Chrome is downloaded using the common method but the method itself requires your computer to be connected to the Internet. What if someone asks you to install Google Chrome into their computer and there is no available Internet connection? The first method that we've shown above just won't work because the setup file isn't complete that's why you need connection to the Internet so that the setup file can download all the other required files for Google Chrome installation. However, you don't really need to worry that much because Google Chrome also has an offline installer version which is also known as "Google Offline Installer" or "Google Standalone Setup". To download this setup file (which is actually larger than the one we've downloaded above since it is already complete), you will again need to open a web browser and this time you can use the newly installed "Google Chrome" in your computer then head to the Google Search webpage once again.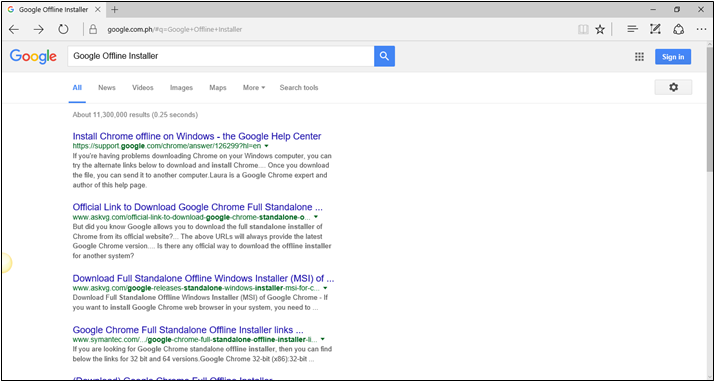 On the Search input box of the Google Search webpage, simply enter "Google Offline Installer" and then hit on your computer's "Enter" key or just click on the "Search" icon at the right end of the Google Search input box. After you do this, the Search results will display and from here, simply click on the one that appears on the very top so you can access the Google Offline Installer download page as you can see on the screenshot below.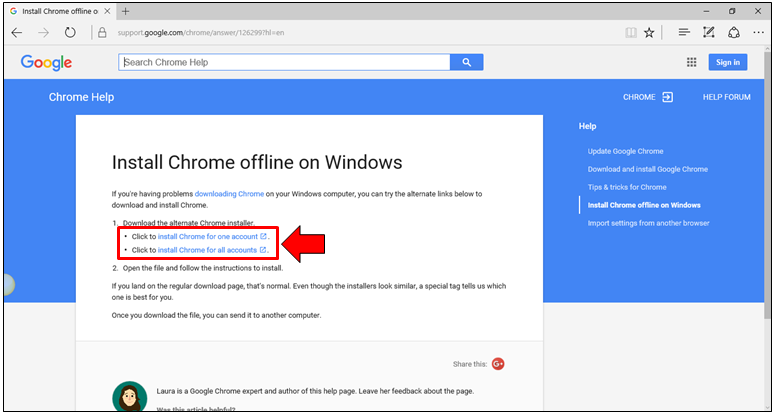 On this next page, you will then need to click on the version of Google Chrome that you want to download. If you are planning to use Google Chrome as your personal browser and won't allow others to use it then you will need to choose "install Chrome for one account" while if you plan to let others use your Google Chrome browser then you will need to click on the "install Chrome for all accounts" link as highlighted on the screenshot above. After clicking on the link that corresponds to the Google Chrome version that you want to download an offline installer for, a new tab will be opened and finally display the "Download Chrome" button. Just click on it and again, the "Google Chrome Terms of Service" Window will open where you will simply need to click "Accept and Install".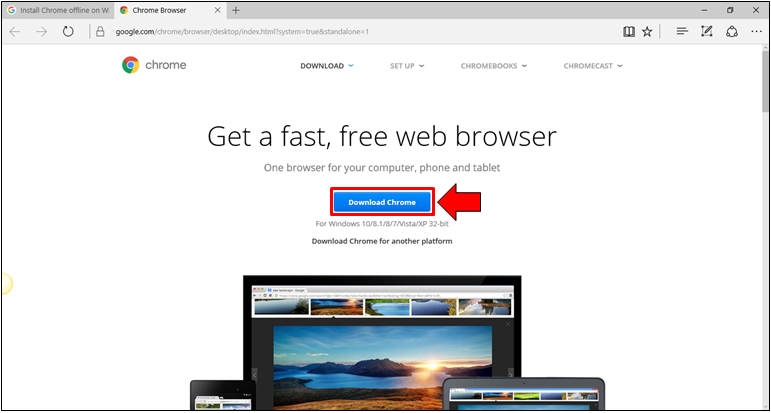 After hitting the "Accept and Install" button from the "Google Chrome Terms of Service" Window, the Offline Installer will be downloaded instantly and all you need to do is wait until the download completes. It will take longer because the Offline Installer is 30MB+ in size but if you have fast Internet connection then the download process should complete in a few minutes! If you wish to download both versions of Google Chrome Offline Installer (the one for single user and multiple users) then you will simply need to go back to the first step, select the other version that you want to download and follow the same steps that we've shown above. Once the installers are completely downloaded, just copy them to your USB flashdrive that you bring with you always and voila! You now have an offline Google Chrome installer that you can use anytime even without connection to the Internet!
Google Chrome: A Great Tool for Browsing the Modern Web!
What's great about Google Chrome is that it is owned and developed by the Internet giant "Google". This means that you will get the most out of your browsing sessions because of the plugins and add-ons that are found in the Google Chrome Web Store. There are thousands of free plugins that can be downloaded from there which would surely make your more productive no matter how you use Google Chrome! Have you started using Google Chrome lately? What do you like about it most? We'd like to hear your voice, please feel free to initiate a healthy discussion about this amazing browser by using our comments section below!