The Windows operating system has been around for a quite some time and it has been evolving since. From the simple Windows XP down to the newer editions that followed such as Windows Vista, Windows 7, this software program has really been a hit to millions if not billions of users around the world.
In fact, if you take a tour on most offices, you'll surely see at least one computer in almost all of them that runs on Windows. This operating system has really changed the way we do office tasks and many other things in our life! But no matter how perfect Windows is being a PC or laptop OS, there still are problems that can strike anytime especially if you are using it for different tasks and add more and more functions and features to it using third-party software.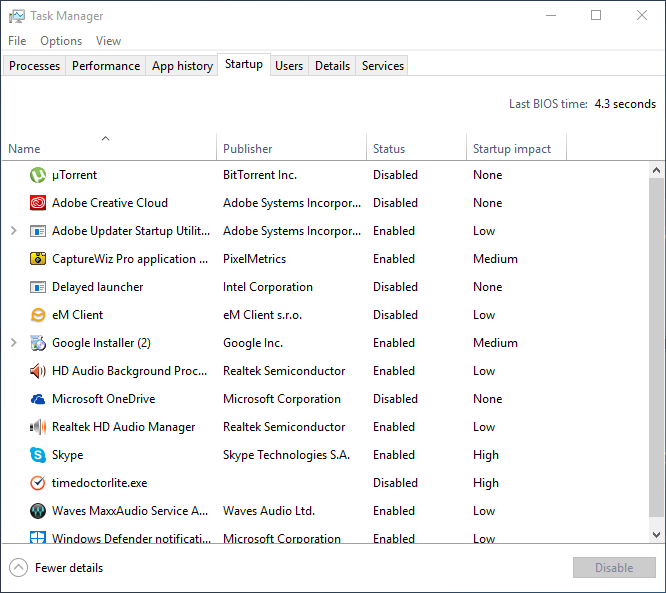 One of these possible problems that can come to the surface is having Windows take too long to boot up. While Microsoft claims that Windows 10 is the fastest Windows operating system version in terms of booting up, there could still be times that it would take time to take you to the Lock screen because of the existence of startup programs that drags the boot up process and adds load to it making the OS take longer to complete an otherwise quick process.
In this tutorial, we will be learning about the cause of this problem and solve it using a simple solution that you should have been doing since you got your Windows 10 machine so be sure to get your computer fired up and follow the steps that are going to be shown below.
Longer Boot Up Time: What's the Cause?
They say that the most effective way in solving a problem, no matter what type of a challenge it is that we face is killing the cause. Yes! We need to know the cause of a certain problem in order to properly address its effects or even eliminate the effects totally and the same is true when we're dealing with problems in our computers.
For longer boot up process, the most common cause of it are programs that run on Start up. These programs are mostly the third-party ones that you have installed on your Windows 10 machine or simply bloatwares that attach themselves to the setup process of these freeware that you find in certain webpages embedded in ads claiming to solve problems or kill threats on your computer but the truth is they are just click advertisements that are designed to boost income of a website or a certain ad.
If you haven't seen bloatwares then you might be reminded of it by the screenshot that is shown below which is taken from a simple Google search of the term "bloatware".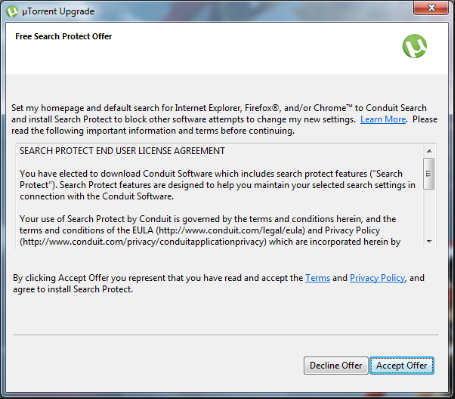 The simplest way to avoid programs that you install to your computer from running during startup is simply disabling them from doing so during the installation process. If you don't know yet then you need to understand that most of these programs that have the habit of running on startup actually allows you to disable this behavior from the first time you install it.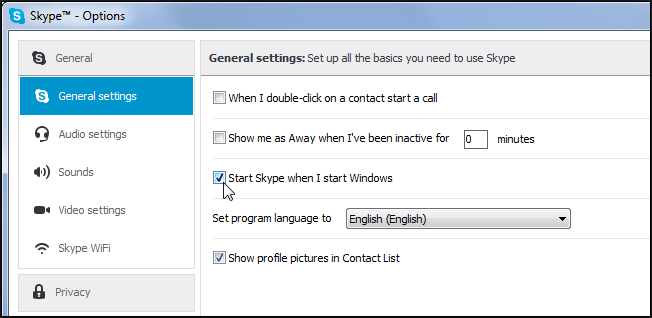 You can also disable this program behavior after in gets installed such as what you see on the screenshot above which is taken from the General settings section of Skype. However, there is also a better and more efficient way in disabling programs from running whenever Windows starts and that's what we're going to learn as we move on in this tutorial but before that, let's first find out how the tool that allows disabling of startup programs is in Windows 10.
Our Secret Weapon? The Task Manager Tool!
In order to disable startup programs from running whenever Windows 10 starts, you will need to be able to learn how to use the Task Manager tool which is a built-in Windows operating system utility. Just like any other tool that is found in Windows 10, there are different methods in accessing the Task Manager utility in and we're going to show these available ways before we get into to the details in how you can use it in stopping programs from running in Startup.
First, we will be teaching you the easiest method in launching it which is done simply by using a keyboard shortcut combination but instead of pressing just two keys simultaneously, you'll need to press three keys this time so go on and press the CTRL + Shift + Esc keys as you can see below.

After pressing the keys, you should be able to launch the Task Manager tool instantly. Another method in accessing Task Manager is done from the Start Menu. To do this, you will first need to launch the Start Menu by pressing the Windows key or simply by clicking on the Start button. Once the Start Menu launches, just go to the All apps list and from here, you will need to scroll to the "W" programs and apps groups then look for the folder that is labeled "Windows System" as highlighted on the screenshot below.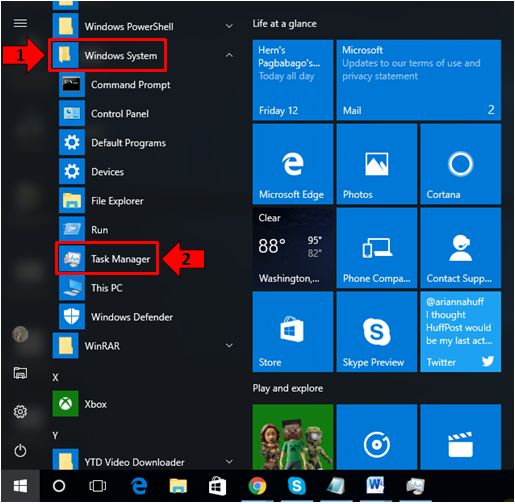 Once you find the "Windows System" folder, just click on it in order to reveal its contents and from the list that expands, simply click on the one that is labeled "Task Manager" then voila! The Task Manager utility should launch instantly.
Of course, there is always the method that involves using the Search feature that is found in Windows 10 and in order to launch it, simply press the Windows + S keys then the Search feature will pop-up at the lower-left hand portion of the screen. From here, simply enter the words "task manager" into the search input box that is found at the bottom and after you do so, the shortcut to the Task Manager utility should appear as the top search result just above the input box as you can see on the screenshot below.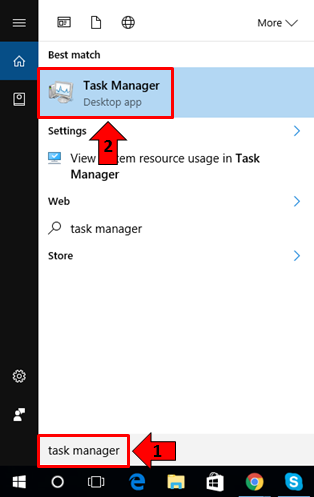 Just click on the Task Manager shortcut that you'll see on the Search results list and you should be able to launch the utility right away!
Disabling Startup Programs in Task Manager
Now that you already know how to launch the Task Manager tool, it is time to learn how you can stop or disable the startup programs from running when Windows 10 boots up. First of all, you need to know that the Task Manager tool can trick you into thinking that it is useless when actually, it does wonderful things in helping you manage the programs and apps in your computer. This is because it opens in a minimized form as you can see on the screenshot below.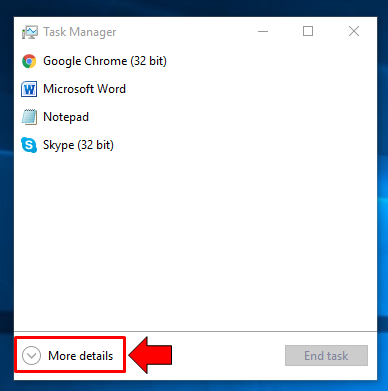 In order to reveal what the Task Manager tool really looks like in its powerful form, you will need to click on the link that is found on its bottom-left portion which says "More details" as highlighted on the screenshot above and the Task Manager tool should show its full set of options and tabs as you can see below.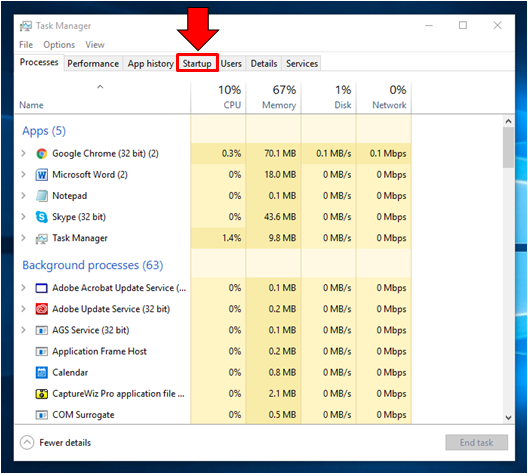 In order to access the list of programs and apps that runs on Windows startup, all that you need to do is click on the "Startup" tab that is pointed out on the screenshot above and voila! All the programs that run when your Windows 10 machine boots up will show up in a list that is arranged alphabetically. To identify the ones that run on Startup, just focus on the column that is labeled "Status" as shown below and in here, you should be able to see either "Enabled" or "Disabled". The apps, programs and services that are labeled "Enabled" are the ones that run on Windows Startup and the ones that are labeled "Disabled" do not run on Startup.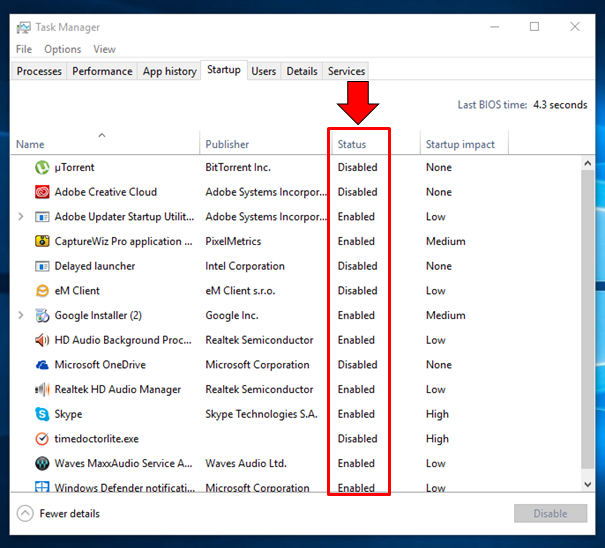 To toggle a program or app that is enabled on Startup to a disabled state, all you need to do is find the app or program first then after doing so, simply right-click on it then hit the "Disable" option from the right-click menu that would appear. Just do the same steps for all of the other programs and apps that you want to disable from running on Windows Startup then after all of them are disabled, just reboot your Windows 10 machine and you should now be able to experience faster boot up and initialization process compared to when all the programs and apps were still enabled on Startup.
More Uses of the Task Manager Tool
As you can see, making Windows 10 boot up quite faster is very easy with the Task Manager utility that is found within the operating system itself. The uses of this tool doesn't just end there because it can do even more than what we have already shown in this tutorial. If you are experiencing quite a slow Windows 10 machine then its system resource might already be running out and Task Manager can help you see which useless apps are actually running and eating up this precious aspect of the operating system. We will be discussing more about the Task Manager in our next tutorials so be sure to catch all of our latest stuff by subscribing to our email newsletter and be the first to learn the tweaks and tricks that we teach our readers only here on WindowsTechies.com!