Windows has really gone a long way as an operating system. It started as a simple one and has evolved into the software that we are now using in our computers. Though the road to where Windows is right now has not been easy, Microsoft has still managed to make it improve in each edition that has been released until we finally have to what we consider today as the latest and greatest Windows version ever!
Yes! Windows 10 is by far the most improved version of Microsoft's flagship computer operating software product. While others would not agree to this, it can't be denied that Windows 10 received much lesser negative reviews than its predecessors dubbed as Windows 8 and Windows 8.1.
One of the features that makes Windows 10 great is its virtual assistant tool called Cortana. The feature itself has not been introduced in Windows 8 and Windows 8.1 which is why it is really a new thing that most long time users would somehow refuse to mess around with. That's the very reason why we are publishing this tutorial so if you are curious what Cortana does and you want to learn how to set it up, your instincts has guided you to the right article because in here, we will be learning how to set up Cortana for the first time in your new Windows 10 computer.
How to Launch Cortana
Windows 10's virtual assistant called Cortana is integrated with the Search feature so if you want to launch it, you can simply use a keyboard shortcut combination by pressing the Windows + S keys.

After pressing on these keys, you will be able to launch the Search screen which will slide in from the bottom-left portion of your computer monitor and from here, all that you need to do is click on the circle icon that is found at the bottom of the black vertical bar that is found on the left as highlighted on the screenshot below.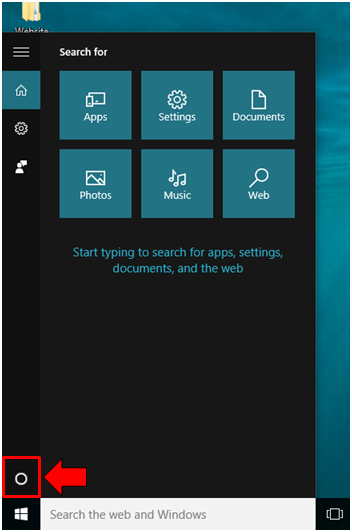 The search feature can also be launched from the Taskbar but it is only possible if the search box is displayed and not hidden. To launch the Search screen from the Taskbar, all that you need to do is click inside the search input box that is on the Taskbar itself as highlighted below.

In case you can't find this search box on the Taskbar, it means that it is hidden and in order to have it displayed again, all that you need to do is to right-click on an empty space within the Taskbar then on the right-click menu that will appear, simply click on "Search >" then "Show search box" as shown on the screenshot below.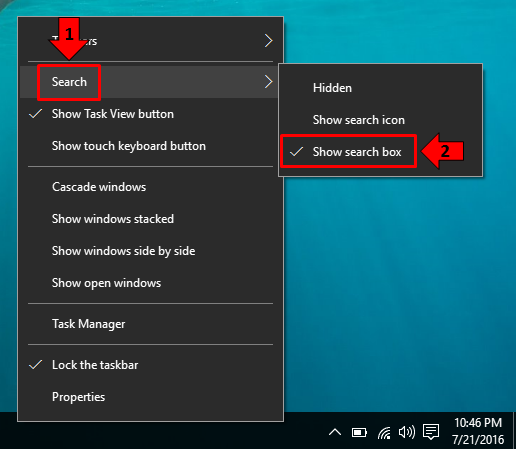 If you are the minimalist type of person, you can simply choose to display the Search icon instead of the showing the space-consuming search box on the Taskbar. Doing this is pretty simply and all that you need to do is click on the option that says "Show search icon" which is located just above the "Show search box" option. The result looks like the one shown below.

Launching the Search screen and accessing Cortana should now be easier for you since you already know how to display the Search box and the Search icon on the Taskbar. Once you already have Cortana opened in your Windows 10 machine, it is time to learn how to set it up.
Setting Up Cortana for the First Time
Cortana would look like the one shown on the screenshot below the first time you launch it. The virtual assistant displays what it can do in making your life easier while you are using your computer. You can simply scroll down and read through the items that explains what Cortana can do for you and we recommend that you do this so you will know what to use Cortana for. This would also help you decide if you really need to activate Cortana on your computer or not.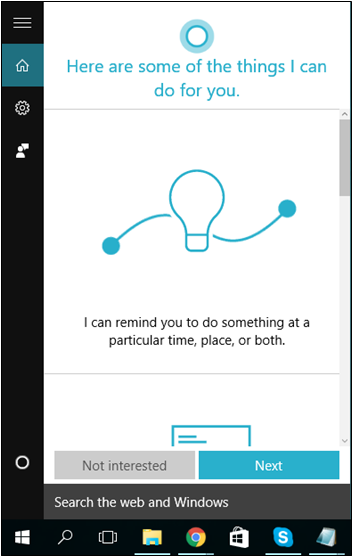 One you have already made up your mind that you really want to activate Cortana, what you would need to do next is click on the bottom that is found on its bottom-right portion which is labeled "Next" as shown below.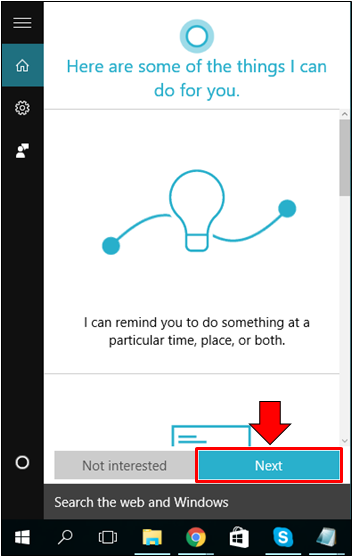 After doing so, you will be taken to the next section which shows the "Privacy Statement" link. You can choose to read this first if you want to know what Microsoft is doing to the stuff that you allow Cortana to access and use in order to work properly. Just click on the "Privacy Statement" link in case you want to understand further how the virtual assistant uses your information. Once you are done reading and understanding what Cortana does, just click on the "Use Cortana" button which is still located on the bottom-right portion so you can proceed on to the next step.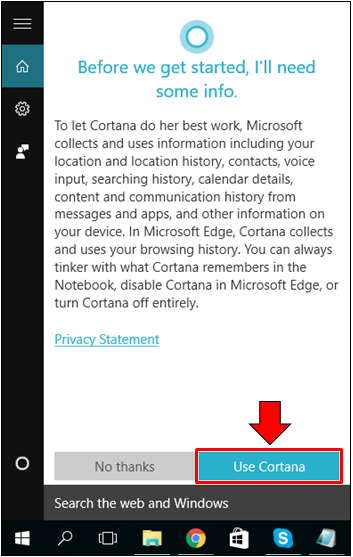 Again, since Cortana needs to access and know your location, the next step will actually tell you to turn on your location settings if it is not yet enabled. If you are taken to this section, just click on the button found at the bottom-right portion which says "Settings".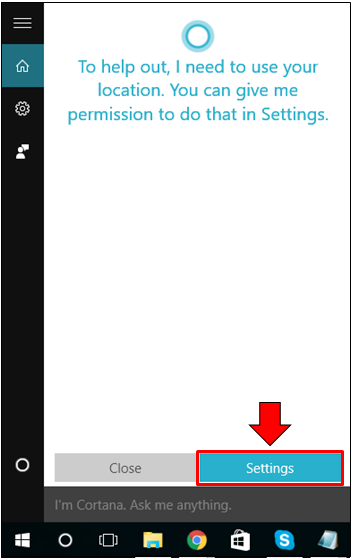 After you do so, you will be taken to the modern Settings Window where you will need to simply turn on Location for your computer in order to make Cortana work properly. Once it is turned on, all that you need to do is go back to Cortana and it will now ask you to input your Home Address so that it can give you the latest traffic updates as you can see on the screenshot below.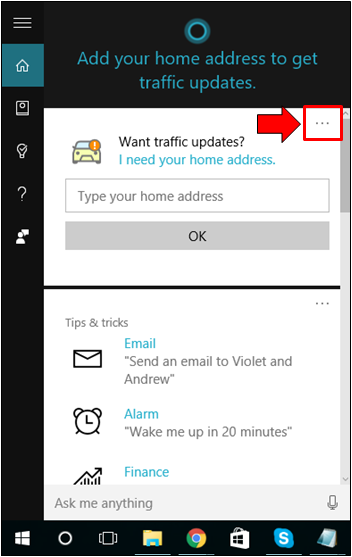 If you don't want to provide such information to Cortana, all that you need to do is click on the "…" icon that is found on the top-right portion of the Cortana screen as highlighted on the screenshot above and on the options that will show up, simply click on the one that says "Don't ask me for this" as shown below.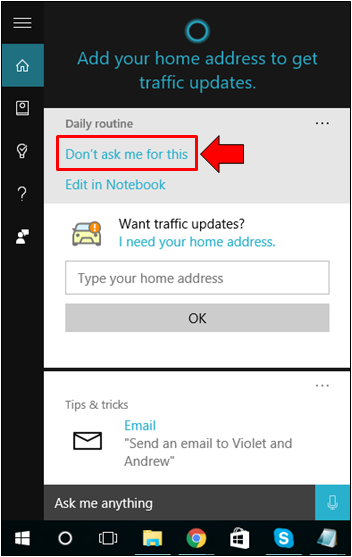 You can scroll down and see some other things that Cortana offers like "Tips & tricks", "World News", "Microsoft" and even "Weather". There seems to be no limit to what this virtual can do because it can also give you directions and store information about you in a Notebook which it uses to understand you more using the data that you have saved in the Notebook feature itself and it can also play music and do many other things. Cortana is also capable of reminding you of important occasions and if you don't like to be typing things whenever you want Cortana to do something for you, all you need to do is click on the microphone icon that is found on its bottom-right portion and speak the commands instead of just typing them.
Cortana: An All Around Virtual Assistant
So you have now seen how Cortana is actually launched in the latest version of Windows 10 and you've also discovered the things that it can actually do. There's truly a lot of uses for this brand new feature in Microsoft's latest operating system edition and we can only expect it to work even better as new updates are being included every now and then. Were you able to setup Cortana in your Windows 10 computer now? How did it impact your way of using your computer? Please feel free to share your thoughts and experiences about Cortana on the comments section below. If this tutorial helped you, feel free to share it with your friends so they too can start taking advantage of this free tool that is built-in with every Windows 10 machine.