We have covered much about Windows 10's brand new default browser called Microsoft Edge in our 2 previous tutorials but everything doesn't just end there, we still have more things to learn about and we hope to get them all fitted into this single tutorial. Microsoft has finally made a major change with their default browser and by change we mean a replacement of the old often unused one to a new breed of browser that is known to be full of brand new and unique features that are not found in any other browsers. To learn more about these unique features, you can read our previous tutorial that discusses how you can work with "Web Notes" which is mainly a set of revolutionary features designed to make sharing of content a lot better! So how is sharing some content actually done in Windows 10's Microsoft Edge? That's exactly what we're going to discuss in this tutorial plus a bunch of other settings and tweaks to this brand new browser so sit back, get your Windows 10 computer ready and follow the steps that we will be demonstrating below.
A Quick Review in How to Access Microsoft Edge
You might have already read our previous tutorials that's why you are now in this one reading through the steps in how "Web Notes" are shared but for the benefit of those who found this article out of curiosity then allow us to show once again how Microsoft Edge is accessed in Windows 10. First of all, if you have a relatively new Windows 10 computer, you can quickly open Microsoft Edge simply by clicking on its icon that is pinned on the Taskbar by default as highlighted on the screenshot below.

Now, if for some reason this icon is unpinned from the Taskbar, you don't need to worry that much out of fear in getting lost within this new Windows operating system version because you can simply access it by first launching the Start Menu (by way of clicking the Start Button or pressing the Windows Key) and once it opens, look for the Microsoft Edge tile from the right portion of it as shown below.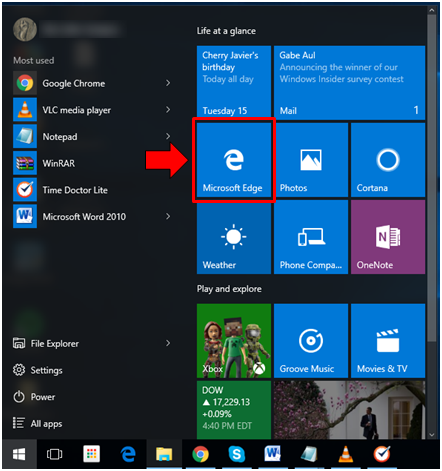 Finally, if you tried both of the methods mentioned above but still didn't find the Microsoft Edge icon on the Taskbar or the Tile on the Start Menu (maybe because someone or something has caused it to be removed or hidden), you can resort to the last method in accessing Microsoft Edge which is done by first clicking on the Start Button or pressing the Windows Key then once the Star Menu opens, just click on the "All apps" link that is found at the bottom-left portion as highlighted below.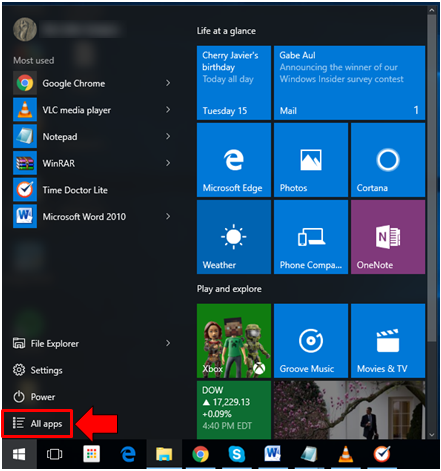 After the link is clicked, you will be able to access the list of all the installed as well as the built-in programs and apps in your Windows 10 computer and from here, all you need to do is scroll down towards the "M" section (since the apps and programs are arranged in alphabetical order) and from here, simply click on the Microsoft Edge shortcut and voila, the browser should launch right away!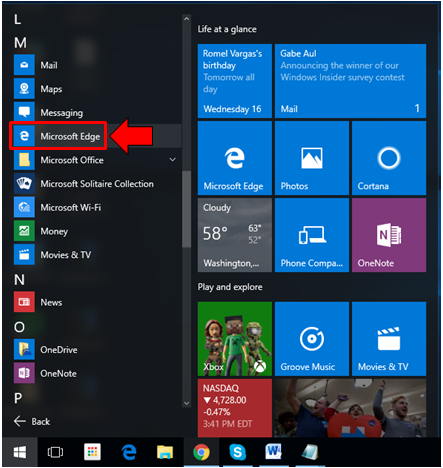 What's Next?
Now that you were already able to launch Microsoft Edge, the next step would be to open the webpage/ article to which you'd like to put some "Web Notes"  and markings such as highlighting some texts that you want to put some emphasis on or encircling a portion that you want others to put their attention to. You can also add your own reactions regarding a certain section of it by adding actual notes as we have shown in our previous tutorial that came before this one. Once you are done marking, highlighting and inputting your notes, you can simply click on the "Share" button that is found at the top-right portion of the Microsoft Edge Window as you can see on the screenshot below.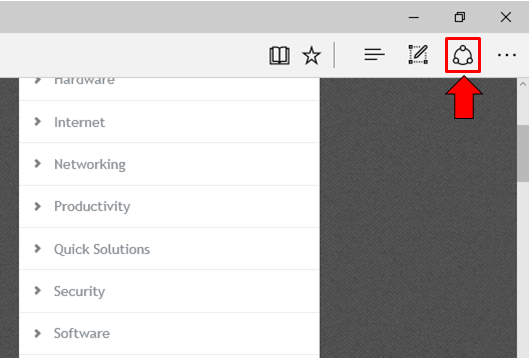 After that, you should be able to see the Share screen that will slide-in from the right. First, let us try sharing something through email. Now, before doing this, you need to make sure that you are already logged in with your email using the "Mail" app that is built in with Windows 10 or you can also download a Mail app from Windows Store depending on your preference, if you just want to use the built-in Mail app then just click on it from the Share screen.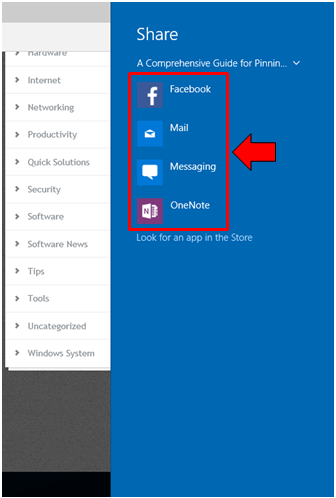 After hitting the "Mail" app from the Share screen, you will be able to open it and the screen will become wider as you can see below.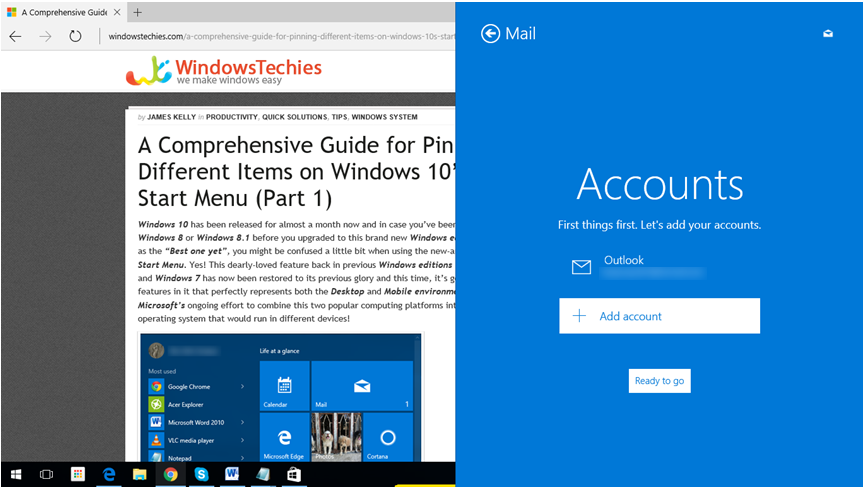 Now, remember that you are already signed in to your Microsoft account in your Windows 10 computer so the built-in Mail app automatically detects it and shows you that your are already logged in to your Microsoft Outlook email. If you want to use this email to share the webpage/article that you placed some notes on, you will simply need to click on the "Ready to go" button at the bottom. On the other hand, if you want to use a different email account such as Gmail or Yahoo Mail and others, you will need to click on the "+ Add account" button that is located just above the "Ready to go" button as you can see on the screenshot above. The Mail app will guide you through the whole step in sharing your content so just follow the instructions that will come up next until you successfully share your stuff to whoever you want to send it to.
Sharing Web Notes Through Social Media
Aside from allowing you to share some stuff through email, it is also possible to share your Web Notes through social media. Again, in order to do this, you will need to first install a social media app and in this example, we will be using the most popular one which is Facebook.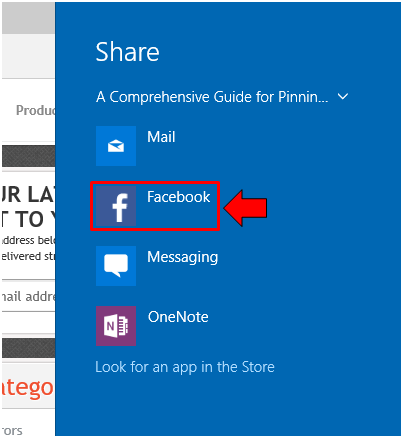 If you have already installed a social media app such as Facebook into your Windows 10 machine then you will need to make sure that you are logged in to it in order to be able to share Web Notes quickly. Once you are logged in to your Facebook account, just open the webpage/article again on which you placed some Web Notes on, hit the "Share" button from the top-right portion of the screen then post it! That's how simple it is to share Web Notes using a social media app in Windows 10.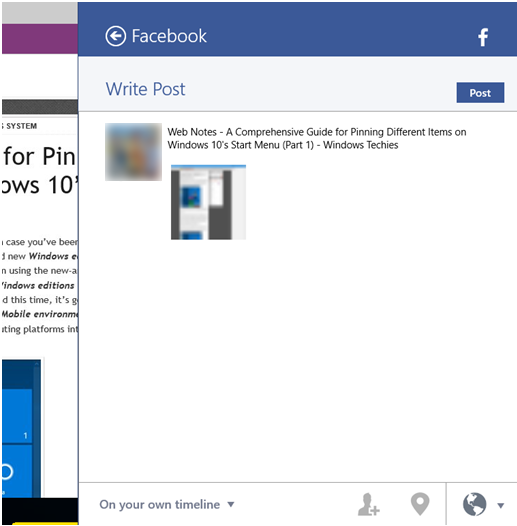 You can use other apps in sharing and the principle is basically the same, you will first need to sign-in to your account (it might be email or social media accounts) and once you are in, simply open your saved Web Note, hit the "Share" button from the top-right portion of the screen, select the app that you want to use for sharing your stuff then post or send it to your contacts or friends! That's how simple it is to share a Web Note in Windows 10!
A Quick View on Microsoft Edge's Other Settings
Now that we're done exploring some of the unique features in Microsoft Edge, it's about time that we take a look on its settings by clicking on the last button at the top-right portion as highlighted below which is labeled as "More".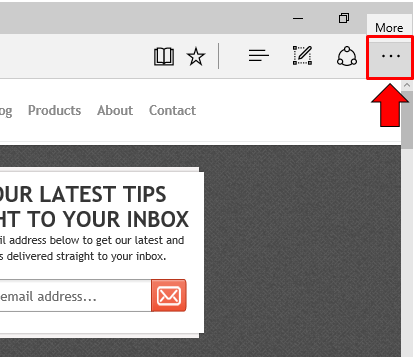 Clicking on this button will reveal even more stuff and settings of Microsoft Edge. For instance, you can quickly open a new tab or a new In Private browsing tab, access developer tools or even launch a certain website using Internet Explorer. This truly is a handy button especially if you are the advanced type of user.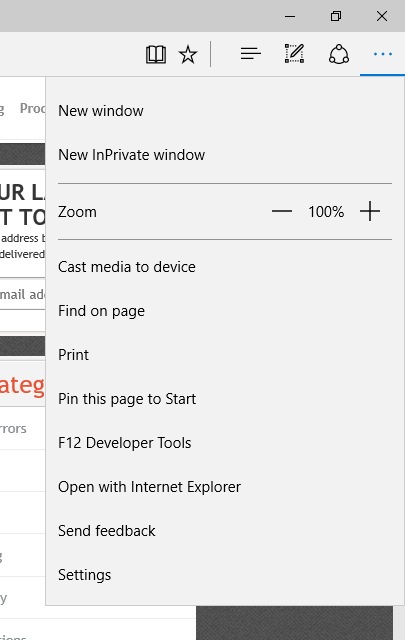 Microsoft Edge, A Truly Unique Browser!
As you can see, Windows 10's new built-in browser truly stands out among the rest by offering some unique features which are nowhere to be found in other browsers. Microsoft Edge is still being developed to really become a strong competitor against the other popular browsers at present but with its fast browsing speeds and unique set of features, this browser truly is a one-of-a-kind tool which certain people would really love to get good hold with especially when collaborating with others on a certain project in order to make things done quickly and in an organized, easy-to-understand manner! What do you think about Microsoft Edge? does it work really good? Tell us what you think and share this article with your friends so they can start enjoying Windows 10's latest browsing tool.