Windows 10 has already been formally released to the public more than a week ago and it is now being scrutinized and weighed by millions of users around the world. Has Microsoft been true to their promise of making Windows 10 the "Best One Yet"? There can be different answers to this single question and of course, we can't just jump into conclusions without really looking into the brand new features, improvements and innovations that it has.

We have already published a number of tutorials regarding Windows 10's Technical Preview Build and one of them talked about the Virtual Desktop and the Task View feature which is a new one in Windows but this time, let's see how the final version of this feature works so you can start making the most out of it in improving your productivity and enhancing your Windows 10 user experience.
Multitasking in Windows
The idea about multitasking has long been associated with computers and in the case of the Windows operating system that we all love, there has been plenty of built-in tools and features in it that helped users do a lot of things at the same time.
As RAM storage space increased and processors became even stronger, computers have also become a lot more adaptable to multitasking which paved the way to being able to open multiple programs and jump through open tasks in a single screen. Computers are indeed super machines but if you crowd too many open tasks and programs in a single screen, there can be a tendency of you being confused amidst all the clutter.
This is the reason why "Virtual Desktop" apps and programs were developed but back in the days of Windows XP, Vista and even up to Windows 7, Windows 8 and Windows 8.1, this feature is only offered by third-party software developers.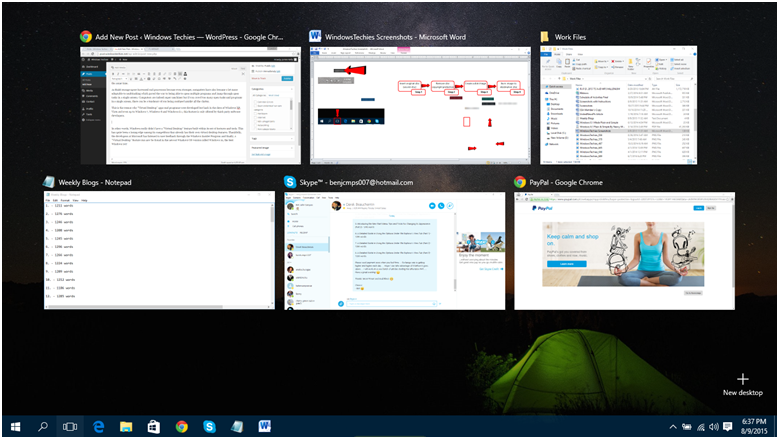 In other words, Windows really didn't have a "Virtual Desktop" feature built within its set of features and tools. This has quite been a losing edge among its competitors that already has their own virtual desktop features. Thankfully, the developers at Microsoft has listened to user feedback through the Windows Insider Program and finally, a "Virtual Desktop" feature can now be found in the newest Windows OS version called Windows 10, the best Windows yet!
But how does this brand new feature work and what is it actually used for? Join us as we unlock the secrets of the Task View and the Virtual Desktop Feature in newly upgrade Windows 10 computer.
Accessing the Task View Feature
To start learning about the brand feature that we've been describing since the start of this tutorial, you will first need to know how it is accessed. The "Task View" and "Virtual Desktop" features in Windows 10 are located in one place and since they are both related to multitasking, it is crucial that you learn about them if you really want to do more with your newly upgraded machine.
To open the Task View feature, you will simply need to click on the icon that is located just beside the Search feature as highlighted on the screenshot below.

If the Search icon is hidden, the Task View icon should be the second item from the Start Button. The Task View icon is permanently pinned on its position which means that it can't be dragged to any other position just like all the other icons of programs and tools that are pinned on the Taskbar.

If the Search box is activated, the Task View icon should still be on its right side as shown on the screenshot below. Both the Search and the Task View features are immovable. This means that you can't put them anywhere else on the Taskbar but you can hide them as you will see later.

Now, try to click on this icon and you'll see that all of the open apps and programs will shrink and appear side-by-side in a columned manner as shown on the screenshot below. From here, you can simply click on the task that you want to be maximized on the screen and the Task View feature will automatically do so. This is a more comfortable way in switching between active apps and programs than clicking on their icons on the Taskbar.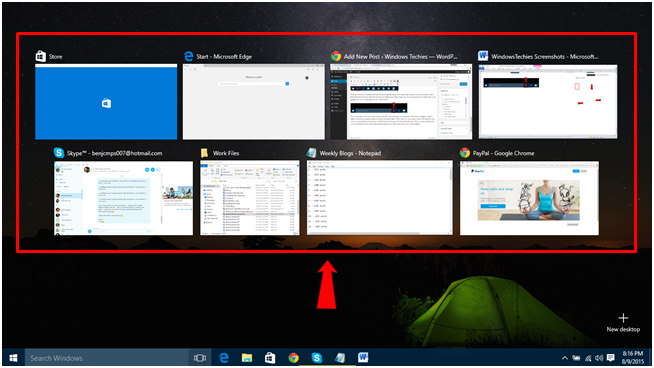 How to Open a New Virtual Desktop
After learning how to view the active tasks in your Windows 10 computer, it is time to discover a productivity tool that is incorporated with the Task View feature and in fact, you can use both of these features together to help you move to the next level in terms of productivity and quick completion of any task.
On the bottom-right portion of the the Task View screen, you should be able to see a "+" icon that is labeled as "New desktop". This icon is what you will need to click if you want to open a new Virtual Desktop in your Windows 10 computer. A Virtual Desktop is like a vacant desktop screen where you can open a new set of programs and apps apart from the ones that are already open in the previous Desktop screen that you left.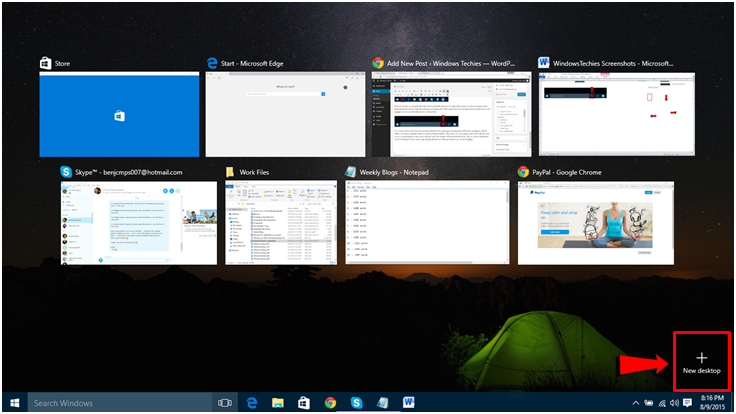 After clicking on the "New desktop" icon, a tab will appear at the bottom portion which will now show two desktops. The tasks that you left are in Desktop 1 while the new virtual desktop is on Desktop 2.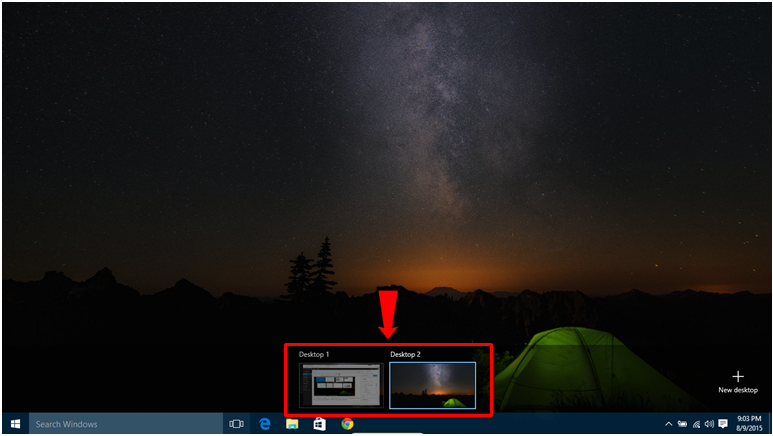 Moving Active Tasks From Desktop 1 to Desktop 2
After activating 2 new desktop screens on your Windows 10 computer, it is time to learn how you can move active apps and programs from Desktop 1 to Desktop 2. Doing this is very simple. To start, simply open the Desktop where the active app or program is located and after doing so, click on the "Task View" icon.
From the Task View screen, all you need to do is look for the app or program that you want to move to the other open Desktop and once you find it, just click-and-hold then drag it to the destination Desktop screen and drop it there. You will then notice that the active app or program that you have dropped into the new Desktop will automatically disappear from its original location and will not be transferred to the new Virtual Desktop screen.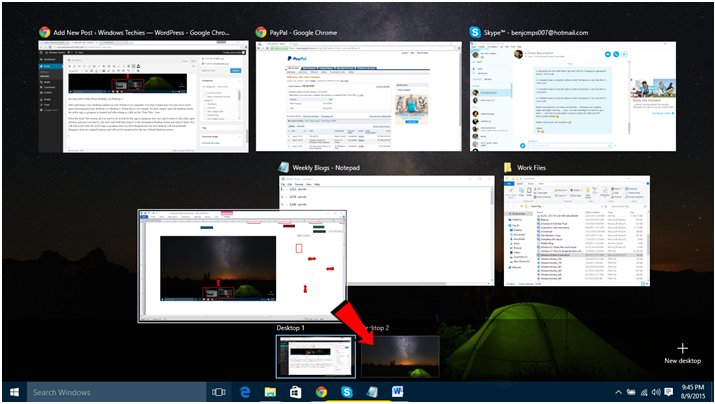 Jumping from Desktop 2 Back to Desktop 1
Now, if you're stuck in Desktop 2 and you want to jump back to Desktop 1 or any other open desktop on your Windows 10 computer, all you need to do is click on the "Task View" icon that is found on the Taskbar and after doing so, you will again be able to view the active tasks in the Desktop where you are currently in then on its bottom portion, you should be able to see all available Desktop screens that you can jump into.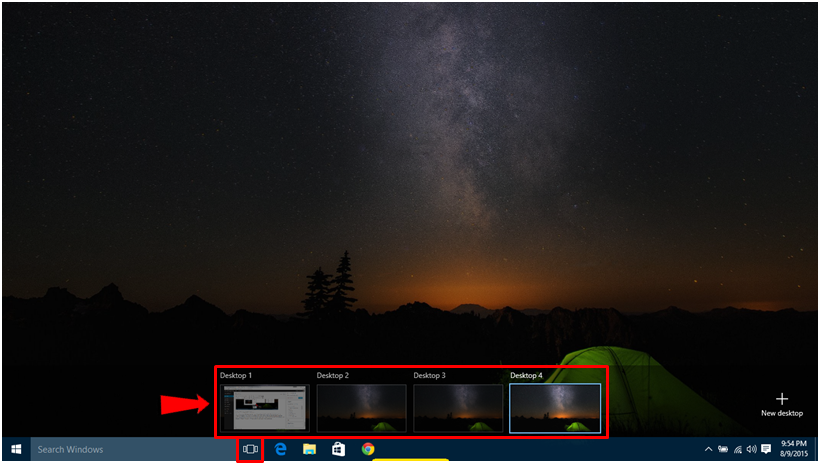 Increase Productivity Many Times Over With the Task View and Virtual Desktop Features
Microsoft really took everything to the next level in their brand new operating system edition called Windows 10. With the help of all the feedback that they've got from Windows Insiders, this new Windows version has really been made more fit for multitasking and with its graphics that is light on system resource, you can really do many things in one single setting without suffering any hangs of freeze. Want to learn more about Windows 10? Just stay tuned with us here on WindowsTechies.com and we'll take you though all the secrets that this newest Windows version has.