There are a lot of voice-over-IP programs existing today but nothing gets close to the one called Skype developed by Microsoft. Skype has existed since 2003 and in case you're wondering what its name means, it is actually the combination of the words "Sky" and "Peer". Skype has evolved from being a very simple free call and messaging program into an awesome one with millions of users all over the world. Other options for making calls to a phone number or sending SMS were also added as the program advanced more in years and the need for such features were seen to be needed and would make profit as well. The most recent development with the app of course is its being added to the built-in apps in the newest Windows 8.1 operating system.

Previously here on WindowsTechies, we've tackled the steps involved in doing  some tweaks to the Skype app and how to add contacts and block or remove one from the People list. However,we've not yet shown how to make a voice or video call or send a chat message to one of the contacts on your People list or how to make a phone call or send SMS to a phone number and that's what we'll be talking about in this tutorial. Just follow the steps I'll be showing below and you'll surely be able to do these tasks without experiencing any problem.
Sending Your First Chat Message
One of the things that Skype is popular of is sending instant chat messages to the people listed on your contacts list. This is a very convenient feature that you can always take advantage of especially in times that you badly need to get in touch with someone whom you got no phone number of but is one of your contacts in Skype. Just be sure that you have an Internet connection (doesn't need to be that fast) and you're ready to go!
First, you'll need to sign-in to your Skype account and once you're able to do so, just start looking for the contact that you want to send instant message to and when you find the person's account, simply click on it and you will be taken to a screen that has buttons for doing a video call or a voice call and at the bottom of the right hand portion, you will see a chat box where you can type your message.
After typing the chat message that you want to send to the contact which you selected, simply hit the "Enter" key and the chat message will be sent automatically.
Sending an SMS
Skype is also capable of sending SMS messages to a contact's cellphone. To do this, simply click on the messaging option drop-down arrow at the top-left portion of the chat box and then select the  that says "SMS".
You will need to make sure that the contact whom you want to send SMS to has a phone number that is saved in his/her details. If there are multiple phone numbers saved for the contact, you will be prompted to choose which number would you like to send the SMS to.
NOTE:
Sending an SMS or making a phone call using Skype requires you to have a Skype credit which will be consumed as you send SMS messages and make phone calls. If you don't have this requirement yet, you will need to buy Skype credit by clicking on the button that says "Buy Skype Credit" which will appear when you click the SMS messaging option.
Doing a Phone Call
Another thing that you can do with Skype is making a phone call and just like sending an SMS, you will need to have Skype credit to do this. You can choose to buy Skype credit or just get a subscription so you can do a phone call right away but of course, you will need to spend a certain amount from your pocket to do this.
To do a phone call, simply click on the person's account picture from the People section of the Skype app and once the contact options screen appears, simply right-click an empty space on it and click on the "view profile" option at the bottom. After doing so, the People app will open from the right edge and take half of the screen displaying the details of the contact you selected with his/her phone number. To make a phone call using Skype, simply right-click on the phone number being displayed and hit the "Call" option from the small menu box that appears.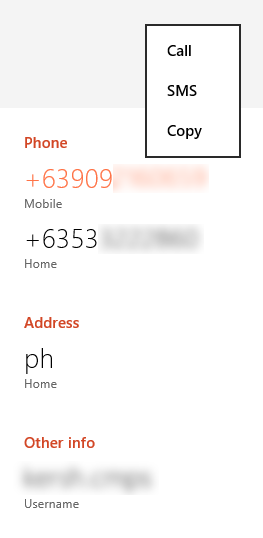 Initiating a Video Call
We've already gone through the stuff that you can do within the Skype app which are charged (sending an SMS or calling a phone number) so it's time that we cover the ones that you can do for free. The Skype app allows you to do video call to another Skype user on your contact list for free and doing it is very simple. Just click on the person's account number and on the contact options screen, click on the "video call" button.
Just make sure that your computer's webcam is properly functioning and the microphone is working well or else, your conversation with the other person would not work the way you want it to be. To make sure that your hardware is working well, you can try calling "Echo / Sound Test Service" and just follow the instructions that it will give you.
Doing a Voice Call
Another free service that the Skype app or even its desktop version provides is letting you do a voice call for free. Doing a voice call is often what people resort to when the Internet connection is not that fast making it unable to support a video call. To do a voice call, simply click on the "voice call" just beside (right) of the "video call" button located at the bottom of the person's account picture on the contact options screen.
Doing Even More!
Still at the bottom of the contact options screen of a certain contact on your Skype app's People list is another button with a "+" icon and if you click on it, you will see even more options like "send files", "send video message" and "add participants". While chatting with a person, you can choose to send a file simply by clicking on the "send files" option and uploading the file to Skype before finally sending it to the person that you are talking to.
Next, you can also record a short video clip of yourself while speaking the message that you want to tell a person on Skype by clicking on the "send video message" option and lastly, you can start a conference chat and get the message sent to multiple users by adding them to the chat session which you started by clicking on the third option inside the menu box which says "add participants".
That's it! we've already covered everything there is about the Skype app in your Windows 8.1 machine in the three part tutorial that we've posted here. All you need to do is follow each step I've shown and you'll surely be on your way to mastering one of the most useful app that is built-in with your Windows 8.1 computer!