One of the greatest concerns that every Windows PC owner has is the problem of unauthorized access to some files and other stuff especially the crucial ones that are saved in the computer itself. This is true especially in the office or school setting or even at home. Just imagine someone being able to access your stuff without your permission and copying it somewhere else so they can use it for their own advantage. Now that's a big "no, no" to most of us and that's the very reason why we've taught you how to create different types of user accounts on your Windows 10 machine in our previous tutorial.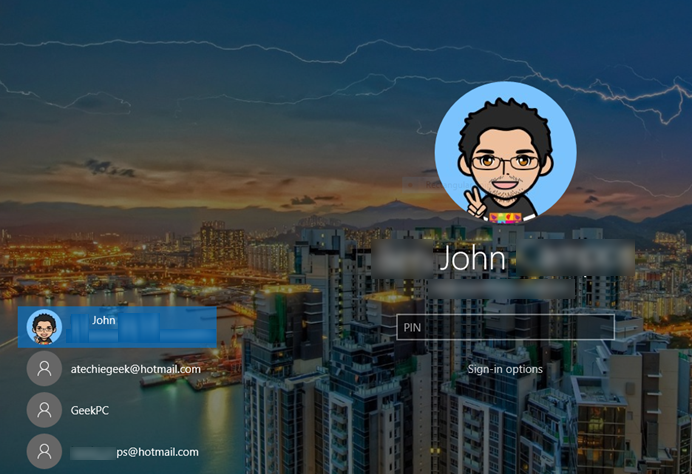 If you only have a single account registered on your computer and you have plenty of stuff that you want to protect against unauthorized access then you really need to create other user accounts on your computer so as to protect your crucial files and give you the peace of mind that you've always wanted. Once you have other user accounts registered on your computer, you can let other people who wants to use your PC access them instead of lending your personal admin account for them to view and use.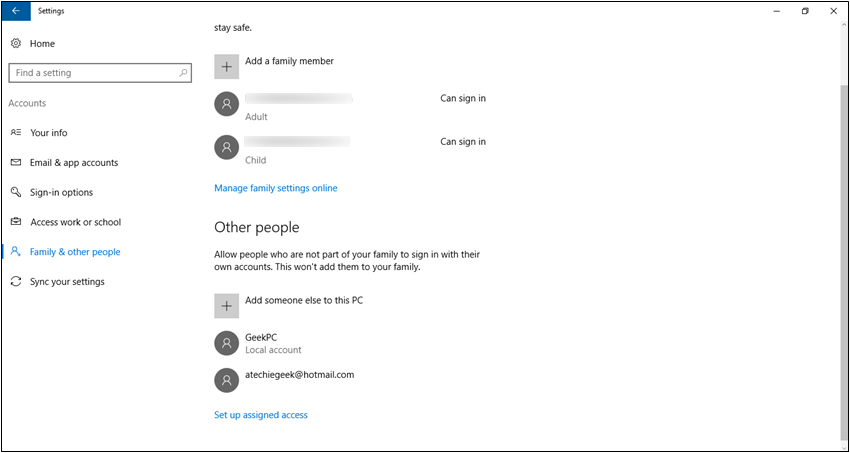 So how can you actually switch between the accounts you have just created on your computer? Let's say for instance that you are currently logged on to your Administrator or your own personal user account and you've got your child wanting to use your PC. How would you log on to your child's user account without turning off your computer? That's exactly what we're going to talk about in this tutorial so be sure to get your Windows 10 machine started, create user accounts in it by following the steps we've shown in our previous tutorial and apply the steps that we're going to show below so you can start jumping from one user account to another with ease!
Switching Through Existing User Accounts from the Start Menu
If you want to start switching between the user accounts that are registered on your Windows 10 computer then you must first learn to do so from the most-used feature in the operating system. The feature that we are referring to is the Start Menu and there are many ways that you can try in launching it which we will also be showing in this tutorial. First, you can easily launch the Start Menu simply by pressing on the Windows key on your computer's keyboard as you can see below.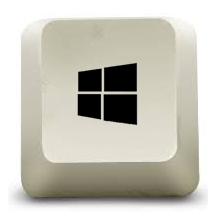 Another method in summoning the Start Menu is done by clicking on the Start Button that is found at the extreme-left end of the Taskbar. You should also remember that right-clicking on this button also launches another feature that has been introduced in Windows 10 and is not found in any other Windows operating system edition so be sure to left-click on it instead of doing a right click so you can launch the Start Menu.
Once the Start Menu launches, you can now click on your user account picture in order to launch a menu that will now show the settings and options as well as shortcuts that are available for your user account and as well as all of the other accounts that are existing and registered on your computer as you can see on the screenshot below.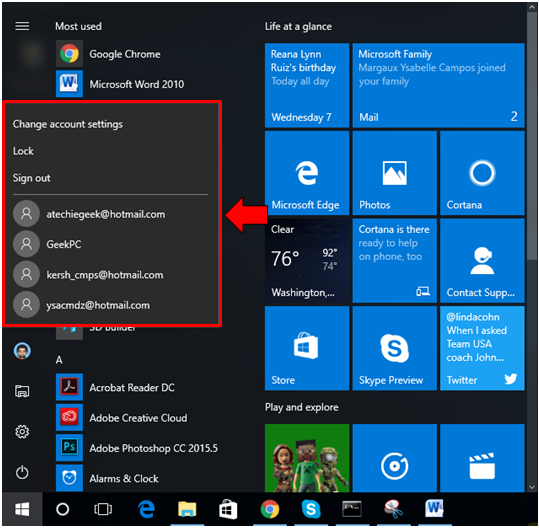 From this menu, all you need to do is click on the user account that you want to log in to and after doing so, your computer will automatically log off from the current user account that you are using and take you to the Lock Screen showing the new account that you have selected.
Switching Through User Accounts from the Lock Screen
One of the easiest and quickest ways in jumping directly to another account and being able to log in to it is done from the Lock Screen. Just like any other stuff in Windows 10, locking the screen is also done in many ways. If you want to learn all of these available steps then we'll show them here.
First, you can lock your computer from the Start Menu. To do this, you must first launch it by clicking on the Start Button or pressing the Windows key and after you do so, the Start Menu should launch instantly at the left-hand portion of your screen. From here, simply click on your account picture that is found at the narrow vertical bar at the left portion of the Start Menu then on the menu box that would appear, simply click on the option that says "Lock" as you can see being highlighted on the screenshot below.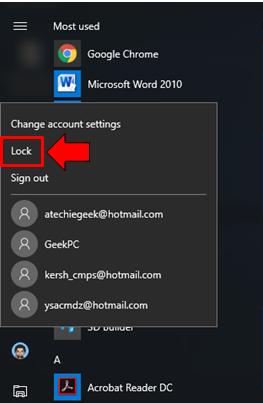 Another way in locking your computer which is also the easiest method that you can do is accomplished using a keyboard shortcut. Just press the Windows + L keys on your Windows 10 machine's keyboard and right after you do so, your computer should be locked in an instant and take you to the screen which displays all available user accounts that are registered on your computer.

The Lock Screen should now look like the one that is being shown below and as you can see, all of the available user accounts that you have created on your Windows 10 PC are listed at the bottom-left portion. This makes it easier for you to just click on the account that you want to log in to then once it gets displayed on your screen together with the Password input box, just enter the password for the account, hit the "Enter" key and you will be logged in to the new account instantly!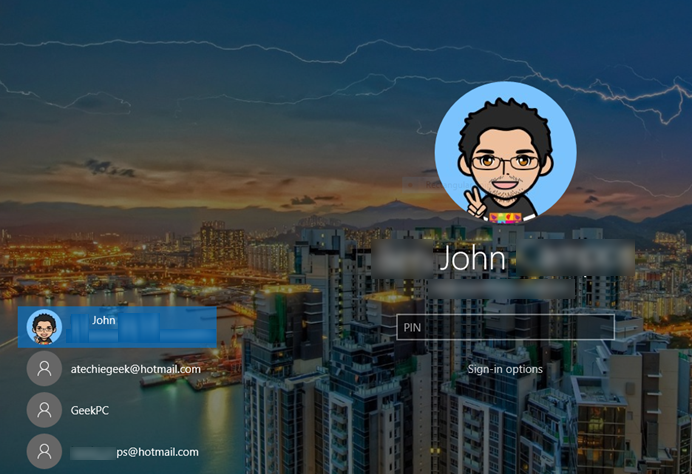 The user account to which you are currently logged on should appear first on the list of user accounts that are registered on your computer. If you want to use a PIN or any other log-in credential aside from the default which is a password, you will simply need to click on the "Sign-in options" link which is found just below the Password input box and a new options box will appear showing you the available login options that are set for the account.
If a PIN has not been set for it, you can choose to use the fingerprint option in case the computer has a biometric reader but if there's none, the only sign-in option that would be available is the Password. You can enable PIN sign-in option from the Settings Window but we're not going to get into the details in how it is done in this tutorial. We'll be reserving this topic for our next tutorial so be sure to stay tuned-in with us here on WindowsTechies.com to get all the latest news, tips and tricks that's there is for your Windows 10 machine.
Make Your Machine More Secure with Multiple Accounts
Aside from giving you the power to control your child's and Windows device usage through his/her Child account that you've set up. Creating different user accounts on your computer also ensures that all of your crucial files are kept safely from being accessed and used without your permission. You will also have the freedom to control which files are allowed to be viewed by other users on your computer and you are free to access and use theirs.
That's why we really recommend that you setup different accounts on your computer so you will have the freedom and peace of mind about all your files. We've already discussed how different user accounts are created our previous tutorial and as well as how you can control a child account to ensure your child's safety whenever he/she is on the web or when they're using an app, program or game. If you don't know these things yet then we recommend that you read the tutorials that we've pointed out here and start making your Windows 10 machine more secure from now on!