OneDrive is one of the features in Windows 8 and Windows 8.1 that is somewhat ignored by most users who tend to just focus on the basic things that these operating systems offer. Because of the significant length of time that the Windows operating system hasn't seen much change, loyal users still stick to the features and other aspects of Windows 8 and Windows 8.1 that are similar to the ones found in previous Windows editions.
In fact, the taking down of the Start Button and the Start Menu in Windows 8 has really ignited a spark among loyal Windows users which later led to the taking back of the former in the improved edition called Windows 8.1. All of these things have a single cause and it is because users really find it hard to move on and leave behind all the obsolete features that has became a norm and take the road that Microsoft is leading everyone to follow.
The company really did some awesome innovations in their flagship operating system but the clamors for selected old features to be taken back still won't stop unless a realization of the better and more useful tools that are included in these modern Windows editions is finally reached.
That's what we're actually doing here on WindowsTechies.com! We're exposing all of the brand new features that are included in each brand new Windows OS that arrives so that users can take advantage of them in improving productivity and overall user experience. In this tutorial, we'll again take you back to the OneDrive feature and see what changes and tweaks can be made to it so it can start working as you want it to so be sure to follow all the steps that we will show below on your own Windows 8.1 machine.
Accessing OneDrive Settings
OneDrive has some available setting and tweaks in both the Metro/Mobile environment and the traditional Desktop environment. To access the former, all you need to do is right-click on the OneDrive icon that is located on the System Tray and after doing so, simply click on the "OneDrive storage" option that is found on the right-click menu that will appear.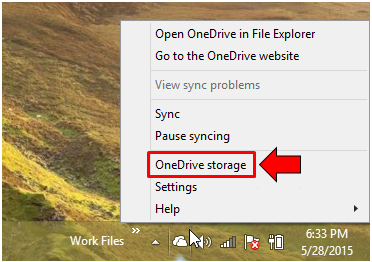 Now, to access OneDrive's settings that appears within a traditional Window, you will again need to right-click on the OneDrive icon that is found on the System Tray and on the right-click menu that will pop-up, simply click on the option that says "Settings" and a small Window will appear which is labeled "OneDrive".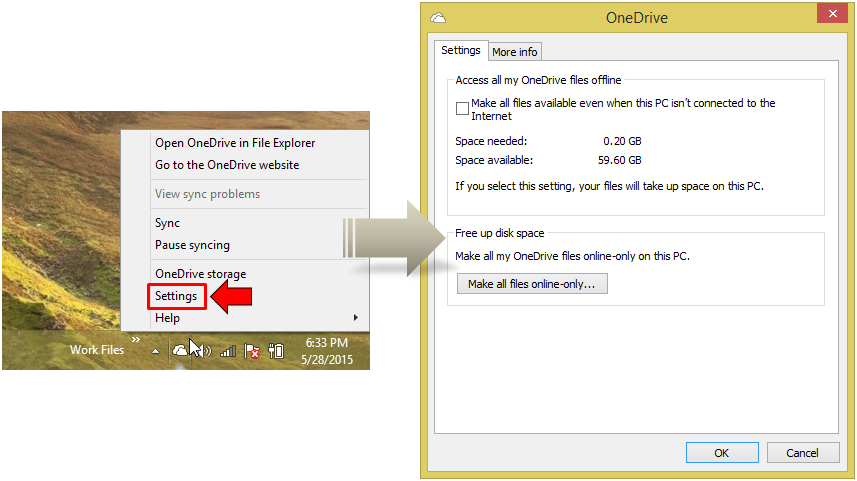 Options, Settings and Tweaks Available
If you access the Metro Settings screen of the OneDrive feature in your Windows 8.1 computer, you will find out that there are actually more OneDrive settings and tweaks in it than the latter one that we have shown above. To help you make tweaks in how OneDrive works on your Windows computer, just follow the steps that will be shown in each item below.
1. Enable or Disable Automatic Saving of Documents to OneDrive
The very first tweak that you can make with OneDrive after you open its Metro Settings screen is enabling or disabling files from being save to it automatically. This feature is turned on/enabled by default but if you'd like to turn it off, all you need to do is click on the switch that is highlighted on the screenshot below in order to flick it to the off position.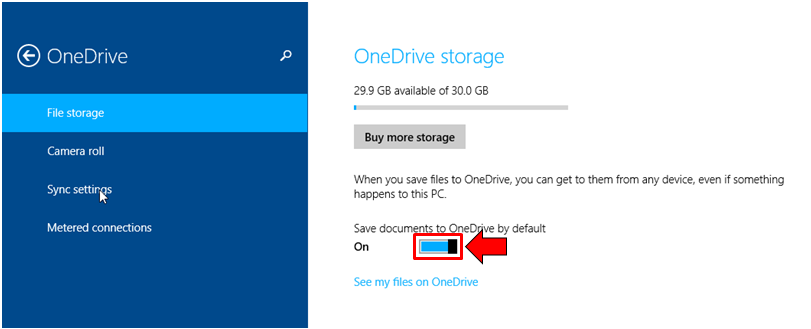 You can also view your files from the OneDrive modern app and doing it is very simple. All you need to do is click on the link that is found on the same OneDrive Metro Settings screen that is shown above which says "See my files on OneDrive" and after you do so, the OneDrive modern app will open and take half of the screen to be displayed side-by-side with the Metro Settings Screen as you can see below.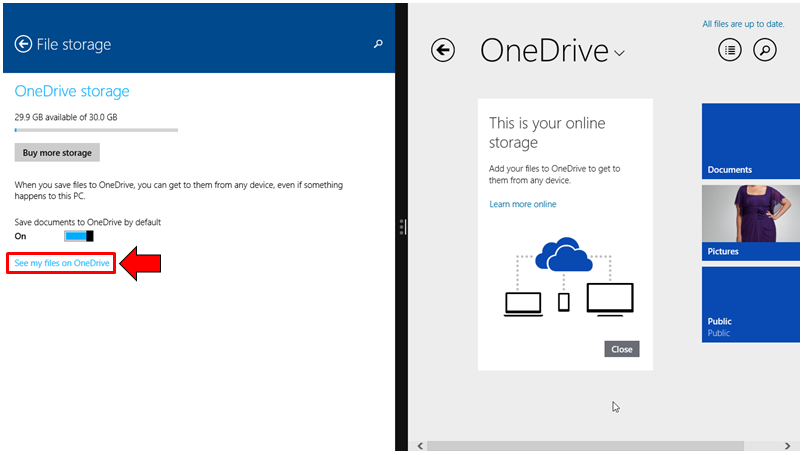 2. Change Camera Roll Settings
On the left hand portion of the OneDrive Settings screen, you will find a navigation pane and the second item in it says "Camera Roll". Now, try clicking on it and you'll see some settings that pertain to the photos that you take with the camera built-in with your Windows computer or other device like smartphone or tablet that has a mobile Windows operating system installed to it.

The settings that are found under this section all pertain to how photos and videos are saved. For instance, you can select not to upload photos to OneDrive or you can also choose to upload photos at a good or the best quality. Just take note though that if you save photos in the best quality, it will take up more space from your OneDrive storage. The videos that you take with your device's camera are not saved to OneDrive by default but you can choose to save them simply by clicking on the switch found under "Automatically upload videos to OneDrive" in order to flick it from the "Off" to the "On" position.
3. Change OneDrive's Sync Settings
Now, still on the same Metro Settings screen of the OneDrive feature, there's another item found on the left navigation pane which says "Sync settings". Click on it and you'll see some of the settings in how some important items such as settings, apps and other stuff in the Windows 8.1 computer that you are using are synced to OneDrive.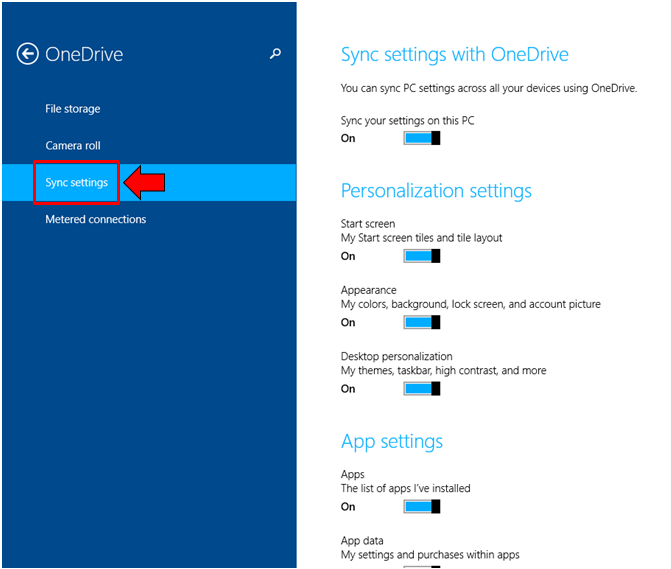 Syncing your personalization settings, app settings and some other stuff to OneDrive, all of these settings will be carried over to all the other Windows devices that you login in to using your Microsoft account. This is a very comfortable feature that allows you to have the same feel no matter what machine you are using as long as you are logged in to it with your Microsoft account credentials.
Just imagine not having to adjust aspects such as the lock screen, desktop background and even settings on the apps that you have synced settings for whenever you're using another Windows machine. Now that's one great feature that allows you to enjoy the stuff that you got used to anytime!
4. The Other OneDrive Settings Window
As we have mentioned earlier, aside from the Metro OneDrive settings Window that can be accessed from the right-click menu that appears whenever the OneDrive System Tray icon is right-clicked, there's another group of settings for the OneDrive feature that can be accessed by clicking on the "Settings" option from the right-click menu. The settings will appear in a small Window which is labeled OneDrive as show on the screenshot below.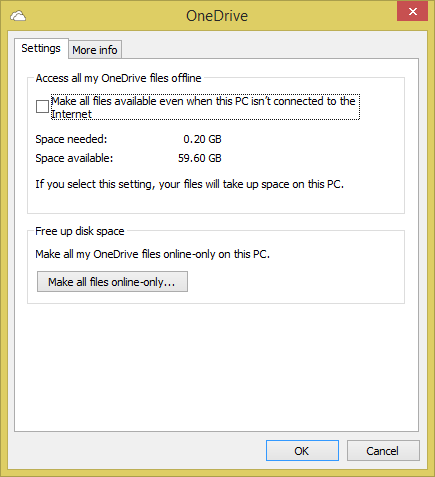 From this Settings Window, you can choose to make all the files that are saved in the OneDrive folder to be available even if your computer is offline. To do this, all you need to do is click inside the small check box located at the left of the option that says "Make all files available even when this PC isn't connected to the Internet". Below this option, you will see how much space will it take if it is activated and as well as the free space that your OneDrive storage still has as you can see on the screenshot above.
In case your computer is already running out of space, all you need to do is remove the check mark and hit the button at the bottom that says "Make all files online only…". On the top portion of this small Window, you will find another tab which says "More info" and when you click on it, you'll be able to view the current version of OneDrive that is included in your computer and you'll also find a button that will take you to the Metro Settings screen that we have show earlier in this tutorial.