There's one button in every Windows device- whether its a smartphone, tablet, laptop, desktop or hybrid computer that is used almost everyday before you can finally enter the Windows operating system and start using your device. Without it, you can't even use your device for accomplishing complex tasks, establishing communication with your loved ones or colleagues at work or even view your social media status and updated news feeds. Your device just won't work at all without this tiny yet very important part.
You may have plenty of guesses on what this button is but we're simply referring to the "Power Button". Every device has it and all users use it each day not just to power up their devices but also to unlock it. In this tutorial, we will be learning more about the Power Off Options in Windows 10 and answer commonly asked questions that users ask about so be sure to read everything from top to bottom.
Where is the Power Button Located?
Powering up any device requires that you first press the Power Button to make electricity flow into the internal circuits and components of the motherboard. Without the Power Button, it would be impossible for you to power up your device and as a result, you will not be able to access the operating system that is installed in it.
So where can you actually find the Power Button? The answer to this isn't definite because its location depends on the device brand or model. For instance, in desktop computers, the Power Button is located on the system unit and on laptops, it is located at the top-right, center or top-left portion of the keyboard. In other laptop brands and models, the power button may also be located on the left or right side but no matter where it is located, you can easily identify the Power Button by looking for the symbol that is shown below.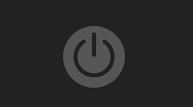 In mobile devices such as Windows Phones and Tablets, the Power Button is found on the top or right edge of the device itself. If you don't see the power icon on any of the buttons on your mobile device then you can also refer to the user manual or just try to long press each button until you find the on that will make you device power up.
Why Turn On Using the Power Button and Turn Off using the Power Off Options?
Now, you might be wondering why Windows computers and other devices allow turning on using the power button but prohibit turning off using the same button. If you look into any device closely especially if it is turned off, there is actually no other way for you to get it powered up except from pressing the Power Button.
However, everything is different if you are trying to turn off a device. Manufacturers and even tech experts would not advice you to turn off your computer (desktop, laptop or hybrid) by long pressing the Power Button aside from special cases.
This is because you will actually be killing applications at once without undergoing to right process which can result to problems in your hard disk's data packets or can even affect programs and cause them to crash. Unsaved work and other data might also be lost if you turn off your computer this way and making it a habit will actually damage your device in the long run.
Special Cases that Allows Turning Off a Computer by Long Pressing the Power Button
Again, there's always an exception to every rule. As we have mentioned earlier, turning off your Windows computer by long pressing the Power Button isn't recommended because it may cause damage to your machine's operating system but there are some cases that this can be done which are listed below.
When your computer refuses to respond to the clicks and key presses that you do for a long period of time.
When the screen freezes and the mouse pointer or even the cursor does not move anymore.
When your computer hangs or you see error messages that won't disappear no matter what you do.
When your screen suddenly turns blue with white texts on it.
The rule is when you can't access the Power Options because of the problems like hangs, freezes and other system troubles that can happen anytime then long pressing the Power Button in order to turn off your computer is acceptable.
The Power Off Options in Windows 10
If there's a physical Power Button then there's also a virtual one that you can access when your computer is turned on. While this button stayed on the same location (the Start Menu) in XP, Vista and Windows 7, it has suddenly been moved into a different location in Windows 8 and Windows 8.1.
The changing of location for this very important part of the Windows operating system in Windows 8 is one of the reasons why users got confused and some even had no idea on how they can turn their Windows 8 machines off. However, everything has quite become easier in Windows 8.1 when the Power Button was placed on the top-right portion of the Start Screen along with the user account picture and the search button but it still wasn't enough.
How about Windows 10? Well, you will surely like how Microsoft did the layout on this brand new and upcoming operating system. For instance, when you click on the Start Button, the combined Start Menu and Start Screen feature will appear and it is smaller now compared to the full screen one that opened in Windows 8 and Windows 8.1.
Not only that, the virtual Power Button is also located on the top-right portion of this screen which makes it easier to spot. After you click on this Power Button, the Power Off Options will appear as shown on the screenshot below.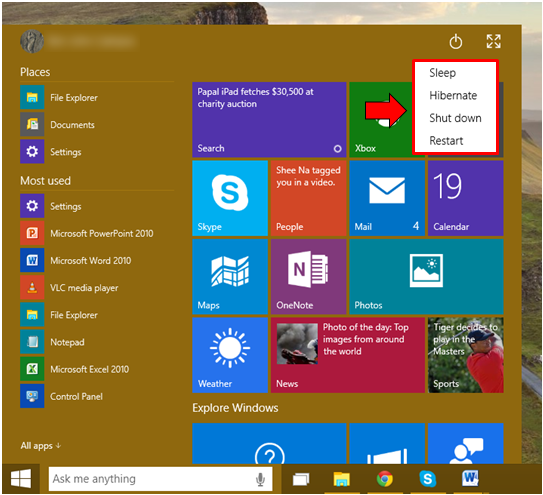 Now, if your Windows 10 installation (maybe you tried its Technical Preview version) is new, you will notice that there will only be three (Sleep, Shutdown and Restart) power off options that will appear whenever you click on the Power Button. To add "Hibernate" to it, you will need to follow the steps below.
1. First, you will need to click on the Battery Level icon that is located on the system tray as highlighted on the image below.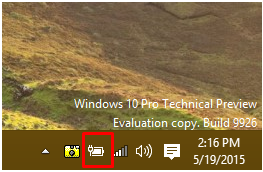 2. After the icon is clicked, there will be a pop up screen that will appear and from here, you will need to click on the link that says "More power options".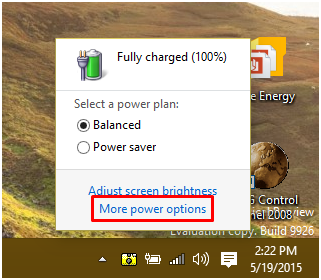 3. Now, the Power Options Window of the Control Panel will open and in order to get into the section where the Power Off Options are located, you will need to click on the link that is found on the navigation panel at the left that says "Choose what the power buttons do" as highlighted below.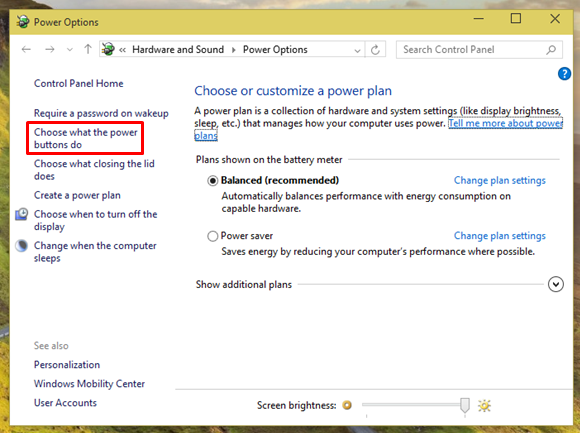 4. On the Window that follows, you will see all Power Off options under the "Shutdown settings" section. From here, you will notice that the "Hibernate" option is not yet checked which is why it does not appear as one of the options when you press the Power Button on the new Start Menu. To add it into the Power Off Options, you will simply need to click on the link that says "Change settings that are currently unavailable" as shown below.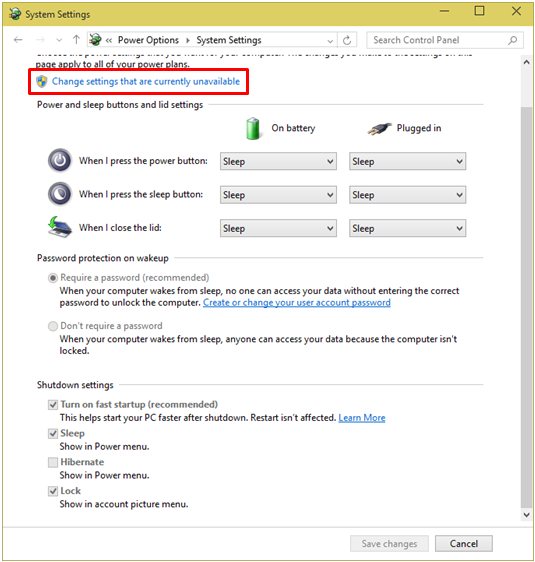 5. Now, all of the options under the "Shutdown settings" section will become clickable, once this happens, you will simply need to check the "Hibernate" option then hit the "Save changes" button at the bottom to finally include "Hibernate" option whenever you click on the Power Button that is found in Windows 10's brand new Start Menu.

As you can see, making tweaks with the Power Options aspect in Windows 10 is basically just the same in the previous Windows editions but there are some changes with how everything is laid out especially in the new Start Menu and other areas of the operating system itself. Windows 10 is still in the making but it is already in its final stages so expect the free upgrade to be rolled out real soon.