There have been a lot of online cloud storage hosting services that have come out since mobile devices that run the same operating systems found in laptops and PCs became extremely popular. Try searching the Internet for these very useful tools and you'll surely find names like "Dropbox", "Panda Cloud", "Google Drive" and many others but if you're using a computer or mobile device that runs on a Windows operating system then OneDrive would be the best choice of cloud hosting service for you!
We have personally chosen OneDrive because of Microsoft's generous program of giving away free GBs of memory for referrals and other promotions like Bing Rewards. Now that means that if you qualify to get these free gigabytes of storage space then you'll have plenty of space for all your important stuff to be stored in OneDrive.
Windows alone offers 15GB of FREE storage space when you start using OneDrive and if you start saving your pictures from your camera roll into this cloud storage, you'll get an additional of 15GB more which add up to a total of 30GB of online storage space. Now that's pretty good enough to handle some of your important files and have them synced to all your other devices and thanks to OneDrive's support for Android, iOS and Mac, you'll surely get access to your important stuff anywhere you are and on any device that you currently are using provided you know the credentials to your OneDrive online storage account.
Not only that, when you get OneDrive, you are actually subscribing to a FREE service offered by a big name "Microsoft" and that alone should make you confident enough that your files are being handled with the best care possible.
A User-Friendly Online Dashboard
Now, since OneDrive is made by Microsoft, you can also expect that it works seamlessly with the Windows operating system both on mobile devices and PCs. For instance, when you open File Explorer, OneDrive will appear as one of the libraries in the navigation pane that is found at the left hand portion of the Windows and when you click on it, its contents will open just like any other library in the File Explorer Window.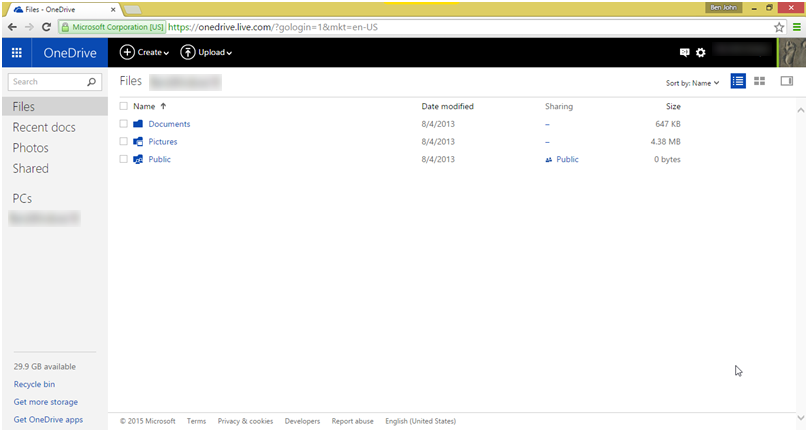 On the other hand, when you open your online OneDrive account storage, the layout would appear to be very familiar and is just like File Explorer. Again there's a navigation pane at the left, there's a Search box and the contents all display on the contents pane which takes most of the screen. OneDrive is such a user-friendly cloud storage especially if you've been using Windows for a long time but even if you don't, you'll still find it easy to navigate through its online interface without getting lost.
How to Map OneDrive as a Network Drive
In our previous tutorial, we've shown the steps in mapping a folder from a specific drive as a network drive so that other stations that are connected to the same network can access it but that method of sharing doesn't only work for offline folders.
It can also work for a OneDrive folder and that's what we will be learning about in this tutorial. To start, you will simply need to open your online OneDrive storage account on your favorite browser. Once it opens, just right-click on the folder that you want to map through your network and for illustration purposes, we will be using the "Files" folder which is found on the navigation pane at the left as shown on the screenshot below.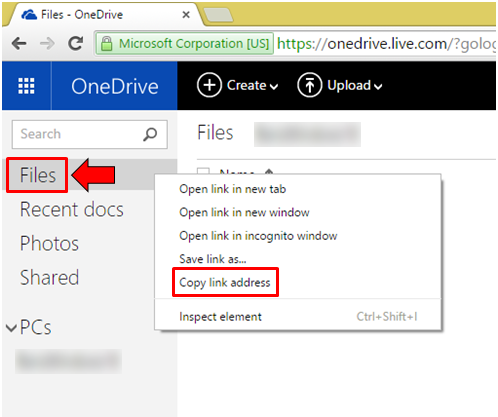 After right-clicking on the folder that you would like to map as a network drive, there will be a right-click menu that will appear where you will simply need to click on the option that says "Copy link address" as highlighted on the screenshot above and open a Notepad then press the CTRL + V in order to paste the link that you have copied or simply right-click on the empty space of the notepad Window then hit "Paste" from the right-click menu that will appear.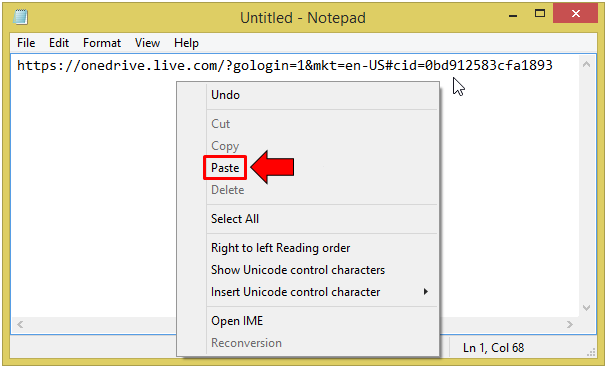 Now that the link address is already secured in Notepad, it is time to map the drive so it will appear in all of your other devices that are connected to one common network. To start, you will need to open File Explorer first by pressing the Windows + X keys an clicking "File Explorer" from the WinX menu that will appear as shown below.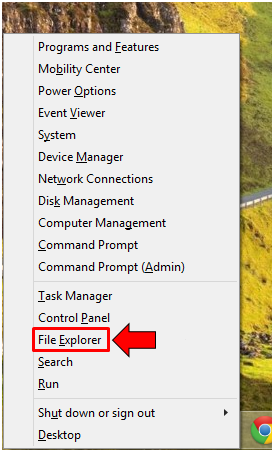 Once the File Explorer Window opens, simply click on the "Computer" tab that is located on top and hit "Map network drive" from the options ribbon that will appear just below it as shown on the screenshot below.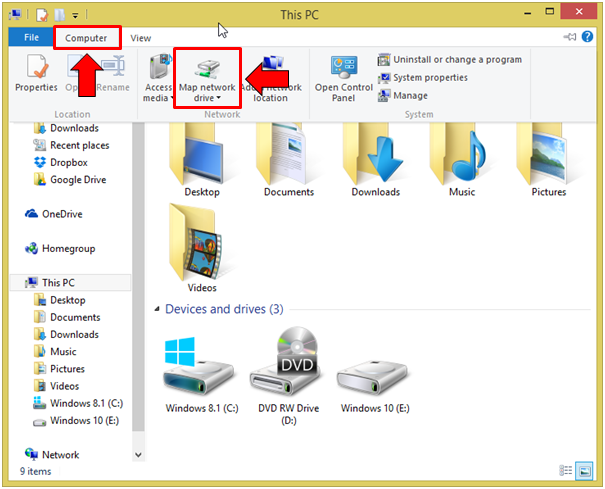 Now, the "Map Network Drive" wizard will open and from here, you will simply need to choose a drive letter that you want to assign to the Network drive that you will be creating by clicking inside the box and choosing your desired letter from the drop-down options that will appear. If you don't choose a specific drive letter then it will just be assigned as drive "Z:".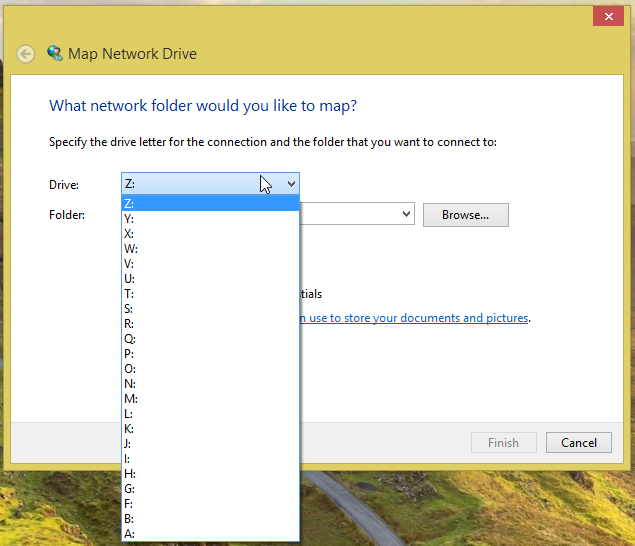 After assigning a drive letter, you will now need to copy the link that you have pasted into the Notepad earlier then paste it inside the "Folder" input box which is located just below the "Drive:" input box as highlighted below but don't click on the "Finish" button yet because we'll do some editing on that link first before finally proceeding to the next process.
To edit the link, simply remove all the other characters in it including the "=" symbol so that the alphanumeric characters which is unique to your OneDrive account are the only ones that remain. See example below.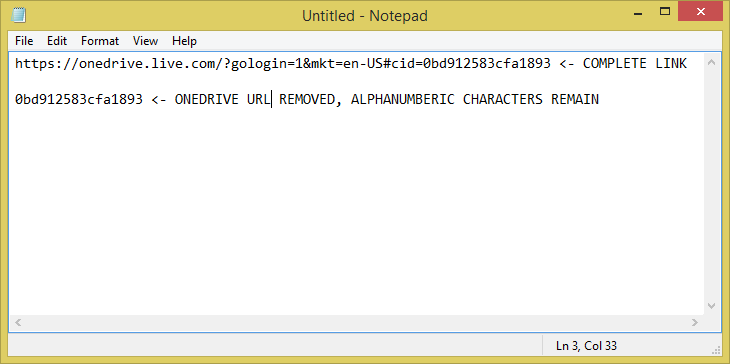 Now, when the alphanumeric characters located at the last part of the link are the only ones that remain, you will need to add "https://d.docs.live.net/" before it so it will appear like the link shown below.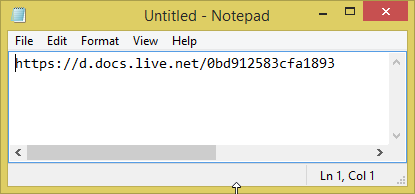 Once you're done editing the link this way, you will need to copy it into the "Folder:" input box of the Map Network Drive wizard so it will now appear as shown below.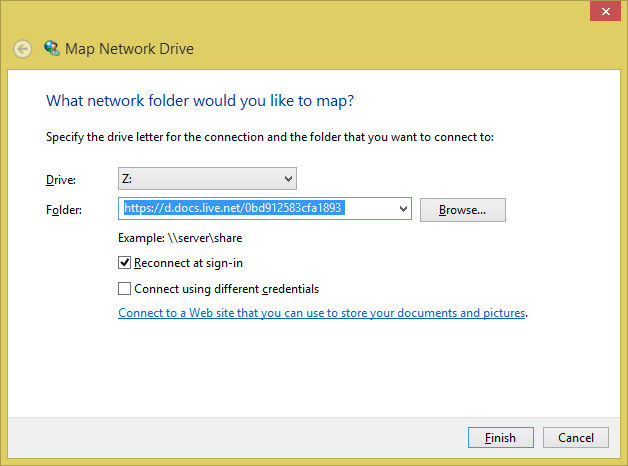 Now, you can finally click on the "Finish" button that is found at the bottom-right portion of the "Map Network Drive" wizard and you will just need to enter your account password to confirm the process. Once it is successful, you can already access your OneDrive folder directly from File Explorer and it will also be shared with all the other devices that are connected to your network.
Be Careful of Who You Share It to!
Now, just like any other folder that contains important files, your OneDrive folder might also contain some important stuff that should not be accessed by others. If this is the case, be sure to choose the people whom you're going to share it to. It is best to map a drive in a home network and we would advice that you avoid doing this at work or in any other public network.