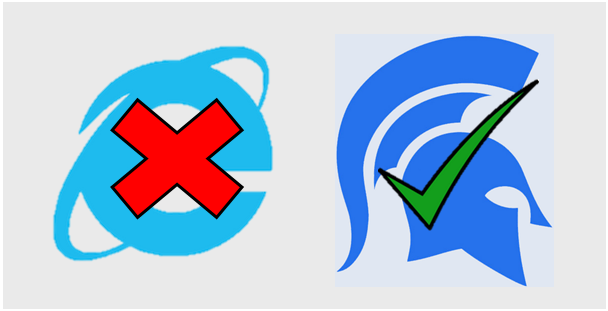 Browsers are probably one of the most important programs in every computer no matter what operating system is installed in it. In the age of information, there really is nothing more important than getting access to the Internet and this would be utterly impossible without browsers.
Through the years, Microsoft has always included a browser in all of their Windows operating system release at least starting from Windows XP onwards. This browser is called Internet Explorer and it proved to be a big success when it made its debut in 2002.
Back in those days, there were no serious rivals that could threaten its survival and almost all of the Windows users really preferred using it than the less known ones which were available.
However, all the things that had to do with its success suddenly saw a permanent decline when Mozilla Firefox and Google Chrome entered the scene in 2004 towards 2008 respectively. Since these browsers offered better features and relatively faster browsing speeds than Internet Explorer, users then started to use them over the sluggish Internet Explorer.
At present, Internet Explorer only has around 8 percent of the Windows users who are really using it for browsing. This number is really very small compared to the users who have Firefox and Google Chrome installed as part of their browsing routine.
This statistic has now led to finally having the browser retire from being part of the Windows operating system as Microsoft recently announced about a new breed of browser that they are currently developing to replace the old and almost forgotten Internet Explorer.
What's Behind the Trashing of Internet Explorer?
There are billions of Windows users around the world at present but why is it that there's only a small fraction of them who really use Internet Explorer until now? Well, there could be varied answers to this but when we asked some Windows users why they prefer other browsers than Internet Explorer, we've got the following items as their answer.
The browser is really slow compared to Google Chrome.
Some settings in it are overly complicated and confusing.
The way tabs open is annoying and takes a serious amount of time to load webpages in slower Internet connection speeds.
It's not my kind of Internet browser!
Add-ons take too much space and make browsing speeds slower than normal.
It's far behind Google Chrome in everything!
I didn't even know it existed in my computer until now.
These answers came from different people belonging to different age brackets. Some have seen Internet Explorer evolve through the years while others only found out about its existence recently when they learned to use a PC. Most of these Windows users really gave negative comments on the browser and while most of these drawbacks were removed in Internet Explorer 11, they still didn't bother taking a look and checking out the browser even once because a their minds are already conditioned into thinking that the browser is nothing more than a tool that can be used to download Google Chrome or Mozilla Firefox.
This is a perfect example of the popular saying that "First impressions really last" and sadly for Internet Explorer, this first impressions have really resonated in the minds of Windows users and now, after decades of its existence, it will finally be laid to rest to give way for a better browser that's going to be part of the upcoming Windows 10 operating system version.
So What's Going to Replace Internet Explorer?
Since Microsoft's announcement about the upcoming release of a new breed of Windows operating system that would be named Windows 10 last January, they have also given some hints about a new browser that's going to take the place of Internet Explorer in this modern Windows build. The browser is now on its development stage and is called "Project Spartan".
When asked about the exact name of the browser, Microsoft representatives said that they are still to name it and are now in the process of really thinking for the best label that they can give to the browser and the name of the company (Microsoft) would surely be part of its label to help users identify it easily just by seeing the tech giant's name.
Will Internet Explorer Suddenly Disappear from My Windows Machine?
When programs and software retire, they don't really need to suddenly disappear from the computers that they are installed into as if taken by a rapture event. They still continue to exist but updates and other support from its makers would stop.
The same thing will happen to Internet Explorer. While most versions of the upcoming Windows 10 operating system would not have it any longer, it will still continue to exist in the other versions of this operating system like the Enterprise and other releases made for businesses for compatibility purposes.
Other users can also continue to use it without fearing that it would suddenly disappear or become troublesome. This would not happen at all because it is a browser that is designed to work smoothly with the Windows operating system platform.
Even in Windows 10, it will still be possible to use Internet Explorer by downloading it from third party sources by you need to be careful not to catch any malware or virus during the process.
Other Things to Watch Out For in Windows 10
Aside from the new browser that Microsoft is now cooking for all Windows users, there are also some other features in this new Windows operating system build which are not found in its predecessors. For instance, there's a brand new "Virtual Desktop" features which would surely help you become more productive than ever and a virtual assistant called "Cortana" which Microsoft says to be a lot smarter than other virtual assistants that exists at present.
The Start Menu has also been taken back and is now made even better by making enough room for both your favorite shortcuts that used to be its mainstays in old Windows versions and as well as the modern apps that were introduced in the Windows 8 and Windows 8.1 which stayed on the Start Screen back then.
These and even more features that will be added in the coming days before Windows 10 finally gets to be released as a free update are just part of Microsoft's dedicated effort to really reclaim the trust from users who were really disappointed by the changes done in Windows 8 and Windows 8.1.
A Sad End and a New Beginning
While majority of Windows users at present are not really affected by Microsoft's decision to take Internet Explorer out of the scene, there will still be others who really love the browser that would suffer. To them, it would be a sad end for an Internet browser that has served its purpose and struggled hard to keep its position through the years but this just marks the beginning of a new era for Microsoft!
As the company flexes its arms to really close the gap that separates them from competitors, users should also expect nothing but the best from the tech giant that created the most popular computer operating system which has been ruling the world for many years!