In our previous tutorial, we have discussed how you can actually hide the "Get Windows 10" app icon from the System Tray section of the taskbar and if you were able to read it, you have surely seen that the process was very simple. You might be wondering why we included a tutorial like this especially if you are really excited to get Windows 10 loaded into your computer but the sad fact is that there are also a few users who don't want to move to this newest Windows operating system version that's coming out officially on the 29th of July.
We have been receiving a lot of questions asking about the process in removing this app icon from the taskbar so we have decided to dedicate one article and show the steps in doing so. If you are one of those who really want to avoid seeing the "Get Windows 10" app icon on the System Tray then here are some steps for you to follow in removing this icon from the taskbar.
Why Does the Icon Automatically Appear on the System Tray?
The process that is mainly responsible for making the "Get Windows 10" icon appear on the taskbar is called "GWX.exe" and it set to automatically run as a background process after your computer boots up. That's how Microsoft programmed the app but it consumes very minimal system resource so you don't need to worry about it affecting your machine's performance.
The app itself is listed under the "scheduled tasks" section of the Task Scheduler Window as you can see on the screenshot below.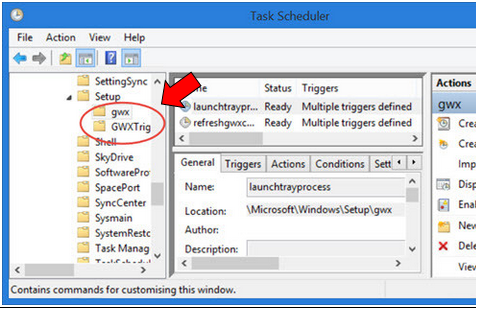 Now, if you have already reserved for your FREE Windows 10 upgrade but want to hide the Get Windows 10 icon from the System Tray, you can follow the steps that we have shown in our previous tutorial. Hiding the  icon is pretty simple and it should take a little time for you to figure it out. However, if you really want to disable or totally remove the app from your computer, you will need to follow any of the steps below.
Removing the Get Windows 10 Icon from the Taskbar
There are varied methods involved in removing the Get Windows 10 icon from your taskbar and the simplest one is by uninstalling the update that is responsible for having it loaded to your machine. To access the Control Panel section where the updates are found, you will simply need to open the Control Panel Window first and once your are on it, click on the category that says "Programs".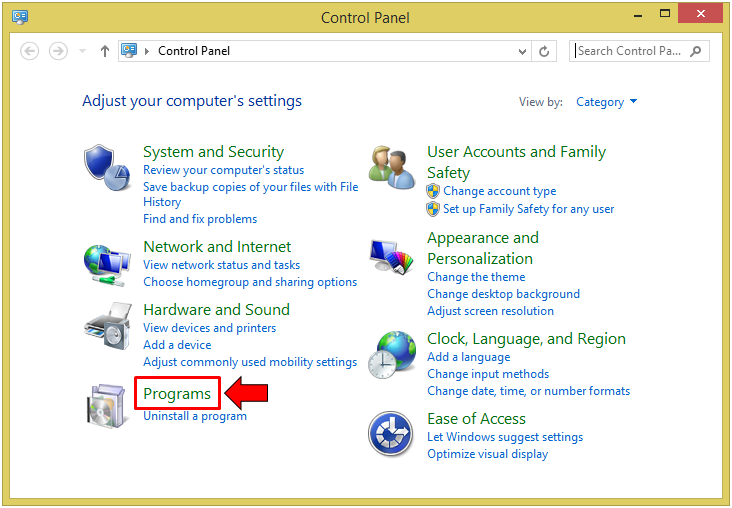 Now, on the Window that follows, you will find that there are only two other subcategories under the "Programs" main Control Panel category. From here, you will need to click on the one that says "Programs and Features" so you can enter the list of programs and other software that are installed into your computer.
From this Window, you will need to pay attention to the navigation pane that is located at the left-hand portion and from there, click on the link that says "View installed updates" as highlighted on the screenshot below.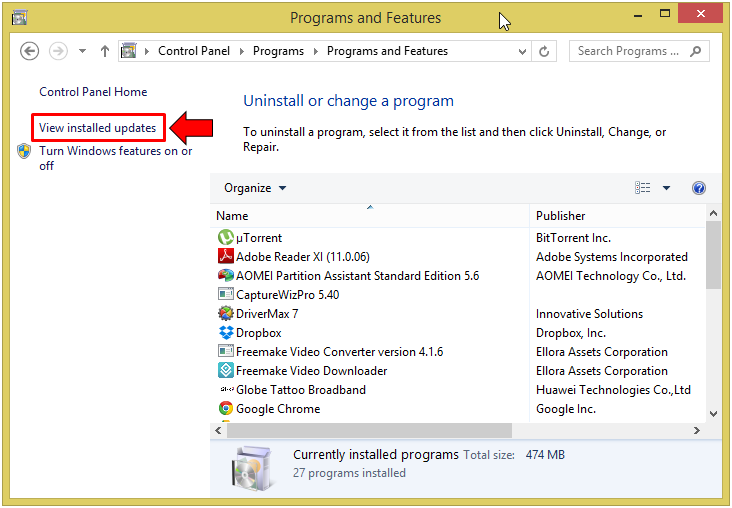 After you do so, the Window that shows all of the updates that have already been installed into your computer will open and from here, you will simply need to enter "KB3035583" into the search input box that is found at the top-right portion of the Window as shown below.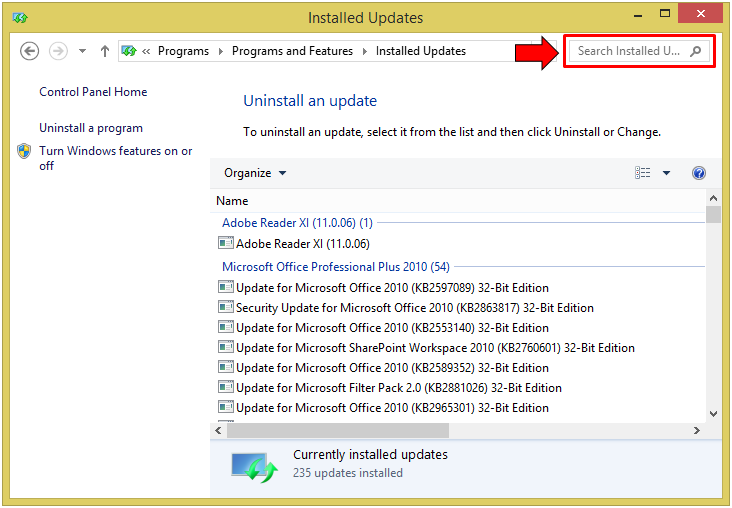 Now, you will need to enter the update code which is "KB3035583" into this search input box and after it is entered, simply wait for a few seconds for the search result to appear on the main updates pane as highlighted on the screenshot shown below.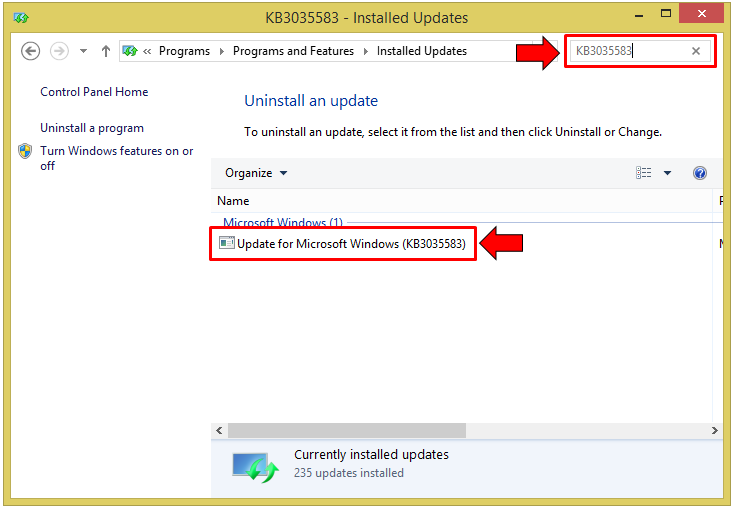 Once you see the update in then updates pane section, you will need to uninstall it. There are two ways in doing this from this Window, first, you can simply click on the update itself so it gets highlighted and after doing so, you will see an "Uninstall" button on its top portion which you need to click in order to initiate the uninstall process.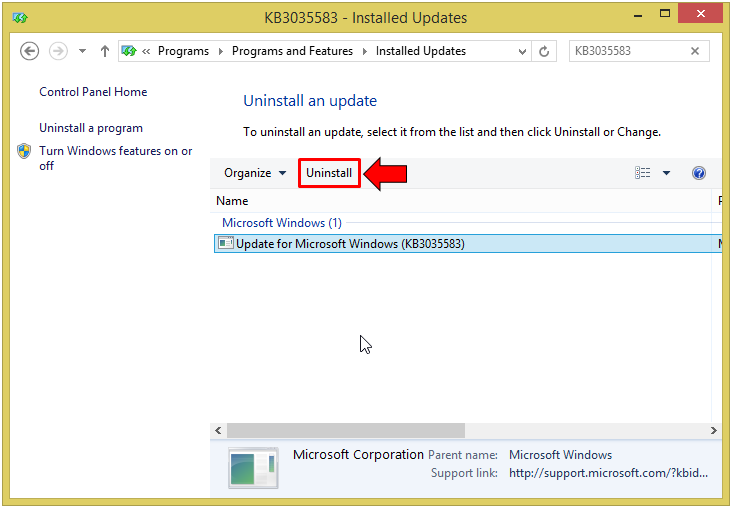 Alternatively, you can also uninstall the update by right-clicking on it and  after you do so, an "Uninstall" option will appear inside a box which you will need to click in order to initiate the process.

After the update is uninstalled, you will simply need to restart your computer and once it boots up again, the app icon should no longer be on the System Tray section of your machine's taskbar. However, it will still be offered back by Windows Update in future update schedules and it will be installed again so the best way for you to do is to "Hide this update" from the Windows Update section so it will not be installed automatically again.
You will also need to uninstall the update with code name "KB2976978" which is responsible for the reservation of the "Get Windows 10" update "KB3035583". Again, if you just want to hide the icon, you can do so by moving it into the hidden icons section of the System Tray as we have shown in detail on our previous tutorial but if you want to remove it, you will need to uninstall the updates that we have mentioned above and reboot  your computer to apply all the changes.
Why is Microsoft Promoting Windows 10 to the Point of Giving it for FREE?
Microsoft has made it crystal clear that they are making some great improvements and innovations with how Windows works solely because they want to get on track with its competitors. All of the mobile operating systems and other desktop OS brands offer updates and OS upgrades for free and so the company is also moving into this idea with its flagship operating system.
Windows 10 is also designed to work seamlessly across devices which is a great opportunity for business especially in terms of subscriptions to Microsoft-owned services and other company-owned brands like Xbox, Skype and others. They have seen that making Windows as their main player in promoting this will be more effective since majority of the world's population are using Windows PCs and laptops.
With this move coupled with Windows 10's streamlined features for mobile devices such as smartphones, tablets and even hybrid devices, Microsoft hopes that everyone will move to the "best Windows yet" by having it offered as a free upgrade.
We will see how this new strategy would fare starting on the 29th of July when the upgrade would finally be rolled out to all qualified users (those who are using genuine Windows copies) and even to those non-genuine users a day or two after its official release. For now, you still have to make up your mind if you really want to upgrade to Windows 10 for free or just ignore it, see how users would react to it and finally make the decision to move once you've read enough reviews about the new operating system
We've published a handful of articles and tutorials about Windows 10's Technical Preview version which might be of interest to you so please feel free to browse through our "Software News" or "Windows System" archives category to find these tutorials.