Sharing and sending files is now a big part of our modern digital-based world where businesses and other processes at work, in school and in almost all aspects of life seem to have been engulfed by the Internet and computers. While these innovations clearly caused a significant increase in productivity compared to how things were done in the past, the decreasing patience within almost every user  still needs to have a solution in one way or another! This has paved the way to wireless data transfer that was first found wide acceptance in mobile devices using infrared then Bluetooth (which work for wider distances) and now, with Android, Apple and other mobile operating system platforms that has already caught millions if not billions of users around the world, another way in transferring files which takes advantage of wireless networks we all know as WiFi is already gaining widespread acceptance.

But of course, it just would not work by itself without using an app which is called Shareit. The app is available in Android and Apple based devices and of course, since most mobile users also have their own computers, the app has also been made available in PC and Mac! In this tutorial, we will be learning where this app can be downloaded and find out how you can use it in transferring files from your mobile devices to your computer or the other way around so read on and follow the steps that we will showing below.
Downloading Shareit
The very first thing that you need to do is of course downloading the app/program to your Android or Apple device and as well as to your computer. First, we'll show how you can download and install it to the latter. There are many sources where you can get this program from and you can even choose to install the real PC version or install the mobile version to your PC or Mac so without further ado, let's get going and find out the steps in installing the PC/Mac version to your computer.
Installing Shareit Version for PC/Mac
Shareit has become a phenomenon because of its reputation of being the fastest wireless way in transferring files between different devices and since it is available even to computers, it really is a needed program in your Windows machine so you can avoid those long waiting times just to move files from one of your devices to your computer. To get this done, just follow the steps below.
1. Download Shareit for PC
First and foremost, you will need to download Shareit and in order to do this, you will need your computer to be connected to the Internet. Once you are connected, just open your favorite browser and enter the URL below (excluding the quotation marks) into the web address input box then hit the "Enter" button. "http://shareit.lenovo.com/" After doing so, you will then be taken to the official "Shareit" website and from here, you can download the version that you need depending on the device that you want to install it to.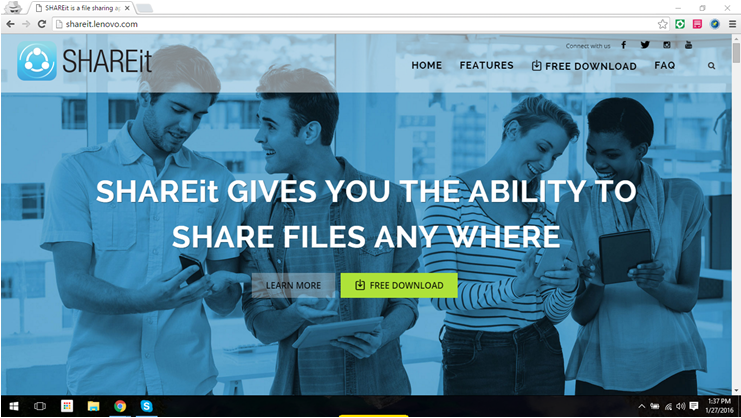 2. Select the Version that You Need
Once you are on the Shareit website, you will simply need to click on the "FREE DOWNLOAD" button and you will be taken to the page where you can select the version of Shareit that you need. From here, just choose "Download for Windows" and the setup file will start downloading right away. How long the download would take depends on the speed of the Internet connection that you are using.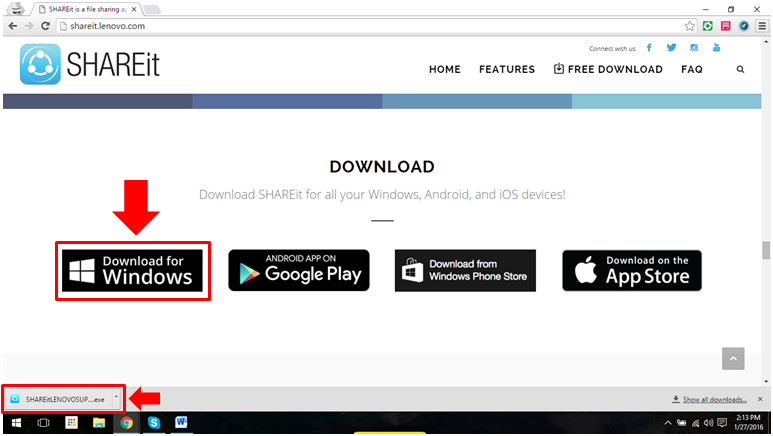 After the download completes, just open and run the setup file, follow the installation steps and voila! Shareit should now be installed on your Windows machine.
Install Shareit to Your Other Devices
Shareit won't work if you don't install it on your other devices. After installing the app into your Windows computer, you will need to install it as well on your Android, Apple or Windows Phone devices so you can move files, photos, music and even videos from your computer to your phone or tablet and the other way around. Shareit can be downloaded quickly from "Play Store", "Windows Store" or the "App Store" so all you need to do is to enter "Shareit" into the search input box of any of these app marketplace (depending on the device that you are using) then get it downloaded and installed into your device!
How to Use Shareit for PC
Now that you already have Shareit installed on your computer, all you need to do is open it so that the the app would initialize. You will then be asked to "Accept" the terms and right after doing so, you will be directed to the screen that looks like the one shown on the screenshot below.
NOTE:
Your PC and mobile device should be connected to the same WiFi in order for Shareit to work. If a WiFi network is not available, you can use the WiFi HotSpot feature of your smartphone (Shareit has an option to do this) and connect your computer to it. After doing so, you will be able to start sharing files faster than doing it using a flashdrive, Bluetooth or any other known method.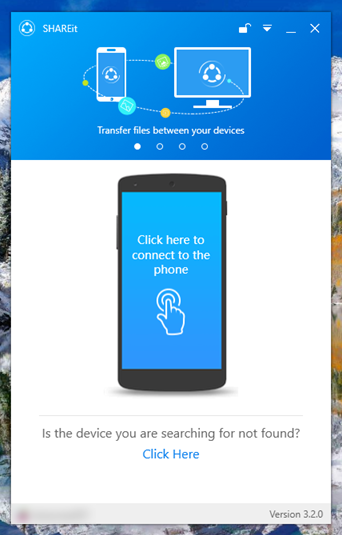 From this screen, you will simply need to click on the smartphone image which contains an instruction that says "Click here to connect to the phone" and after doing so, you will be taken to the screen that appears exactly like the the one below.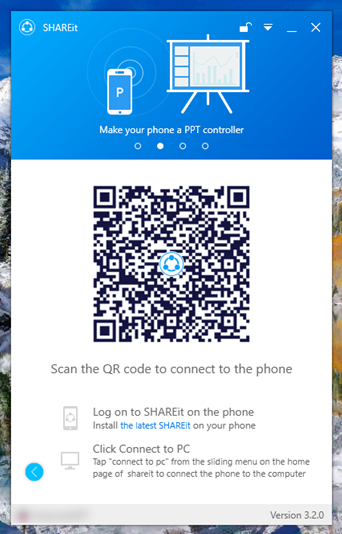 If you want to connect a phone that runs on Android or iOS platform, you will need to install the latest Shareit version to it and scan the code that is being shown above. To do this on your mobile device, simply open Shareit then click on the profile picture that you have selected when you first used the app as highlighted below (taken from a mobile device).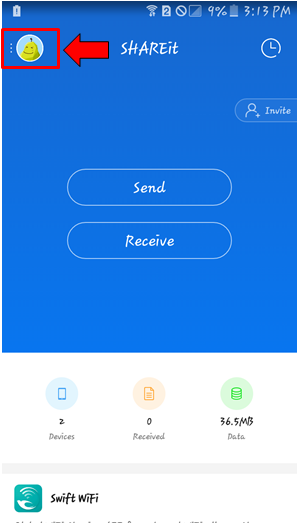 After doing so, you will be able to access the settings for Shareit on your mobile device and from here, you will need to click on the "Connect to PC" option as shown on the screenshot below.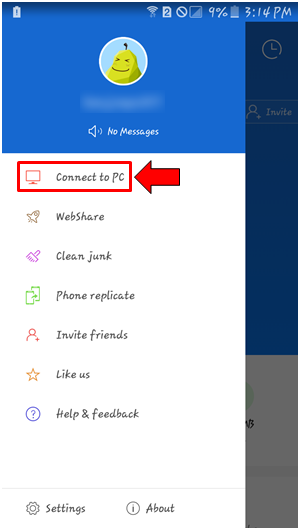 After clicking on the option, you will need to place your device in front of your computer screen and make sure that the QR code which appears on the Shareit app on your computer is being captured by the box section of the QR code scanner in your phone. After this, your computer and your phone will be connected automatically with Shareit and you're all set to move anything between your Windows machine and mobile device!
Moving Files from Your Computer to Your Mobile Device
Once your devices are connected with each other, you can now start moving files like documents, photos, music or even videos from your computer to your mobile device. To do this, you will simply need drag files towards the Shareit app screen or you can also click on the "Pictures" or "Files" button and start browsing through your computer's libraries in order to find the file that you want to send.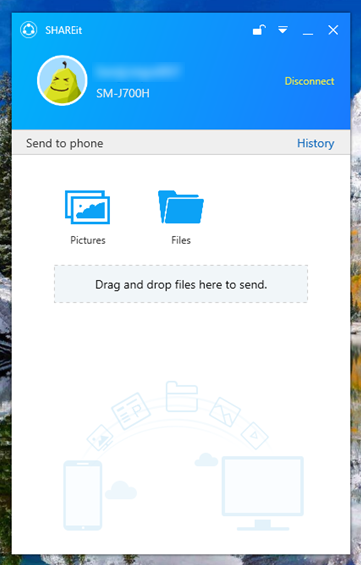 You can also send files from your mobile device to your computer and everything works almost the same. Just look for the files that you want to send and they will automatically be sent towards your Windows machine in no time! It's truly the fastest way in sending files across devices running on different platforms!
Shareit Can Do Even More!
By having your mobile device and your computer connected with each other through Shareit, you can now do even more than just transferring files faster. For instance, you can use your phone as a remote control when you're having a PowerPoint presentation or you can even play videos on your phone to your computer's larger screen. You can also cast your phone's screen to your computer screen whenever you want to view photos with more clarity and detail! Do you know any other app that can do the same thing that Shareit does in almost all OS platforms? Share the knowledge with your fellow readers by posting a comment below.