Millions of users have really anticipated the date of Windows 10's Free Upgrade which also marks its final public release and just three days ago, this date finally came! By now, millions of users might have already got Windows 10 downloading into their individual machines and there would even be others like my self who already had this latest Windows operating system version installed in their computers through the Free Upgrade offer and being one of the first users to try it, I'd like to show some of the awesome features that it has in a tutorial series.
But first, let's see some tiny problems that might come to the surface after the upgrade and learn how to solve it. If you have a relatively new computer which had Windows 8 or Windows 8.1 installed in it when you purchased it then the Windows 10 upgrade should go pretty smooth but for older Windows machines that used to run with Windows 7, there are small problems that can be solved easily. Here's one that I've encountered after the upgrade.
Driver for Video Controller Not Automatically Installed
After Windows 10 was successfully installed into my old computer, I immediately noticed the larger-than-normal items and characters on the screen. The display looked like it is zoomed and it doesn't look comfortable to the normal eyes at all. In case this happens to you, here's what you can do.
What I did is I checked on the list of devices and hardware that composes my computer. To access this section in your new Windows 10 computer, simply open File Explorer then right-click on the "This PC" link that is located at the left navigation pane and after doing so, a right-click menu will appear where you will simply need to click "Properties".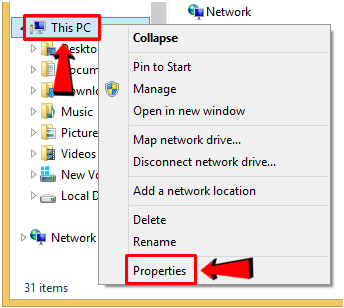 After hitting the "Properties" option, you'll see the "System" Window open which shows some details about the version of Windows that is installed on your computer and as well as the RAM size, processor speed and many other details about your machine. On this Window, you'll need to put your attention on the navigation pane that is located at the left hand side and from here, simply click on the link that says "Device manager" as highlighted on the screenshot below.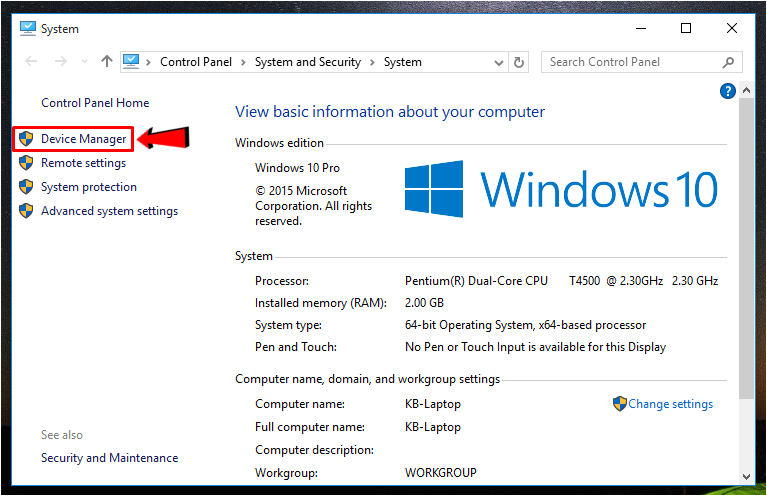 You will then be able to open the "Device Manager" Window which lists all the hardware and devices that are installed on your computer and from here, just look for an item that says "Other devices" and under it, you should be able to see "Video Controller" which has an icon with a yellow triangular overlay on it containing an exclamation mark.
In order to fix the problem with the larger-than-normal display, all you need to do is update and install the driver for this "Video Controller" device. To do this, you'll need to be connected to the Internet and after making sure that a stable network connection is existing, simply right-click on the "Video Controller" device and hit "Update Driver Software…" from the right-click menu that will appear.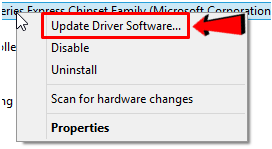 Now, the "Update Driver Software" Wizard will then appear on the screen and you'll see two options for installing the right driver for the "Video Controller" device that is not working properly. From these two options, just click on the one that says "Search automatically for updated driver software" as highlighted on the screenshot below.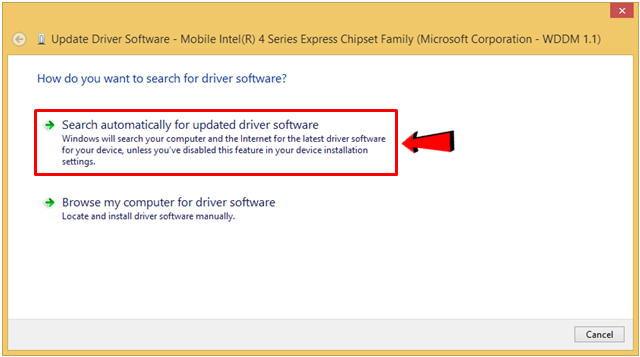 After clicking on this first option, the wizard will then start looking for the updated driver from the Internet in order for your computer's "Video Controller" device to work properly and fix the "larger-than-normal" screen appearance and resolution. The process might take several minutes but if you have a relatively faster Internet connection then the whole process will be quick.
Once the wizard has already found the right driver software for the troublesome "Video Controller" device on your newly upgraded machine, you'll see that it will automatically install the device and you will know it because the label of the progress bar will say "Installing driver software…" as you can see below.

Installing the driver should not take very long and during the process, your computer screen might flicker for a few seconds. Once the driver is installed, your machine's screen resolution should be fixed and show everything in its normal size compared to its previous larger-than-normal screen resolution configuration. The wizard will also show a message that the driver software has successfully been installed for the problematic "Video Controller" device.
NOTE:
It is important to let Windows find the right driver software for any device that needs a driver or has an outdated driver to avoid any serious problem that may come as a result of installing faulty and unverified drivers. Problems like your operating system failing or blue screen of death (BSOD) can also occur if you install the wrong driver for a certain device so if you're not confident enough in doing this process, it would be best to ask assistance from a friend or colleague that is more knowledgeable in such things.
Changing the Desktop Background Image
After the Free Windows 10 Upgrade, your computer's Desktop background image will look like the one shown below and if it's not that visually appealing to you then you can quickly change it using some other Desktop background image that are available for Windows 10.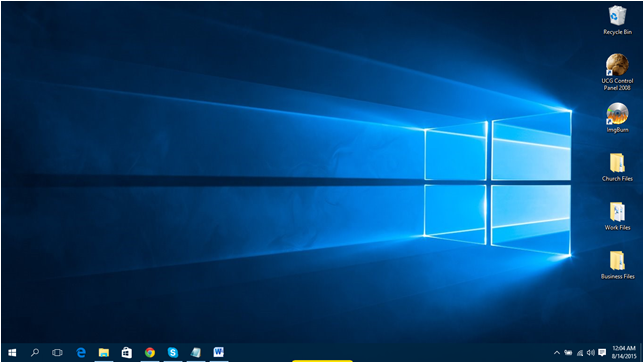 To do this tweak, you will simply need to right-click anywhere on the Desktop screen area and after doing so, you'll be able to see a right-click menu where you will need to click on the option that says "Personalize".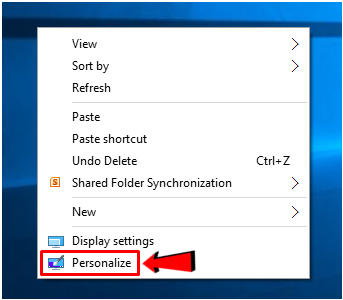 After clicking "Personalize", the modern "Settings" Window will appear and from here, you should be able to see all available Desktop background images that you can choose from.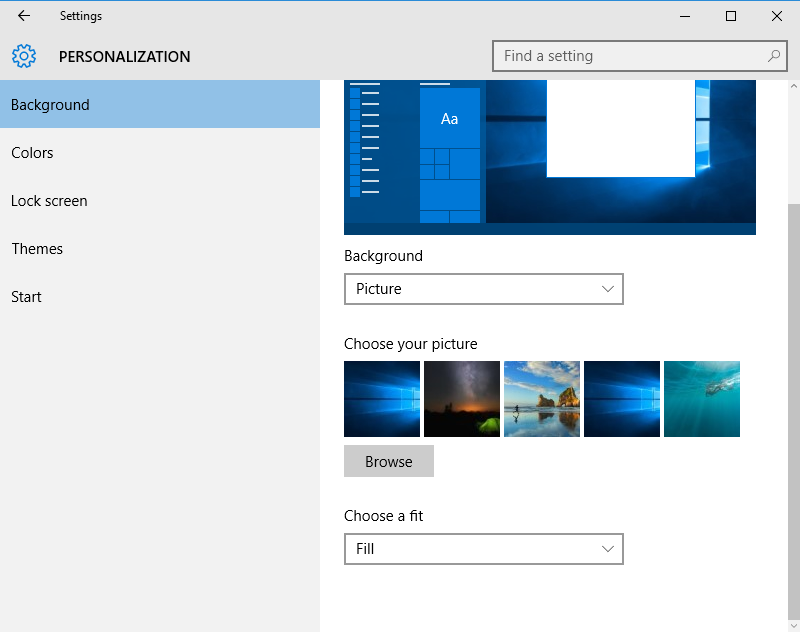 In case you want to use an image that is saved in your computer, just click on the "Browse" button then look for your desired image from your machine's libraries, select it then  click on the button that is labeled "Choose picture" located at the bottom-right portion of the "Open" Window.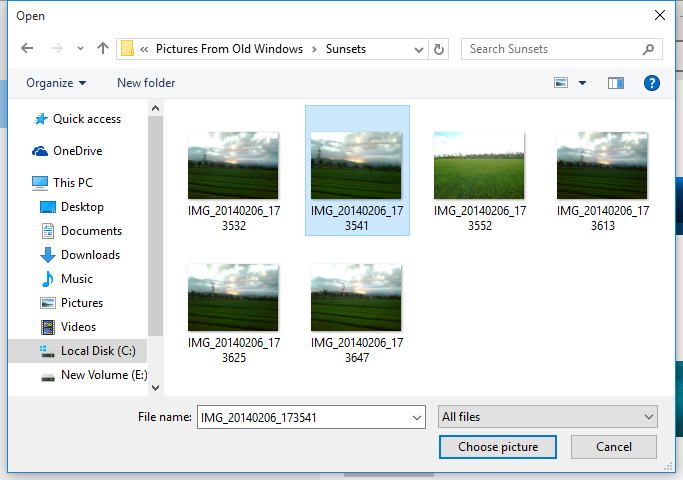 After choosing a different desktop background image, it will automatically be applied to your computer's Desktop screen without clicking any other button to confirm the process.
Clear Some Space on the Taskbar
One of the new features in Windows 10 is the "Search" box that appears on the taskbar by default. This new feature is very helpful if you know how it is used but if you just want to stick with the traditional taskbar and avoid the space-consuming search box the all you need to do is right-click on an empty space on the taskbar and after doing so, a right-click menu will appear.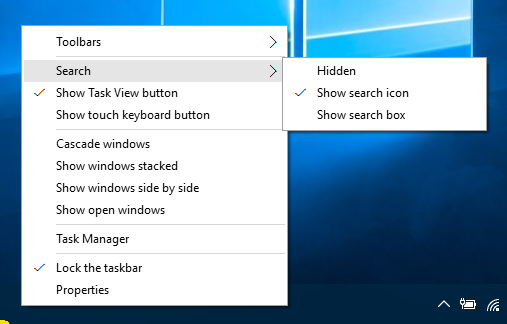 On this right-click menu, simply point the mouse over to the "Search" option and you'll see another set of options on a separate box. From here, you will simply need to click on "Show search icon" or if you really want to hide the "Search box" or the "Search" icon then hit the "Hidden" option.

After doing so, the taskbar will appear the same as how it appeared in Windows 8 and Windows 8.1 and the space-consuming "Search" should now be lessened to a "Search" icon as you can see on the screenshot above or even be hidden from the taskbar in case you selected the "Hidden" option.
What's New in Windows 10 Coming Up!
As you can see, fixing some minor problems with the new Windows 10 that has just been released to the public yesterday is really easy and in our next tutorial, we will be looking into some of the brand new features that are found in this newest Windows edition dubbed as "the best one yet". Are you having problems after doing the Free Windows 10 upgrade? If you do have problems in some aspects of your computer then please feel free to share it with us and we'll do our best to assist you with it.