In our previous tutorial, we've shown the first four tweaks and tricks that can be done in OneDrive's online account access feature but there are still more to discover about this free cloud storage service offered by Microsoft to all users who are using a device that runs on a Windows operating system.
OneDrive offers 30GB of storage space to all Windows users and comes fully embodied with Windows 8, Windows 8.1 and with the upcoming Windows 10 operating systems. So what else can you do with OneDrive while you are logged in to your online storage account? We will be showing them in this tutorial so be sure to follow the steps that we will be showing below on your own Windows 8 or Windows 8.1 computer.
5. Download, Share and Embed: What Are These Options For?
When you right-click on a certain folder or file that is saved in OneDrive, you'll be able to access the options that are available for it. From here, you'll see "Open", "Download", "Share" and "Embed". You surely know what the "Open" option is for but what about the other three? Let's go over into the uses of these options so you can take advantage of them whenever the need arises.
Download- In your online OneDrive storage account, you might have some files which are shared to you by your friend or colleague that you want to save into your computer. To save files or folders that are shared to you or even those that you own but are not synced to the OneDrive folder in your machine, all you  need to do is right-click on the file and Folder and hit the "Download" option as highlighted on the screenshot below.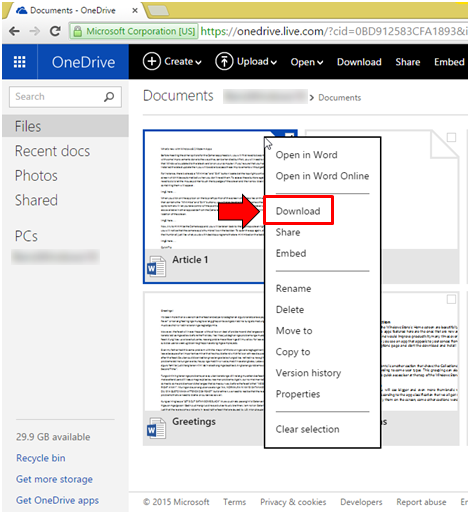 Share- Next, just below the "Download" option is another one that says "Share" and when you click on it, you'll be able to get access to a screen where you can enter the names of the people on your contacts and friends list that you'd like to share the file with.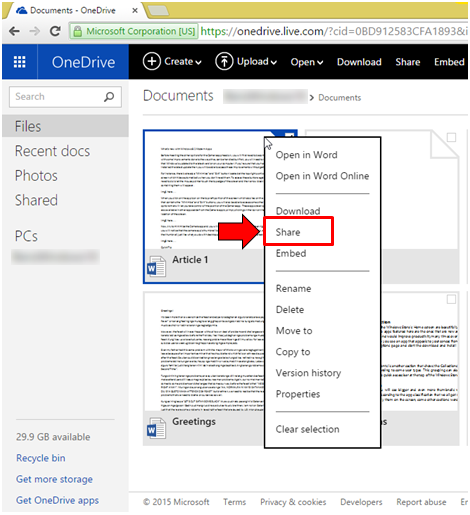 From this screen, you'll also be able to add a custom message by typing it into the box provided. Once everyone is included in the recipients list and the message already typed in, you can share the file by hitting the "Share" button located at the bottom or do some other changes as demonstrated below before sharing the file/s.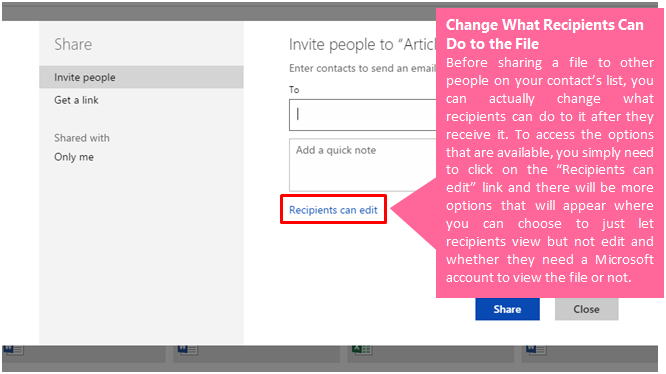 Now, in case the people that you want to send the file of folder to are not using the emails that are saved in your computer's People app then you can simply choose to send out a link to the file or folder instead. To do this, you will simply need to click on the "Get a link" option that is located on the left as highlighted below and on the screen that would display, you can first choose what recipients can do to the file/folder (View only, Edit) or you can also make it "Public" and once you're done making changes on this aspect, simply click on the "Create" link button, copy the link that will be created then include it in the email that you will be sending to the people you intend to share the file/folder to.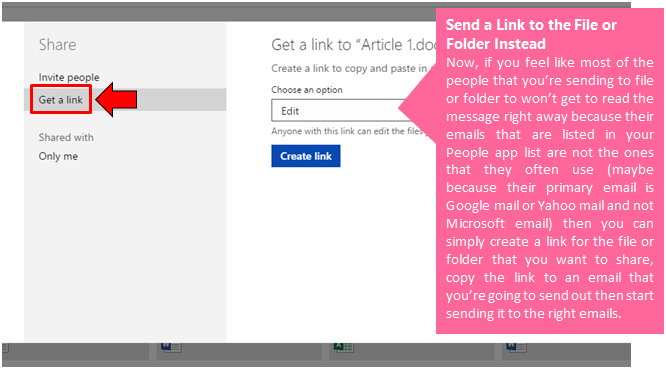 Embed- Finally, we come to the last option that belongs to the group. It is labeled "Embed" and is used whenever you'd like to embed a file or folder into a blog or your personal website. To use this feature, you will simply need to click on the "Embed" option found on the right-click menu as shown on the screenshot below.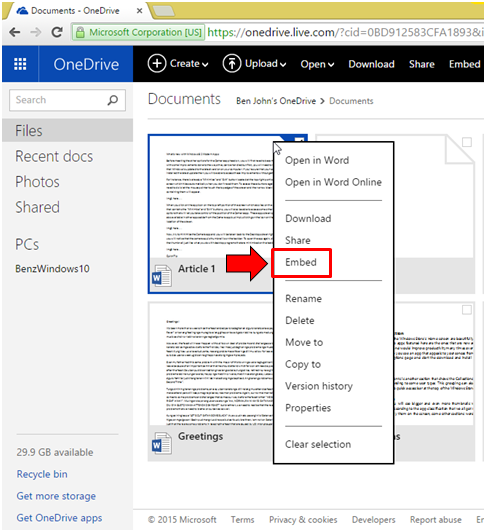 After the option is clicked, you'll see a screen that tells you what the "Embed" option does and how you can use it. From this screen, you will also see a note that says the file would which you are about to generate an embed code for will be visible to everyone who is going to access the blog or website where it will be embedded into even if they are not logged in to their Microsoft account. If this is okay with you, just click on the "Generate" button and an HTML embed code will be generated which you can now use to place and display the file into your blog or website.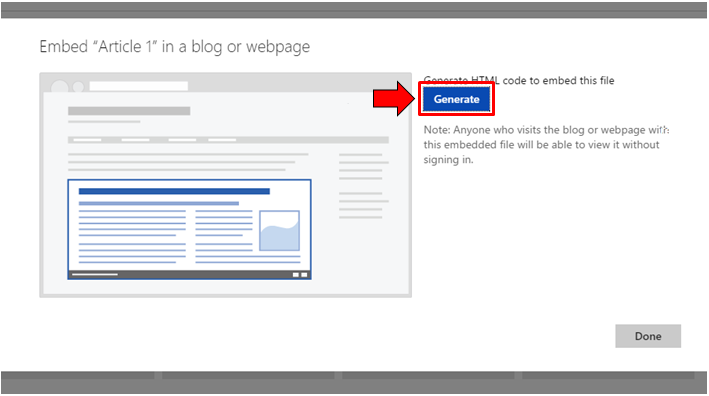 After copying the Embed code that was generated after you clicked the "Genarate" button, you can exit from this screen by clicking on the "Done" button that is located on its bottom-right portion as you can see on the screenshot above.
6. Access Deleted Files and Restore Them Anytime
Now, while on the browser screen where your online OneDrive storage account is open, you can explore even more and find that the files and folders that are saved in it can also be deleted and the same as deleting files from your computer's memory, the items that were deleted all go to a place called called "Recycle bin". This section is found still on the navigation pane at the bottom-left portion of your OneDrive account screen as highlighted on the screenshot below.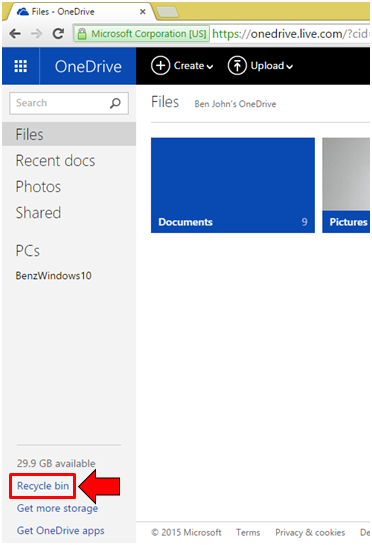 Once the "Recycle bin" section opens, you can simply right-click an item that you want to do some other tasks with like deleting it permanently from the Recycle bin or restoring it back to the OneDrive folder where it used to be located.
7. Other Places Where You Can Find the File and Folder Options
Now, aside from right-clicking on a certain item in your OneDrive online storage account in order to access the options for them as we have shown above, you can also just select a file or folder by clicking on it and all available options will appear on a black tab located on top as highlighted on the screenshot below.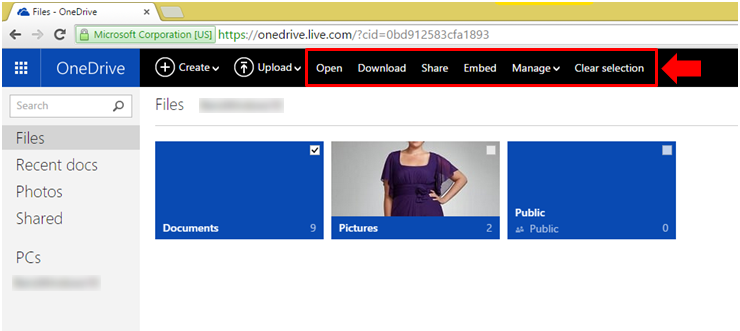 Your OneDrive online account has almost an endless set options available in it and the list doesn't just end with this seventh item that we've shown here. We'll be showing more about OneDrive in our next tutorial for the Windows 8.1 OneDrive article series so be sure to catch it only here on WindowsTechies.com!