In the first two parts of our OneDrive Online Cloud Storage Account access tutorial series, we've shown some of the most basic yet very important buttons and options that you need to get acquainted with so you can start doing wonderful things within this safe place for all your crucial files, photos and other stuff.
The files saved in your OneDrive Online Cloud Storage account is also in a very convenient location that allows syncing of everything to all the other Windows devices where you are logged in using your Microsoft account.
OneDrive is by far one of the most useful tools that has ever been incorportated in every Windows computer in our modern day and age. It helps accessing and bringing files a lot easier while diminishing the possibility of having them lost accidentally for any reason.
In this last part of our OneDrive Online Cloud Storage Account access article series, we will be showing the rest of the options and other tweaks that you can do to your online OneDrive account so be sure to have your Windows 8 or Windows 8.1 machine ready and follow all of the steps that we will be showing below.
8. Get More OneDrive Storage Space
After seeing how good OneDrive works in storing some important files and other stuff, you might want to take its use to the next level so it can handle even more of your important files not just the personal ones but also those that are related to your work or business.
This would mean that you will need to add more space to the free 15GB of storage that you actually receive when you start using the service and another 15GB if you start saving your photos that you've taken from your device's camera into OneDrive. To do this, you will simply need to click on the "Get more storage" link that is located at the bottom-left portion of your OneDrive account as highlighted below.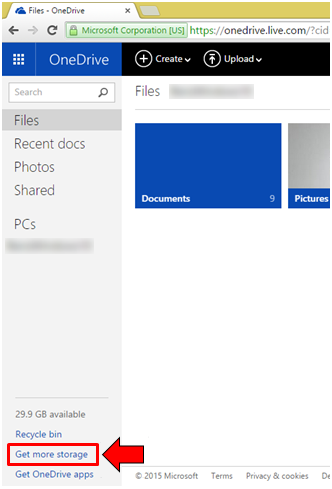 The webpage that follows will show you the breakdown of the available storage that you have in your OneDrive account. As you can see, OneDrive offers 15GB as free storage and 15GB of bonus space if you start using OneDrive to store your photos from your device's Camera roll. You can also get 0.5GB free space by referring other friends to use OneDrive (maximum of 5GB for referrals). To do this, you will simply need to click on the "Get free storage" button as shown below. You can also purchase more space in case you really need it.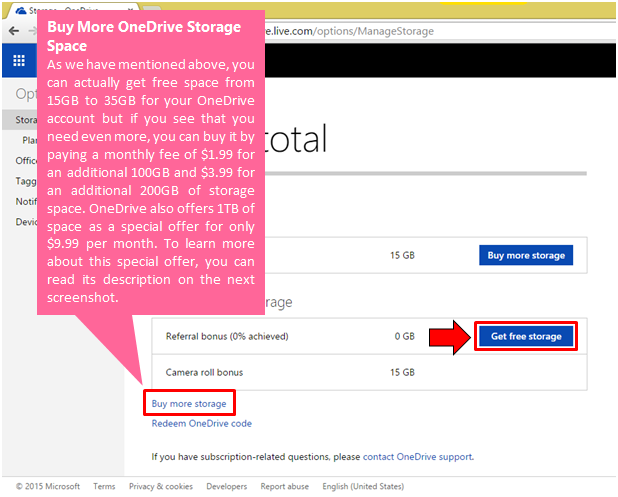 Now, if you think that the 35GB of free OneDrive storage isn't enough for your needs, you can simply click on the "Buy more storage" link as highlighted on the screenshot that is shown above and after you do so, you'll be taken to the screen where you'll see the available storage "Plans" that you can choose from.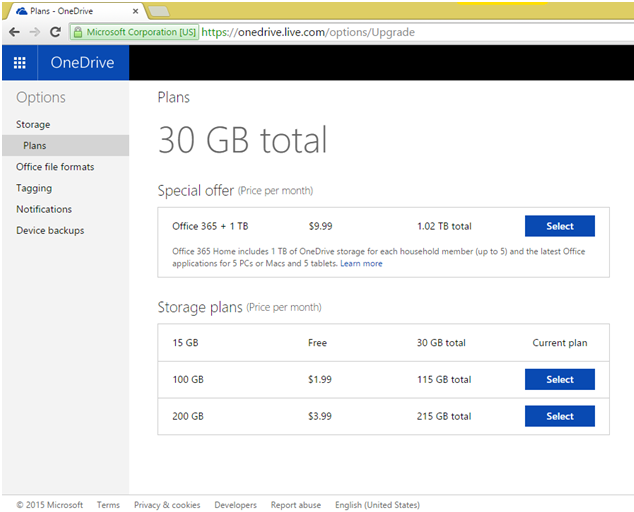 9. Get OneDrive Apps
Now, there are some other Microsoft Apps that actually work seamlessly with OneDrive and you can download them to your Windows 8.1 computer. To get a view of what these apps are, you can simply click on the "Get OneDrive apps" link as you can see highlighted on the screenshot shown below.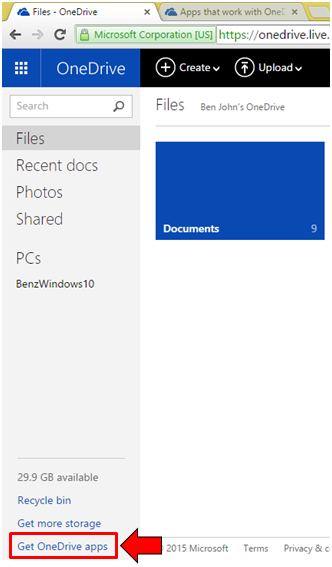 After clicking on the link, there will be a new tab that will open which will show you all available apps that you can download which all work well with OneDrive. Most of these apps allow users to create notes, sketches or save some bookmarks and other important files directly into OneDrive so if you need you need an app that does any of the tasks mentioned then feel free to download and install the one that you find from this webpage as shown below.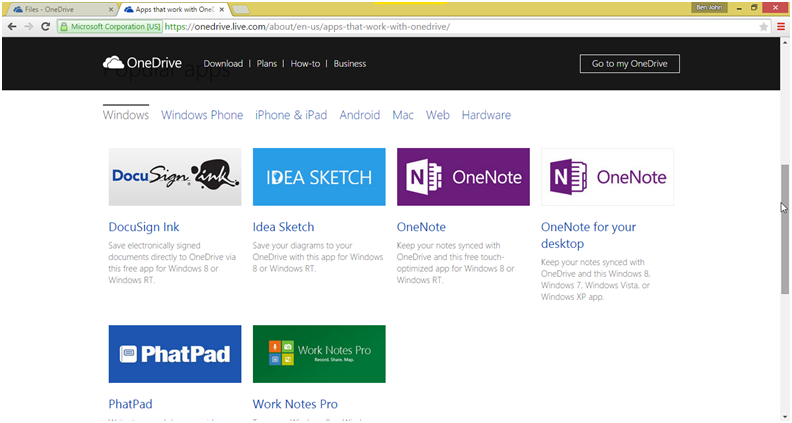 10. Change How Files are Arranged/Sorted
While on the main screen of your OneDrive online storage account or while a folder's contents are displayed, you can actually change how files are sorted or arranged so you can easily find the ones that you are looking for. Doing this is pretty simple, just click on the small arrow down icon that is located at the top-right portion beside the label that says "Sort by" as highlighted below and a drop-down options box will appear where you can choose how you want the files and folders to be arranged.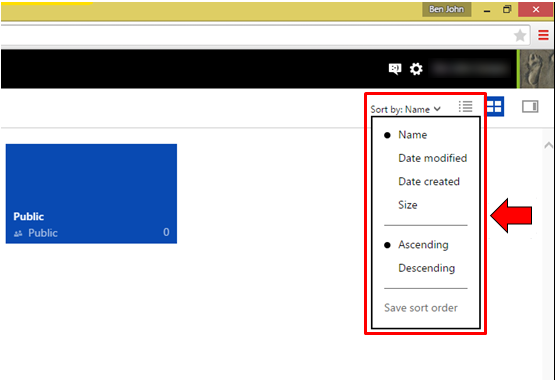 As you choose a different sorting rule, the files and folders that are displayed on the screen will rearrange according to it. You can also choose to save files in Ascending or Descending order. Once you're done choosing the sorting rule that you want, its time to get into some other tweaks that you can do in how files and folders appear on the screen.
11. From List to Thumbnails
The files and folders that appear on the screen can also change in appearance. For instance, if you feel like scrolling through files and folders that appear in "Thumbnails view" takes too much time, you can simply change the appearance of each item into the "Details view". To do this, you will simply need to click the button that is highlighted on the screenshot below.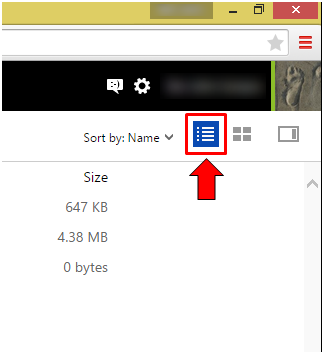 The "Thumbnail view" button is the one that is located just beside the "Details view" button (to the right) as you can see on the screenshot above. When the items on your OneDrive storage are in "Details view", they will appear like the ones shown below. The default view for all the files and folders that are saved in your OneDrive cloud storage account is the "Thumbnails view".

12. Letting the Details Pane Appear and Disappear
There is also a button that allows you to view the details of a certain file or folder that you have selected but it is hidden in OneDrive's default settings. To make the "Details Pane" appear, you will simply need to click on the button that is located at the right-most portion of the are where the sorting and view settings are found as highlighted below.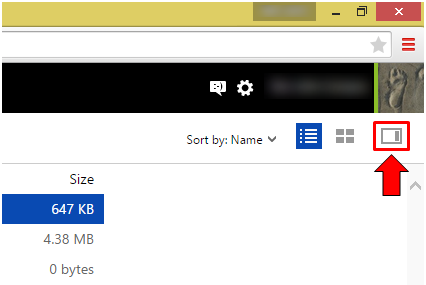 When the "Details pane" is displayed, some important details about a selected item (file, folder or photo) such as "Type", "Size", "Modified" and many others will appear at the right as shown on the screenshot below. To hide the "Details Pane", all you need to do is click on the "Details pane" and the pane will just slide back to the right edge. The Details pane will give you some important information about certain files especially if you have plenty of stuff that have been shared across multiple users.
OneDrive: The All-in-one Cloud Storage from Microsoft
As you can see, OneDrive offers all that you can wish for in a cloud storage service. The best thing about it is that it works perfectly with any Windows device that runs in Windows 8, Windows 8.1 or even in the upcoming Windows 10. OneDrive also supports Android, iOS, and other operating systems available in our day. Start using OneDrive now and feel free to use these articles as guide so you can use this free cloud storage service to its fullest!