Microsoft is yet to release their newest operating system version called Windows 10 but several months before its scheduled release (date still unspecified), every news that mentions its name has already captured the headlines in different news and technology websites.
All the excitement and anticipation for this brand new Windows OS is even stirred by the contents that different websites publish about all of the brand new features that it contains. So what makes Windows 10 special and how is it different from all of its predecessors which includes Windows 8 and Windows 8.1?
Well, the answer varies depending on what the user is really looking for as an improvement to the Windows 8 OS series or even from the previous Windows versions but there's a new feature in this upcoming Windows version that you surely won't find in any of its predecessors.
It is called Cortana and for the first time, Microsoft is finally making some bigger steps towards closing the gap between their flagship operating system and its top competitors in the mobile as well as in the desktop industry. But what edge does Cortana have which makes it better than Siri and Google Now? In this tutorial, we will be learning all of the features that sets Cortana apart from the other virtual assistant software which are available at present and learn the steps involved in using them.
NOTE:
The version of Cortana that will be shown in this article is still on beta or development stage and there can be changes that will be made to it before Windows 10 finally gets released but for the purpose of illustration and getting our readers more familiar with it, we'll be showing how it works in Windows 10's latest preview build.
How to Open Cortana
In the latest preview build of Windows 10, Cortana is located inside the Search box that is permanently pinned on the taskbar. If you want to open it, you will simply need to click inside this Search box and Cortana's Home screen will open.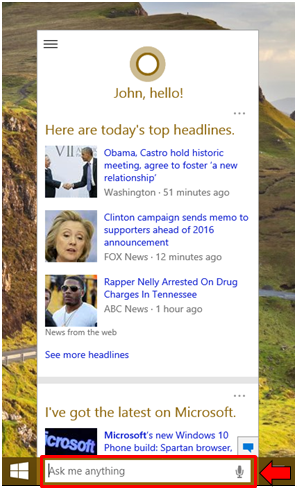 What if Cortana is Turned Off?
You will know that Cortana is switched off if you only see "Search the web and Windows" inside the Search box instead of seeing "Ask me anything" as you can see on the screenshot above. If this is the case, clicking inside the input box will only open the Search screen instead of Cortana's home screen. To switch on Cortana, you will simply need to click on the three horizontal lines button that is located at the top-left portion of the Search screen then on the options that will appear, hit "Settings".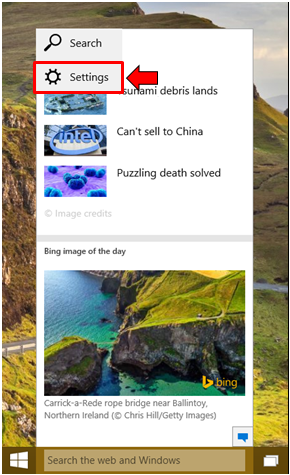 Now, the Cortana and Search settings will open in the same screen and from here, you will simply need to flick the "Do you want Cortana to work for you?" switch into the "On" position which you can do simply by clicking on it. Once it is turned on, you will see that the text inside the box will now become "Ask me anything".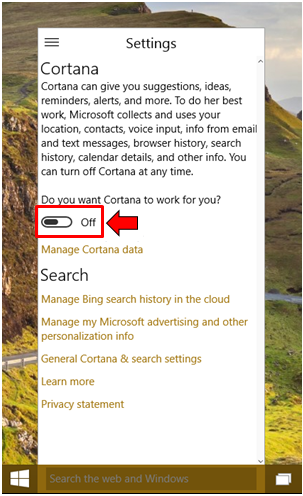 What's Different With Cortana?
Since virtual assistant software are not new at all especially in mobile devices, it is important to take note of all the new features in Cortana which developers in Microsoft have employed to make it standout among the rest of its kind. In order to see what features are hiding inside Microsoft's new virtual assistant software, simply open its Home screen by clicking inside the Search box that is located on the taskbar then once Cortana's Home screen opens, simply click on the three horizontal lines button that is located on its top-left portion as highlighted below.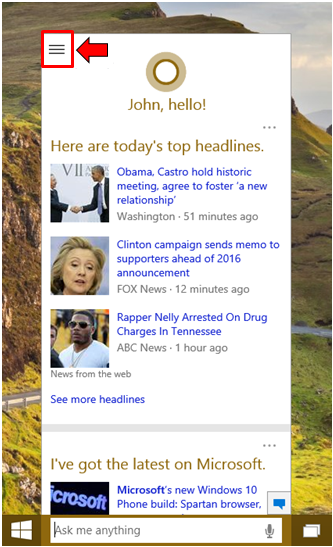 You will then see some options that will take you to the different features that Cortana has. Since Microsoft wants to set Cortana apart, they created the software in a way that would make users find it a lot easier to communicate with it and it is made even smarter because it can give you suggestions and even save your important searches, visited locations, reminders and many other stuff.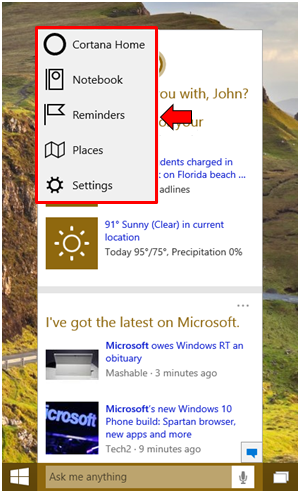 Cortana Home
The screen that opens after you click inside the Search box on Windows 10's taskbar is the Cortana Home screen so if yo try to click on it from the options that will appear after you click the three horizontal line button, nothing would really happen. You can use this link to get back to Cortana's Home screen just in case you are lost.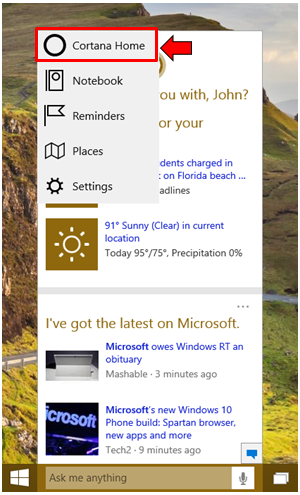 Notebook
Next to the "Cortana Home" link is another one that says "Notebook". This feature allows you to save some of your personal activities like "Daily Routine", "Music", "News", "Travel" and many others into Cortana so that you can simply tell it to open what you have saved and it will pop-out of your screen right away. You can also add your own entry into the Notebook feature to customize the tasks that Cortana is capable of performing.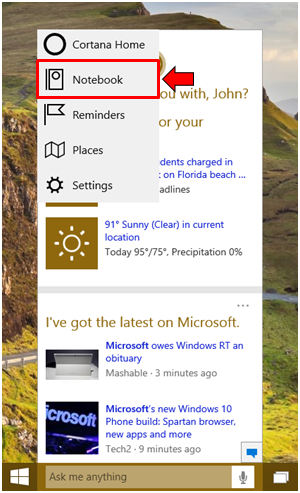 Reminders
Not all of us can remember a lot of things that needs to be done for the day which is why there are legions of software and apps at present which are available for desktop and mobile devices that helps users remember all the "To do" stuff by sounding an alarm. However, in Microsoft devices (both the desktop and mobile platforms), this feature is already incorporated in the brand new virtual assistant called Cortana. With this feature combined into something that does things automatically after you speak a command, accessing reminders which can be categorized under "Time" and "Place" is now made quicker and easier.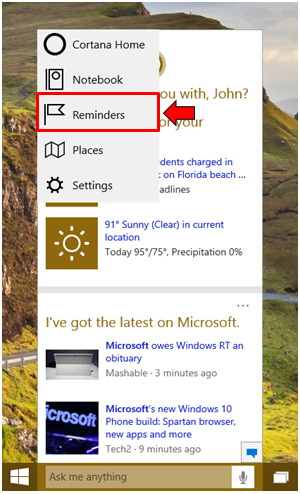 Places
Fond of travelling? Cortana can help you become oriented of the place itself before you even get there. You can also get traffic updates and many other information about your destination by using this awesome feature. Once a place gets added to Cortana, you will simply need to alert the virtual assistant and it will pull up information about the place right away.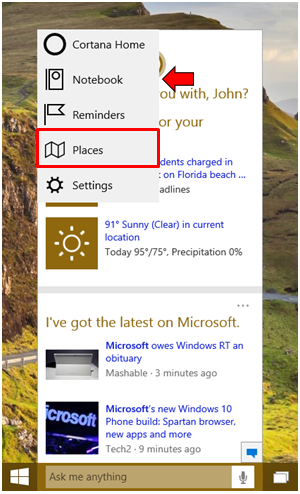 More Improvements Soon!
The version of Cortana that we have shown here is the one that is included in the latest Preview build of Windows 10 and it is still on its development or beta stage. Since Microsoft is still doing some finishing touches on this operating system dubbed as the best Windows ever, we can only expect even better features to be loaded to Cortana before Windows 10 finally gets released this summer.
Microsoft hasn't given any dates yet. It really seems like they are planning to release the newest Windows OS by surprise but one thing is for sure, it's going to be a revolutionary operating system which the company hopes to be capable of winning back hearts of the users they lost when some mistakes were employed in Windows 8 and Windows 8.1. Will Windows 10 make it to the top? We'll see how this great operating system would fare in the desktop and mobile OS scene very soon so be sure to get your computers prepared to make the upgrade towards this brand new Windows OS version that's coming up to surprise everyone!